Learning about High Tunnels
Oct. 12, 2011 10:49AM EST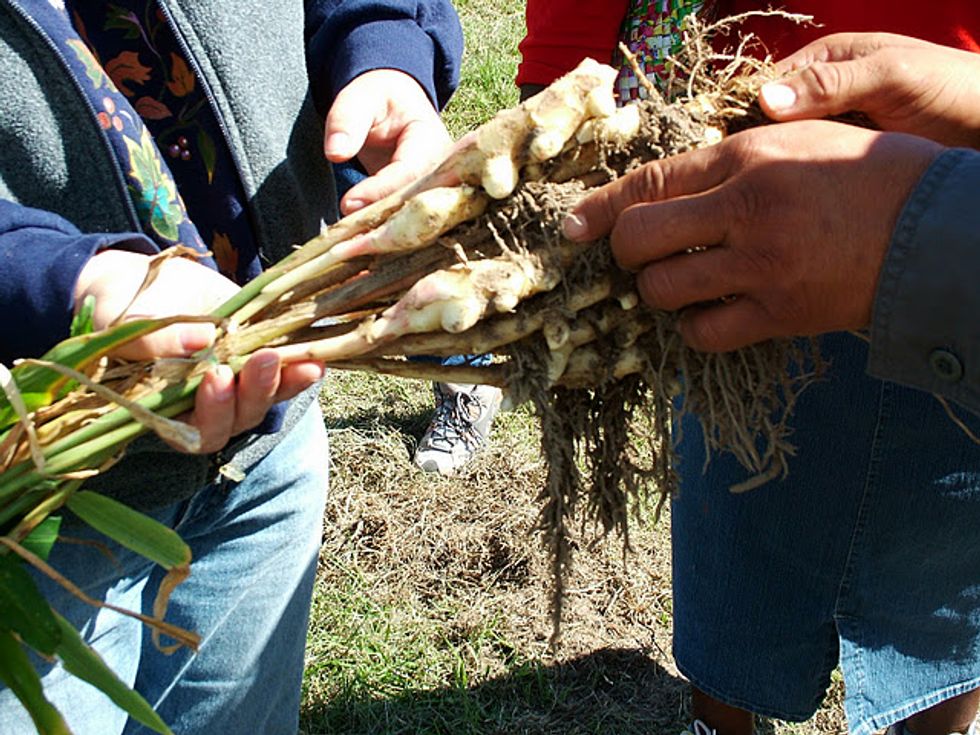 by Nicole Sanchez
My second visit to the Center for Environmental Farming Systems (CEFS) for a workshop on high tunnels, Oct. 4, did not disappoint. Since my first visit to this research farm on the outskirts of Goldsboro, N.C., I had been looking forward to my opportunity to return.
As an agriculture agent working with commercial fruit and vegetable producers, this workshop was of special interest to me. High tunnels are similar to greenhouses, but are less permanent in nature, and usually without a traditional heat source. High tunnels perform several functions depending on the crop grown within. A major function is to extend the growing season either at the beginning or end.
The three-hour session began with opportunities for hands-on demonstration and discussion. Participants learned about organic composting steps, seeding, using cold frames and ginger production in high tunnels. It was encouraging to know that so many are interested in learning more about this under-used way to extend the growing season to have vegetables available when other producers don't. High tunnels, while not for everyone, provide a unique opportunity for some growers to fill a much needed niche in our local food systems.
Extension associate Rick Holness described in detail the ongoing tunnel trials. Row after row of beautiful, large, ripening tomatoes beckoned within. The CEFS team are trying different fertilizer and composting methods to determine what resulted in the highest yield. It appeared that all treatments resulted in impressive yields. Clearly, fresh from the farm tomatoes are possible in eastern N.C. in October.
High tunnels are lots of work, but the price commanded by out-of-season vegetables means the extra effort comes with a financial return. From an environmental perspective, high tunnels are attractive because they rely less on supplemental heat, and more on making the most of heat already present in the environment. High tunnels are not heated or artificially lit all winter, so they will not provide us tomatoes in January or March. But they do enable us to have a greater variety of fresh, local produce for a longer portion of the year without additional reliance on fossil fuels.
High tunnels can also help to ward off disease. For instance, powdery and downy mildew are major problems of the cucurbit family (pumpkins, squash, cukes and melons). Using a high tunnel to minimize splashing and wind can help reduce pressure from these diseases. In this case, the crop could be drip irrigated under cover, reducing the incidence of mildew disease that comes with regular thunderstorms. High tunnels are also used in berry production in some operations.
High tunnels are intended to be movable. Some are built on skids so they can be moved back and forth along a track. This way, a grower can provide protection to plants while they are young, and then move the cover off the plants once they are established. Or, a crop can be started in the open at the end of a warm season and then given protection as the nights grow colder by moving the tunnel over the established crop. Some high tunnels are designed to be easily taken down and rebuilt. Be sure to understand the wind and snow load needs in your area if you are considering a high tunnel.
I'm already looking forward to my next opportunity to visit CEFS. There's some incredible research related to sustainable farming methods. Visit their website at www.cefs.ncsu.edu to stay informed about future workshops and classes at this facility.
For more information, click here.
—————
There's a track devoted to high tunnels at this year's Sustainable Ag Conference. To register, click here.
EcoWatch Daily Newsletter