Leaked Report Shows EPA Censored Dimock's Fracking Water Contamination Study
Jul. 29, 2013 12:23PM EST
Energy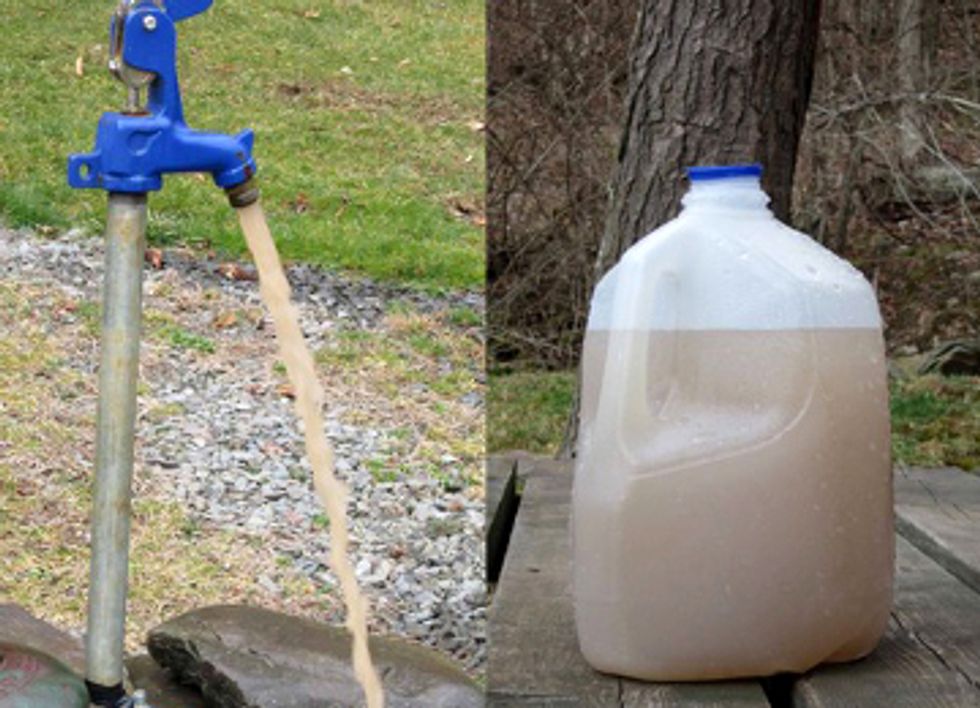 By Kate Sinding

The Los Angeles Times published a story yesterday reporting on a leaked document that indicates that the U.S. Environmental Protection Agency (EPA) has never conveyed to the public the possibility that methane released during drilling "and perhaps during the fracking process" resulted in "significant," and possibly long-term, "damage to the water quality" of a drinking water source for 19 families in Dimock, PA, even though some staff believed this was the case.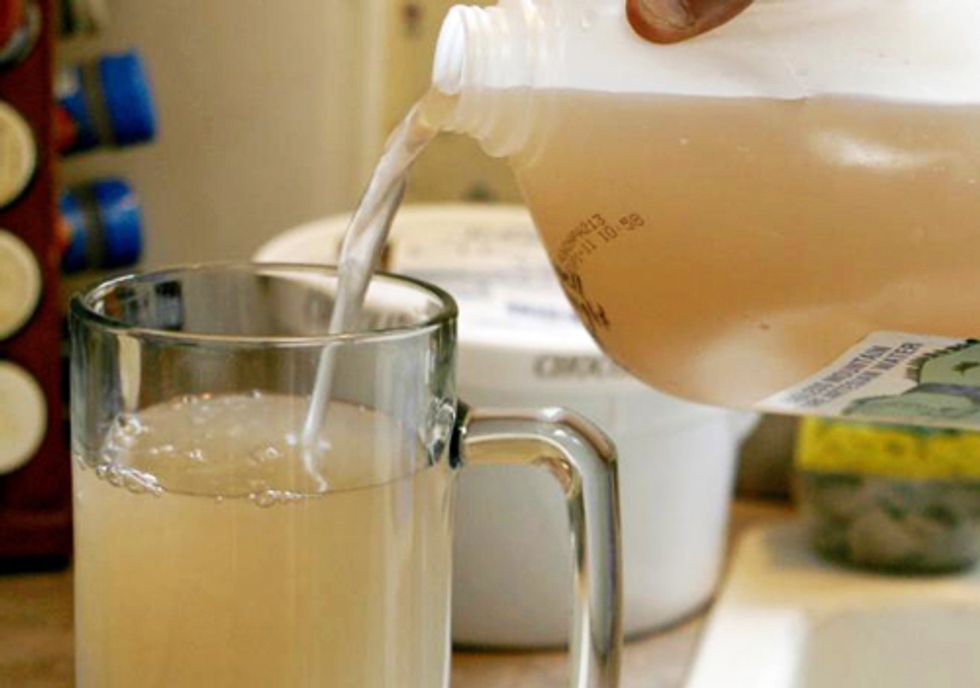 The story reports that this crucial interpretation—which stands in stark contrast to the narrative being pushed by industry that the EPA found Dimock's water to be "safe"—was evidently presented to the highest level staff in the region sometime in the spring of 2012.
Yet the EPA closed its investigation of contaminated drinking water supplies in Dimock just months later (July 2012), declaring that it was no longer necessary for residents to be provided with alternative drinking water supplies. In doing so, it provided no justification based on the data it had in its possession, which some believed pointed to significant and possibly long-term damage to local drinking water.
The EPA simply walked away and asked the public and the residents of Dimock to take its word for it. Indeed, the agency did not even mention the word "methane" at all in its press release announcing the end of the investigation. As a result, it was widely reported in the mainstream press that the EPA had found the water in Dimock was "safe" to drink, as reported in USA Today and elsewhere. This perception persists among many in the general public.
If this news is true, why has the EPA failed to provide a proper scientific explanation for effectively declaring Dimock's water safe, and why has it abandoned the residents of Dimock? Is it because of pressure from the oil & gas industry? The people of Dimock deserve some answers.
What Happened in Dimock?
In 2010, the Pennsylvania Department of Environmental Protection determined that shoddy drilling practices by Cabot Oil and Gas Corporation had resulted in methane contamination of a large aquifer in Dimock, polluting the drinking water of 19 families. The state's enforcement against Cabot then followed a tortured path: it first prohibited Cabot from drilling any further wells in the area. Then the state lifted that ban, and subsequently promised the residents of Dimock a new pipeline to supply uncontaminated drinking water from a neighboring community. Then it rescinded that promise.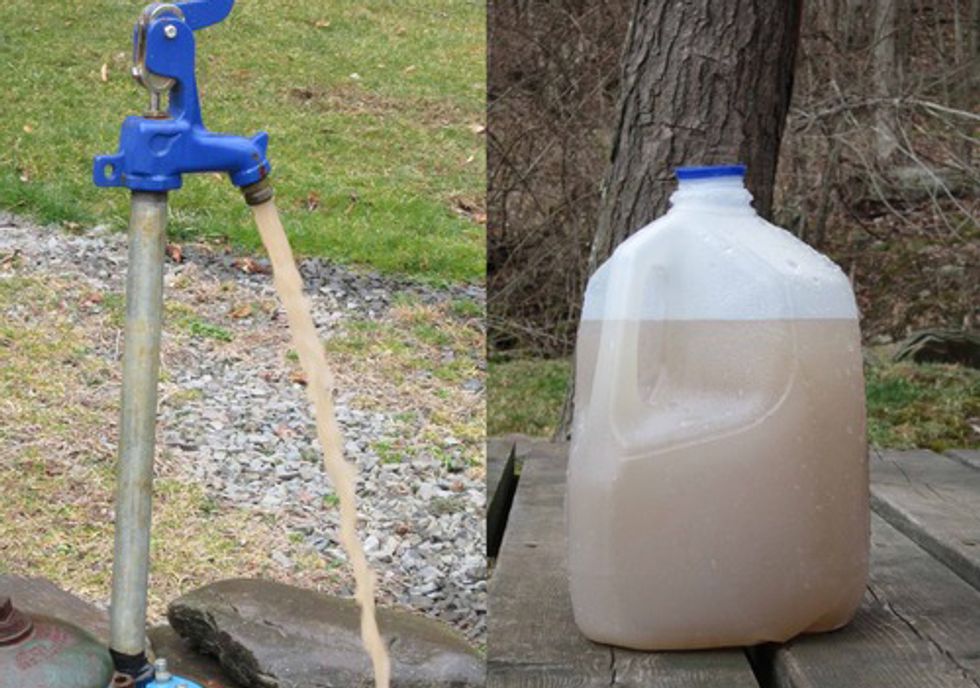 Concerned about the state's spotty enforcement, on behalf of the Dimock residents, the Natural Resources Defense Council (NRDC) asked the EPA to step in and launch its own investigation of the water quality. But when the EPA released the results of its investigation, effectively declaring Dimock's water safe, it failed to share two important pieces of information.
First, it did not share that Cabot had contaminated the water with dangerously high levels of methane.
Second, it limited the scope of its discussion to whether certain federal standards for specific contaminants—not including methane—were exceeded.
That was ostensibly because the investigation was pursuant to the EPA's specific and limited powers under the federal "Superfund" law and Safe Drinking Water Act only. These laws do not specify standards for all contaminants that may present a risk to human health and/or the potability of a water supply, including methane, certain other organic compounds and new/uncommon chemicals such as those that may be used in drilling and fracking operations.
Critically, though, some of the EPA's initial memos did reference, and express concern about the potential health impacts of, other such contaminants that were found in the families' water—including glycol compounds, Bis(2-ethylhexyl) phthlate (DEHP) and 2-methoxyethanol.
But evidently a decision was made not to discuss or further pursue them in the final analysis. Indeed, the agency did not report that multiple other contaminants were, in fact, detected, at levels below those specified under those laws. And none of these contaminants, including methane, were mentioned in the EPA's final determination. Nor did the EPA mention that the federal Agency for Toxic Substances and Disease Registry was—and is still—continuing an investigation into the potential short- and long-term health risks of using Dimock water with these chemicals present.
Yet, the leaked report made public yesterday suggests that the EPA basically declared that Dimock residents' water was okay to drink, despite the fact that some of its own staff believed that it showed serious contamination, possibly from fracking, that was likely to persist for a long time. It suggests that the EPA's own consultants, and perhaps field staff, believed not only that the Dimock aquifer had been contaminated by high levels of methane from the Marcellus Shale, but that this contamination resulted in "significant damage to the water quality."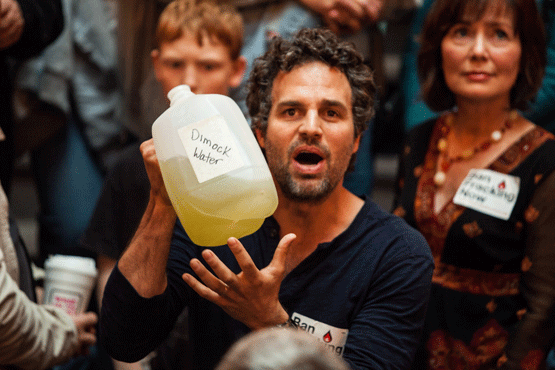 So, once again, we are left with the question why—in the face of these doubts,—the EPA would decide to terminate its investigation in Dimock without making public any analysis of its data that supports its decision to walk away, and instead keep internal dissenting views a secret. And why—a year later—haven't they investigated those views further to determine the level of risk?
Troubling Trend at the EPA
Unfortunately, what appears to have happened in Dimock, PA, is just the latest in a larger, troubling trend we're seeing of the EPA failing to act on science in controversial fracking cases across the country. Instead, the agency appears to be systematically pulling back from high-profile fracking investigations.
First, in March of 2012—without explanation—the EPA abruptly withdrew an emergency order it had issued two years earlier against Range Resources Corporation after the agency found nearby natural gas production operations from the company had likely caused methane and toxic chemical contamination in Parker County, TX, drinking water supplies. The order had required Range Resources to provide families with alternative water supplies, install explosivity meters in homes and remediate the aquifer.
But there is no evidence the company ever fully completed these or other requirements of the order. Yet the agency withdrew the emergency order. In fact, reports indicate the water there remains contaminated and a health threat, and the EPA Inspector General is investigating the matter.
On top of that, the Associated Press reported that a leaked confidential report proved that the EPA had scientific evidence against Range, but changed course after the company threatened not to cooperate with the agency's ongoing national study of fracking. The Associated Press also reported that interviews with the company confirmed this. When asked to explain its actions in light of all of this, the EPA's silence has been deafening.
Then, in late June 2013, EPA made an equally abrupt and unexplained announcement that it was abandoning an investigation into a high-profile drinking water contamination case in Pavillion, WY. That report generated fierce pushback from the oil and gas industry. Even though the U.S. Geologic Survey released its own data in 2012 that backed up the EPA's findings, suddenly, and without any meaningful explanation, the agency announced that it would not finalize its report and instead would leave matters in the hands of Wyoming regulators. As in Parker County and Dimock, these state regulators are the reason the EPA stepped in to begin with—because they had not given adequate attention to residents' drinking water complaints in the first place.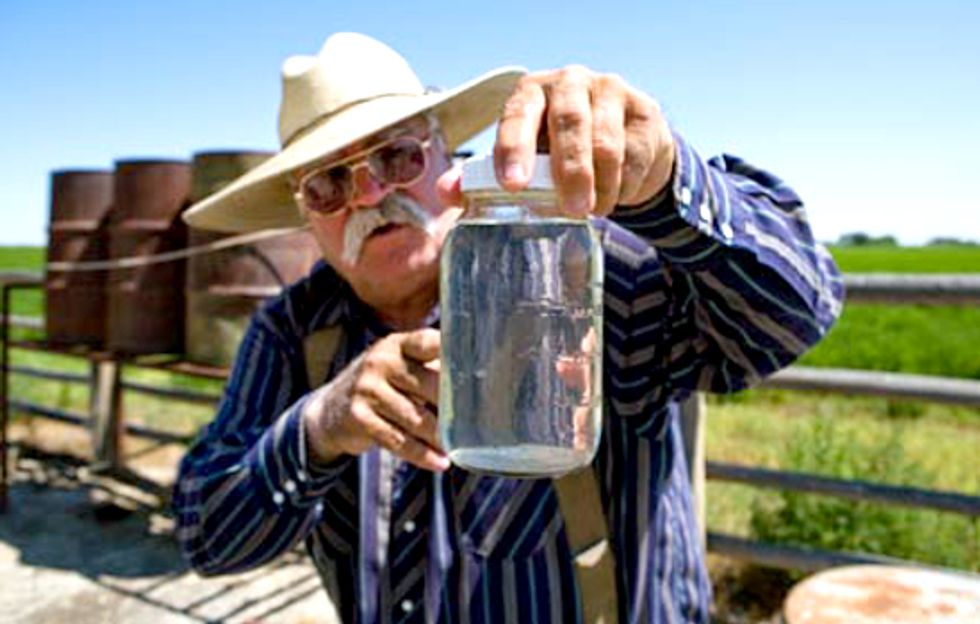 Now it seems the third shoe drops in Dimock—the latest in what was a triumvirate of highly anticipated federal fracking-related investigations.
Not only does this pattern of behavior leave impacted residents in the lurch, but it raises important questions as to whether the agency is caving to pressure from industry, antagonistic members of Congress and/or other outside sources.
Implications for the EPA's Ongoing Fracking Study
This trend also calls into serious question the agency's commitment to conducting an impartial, comprehensive assessment of the risks fracking presents to drinking water—a first-of-its-kind study that is now in its fourth year, with initial results now promised in 2014. The EPA recently announced that it had delayed the expected final date of this study by 2 years.
With communities across the country already suffering the consequences, it must deliver an impartial and thorough evaluation of the risks.
The EPA has said that there is no connection between its dropping its investigations in Dimock, Pavillion and Parker County, and that it remains committed to its national study. But if the EPA is really committed to understanding the risks of fracking to drinking water, then it doesn't make sense that the agency would drop the investigations in these three cases, where they have been collecting substantial data. By abandoning these inquiries and leaving them in the hands of state regulators that, in each case having shown they are not up to the task, the EPA is walking away from important scientific information and analysis.
Our federal government has a responsibility to protect the citizens in communities that are suffering consequences from fracking and to give them the full facts. It owes it to the American people to fully and fairly investigate every case that can help to answer some of the vexing scientific questions as to whether, and if so how, fracking and related activities contaminate drinking water. Sadly, the EPA's recent pattern of activity suggests neither has been happening.
If what we're hearing is true, this is a disturbing indication that the EPA may not be telling the American people everything it knows about the risks of fracking or providing them with the explanations that they deserve. Americans are counting on the administration to protect them against an industry that's running wild, but it is falling down on the job from one community to the next.
Visit EcoWatch's FRACKING page for more related news on this topic.
——–
Recycling and general waste plastic wheelie bins awaiting collection for disposal in Newport, Rhode Island. Tim Graham / Getty Images
Reduce. Reuse. Recycle. According to The National Museum of American History, this popular slogan, with its iconic three arrows forming a triangle, embodied a national call to action to save the environment in the 1970s. In that same decade, the first Earth Day happened, the EPA was formed and Congress passed the Resource Conservation and Recovery Act, encouraging recycling and conservation of resources, Enviro Inc. reported.
According to Forbes, the Three R's sustainability catch-phrase, and the recycling cause it bolstered, remain synonymous with the U.S. environmental movement itself. There's only one problem: despite being touted as one of the most important personal actions that individuals can take to help the planet, "recycling" – as currently carried out in the U.S. – doesn't work and doesn't help.
Turns out, there is a vast divide between the misleading, popular notion of recycling as a "solution" to the American overconsumption problem and the darker reality of recycling as a failing business model.
Tiffany Duong is an avid ocean advocate. She holds degrees from UCLA and the University of Pennsylvania Carey Law School and is an Al Gore Climate Reality Leader and student member of The Explorer's Club.
She spent years as a renewable energy lawyer in L.A. before moving to the Amazon to conduct conservation fieldwork (and revamp her life). She eventually landed in the Florida Keys as a scientific scuba diver and field reporter and writes about the oceans, climate, and the environment from her slice of paradise. Follow her on Twitter/Instagram @lilicedt.
EcoWatch Daily Newsletter
The coal-fired Huaneng Power Plant in Huai 'an City, Jiangsu Province, China on Sept. 13, 2020. Costfoto / Barcroft Media via Getty Images
Overall energy demand is expected to rise 4.6 percent this year compared to 2020 and 0.5 percent compared to 2019, according to the IEA's Global Energy Review 2021. Demand for fossil fuels is expected to jump to such an extent that emissions will rise by nearly five percent in 2021. This will reverse 80 percent of the emissions decline reported in 2020, to end emissions just 1.2 percent below 2019 emissions levels. Because the lockdown saw the biggest drop in energy demand since World War II, the projected increase in carbon dioxide emissions will still be the second-highest on record, BBC News pointed out.
"This is a dire warning that the economic recovery from the COVID crisis is currently anything but sustainable for our climate," IEA Executive Director Fatih Birol said in a statement reported by AFP.
Birol said much of that increase was being driven by the resurgence of coal use. In fact, coal demand is expected to increase by 60 percent more than all forms of renewable energy, according to the report. Overall coal demand is expected to increase by 4.5 percent in 2021. More than 80 percent of that growth is in Asia, and more than 50 percent is in China. While coal use is expected to increase in the U.S. and Europe as well, it will remain far below pre-pandemic levels. Still, global coal use is expected to rise to nearly its 2014 peak, BBC News reported.
Natural gas demand is also expected to rise by 3.2 percent in 2021, to put it more than one percent above 2019 levels, according to the report.
There are, however, two bright spots in the report from a climate perspective. The first is that oil demand, while up 6.2 percent from 2020, is still expected to remain around 3 percent below 2019 levels. This is because oil use for ground transportation is not expected to recover until the end of 2021, and oil use for air travel is expected to remain at 20 percent below 2019 levels by December of 2021.
"A full return to pre-crisis oil demand levels would have pushed up CO2 emissions a further 1.5%, putting them well above 2019 levels," the report authors wrote.
The second bright spot is that renewable energy demand is set to rise in all sectors in 2021. In power, where its rise is the greatest, it is set to increase by more than eight percent. This is "the largest year-on-year growth on record in absolute terms," the report authors wrote.
Renewable energy will provide 30 percent of electricity overall, BBC News reported, which is the highest percentage since the industrial revolution. The problem is that the increase in renewables is running parallel to an increase in fossil fuels in some places. China, for example, is also expected to account for almost half of the rise in renewable electricity.
"As we have seen at the country-level in the past 15 years, the countries that succeed to cut their emissions are those where renewable energy replaces fossil energy," energy expert and University of East Anglia professor Corinne Le Quéré told BBC News. "What seems to be happening now is that we have a massive deployment of renewable energy, which is good for tackling climate change, but this is occurring alongside massive investments in coal and gas. Stimulus spending post-Covid-19 worldwide is still largely funding activities that lock us into high CO2 emissions for decades."
To address this issue, Birol called on the world leaders gathering for U.S. President Joe Biden's climate summit Thursday and Friday to pledge additional action before November's UN Climate Change Conference, according to AFP.
"Unless governments around the world move rapidly to start cutting emissions, we are likely to face an even worse situation in 2022," said Birol.
From Your Site Articles
Related Articles Around the Web
A grizzly bear killed an outdoor guide in a rare attack near Yellowstone Park. William Campbell / Corbis / Getty Images
Representative Alexandria Ocasio-Cortez (D-NY) re-introduces the Green New Deal in Washington, D.C. on April 20, 2021. Mandel Ngan / AFP / Getty Images
By Brett Wilkins
In the latest of a flurry of proposed Green New Deal legislation, Reps. Cori Bush and Alexandria Ocasio-Cortez on Monday introduced the Green New Deal for Cities Act of 2021, a $1 trillion plan to "tackle the environmental injustices that are making us and our children sick, costing us our homes, and destroying our planet."
Offshore oil and gas drillers have left more than 18,000 miles of pipelines at the bottom of the Gulf of Mexico. Drew Angerer / Getty Images
Offshore oil and gas drillers have discarded and abandoned more than 18,000 miles of pipelines on the floor of the Gulf of Mexico since the 1960s, a report from the Government Accountability Office says.
The industry has essentially recovered none of the pipelines laid in the Gulf in the last six decades; the abandoned infrastructure accounts for more than 97% of all of the decommissioned pipelines in the Gulf.
The pipelines pose a threat to the habitat around them, as maritime commerce and hurricanes and erosion can move sections of pipeline.
The Bureau of Safety and Environmental Enforcement does not conduct undersea inspections even though surface monitoring is "not always reliable for detecting ruptures," according to the GAO.
For a deeper dive:
For more climate change and clean energy news, you can follow Climate Nexus on Twitter and Facebook, sign up for daily Hot News, and visit their news site, Nexus Media News.