Leaked Emails Expose NRC's Cover-Up of Safety Concerns Days After Fukushima Disaster
When an earthquake and tsunami struck Fukushima, Japan leading to a nuclear disaster three years ago, U.S. residents wondered if the aging nuclear facilities in their own country were at risk. What they didn't know is that the federal government's nuclear arm worked actively in the days after the incident, trying to cover up the perils that existed in the states.
According to a report from NBC, a U.S. Nuclear Regulatory Commission (NRC) campaign to reassure people about nuclear safety standards coincided with agency experts consistently presenting similar questions behind the scenes. Through a Freedom of Information Act request, NBC acquired a string of March 2011 emails that clearly show the cover-up.
"While we know more than these say, we're sticking to this story for now," Scott Burnell, an NRC public and media relations manager wrote in one email.

In the days following the Fukushima disaster, the NRC split its talking points into two segments with different information: "public answer" and "additional technical, non-public information." Here's an example of a question the NRC expected to face, followed by the public and non-public answers:
Q. What happens when/if a plant 'melts down'?
Public Answer: In short, nuclear power plants in the United States are designed to be safe. To prevent the release of radioactive material, there are multiple barriers between the radioactive material and the environment, including the fuel cladding, the heavy steel reactor vessel itself and the containment building, usually a heavily reinforced structure of concrete and steel several feet thick.
Additional, non-technical, non-public information: The melted core may melt through the bottom of the vessel and flow onto the concrete containment floor. The core may melt through the containment liner and release radioactive material to the environment."
One example of a concerted cover-up came five days after the initial reports that an earthquake and tsunami knocked out the power and cooling systems at the six-reactor Fukushima Daiichi nuclear power plant. MSNBC used NRC estimates to rank the U.S. nuclear plants that were most at risk if an earthquake were to hit nearby land. Burnell and members from the NRC's lobbying arm, the Nuclear Energy Institute, emailed staff members with instructions to find errors in the article, but none came up. He also told experts likely to appear on TV how to deny certain claims.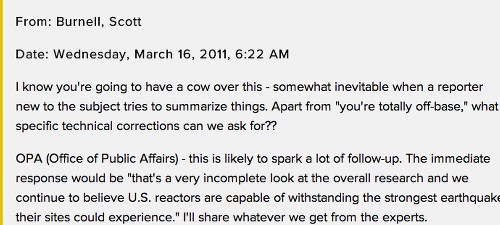 Former U.S. Energy Secretary Steven Chu appeared on CNN on March 20, 2011 but hesitated when an on-air personality asked him if U.S. nuclear plants could withstand an earthquake that measured 9.0 on the Richter scale. NRC spokesman David McIntyre had his own ideas for how Chu should have handled the question.

More than 30 of the country's 100 nuclear power reactors have the same brand of General Electric reactors or containment system that used in Fukushima, according to the NBC report. The median reactor age in the U.S. is 34. The oldest is the Ginna plant near Rochester, N.Y., licensed in 1969. Only four of the reactors began generating power in 1990 or later.
Americans aren't the only ones concerned with old reactors. Last week, 240 Greenpeace activists from national and regional offices took action across Europe to highlight the risk of aging reactors.
Visit EcoWatch's NUCLEAR page for more related news on this topic.

Wikimedia Commons
By Stacy Malkan
Neil deGrasse Tyson has inspired millions of people to care about science and imagine themselves as participants in the scientific process. What a hopeful sign it is to see young girls wearing t-shirts emblazoned with the words, "Forget princess, I want to be an astrophysicist."
Keep reading...
Show less
www.youtube.com
By Andy Rowell
Any day now we will truly witness climate change in action. Within days at worst, maybe weeks at best, scientists predict that a huge section of the Larsen C ice shelf in Antarctica will break off into the ocean, in what is called a major "carving" event.
Keep reading...
Show less
www.youtube.com
President Trump visited Cedar Rapids, Iowa on June 21 to speak to a large crowd in the U.S. Cellular Center at a political rally organized by his campaign.
As Trevor Noah noted during The Daily Show episode last night (starts at 2:25), the real reason Trump has these rallies is to "get back in front of his loyal crowds and feed of their energy." Noah believes that "Trump supporters are so on board with their dude he can say anything and they'll come along for the ride."
Keep reading...
Show less
The Kamuthi solar plant in the southern Indian state of Tamil Nadu.
The rapid growth in renewable energy continues to put a dent in the demand for coal.
Coal India, the world's biggest coal mining company and producer of 82 percent of the country's coal, announced the closure of 37 mines that are financially "unviable."
Keep reading...
Show less
www.youtube.com
By Katie O'Reilly
Two years ago—long before coal became one of the most dominant and controversial symbols of the 2016 presidential election—Bloomberg Philanthropies approached production company RadicalMedia with the idea of creating a documentary exploring the U.S. coal mining industry. Last spring, they brought on Emmy-nominated director Michael Bonfiglio, tasked with forging a compelling story out of the multitudes of facts, statistics and narratives underlying the declining industry.
Keep reading...
Show less
Mayors for 100% Clean Energy
Keep reading...
Show less
www.youtube.com
Thanks to Newsy for their coverage on Thursday's news that the U.S. Fish and Wildlife Service removed grizzly bears in the Greater Yellowstone region from the Endangered Species List.
Watch above as Newsy explains that the decision comes despite serious concerns from the environmental and scientific community, and Tribal Nations about a declining, isolated grizzly bear population with diminishing food resources and record-high mortalities.
Keep reading...
Show less
www.facebook.com
By Francine Kershaw
Seismic airguns exploding in the ocean in search for oil and gas have devastating impacts on zooplankton, which are critical food sources for marine mammals, according to a new study in Nature. The blasting decimates one of the ocean's most vital groups of organisms over huge areas and may disrupt entire ecosystems.
And this devastating news comes on the heels of the National Marine Fisheries Service's proposal to authorize more than 90,000 miles of active seismic blasting. Based on the results of this study, the affected area would be approximately 135,000 square miles.
Keep reading...
Show less
By Jill Richardson
Is coconut oil:
good for you
bad for you
neither good nor bad
scientists don't know
The subject of this question is the source of a disagreement. Initially, the question was thought to be settled decades ago, when scientist Ancel Keys declared all saturated fats unhealthy. Coconut oil, which is solid at room temperature, is a saturated fat.
Keep reading...
Show less


Get EcoWatch in your inbox