This website uses cookies to ensure you get the best experience while browsing it. By clicking 'Got It' you're accepting these terms.
Leaked Emails Expose NRC's Cover-Up of Safety Concerns Days After Fukushima Disaster
Mar. 10, 2014 08:37AM EST
When an earthquake and tsunami struck Fukushima, Japan leading to a nuclear disaster three years ago, U.S. residents wondered if the aging nuclear facilities in their own country were at risk. What they didn't know is that the federal government's nuclear arm worked actively in the days after the incident, trying to cover up the perils that existed in the states.
According to a report from NBC, a U.S. Nuclear Regulatory Commission (NRC) campaign to reassure people about nuclear safety standards coincided with agency experts consistently presenting similar questions behind the scenes. Through a Freedom of Information Act request, NBC acquired a string of March 2011 emails that clearly show the cover-up.
"While we know more than these say, we're sticking to this story for now," Scott Burnell, an NRC public and media relations manager wrote in one email.

In the days following the Fukushima disaster, the NRC split its talking points into two segments with different information: "public answer" and "additional technical, non-public information." Here's an example of a question the NRC expected to face, followed by the public and non-public answers:
Q. What happens when/if a plant 'melts down'?
Public Answer: In short, nuclear power plants in the United States are designed to be safe. To prevent the release of radioactive material, there are multiple barriers between the radioactive material and the environment, including the fuel cladding, the heavy steel reactor vessel itself and the containment building, usually a heavily reinforced structure of concrete and steel several feet thick.
Additional, non-technical, non-public information: The melted core may melt through the bottom of the vessel and flow onto the concrete containment floor. The core may melt through the containment liner and release radioactive material to the environment."
One example of a concerted cover-up came five days after the initial reports that an earthquake and tsunami knocked out the power and cooling systems at the six-reactor Fukushima Daiichi nuclear power plant. MSNBC used NRC estimates to rank the U.S. nuclear plants that were most at risk if an earthquake were to hit nearby land. Burnell and members from the NRC's lobbying arm, the Nuclear Energy Institute, emailed staff members with instructions to find errors in the article, but none came up. He also told experts likely to appear on TV how to deny certain claims.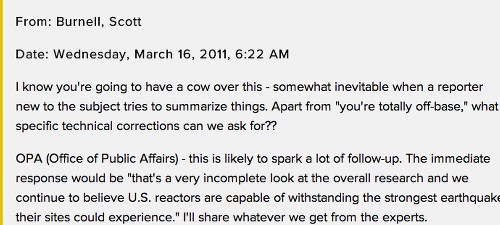 Former U.S. Energy Secretary Steven Chu appeared on CNN on March 20, 2011 but hesitated when an on-air personality asked him if U.S. nuclear plants could withstand an earthquake that measured 9.0 on the Richter scale. NRC spokesman David McIntyre had his own ideas for how Chu should have handled the question.

More than 30 of the country's 100 nuclear power reactors have the same brand of General Electric reactors or containment system that used in Fukushima, according to the NBC report. The median reactor age in the U.S. is 34. The oldest is the Ginna plant near Rochester, N.Y., licensed in 1969. Only four of the reactors began generating power in 1990 or later.
Americans aren't the only ones concerned with old reactors. Last week, 240 Greenpeace activists from national and regional offices took action across Europe to highlight the risk of aging reactors.
Visit EcoWatch's NUCLEAR page for more related news on this topic.

PeopleImages / E+ / Getty Images
By Daniel Ross
Hurricane Florence, which battered the U.S. East Coast last September, left a trail of ruin and destruction estimated to cost between $17 billion and $22 billion. Some of the damage was all too visible—smashed homes and livelihoods. But other damage was less so, like the long-term environmental impacts in North Carolina from hog waste that spilled out over large open-air lagoons saturated in the rains.
Hog waste can contain potentially dangerous pathogens, pharmaceuticals and chemicals. According to the state's Department of Environmental Quality, as of early October nearly 100 such lagoons were damaged, breached or were very close to being so, the effluent from which can seep into waterways and drinking water supplies.
This picture taken on May 21, 2018 shows discarded climbing equipment and rubbish scattered around Camp 4 of Mount Everest. Decades of commercial mountaineering have turned Mount Everest into the world's highest rubbish dump as an increasing number of big-spending climbers pay little attention to the ugly footprint they leave behind. DOMA SHERPA / AFP / Getty Images
China has closed its Everest base camp to tourists because of a buildup of trash on the world's tallest mountain.
Researchers tested the eggs of Arctic northern fulmers like these in Nunavut, Canada.
Fiona Paton / Flickr
By Madison Dapcevich
Plastics have been recorded in every corner of the world, from the remote icy waters of Antarctica to the bellies of deep-sea fishes. Now, preliminary findings presented at this year's American Association for the Advancement of Science (AAAS) annual meeting in Washington, DC suggest that bird eggs from the high Arctic—one of the most remote wildernesses on the planet—show evidence of contamination from chemicals used in plastics.

A small Australian rat that lived on a 12 acre island in the Great Barrier Reef has become the first mammal to go extinct primarily because of human-caused climate change, the Australian Government confirmed Monday.
The Bramble Cay melomys was first declared extinct after a 2014 search on Bramble Cay, its native island in the Torres Strait, between Queensland, Australia and Papua New Guinea, according to a 2016 report by the University of Queensland and the Queensland government.