Leaked Documents Confirm TTIP 'Amounts to a Huge Transfer of Power from People to Big Business'
Confirming that the TransAtlantic Trade and Investment Partnership (TTIP) amounts to "a huge transfer of power from people to big business," Greenpeace Netherlands on Monday leaked 248 secret pages of the controversial trade deal between the U.S. and EU, exposing how environmental regulations, climate protections and consumer rights are being "bartered away behind closed doors."
The documents represent roughly two-thirds of the latest negotiating text, according to Greenpeace and on some topics offer for the first time the position of the U.S.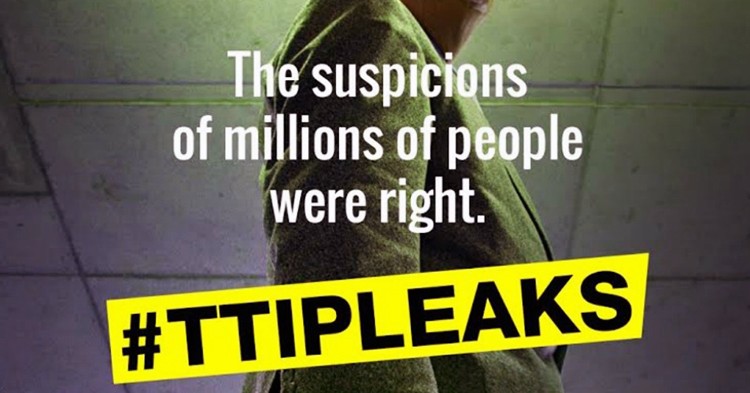 Before Monday, elected representatives were only able to view such documents under guard, in a secure room, without access to expert consultation, while being forbidden from discussing the content with anyone else. This secrecy runs "counter to the democratic principles of both the EU and the U.S.," the website ttip-leaks.org declares.
And in the absence of transparency, "hard won environmental progress is being bartered away behind closed doors," Faiza Oulahsen, campaigner for Greenpeace Netherlands, said.
"Whether you care about environmental issues, animal welfare, labor rights or internet privacy, you should be concerned about what is in these leaked documents," Oulahsen said. "They underline the strong objections civil society and millions of people around the world have voiced: TTIP is about a huge transfer of democratic power from people to big business. We call on all elected representative and other concerned parties to read these documents and engage in the debate."
Greenpeace Netherlands zeroes in on four aspects of serious concern in the obtained texts, including:
The apparent omission of the so-called "General Exceptions rule," which allows nations to regulate trade "to protect human, animal and plant life or health" or for "the conservation of exhaustible natural resources;"
The absence of language about climate protection, plus provisions that would "stimulate imports and exports of fossil fuels—like shale gas from fracking or oil from tar sands—while clean energy production for local communities and associations would be considered unfair competition and a barrier to trade."
A clear threat to the "precautionary principle," which requires regulatory caution where there is scientific doubt, shifting the burden of proof on whether a product is safe to public authorities, not on those who seek to sell it;
The heretofore shrouded "high degree" of corporate influence over the talks.
According to the Guardian, which saw the original documents (retyped by Greenpeace and available here):
U.S. proposals include an obligation on the EU to inform its industries of any planned regulations in advance and to allow them the same input into EU regulatory processes as European firms.
American firms could influence the content of EU laws at several points along the regulatory line, including through a plethora of proposed technical working groups and committees.
"These leaks confirm what millions of people across Europe have suspected all along—that this toxic trade deal is essentially an enormous corporate power grab," Global Justice Now trade campaigner Guy Taylor said on Monday.
"It's no secret that the negotiations have been on increasingly shaky ground," Taylor continued, citing petitions signed by millions of Europeans and ongoing public protests. "These leaks should be seen as another nail in the coffin of a toxic trade deal that corporate power is unsuccessfully trying to impose on ordinary people and our democracies."
Similarly, War on Want Executive Director John Hilary declared: "Today marks the end of TTIP. Total secrecy was the only way the European Commission could keep the European people from learning the truth about these appalling negotiations and now the cat is out of the bag."
"We have long warned that TTIP is a danger to democracy, food safety, jobs and public services," Hilary continued. "Now we see it is even worse than we feared. Today's leak shows the European Commission preparing to sell us down the river, doing deals behind closed doors that will change the face of European society for ever. It is simply unacceptable that a group of unelected officials should be allowed to contemplate such a thing without any public scrutiny."
The 13th round of TTIP talks took place last week in New York. U.S. President Barack Obama, who was stumping for the deal last month in Germany, had hoped to wrap up negotiations by the time he left office—a timeline that looks increasingly unrealistic.
Public support on both sides of the Atlantic has plummeted; leading U.S. presidential candidates oppose the deal and others like it; and President François Hollande on Sunday became just the latest French official to express skepticism about the deal.
YOU MIGHT ALSO LIKE
The Movement to Stop Fossil Fuel Development Is Winning
How This Small Town Is Winning the Water War Against Nestle
Warren Buffett Rejects Calls for Climate Change Report
Massive Victory for 7 Kids in Climate Change Lawsuit in Washington State
iStock
By Robert Coleman
The Environmental Working Group's (EWG) just-released Tap Water Database shows that a startling number of cancer-causing chemicals contaminate the nation's drinking water. Of 250 different contaminants detected in tests by local utilities, 93 are linked to an increased risk of developing cancer.
Keep reading...
Show less
Aaron Teasdale
By Aaron Teasdale
"How much moon do we have tonight?" I yelled to my friend Greg, trying to make myself heard over the sounds of wind and surging water. The sun was sinking toward the mountains all too quickly and our float-in campsite lay somewhere down the river's bends in darkening forest.
Greg shrugged. He had no clue of the moon's cycle either, which showed just how tragically pasty and over-civilized we'd turned. Our days had become filled with computer screens, not forest scenes; our nights capped with ceilings, not stars. All of which made this journey on standup paddleboards so sweet—or at least we hoped it would be sweet, if the pesky headwind would let up before we had to risk disfiguring ourselves while navigating boulder-strewn waters by headlamp and whatever light the moon might spare.
Keep reading...
Show less
By Rebekah Wilce
The world of independent chemical testing has a shiny veneer. The public is reassured that chemicals they're exposed to on a daily basis are certified by technicians in spotless white lab coats who carefully conduct scientific studies, including on animals in neat rows of cages.
But a federal grand jury investigation that ended with convictions in the early 1980s discovered that Industrial Bio-Test Laboratories (IBT), the largest such lab in the U.S., conducted trials with mice that regularly drowned in their feeding troughs. The dead animals would decompose so quickly that "their bodies oozed through wire cage bottoms and lay in purple puddles on the dropping trays." IBT even invented an acronym "TBD/TDA" for its raw safety data, later discovered to mean "too badly decomposed."
Keep reading...
Show less
iStock
Roman officials are considering shutting off the water supply to one-third of the city's residents for eight hours per day as early as this weekend, according to reports.
Keep reading...
Show less
Ararat Rock Solar farm in Mount Airy, North Carolina. NARENCO
North Carolina Gov. Roy Cooper signed a bill into law Thursday that will boost solar production but curb wind energy in the state.
House Bill 589, the result of months of arduous negotiations between utilities and the solar industry, is intended to encourage the continued growth of solar in the state, but it includes a moratorium on new wind projects for the next 18 months.
Keep reading...
Show less
Algal blooms in Lake St. Clair and in western Lake Erie in 2015. NASA Earth Observatory
Heavier rainfall linked to rising temperatures could substantially increase the volume of agricultural runoff flowing into waterways, triggering toxic algal blooms, according to new research.
A study published Thursday in the journal Science finds that heavier rainfall could increase nitrogen runoff in U.S. lakes, rivers and streams by 19 percent by the end of this century.
Keep reading...
Show less
iStock
By Jen Sawada
Sharks have been around for 400 million years, before the time of the dinosaurs, but there's much more to them than big teeth and summer blockbusters. Consider these facts, which will change what you think about sharks.
Keep reading...
Show less
Felix Kramer / Wikimedia
By Jason Mathers
The high level of confidence that automotive industry leaders have in the future of electric vehicles (EVs) has been on full display recently.
Keep reading...
Show less


Get EcoWatch in your inbox