This website uses cookies to ensure you get the best experience while browsing it. By clicking 'Got It' you're accepting these terms.
Leaked Documents Confirm TTIP 'Amounts to a Huge Transfer of Power from People to Big Business'
May. 03, 2016 07:59AM EST
Politics
Confirming that the TransAtlantic Trade and Investment Partnership (TTIP) amounts to "a huge transfer of power from people to big business," Greenpeace Netherlands on Monday leaked 248 secret pages of the controversial trade deal between the U.S. and EU, exposing how environmental regulations, climate protections and consumer rights are being "bartered away behind closed doors."
The documents represent roughly two-thirds of the latest negotiating text, according to Greenpeace and on some topics offer for the first time the position of the U.S.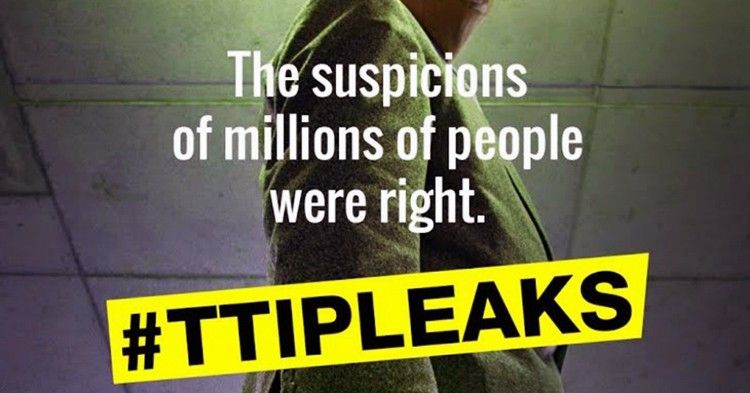 Before Monday, elected representatives were only able to view such documents under guard, in a secure room, without access to expert consultation, while being forbidden from discussing the content with anyone else. This secrecy runs "counter to the democratic principles of both the EU and the U.S.," the website ttip-leaks.org declares.
And in the absence of transparency, "hard won environmental progress is being bartered away behind closed doors," Faiza Oulahsen, campaigner for Greenpeace Netherlands, said.
"Whether you care about environmental issues, animal welfare, labor rights or internet privacy, you should be concerned about what is in these leaked documents," Oulahsen said. "They underline the strong objections civil society and millions of people around the world have voiced: TTIP is about a huge transfer of democratic power from people to big business. We call on all elected representative and other concerned parties to read these documents and engage in the debate."
Greenpeace Netherlands zeroes in on four aspects of serious concern in the obtained texts, including:
The apparent omission of the so-called "General Exceptions rule," which allows nations to regulate trade "to protect human, animal and plant life or health" or for "the conservation of exhaustible natural resources;"
The absence of language about climate protection, plus provisions that would "stimulate imports and exports of fossil fuels—like shale gas from fracking or oil from tar sands—while clean energy production for local communities and associations would be considered unfair competition and a barrier to trade."
A clear threat to the "precautionary principle," which requires regulatory caution where there is scientific doubt, shifting the burden of proof on whether a product is safe to public authorities, not on those who seek to sell it;
The heretofore shrouded "high degree" of corporate influence over the talks.
According to the Guardian, which saw the original documents (retyped by Greenpeace and available here):
U.S. proposals include an obligation on the EU to inform its industries of any planned regulations in advance and to allow them the same input into EU regulatory processes as European firms.
American firms could influence the content of EU laws at several points along the regulatory line, including through a plethora of proposed technical working groups and committees.
"These leaks confirm what millions of people across Europe have suspected all along—that this toxic trade deal is essentially an enormous corporate power grab," Global Justice Now trade campaigner Guy Taylor said on Monday.
"It's no secret that the negotiations have been on increasingly shaky ground," Taylor continued, citing petitions signed by millions of Europeans and ongoing public protests. "These leaks should be seen as another nail in the coffin of a toxic trade deal that corporate power is unsuccessfully trying to impose on ordinary people and our democracies."
Similarly, War on Want Executive Director John Hilary declared: "Today marks the end of TTIP. Total secrecy was the only way the European Commission could keep the European people from learning the truth about these appalling negotiations and now the cat is out of the bag."
"We have long warned that TTIP is a danger to democracy, food safety, jobs and public services," Hilary continued. "Now we see it is even worse than we feared. Today's leak shows the European Commission preparing to sell us down the river, doing deals behind closed doors that will change the face of European society for ever. It is simply unacceptable that a group of unelected officials should be allowed to contemplate such a thing without any public scrutiny."
The 13th round of TTIP talks took place last week in New York. U.S. President Barack Obama, who was stumping for the deal last month in Germany, had hoped to wrap up negotiations by the time he left office—a timeline that looks increasingly unrealistic.
Public support on both sides of the Atlantic has plummeted; leading U.S. presidential candidates oppose the deal and others like it; and President François Hollande on Sunday became just the latest French official to express skepticism about the deal.
YOU MIGHT ALSO LIKE
The Movement to Stop Fossil Fuel Development Is Winning
How This Small Town Is Winning the Water War Against Nestle
Warren Buffett Rejects Calls for Climate Change Report
Massive Victory for 7 Kids in Climate Change Lawsuit in Washington State
EcoWatch Daily Newsletter
Artist's conception of solar islands in the open ocean. PNAS
Millions of solar panels clustered together to form an island could convert carbon dioxide in seawater into methanol, which can fuel airplanes and trucks, according to new research from Norway and Switzerland and published in the Proceedings of the National Academy of Sciences journal, PNAS, as NBC News reported. The floating islands could drastically reduce greenhouse gas emissions and dependence on fossil fuels.
Marcos Alves / Moment Open / Getty Images
More than 40 percent of insects could go extinct globally in the next few decades. So why did the U.S. Environmental Protection Agency (EPA) last week OK the 'emergency' use of the bee-killing pesticide sulfoxaflor on 13.9 million acres?
EcoWatch teamed up with Center for Biological Diversity via EcoWatch Live on Facebook to find out why. Environmental Health Director and Senior Attorney Lori Ann Burd explained how there is a loophole in the The Federal Insecticide, Fungicide, and Rodenticide Act under section 18, "that allows for entities and states to request emergency exemptions to spraying pesticides where they otherwise wouldn't be allowed to spray."
Simple swaps that cut down on kitchen trash.
Sponsored
By Kayla Robbins
Along with the bathroom, the kitchen is one of the most daunting areas to try and make zero waste.
View of downtown Miami, Florida from Hobie Island on Feb. 2, 2019.
Michael Muraz / Flickr
The Democratic candidates for president descended upon Miami for a two-night debate on Wednesday and Thursday. Any candidate hoping to carry the state will have to make the climate crisis central to their campaign, as The New York Times reported.
By Sharon Kelly
On Monday, the Wall Street Journal featured a profile of Scott Sheffield, CEO of Pioneer Natural Resources, whose company is known among investors for its emphasis on drawing oil and gas from the Permian basin in Texas using horizontal drilling and hydraulic fracturing, or fracking.
Pexels
By Craig K. Chandler
The federal government has available to it, should it choose to use them, a wide range of potential climate change management tools, going well beyond the traditional pollution control regulatory options. And, in some cases (not all), without new legislative authorization.
Denis Poroy / Getty Images
By Dan Gray
Processed foods, in their many delicious forms, are an American favorite.
But new research shows that despite increasing evidence on just how unhealthy processed foods are, Americans have continued to eat the products at the same rate.
By Sarah Steffen
With a profound understanding of their environmental surroundings, indigenous communities around the world are often cited as being pivotal to tackling climate change.