This website uses cookies to ensure you get the best experience while browsing it. By clicking 'Got It' you're accepting these terms.
Leaked Document Shows Mounties View Anti-Oil Activists as Security Threat
Feb. 19, 2015 09:54AM EST
Energy
An internal Royal Canadian Mounted Police (RCMP) document (provided in full below) warns "violent anti-petroleum extremists" driven by an "anti-petroleum ideology" pose a criminal threat to Canada's oil and gas industry. The document, reported by the Globe and Mail, reveals growing concern within the RCMP about opponents of pipelines or fracking and "violent aboriginal extremists," suggesting they have the ability to incite criminal activity across the country.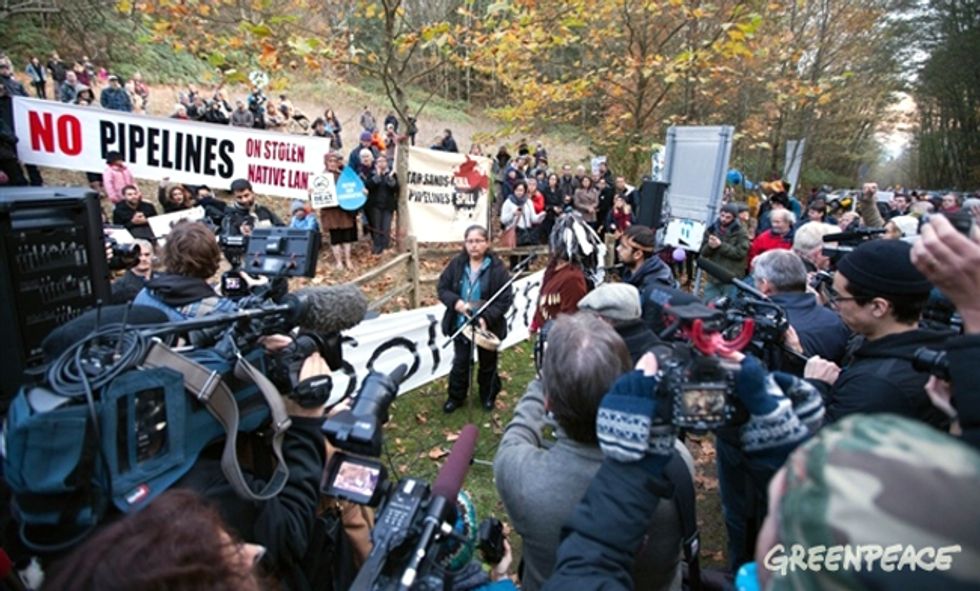 Yet representatives from Canada's broad environmental movement say the document is another example of the Harper government's efforts to criminalize legitimate civil dissent such as peaceful climate activism and pipeline opposition.
The document, a Critical Infrastructure Intelligence Assessment report from early 2014 originally obtained by Greenpeace, provides "intelligence and/or information" that "may be used to assist in the protection of Canada's [critical infrastructure]," such as pipelines and other oil and gas infrastructure. In recent years, discussion of Canada's critical infrastructure (CI) has shifted from a focus on digital and electricity networks to energy-related infrastructure.
The RCMP intelligence report suggests growing opposition movements against pipelines should be seen and treated as criminal security threats although groups mentioned in the report are quick to point out the document fits into a much larger strategy, led by the Harper government, to beat back pipeline or oilsands opponents.
"This is absolutely the criminalization of peaceful protest," Keith Stewart from Greenpeace Canada, one of the groups named in the document, said.
"The striking thing is that the U.S. has identified climate change as one of the greatest threats to national security, yet here in Stephen Harper's Canada it is the people trying to stop climate change that are identified as the threat."
Stewart pointed out that in 2012, the Harper government called people concerned about climate change "radicals" and "money-launderers."
"And now we are being called 'anti-petroleum extremists,'" Stewart lamented.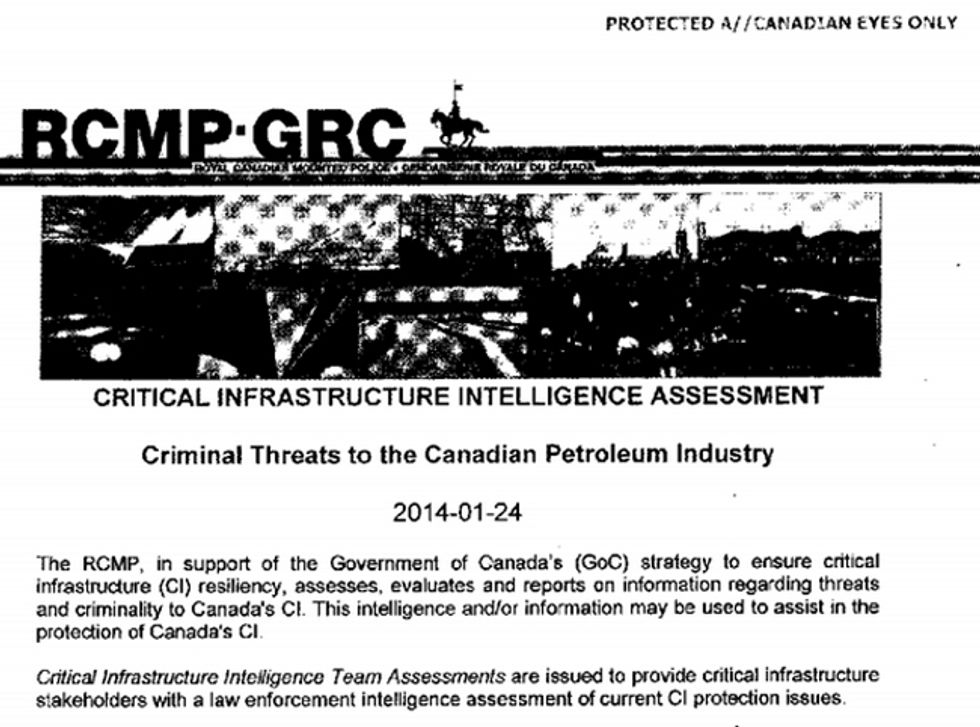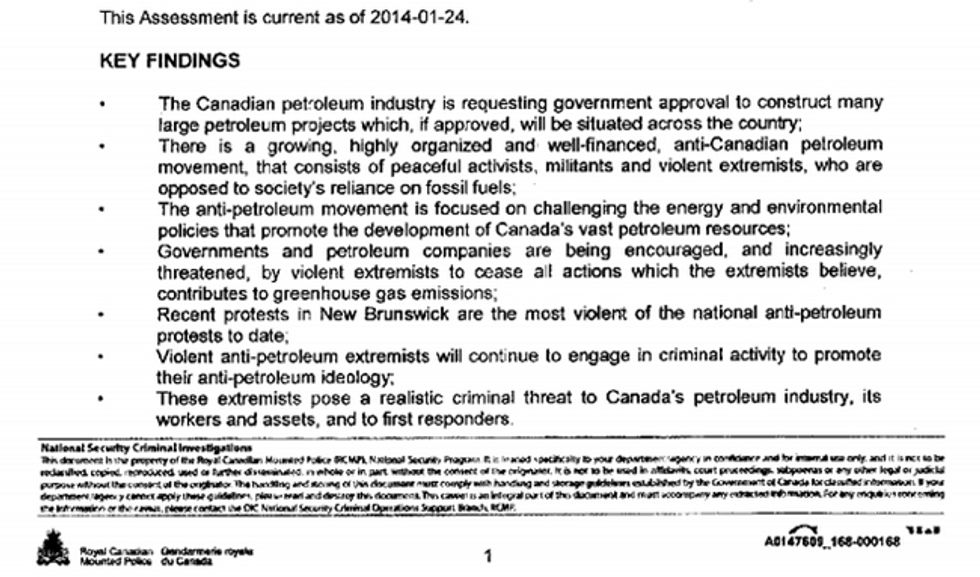 Stewart also pointed out the troubling "ideological" nature of the document. Its authors reference climate change as a "perceived environmental threat from the continued use of fossil fuels" that groups such as Greenpeace, Tides Canada and Sierra Club Canada have "an interest in drawing public attention to."
The report also paints industry opponents with a broad and extreme brush, calling them "anti-petroleum extremists" and relies on the industry-friendly research of conservative commentator Vivian Krause to echo the foreign-funded radicals line first used by former natural resources minister Joe Oliver in 2012.
The report relies largely on publicly available newspaper articles for source material.
Caitlyn Vernon, campaigns director with Sierra Club B.C., said the leaked documents "show that our government considers climate change a hoax perpetuated by environmentalists."
"What is truly 'extreme' is to radically change our climate, impacting the health and security of generations of Canadians to come. What is 'extreme' is to ignore the warnings of climate scientists and governments from around the world, to continue extracting and burning tar sands and other fossil fuels, to leave a legacy of extreme weather and food shortages," Vernon said. "Our government is leading us down a path with extreme unpredictable consequences for all Canadians."
Among the RCMP report's 'key findings' are concerns that "there is a growing, highly organized and well-financed, anti-Canadian petroleum movement, that consists of peaceful activists, militants and violent extremists, who are opposed to society's reliance on fossil fuels."
"Governments and petroleum companies are being encouraged, and increasingly threatened, by violent extremists to cease all actions which the extremists believe, contributes to greenhouse gas emissions," the document states.
"Violent anti-petroleum extremists will continue to engage in criminal activity to promote their anti-petroleum ideology."
The report is meant to provide critical infrastructure stakeholders, such as pipeline operators, with a "law enforcement assessment of current [critical infrastructure] protection issues."
The existence of the RCMP report lends credence to concerns that the Harper government's new anti-terrorism legislation will be used to label pipeline opponents and First Nations as 'terrorists.'
Bill C-51 would give the RCMP and the Canadian Security Intelligence Service (CSIS) extended powers to conduct surveillance, something they call 'disruption,' or make arrests if the individuals in question are seen as a potential threat.
The RCMP, CSIS as well as Public Safety Canada are all "Critical Infrastructure Partners" in Canada. A Public Safety Canada Plan for Critical Infrastructure for 2014–2017 recommends increased collaboration between critical infrastructure partners and industry. The plan includes granting security clearance to oil and gas industry representatives so they can be brought in on sensitive information and secret intelligence.
Pipeline proponent Kinder Morgan recently cited 'critical infrastructure security' as a reason for withholding crucial spill response information from the province of B.C. in the ongoing National Energy Board review of the company's proposal to nearly triple the capacity of the Trans Mountain pipeline that carries oilsands bitumen to the west coast.
Vernon from the Sierra Club said she is worried about the implications of the RCMP report in light of Bill C-51.
"Will the proposed new anti-terrorism legislation be applied to anyone speaking up about the threat of climate change?" she asked. "Will we be labelled extremists and terrorists for participating in a rally to oppose the Enbridge or Kinder Morgan pipeline and promote more sustainable energy alternatives?"
The proposed legislation could have "frightening consequences for our democracy and for our climate," she added, saying the bill raises the "spectre of surveillance and interference and potential arrest for anyone who brings attention to the very real threat of climate change."
The RCMP report says the Alberta oilsands "are receiving singular international attention" because of growing climate concerns. Environmentalists using social media to attract attention to the issue "exaggerate the oilsands' environmental footprint … [reference] reports that challenge the safety and integrity of the petroleum industry, and the hydraulic fracturing process," the report states.
The report cites six separate incidents of criminal activity connected to the "anti-petroleum movement," including the 2006 firebombing of a vehicle belonging to a vice president of the Canadian Petroleum Products Institute and explosive devices used to damage facilities belonging to Encana, the natural gas company at the centre of a massive legal battle involving the contamination of drinking water. No detailed documentation of these events is provided within the report.
Also referenced is the highly publicized Mi'kmaq First Nations blockade in New Brunswick in 2013 to protest the presence of fracking companies on unceded territory. The RCMPresponse to the blockade was met with severe criticism after the arrival of RCMP snipers, dogs and tasers turned a weeks-long peaceful protest into a battle ground.
"I think that attempted criminalization of indigenous dissent in this country is nothing new," Clayton Thomas Muller, member of the Mathais Colomb Cree Nation in Northern Manitoba and co-director of the Indigenous Tar Sands Campaign with the Polaris Institute, said. "It is however new for the Harper government to use the country's security apparatus to weave a narrative of terrorism in general into indigenous dissent."
"All of this is rooted in an agenda that really is about removing any kind of barrier to the Harper government's economic action plan," Thomas Muller said. "Aboriginal priority rights are one barrier this government has not been able to remove through omnibus bills.The Harper government is trying to use the security apparatus to criminalize First Nations and spread propaganda."
He added that aboriginal rights are not the result of mere extremism.
"The aboriginal legal regime has been built up not just through dissent on the streets and out in the land, but through the power of the courts and through sophisticated education strategies that are reaching out to Canadians, like Idle No More." He added that aboriginal rights are enshrined in the Constitution, through treaties one through 11 and by way of 170 Supreme Court rulings.
"The federal government couldn't be farther off when it comes to on the ground concerns about the energy industry in this country and they're using the country's security apparatus to remove barriers. They are worried about the tremendous amount of solidarity in Canada."
A spokesperson with the RCMP, Sergeant Greg Cox, told the Globe and Mail the police force has a mandate to investigate potential criminal threats, "including those to critical infrastructure and at public events."
But, Cox said, "There is no focus on environmental groups, but rather on the broader criminal threats to Canada's critical infrastructure. The RCMP does not monitor any environmental protest group. Its mandate is to investigate individuals involved in criminality."
YOU MIGHT ALSO LIKE
Legendary Iditarod Sled Dog Race Moved North As Alaska Deals With Climate Change
Climate Change Denial at Its Worst?
NASA Scientists: Future Megadroughts Could Last 30+ Years 'Thanks to Human-Induced Climate Change'
EcoWatch Daily Newsletter
Climate activists protest Chase Bank's continued funding of the fossil fuel industry on May 16, 2019 by setting up a tripod-blockade in midtown Manhattan, clogging traffic for over an hour. Michael Nigro / Pacific Press / LightRocket / Getty Images
By Julia Conley
Climate campaigners on Friday expressed hope that policymakers who are stalling on taking decisive climate action would reconsider their stance in light of new warnings from an unlikely source: two economists at J.P. Morgan Chase.
Protesters holding signs in solidarity with the Wet'suwet'en Nation outside the Canadian Consulate in NYC. The Indigenous Peoples Day NYC Committee (IPDNYC), a coalition of 13 Indigenous Peoples and indigenous-led organizations gathered outside the Canadian Consulate and Permanent Mission to the UN to support the Wet'suwet'en Nation in their opposition to a Coastal GasLink pipeline scheduled to enter their traditional territory in British Columbia, Canada. Erik McGregor / LightRocket / Getty Images
Tensions are continuing to rise in Canada over a controversial pipeline project as protesters enter their 12th day blockading railways, demonstrating on streets and highways, and paralyzing the nation's rail system
Horseshoe Bend (seen above) is a horseshoe-shaped meander of the Colorado River in Page, Arizona.
didier.camus
/ Flickr /
public domain
Millions of people rely on the Colorado River, but the climate crisis is causing the river to dry up, putting many at risk of "severe water shortages," according to new research, as The Guardian reported.
An alarming sign of an impending drought is the decreased snowpack in the Sierra Nevada Mountain range, as seen here in Christmas Valley, South Lake Tahoe, California on Feb. 15, 2020.
jcookfisher
/
CC BY 2.0
California is headed toward drought conditions as February, typically the state's wettest month, passes without a drop of rain. The lack of rainfall could lead to early fire conditions. With no rain predicted for the next week, it looks as if this month will be only the second time in 170 years that San Francisco has not had a drop of rain in February, according to The Weather Channel.