This website uses cookies to ensure you get the best experience while browsing it. By clicking 'Got It' you're accepting these terms.
Leading Primatologist Weighs in on Controversy Surrounding Shooting and Killing of Harambe
May. 31, 2016 08:56AM EST
Animals
[Editor's Note: Leading primatologist Frans de Waal weighs in on the controversy surrounding the shooting and killing of a rare gorilla Saturday at the Cincinnati Zoo to save a 4-year-old boy that slipped into the animal's enclosure.]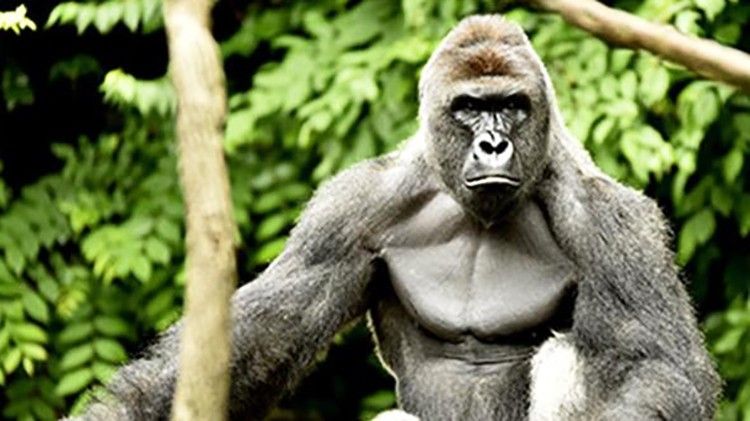 I find it very hard to decide what the Cincinnati Zoo should have done in the case of the human toddler and Harambe, the silverback male gorilla. Seeing more of the videos, I got the impression that Harambe was mostly protective. He showed a combination of protection and confusion. He stood over the child, held him up, moved/dragged him through the water (at least once very roughly), stood over him again. Much of his reaction may have been triggered by public noise and yelling.
There was no moment of acute aggression, as also admitted by the zoo director. If the gorilla had wanted to kill the child, one bang of his fist would have done it. People have no idea of their superhuman strength. Yet, he didn't perform any killing move. I should also clarify, since people on Facebook have said that gorillas are dangerous predators, that this is entirely wrong. A gorilla doesn't look at a human child as something edible.
The species is not interested in catching moving objects, the way cats are. Lions or tigers are predators, but gorillas are peaceful vegetarians. They prefer a juicy fruit over a piece of meat any time of the day. The one thing that reliably makes a gorilla male mad is another male who enters his territory or gets too close to his females and young. Haramba surely knew that he was not dealing with competition, hence had no reason to attack. There are several previous cases of toddlers falling into gorilla enclosures, one at the Brookfield Zoo in Chicago and another at Jersey Zoo (UK). In both cases, the children survived the attention of the apes, in one case even receiving assistance from them.
At Rotterdam Zoo, a gorilla jumped the moat to get close to a woman who often visited and also here the incident ended without a gorilla death. So, why was Harambe shot? First of all, the zoo director did not have the benefit of the video by now seen by everyone on the internet. A decision like this needs to be taken in a matter of minutes: there is no time to hear different opinions or look at video evidence. Second, all alternatives had big IF's attached to them. Caretakers could have distracted Harambe and get him to move away from the child (which I understood was tried to no avail).
They could have tried to lure him away with food or even have asked him to exchange the child for food (a process that apes understand very well). Another option might have been to tranquilize Harambe. But a tranquilizer dart sometimes upsets the target, which would have produced exactly the wrong reaction. None of these options offered a solid solution, one the director could count on.
I honestly don't know what I would have decided under the circumstances—it would have depended on the precise information that would have reached me—but at the same time can't help but wonder what would have happened had the public been moved out of the way and also the veterinary and security staff would have been held back, so that only animal care staff familiar to Harambe would have been left around. Under such circumstances, calm might have returned and, who knows, the child might have been left unharmed.
It is a horrible dilemma. I am sure the zoo staff is devastated (even though activists often depict zoos as prisons, they are full of people who deeply care about and greatly respect animals) and I myself am devastated that such a beautiful primate was killed. It is a great loss for the species, but we also mourn the individual life of a primate who had done nothing wrong. At least, we can all agree that people should watch their children! A special petition is going around calling for the boy's parents to "be held accountable for the lack of supervision and negligence that caused Harambe to lose his life."
P.S. I have now seen an unedited video, which makes the situation look even worse because apart from the gorilla's behavior, the water also poses a danger to the child. Watch the video here.
YOU MIGHT ALSO LIKE
Rare Gorilla Shot Dead After 4-Year-Old Boy Slips Into Animal's Enclosure at Cincinnati Zoo
Three 'Man-Eating' Crocodiles Found in Florida Everglades
Meet New York's Newest Groundskeeping Crew
EcoWatch Daily Newsletter
A. Battenburg / Technical University of Munich
By Sarah Kennedy
Algae in a pond may look flimsy. But scientists are using algae to develop industrial-strength material that's as hard as steel but only a fraction of the weight.
Variety of fermented food korean traditional kimchi cabbage and radish salad. white and red sauerkraut in ceramic plates over grey spotted background. Natasha Breen / REDA&CO / Universal Images Group / Getty Image
Even if you've never taken probiotics, you've probably heard of them.
These supplements provide numerous benefits because they contain live microorganisms, such as bacteria or yeast, which support the healthy bacteria in your gut (1, 2, 3, 4).
Pexels
Singapore will become the first country in the world to place a ban on advertisements for carbonated drinks and juices with high sugar contents, its health ministry announced last week. The law is intended to curb sugar consumption since the country has some of the world's highest diabetes rates per capita, as Reuters reported.
A typical adult takes around 20,000 breaths per day. If you live in a megacity like Beijing, with many of those lungfuls you're likely to inhale a noxious mixture of chemicals and pollutants.
Fred Stone holds his brown swiss cow Lida Rose at his Arundel dairy farm on March 18 after a press conference where he spoke about PFAS chemical contamination in his fields. Gregory Rec / Portland Portland Press Herald via Getty Images
By Susan Cosier
First there was Fred Stone, the third-generation dairy farmer in Maine who discovered that the milk from his cows contained harmful chemicals. Then came Art Schaap, a second-generation dairy farmer in New Mexico, who had to dump 15,000 gallons of contaminated milk a day.
Protesters attend the 32nd annual Fur-Free Friday demonstration on Nov. 23, 2018 in Beverly Hills, California. Ella DeGea / Getty Images
California Governor Gavin Newsom signed into law a bill that that bans the sale and manufacture of fur products in the state. The fur ban, which he signed into law on Saturday, prohibits Californians from selling or making clothing, shoes or handbags with fur starting in 2023, according to the AP.
By Simon Evans
During the three months of July, August and September, renewables generated an estimated total of 29.5 terawatt hours (TWh), compared with just 29.1TWh from fossil fuels, the analysis shows.
A demonstrator waves an Ecuadorian flag during protests against the end of subsidies to gasoline and diesel on Oct. 9 in Quito, Ecuador. Jorge Ivan Castaneira Jaramillo / Getty Images