This website uses cookies to ensure you get the best experience while browsing it. By clicking 'Got It' you're accepting these terms.
Leading Cancer Experts: 2,4-D Weed-Killer Is 'Possibly Carcinogenic to Humans'
Jun. 23, 2015 10:37AM EST
The decision by an organization of the world's leading cancer experts to classify the herbicide 2,4-D as a possible carcinogen underscores the risk posed by the U.S. government's recent approval of 2,4-D for use on genetically engineered, or GMO, crops.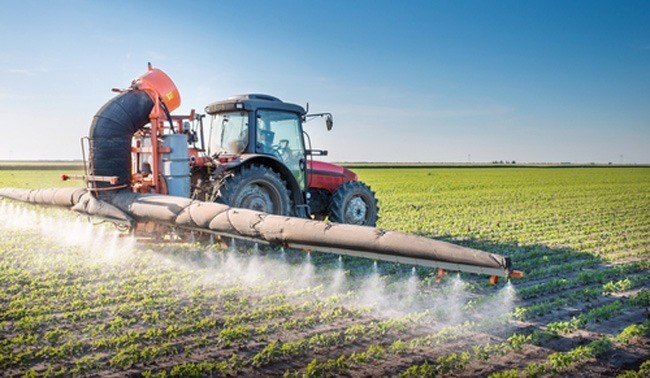 Photo credit: Shutterstock
The International Agency for Research on Cancer (IARC), a branch of the World Health Organization, said 2,4-D is "possibly carcinogenic to humans" because there is "strong evidence that 2,4-D induces oxidative stress that can operate in humans and moderate evidence that 2,4-D causes immunosuppression, based on in-vivo and in-vitro studies."
"We have known for decades that 2,4-D is harmful to the environment and human health, especially for the farmers and farm workers applying these chemicals to crops," said Mary Ellen Kustin, senior policy analyst for the Environmental Working Group. "Now that farmers are planting 2,4-D-tolerant GMO crops, this herbicide is slated to explode in use much the way glyphosate did with the first generation of GMO crops. And we know from experience—and basic biology—that weeds will soon grow resistant to these herbicides, making GMO crop growers only more dependent on the next chemical fix."
2,4-D is one of the two active ingredients in Enlist Duo, a toxic weed-killing cocktail marketed by Dow AgroSciences, which the U.S. Environmental Protection Agency recently approved for use in 15 states. The other herbicide in Enlist Duo is glyphosate, which the international cancer agency had previously classified as "probably carcinogenic." Exposure to both chemicals has separately been linked to non-Hodgkin lymphoma.
When the EPA approved Enlist Duo for use on GMO crops, the agency did not consider the effects the two harmful defoliants may have on human health when mixed together.
Like glyphosate, 2,4-D has been linked to other human health dangers as well. Exposure to 2,4-D has also been associated with a higher risk of Parkinson's disease, immune system problems and hypothyroidism.
"Because of the approval of Enlist Duo for use on GMO crops, we expect the use of 2,4-D to increase up to seven-fold by the end of the decade," said Kustin. "Since the federal government has failed to curb the overreliance of glyphosate and 2,4-D, mandatory GMO labeling is essential so that consumers can know whether they are buying GMO foods that rely heavily on these toxic herbicides."
YOU MIGHT ALSO LIKE
Monsanto Fires Back at Neil Young's Scathing New Album
France Bans Monsanto's Roundup as Environmental Groups Push WHO for Stronger Safety Standards
Plus, learn if there's one that's best for your health.
Catherine Falls Commercial / Moment / Getty Images
An invasive Amynthas worm, also known as a crazy snake worm, Asian jumping worm and Alabama jumper Tom Potterfield / Flickr
By Jason Bittel
My wife and I built a house two years ago on a few acres of woodland outside of Pittsburgh. The backyard is full of maples, poplars, briars and common spicebush. Two-lined salamanders and grumpy-looking crayfish wade among the rocks in the small stream that runs down the edge of the property. Deer, raccoon and opossum tracks appear regularly in the snow and mud. Sometimes, my trail-cam even catches a pair of gray foxes as they slink through the night.
AleksandarNakic / Getty Images
By Kate Murphy
No matter the time of year, there's always a point in each season when my skin decides to cause me issues. While these skin issues can vary, I find the most common issues to be dryness, acne and redness.

David Woodfall / The Image Bank / Getty Images
By Sam Nickerson
The U.S. Environmental Protection Agency (EPA) in April 2018 proposed relaxing standards related to how it assesses the effects of exposure to low levels of toxic chemicals on public health.
Now, correspondence obtained by the LA Times revealed just how deeply involved industry lobbyists and a controversial, industry-funded toxicologist were in drafting the federal agency's proposal to scrap its current, protective approach to regulating toxin exposure.
Steve Irwin poses with a three foot long alligator at the San Francisco Zoo on June 26, 2002. Justin Sullivan / Getty Images
February 22 is the birthday of conservationist and beloved TV personality "Crocodile Hunter" Steve Irwin, who would have been 57 years old today.
Irwin's life was tragically cut short when the barb from a stingray went through his chest while he was filming in 2006, but his legacy of loving and protecting wildlife lives on, most recently in a Google Doodle today honoring his birthday.