Latin American Doctors Suggest Monsanto-Linked Larvicide Cause of Microcephaly, Not Zika Virus
[Update: Rio Grande do Sul, Brazil's southernmost state, suspended the use of the pyriproxyfen—a pesticide that stops the development of mosquito larvae in drinking tanks—to combat the spread of the Zika virus. Read more here.]
As the Zika epidemic "spreads explosively" around the world, pregnant travelers have been put on pause due to the virus's suspected association with microcephaly, the congenital condition in which a baby's head is abnormally small.
While the link between the mosquito-borne virus and microcephaly has yet to be scientifically proven, Argentinian and Brazilian doctors have suggested an alternate culprit: pesticides.
The report, written by the Argentine group Physicians in the Crop-Sprayed Towns (PCST), suspects that pyriproxyfen—a larvicide added to drinking water to stop the development of mosquito larvae in drinking water tanks—has caused the birth defects.
The authors said that the pesticide, known by its commercial name SumiLarv, is manufactured by Sumitomo Chemical, a Japanese subsidiary of Monsanto.
According to PCST, in 2014, the Brazilian Ministry of Health introduced pyriproxyfen to drinking-water reservoirs in the state of Pernambuco, where the proliferation of the Zika-carrying Aedes aegypti mosquito is very high.
"Malformations detected in thousands of children from pregnant women living in areas where the Brazilian state added pyriproxyfen to drinking water is not a coincidence, even though the Ministry of Health places a direct blame on Zika virus for this damage, while trying to ignore its responsibility and ruling out the hypothesis of direct and cumulative chemical damage caused by years of endocrine and immunological disruption of the a acted population," PCST said.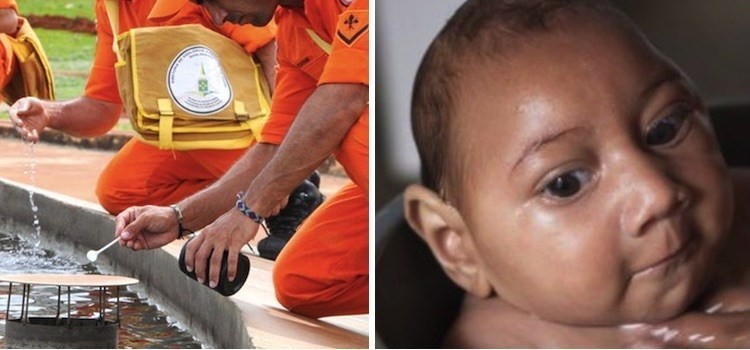 Public health officials in Brazil inspect points of standing water, a breeding ground for the Zika-carrying Aedes mosquito. The virus has been linked to microcephaly, but the theory has not been scientifically confirmed. Photo credit: Flickr/Twitter
As it happens, the northeast state has registered the largest number of cases of microcephaly. Pernambuco, the first state to detect the problem, has roughly 35 percent of the total microcephaly cases across Brazil.
"Previous Zika epidemics did not cause birth defects in newborns, despite infecting 75 percent of the population in those countries," the paper said. "Also, in other countries such as Colombia there are no records of microcephaly; however, there are plenty of Zika cases."
Indeed, as The Ecologist observed from PCST's report, Colombia has so far diagnosed 3,177 pregnant women with the Zika virus, but these women gave birth to healthy babies or are carrying healthy fetuses.
Sumitomo Chemical says on the Sumilarv website that the product "not only poses minimal risk to mammals, birds and fish; it also allows it to be applied to drinking water. Application to the aquatic breeding sites of mosquitoes ensures a rapid decline of the adult mosquito population significantly reducing bite rates."
However, GM Watch has cited a report from Abrasco, an organization of Brazilian doctors and public health researchers, that links the pesticide to the abnormality. GM Watch wrote:
Abrasco also names Pyriproxyfen as a likely cause of the microcephaly. It condemns the strategy of chemical control of Zika-carrying mosquitoes, which it says is contaminating the environment as well as people and is not decreasing the numbers of mosquitoes. Abrasco suggests that this strategy is in fact driven by the commercial interests of the chemical industry, which it says is deeply integrated into the Latin American ministries of health, as well as the World Health Organization and the Pan American Health Organization.
PCST also observed that the highest concentration of microcephaly cases are found in the poorest areas of northeastern Brazil. These areas, "with intermittent water supply, led these communities to store water at home in an unsafe manner, due to the inadequate protection of tanks intended for human consumption" leading to very favorable conditions for the Aedes mosquito.
While the Internet is abound with a number of possible theories on the origin of the virus—genetically modified mosquitoes, for one—the World Health Organization (WHO) has been careful to not explicitly link Zika to microcephaly.
"Although a causal link between Zika infection in pregnancy and microcephaly has not, and I must emphasize, has not been established, the circumstantial evidence is suggestive and extremely worrisome," WHO General Director Margaret Chan announced last month.
Zika-related microcephaly can be difficult to confirm. The Washington Post reported last month that after experts scrutinized 732 of the cases out 4,180 cases of Zika-related microcephaly, they found more than half either weren't microcephaly or weren't even related to Zika at all. In fact, according to the ministry bulletin, just 270 were confirmed as microcephaly that appears to be linked to Zika or other infectious diseases.
However, as PBS's Frontline reported last week, Pernambuco researchers have identified clear evidence of the microcephaly-Zika link. According to the report, "researchers here tested the spinal fluid of 12 babies with microcephaly, all of whom were born to mothers who reported having symptoms of Zika early in their pregnancies. In all 12 cases, the researchers found evidence of Zika."
Secretary of Vigilance and Health Luciana Albuquerque said in a press conference at the Pernambuco Health Department that "this is not a scientific study," noting that the results do not indicate a definitive causal link but added, "it's a very important suggestion of the link."
The WHO officially declared Zika a global health emergency and officials are carefully monitoring the spread. Researchers are also currently racing to develop a vaccine.
YOU MIGHT ALSO LIKE 
Coffee Farmers Sue Monsanto for Hiding Cancer-Causing Impact of Glyphosate
Poisoned Kids in Flint Are Just the Tip of the Toxic Iceberg
Mark Ruffalo: We're Heading Toward a National Water Crisis
Dow CEO Andrew Liveris and President Donald Trump in February.
U.S. Environmental Protection Agency (EPA) administrator Scott Pruitt met with Dow Chemical CEO Andrew Liveris before deciding to reverse an earlier EPA decision to ban the company's toxic and widely used pesticide, chlorpyrifos.
According to records obtained by the Associated Press, the EPA boss met with Liveris for about 30 minutes at a Houston hotel on March 9. Later that month, Pruitt announced that he would no longer pursue a ban on chlorpyrifos from being used on food, ignoring his agency's own review that even small amounts of the pesticide could impact fetus and infant brain development.
Keep reading...
Show less
www.facebook.com
Native communities and environmental justice advocates in Louisiana opened a new resistance camp Saturday to oppose the proposed Bayou Bridge Pipeline project. Called L'eau Est La Vie, or Water is Life, the camp will consist of floating indigenous art structures on rafts and constant prayer ceremonies during its first two weeks.
Keep reading...
Show less
Continuing its march toward elimination of key Clean Water Act protections, the U.S. Environmental Protection Agency (EPA) on Tuesday issued a formal notice of withdrawal of the Obama administration's rule defining which waters can be protected against pollution and destruction under federal law.
Keep reading...
Show less
The U.S. Environmental Protection Agency (EPA) is not doing enough to prevent weed resistance to the herbicide glyphosate (Roundup) says a new report from the EPA's Inspector General's Office, which draws in part on a report from the agbiotech company, Pioneer: Weed Management in the Era of Glyphosate Resistance.
Keep reading...
Show less
SUMR
When it comes to the latest wind turbine technologies, size matters. A group of six institutions and universities is designing an offshore wind turbine that will stand 500 meters in height. That's taller than the Eiffel Tower and the Empire State Building.
The research team, led by researchers at the University of Virginia, believes that its wind turbine concept will produce 50 megawatts of peak power, or about 10 times more powerful than conventional wind turbines.
Keep reading...
Show less
www.facebook.com
Natural gas is often considered the cleanest fossil fuel, but could it actually be dirtier than coal?
Watch as New York Times reporter Mark Bittman, in the above Year's of Living Dangerously video, investigates how much methane is leaking at fracking wells. Find out how the natural gas industry's claims compare to what scientists are reporting.
See what happens when Gaby Petron, an atmospheric scientist with NOAA, converts her van into a mobile methane detector and sets out across northeastern Colorado for two years, taking thousands of readings to uncover the truth.
www.youtube.com
Adrian Grenier was named UN Goodwill Ambassador earlier this month. The Hollywood actor, best known for his iconic role of A-list movie star Vincent Chase in the HBO smash hit and film Entourage, will advocate for drastically reducing single-use plastic and protection of marine species, and encourage his followers to make conscious consumer choices to reduce their environmental footprint, according to the UN Environment announcement.
"Together we must usher in a new era of compassion and carefulness through forward thinking environmental programs to drive measurable change," Grenier said. "I am personally committed to creating ways in which the global community can come together to help solve our most critical climate crises through routine, collective action.
"The more we connect to nature in our daily lives, the more dedicated we will become to our individual commitments. Together, I believe we can go further, faster in our race to achieve the UN Sustainable Development Goals by 2030."
Watch the video above to learn more.
The last week has seen a flood of stories on clean energy's prospects—stories that make your head spin with their conflicting tales of renewable energy's prospects of ending our dangerous addiction to fossil fuel power from coal and gas.
Keep reading...
Show less