Last Minute Deal Reached at UN Climate Talks, Falls Far Short of Expectations
Nov. 23, 2013 04:40PM EST
Climate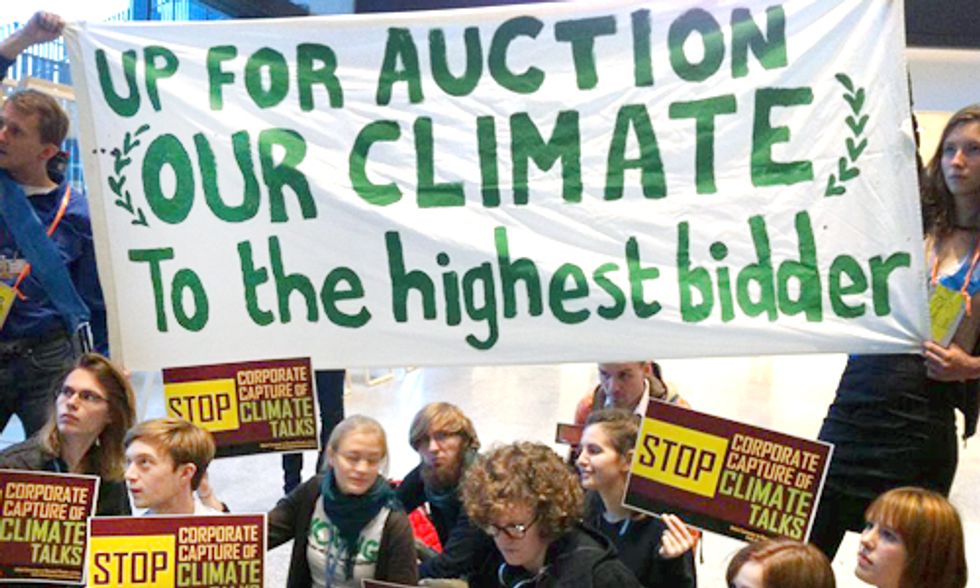 By Paul Brown
For the first time, all countries of the world have agreed to make contributions in cutting greenhouse gas emissions to prevent the planet's temperature rising above the 2°C danger limit previously agreed by politicians.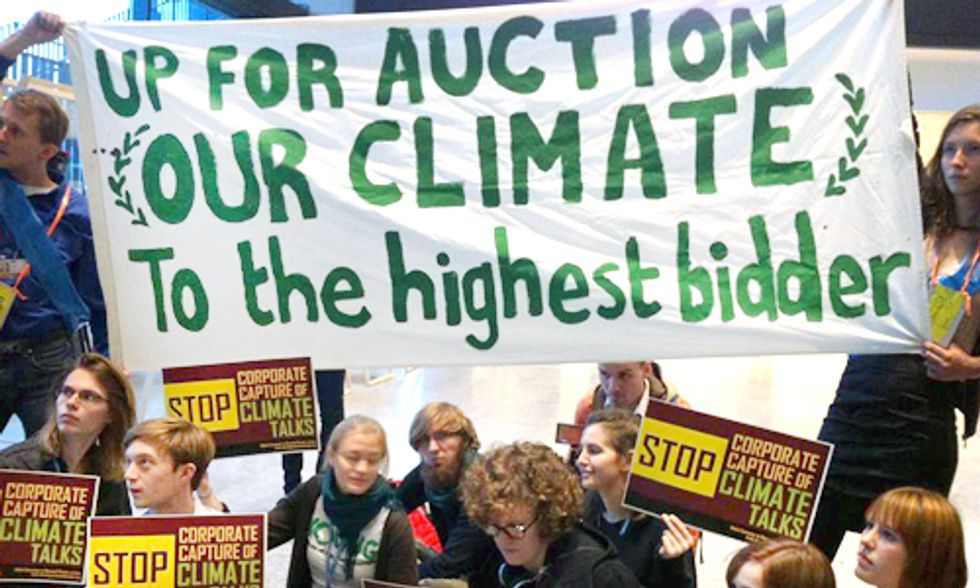 With corporations—incluidng steel giant Arcelor Mittal, General Motors and Emirates—sponsoring the UN climate talks in Warsaw, Poland, youth activists stand in solidarity with the Philippines demanding: "Stop the Corporate Capture of Climate Talks."
Thirty hours after the climate conference in Warsaw should have ended, a series of compromises rescued the talks from collapse, although the deal fell far short of developing countries' original expectations.
The last stumbling block preventing agreement was overcome with an addition to the climate convention (UNFCCC), enabling the use of an existing mechanism to provide money from rich nations for loss and damage suffered by developing countries because of extreme climate events and long-term problems like rising sea levels. This would potentially allow the Philippines to apply for funds to help with the effects of this month's super typhoon.
One concrete achievement was to finalize an agreement to conserve the world's forests and to make it operational.
The Warsaw meeting was billed as a preparatory step to the 194 participating countries signing a legally binding agreement in Paris in 2015 to limit greenhouse gas emissions, and also as a vehicle for providing poorer countries with finance—both to adapt to climate change and also to deal with irreparable damage like loss of islands through sea level rise.
Dangerous overheating
Previously only the rich industrial nations have agreed to make commitments to cut greenhouse gases, but emissions from developing countries have been rising so fast that without contributions from them there is no hope of preventing the atmosphere dangerously overheating.
Reluctance by India and other larger developing countries to make commitments to limit emissions was overcome by calling targets "contributions" and so avoiding making them appear legally binding. 
An important part of the agreement is for all countries to come up with their national "contributions" by the spring of 2015. This will allow scientists to evaluate all the targets offered by countries to see if this will keep world temperatures below a 2°C rise. 
Nick of time 
If they are not sufficient, then the less ambitious countries will be encouraged to improve their contributions in time for the Paris conference in December that year.
Jennifer Morgan, from the World Resources Institute, said: "Just in the nick of time, the negotiators in Warsaw delivered enough to keep the process moving.
"Country representatives now need to return home to make significant progress on their work plans and national offers that can become the backbone of a new climate agreement. Progress will also depend on mobilizing more financial support for vulnerable countries."
A statement by the Third World Network, an organization helping developing nations, said the agreement meant that all countries needed to discuss their contributions towards the ultimate objective of the convention, which was "truly to avoid dangerous climate change."
Meena Raman from the Climate Network said the negotiations next year would have to grapple with the emission budget required and how to share it fairly. This would need to take into account   the historic contributions to climate change of developed countries.
China, now the world's largest contributor to greenhouse gases, acknowledged here that developing countries' emissions now exceeded those of the developed countries and needed to be limited.
Forest prospects brighten
Agreements on finance were fudged. At the conference $110 million was promised, mostly by EU countries, to help developing countries adapt to climate change.
Attempts to get a much larger sum of $70 billion from the developed world by 2016 were blocked by the United States. Instead, a pledge to provide $100 billion a year from 2020, which had been promised at previous climate talks, remained on the table, although as yet which countries are going to provide this money remains unstated.
One outstanding success of the conference was the agreement designed to reward countries that prevent the destruction of their forests.
Tree loss is estimated to increase man-made emissions of carbon dioxide to the atmosphere by 12% a year.  It has long been the concern of developed countries to find a way of preventing tropical forests being cut down, but it has taken 20 years to create an international agreement on how to do it.
The agreement called REDD (Reducing Emissions from Deforestation and Degradation) provides compensation for countries that lose revenue from not exploiting their forests. Countries that have satellite monitoring and can show they protect the rights of forest peoples and biological diversity can now claim from climate funds for carbon emissions avoided.
Some less developed countries still do not have adequate verification schemes in place, but key states like Brazil, where the Amazon losses are carefully monitored, should benefit from REDD immediately, provided they can reduce forest loss.
Visit EcoWatch's CLIMATE CHANGE page for more related news on this topic.

Recycling and general waste plastic wheelie bins awaiting collection for disposal in Newport, Rhode Island. Tim Graham / Getty Images
Reduce. Reuse. Recycle. According to The National Museum of American History, this popular slogan, with its iconic three arrows forming a triangle, embodied a national call to action to save the environment in the 1970s. In that same decade, the first Earth Day happened, the EPA was formed and Congress passed the Resource Conservation and Recovery Act, encouraging recycling and conservation of resources, Enviro Inc. reported.
According to Forbes, the Three R's sustainability catch-phrase, and the recycling cause it bolstered, remain synonymous with the U.S. environmental movement itself. There's only one problem: despite being touted as one of the most important personal actions that individuals can take to help the planet, "recycling" – as currently carried out in the U.S. – doesn't work and doesn't help.
Turns out, there is a vast divide between the misleading, popular notion of recycling as a "solution" to the American overconsumption problem and the darker reality of recycling as a failing business model.
Tiffany Duong is an avid ocean advocate. She holds degrees from UCLA and the University of Pennsylvania Carey Law School and is an Al Gore Climate Reality Leader and student member of The Explorer's Club.
She spent years as a renewable energy lawyer in L.A. before moving to the Amazon to conduct conservation fieldwork (and revamp her life). She eventually landed in the Florida Keys as a scientific scuba diver and field reporter and writes about the oceans, climate, and the environment from her slice of paradise. Follow her on Twitter/Instagram @lilicedt.
EcoWatch Daily Newsletter
The coal-fired Huaneng Power Plant in Huai 'an City, Jiangsu Province, China on Sept. 13, 2020. Costfoto / Barcroft Media via Getty Images
Overall energy demand is expected to rise 4.6 percent this year compared to 2020 and 0.5 percent compared to 2019, according to the IEA's Global Energy Review 2021. Demand for fossil fuels is expected to jump to such an extent that emissions will rise by nearly five percent in 2021. This will reverse 80 percent of the emissions decline reported in 2020, to end emissions just 1.2 percent below 2019 emissions levels. Because the lockdown saw the biggest drop in energy demand since World War II, the projected increase in carbon dioxide emissions will still be the second-highest on record, BBC News pointed out.
"This is a dire warning that the economic recovery from the COVID crisis is currently anything but sustainable for our climate," IEA Executive Director Fatih Birol said in a statement reported by AFP.
Birol said much of that increase was being driven by the resurgence of coal use. In fact, coal demand is expected to increase by 60 percent more than all forms of renewable energy, according to the report. Overall coal demand is expected to increase by 4.5 percent in 2021. More than 80 percent of that growth is in Asia, and more than 50 percent is in China. While coal use is expected to increase in the U.S. and Europe as well, it will remain far below pre-pandemic levels. Still, global coal use is expected to rise to nearly its 2014 peak, BBC News reported.
Natural gas demand is also expected to rise by 3.2 percent in 2021, to put it more than one percent above 2019 levels, according to the report.
There are, however, two bright spots in the report from a climate perspective. The first is that oil demand, while up 6.2 percent from 2020, is still expected to remain around 3 percent below 2019 levels. This is because oil use for ground transportation is not expected to recover until the end of 2021, and oil use for air travel is expected to remain at 20 percent below 2019 levels by December of 2021.
"A full return to pre-crisis oil demand levels would have pushed up CO2 emissions a further 1.5%, putting them well above 2019 levels," the report authors wrote.
The second bright spot is that renewable energy demand is set to rise in all sectors in 2021. In power, where its rise is the greatest, it is set to increase by more than eight percent. This is "the largest year-on-year growth on record in absolute terms," the report authors wrote.
Renewable energy will provide 30 percent of electricity overall, BBC News reported, which is the highest percentage since the industrial revolution. The problem is that the increase in renewables is running parallel to an increase in fossil fuels in some places. China, for example, is also expected to account for almost half of the rise in renewable electricity.
"As we have seen at the country-level in the past 15 years, the countries that succeed to cut their emissions are those where renewable energy replaces fossil energy," energy expert and University of East Anglia professor Corinne Le Quéré told BBC News. "What seems to be happening now is that we have a massive deployment of renewable energy, which is good for tackling climate change, but this is occurring alongside massive investments in coal and gas. Stimulus spending post-Covid-19 worldwide is still largely funding activities that lock us into high CO2 emissions for decades."
To address this issue, Birol called on the world leaders gathering for U.S. President Joe Biden's climate summit Thursday and Friday to pledge additional action before November's UN Climate Change Conference, according to AFP.
"Unless governments around the world move rapidly to start cutting emissions, we are likely to face an even worse situation in 2022," said Birol.
From Your Site Articles
Related Articles Around the Web
A grizzly bear killed an outdoor guide in a rare attack near Yellowstone Park. William Campbell / Corbis / Getty Images
Representative Alexandria Ocasio-Cortez (D-NY) re-introduces the Green New Deal in Washington, D.C. on April 20, 2021. Mandel Ngan / AFP / Getty Images
By Brett Wilkins
In the latest of a flurry of proposed Green New Deal legislation, Reps. Cori Bush and Alexandria Ocasio-Cortez on Monday introduced the Green New Deal for Cities Act of 2021, a $1 trillion plan to "tackle the environmental injustices that are making us and our children sick, costing us our homes, and destroying our planet."
Offshore oil and gas drillers have left more than 18,000 miles of pipelines at the bottom of the Gulf of Mexico. Drew Angerer / Getty Images
Offshore oil and gas drillers have discarded and abandoned more than 18,000 miles of pipelines on the floor of the Gulf of Mexico since the 1960s, a report from the Government Accountability Office says.
The industry has essentially recovered none of the pipelines laid in the Gulf in the last six decades; the abandoned infrastructure accounts for more than 97% of all of the decommissioned pipelines in the Gulf.
The pipelines pose a threat to the habitat around them, as maritime commerce and hurricanes and erosion can move sections of pipeline.
The Bureau of Safety and Environmental Enforcement does not conduct undersea inspections even though surface monitoring is "not always reliable for detecting ruptures," according to the GAO.
For a deeper dive:
For more climate change and clean energy news, you can follow Climate Nexus on Twitter and Facebook, sign up for daily Hot News, and visit their news site, Nexus Media News.