Last Day of Climate Talks—Will Anything Be Accomplished?
Dec. 07, 2012 03:33PM EST
Climate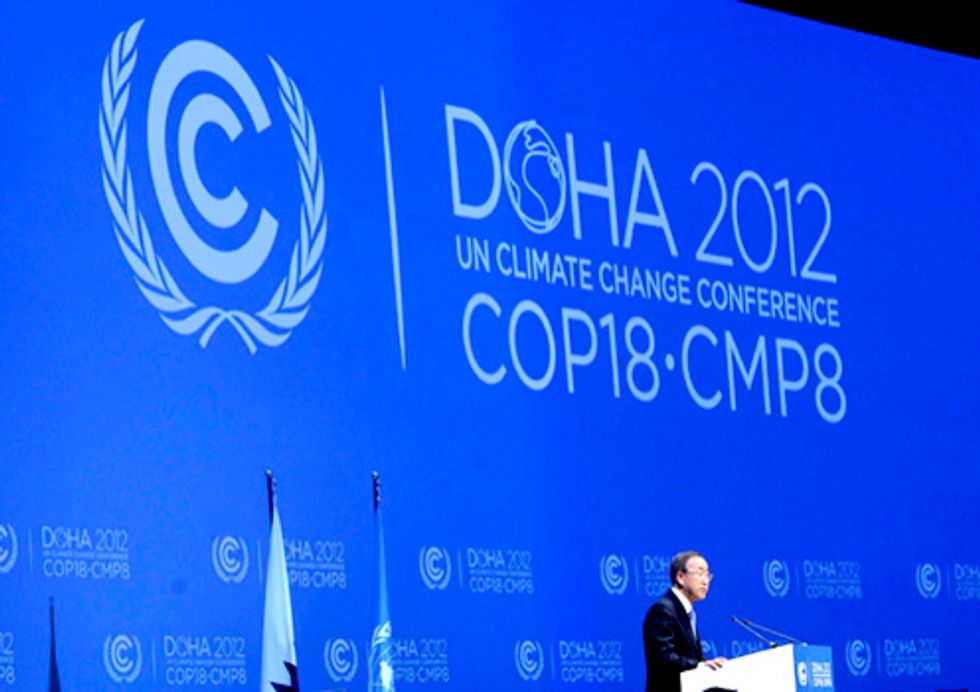 By Jake Schmidt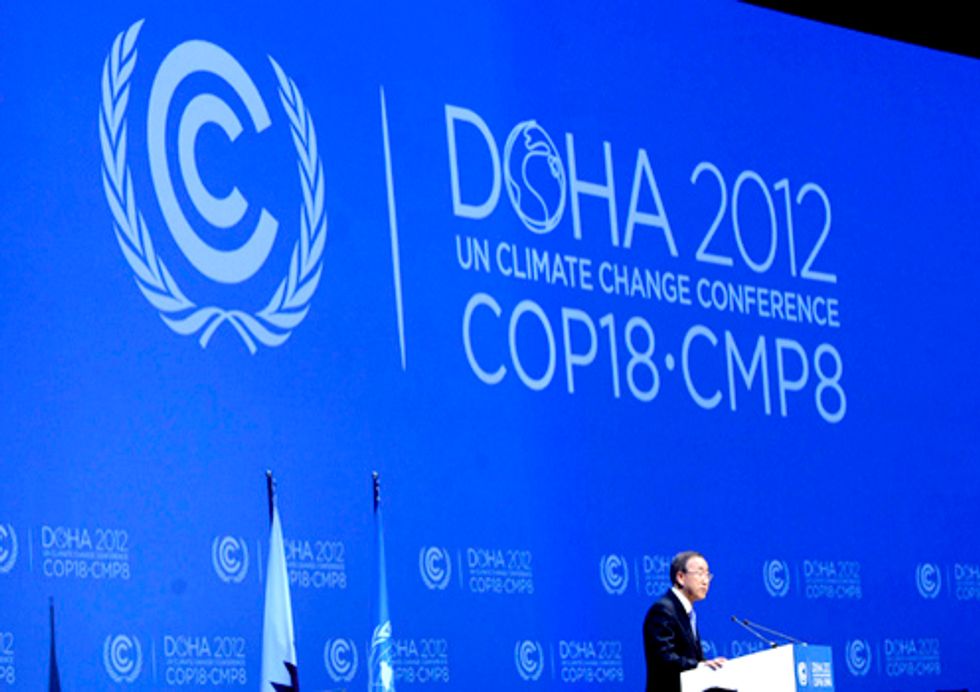 Today we begin the final day (hopefully) of the global warming negotiations in Doha. A lot of delegates are talking about it going into Saturday as the meeting is being poorly handled by the host country Qatar. Unfortunately the leadership of the host country plays a critical role as we witnessed with the excellent leadership of Mexico that helped deliver a solid agreement in Cancun. It can all come together in Doha as this meeting is supposed to set the stage for stronger international action in the years to come (not finalize those details). Will it?
The key issues are coming down to crunch time.  How will these issues get resolved in the final hours?
Will countries finalize the second round of the Kyoto Protocol? There are still some differences, but countries came into this meeting knowing that it was the main political fight so they have had a year to try to find a compromise. Ministers have been tackling this issue since early in the week so clearly the "big guns" have been focused on this intensely.
Will countries wrap-up the small number of loose ends from previous rounds of negotiation? In Cancun and Durban countries agreed to specific mitigation commitments, a new multilateral financial tool, greater transparency and accountability requirements, tools to help developing countries tap into clean energy technologies and support to strengthen the resilience of the most vulnerable countries. These are important tools that can now be fully implemented as Doha has already finalized key outstanding issues.
Unfortunately, poor leadership by the Saudi Arabian chair has led to a mess. The negotiating text should have been cleaned up days ago with only a small number of issues punted to Ministers. Instead negotiators were working late last night and into the morning to try to clean up the text.
Ministers need to quickly "sweep up" all the elements that are ready for prime time and translate them into the final agreement. No time for dithering.
Financing future investments to spur clean energy deployment, deforestation reductions and adaptation in developing countries? In Copenhagen countries pledged $30 billion between 2010-2012 ($10 billion per year). In the face of a huge economic downturn and budget cuts, developed countries have met that commitment. There is some quibbling about the shape of that money and what should count, but it is clear that large amounts of money have been mobilized to help developing countries reduce emissions and combat the impacts of global warming. That is great news given that $10 billion per year is orders of magnitude more than had been mobilized in the previous years.
Now countries are trying to agree on a signal that this level of commitment won't drop off the "climate fiscal cliff." A number of countries have outlined that they'll continue investing in these actions with commitments from Germany, UK, France, Sweden and other European countries. Will more come forward?
Will more countries come forward with commitments to cut their global warming pollution? The Dominican Republican announced that they'll cut their emissions 25 percent below 2010 levels by 2030. This commitment is already enshrined in their domestic law. They should be applauded for stepping forward with a clear commitment to help address global warming.
Will host country Qatar, United Arab Emirates or Saudi Arabia follow suit?
After Doha will countries focus on how to secure even stronger action by 2015? Countries began the negotiations on the new "legal agreement" to be agreed by 2015. These discussions are still at a very early stage, but countries began to set the right tone for that negotiation. Those discussions were surprisingly uncontroversial. No country backslid from the agreement in Durban.
There are some minor issues left before this can be agreed in Doha, but assuming the rest of the issues get resolved countries will leave Doha focused on how to secure even greater international action.
It hasn't come together yet, but it still can.
Visit EcoWatch's CLIMATE CHANGE page for more related news on this topic.
Electric vehicles are the cars of the future. sl-f / Getty Images
By 2035, every new car and truck sold in the U.S. could be an EV, a new report says.
Accelerations in technology and especially battery affordability, paired with new policy, mean the dramatic transition would save American drivers $2.7 trillion by 2050, an average savings of $1,000 per household per year.
The ramp up in EV production would also create 2 million new jobs by 2035. Battery prices have fallen 74% since 2014, and their unexpectedly rapid fall is a key driver of the cost savings.
EVs are far simpler mechanically, and more efficient, than internal combustion engine (ICE) vehicles, which translates to reduced climate pollution and lower costs for consumers.
Strengthened vehicle efficiency standards and investment in fast charging infrastructure are needed to accelerate the transition, which would prevent 150,000 premature deaths and save $1.3 trillion in health environmental costs by 2050.
For a deeper dive:

The Guardian, Fast Company, E&E, Morning Consult, Canary Media

For more climate change and clean energy news, you can follow Climate Nexus on Twitter and Facebook, sign up for daily Hot News, and visit their news site, Nexus Media News.
EcoWatch Daily Newsletter
The Gowanus Canal in Brooklyn, New York, a polluted nearly 2 mile-long waterway that is an EPA Superfund site. Jonathan Macagba / Moment / Getty Images
Thousands of Superfund sites exist around the U.S., with toxic substances left open, mismanaged and dumped. Despite the high levels of toxicity at these sites, nearly 21 million people live within a mile of one of them, according to the U.S. Environmental Protection Agency (EPA).
The National Weather Service station in Chatham, Massachusetts, near the edge of a cliff at the Monomoy National Wildlife Refuge. Bryce Williams / National Weather Service in Boston / Norton
A weather research station on a bluff overlooking the sea is closing down because of the climate crisis.
The National Weather Service (NWS) station in Chatham, Massachusetts was evacuated March 31 over concerns the entire operation would topple into the ocean.
"We had to say goodbye to the site because of where we are located at the Monomoy Wildlife Refuge, we're adjacent to a bluff that overlooks the ocean," Boston NWS meteorologist Andy Nash told WHDH at the time. "We had to close and cease operations there because that bluff has significantly eroded."
Chatham is located on the elbow of Cape Cod, a land mass extending out into the Atlantic Ocean that has been reshaped and eroded by waves and tides over tens of thousands of years, The Guardian explained. However, sea level rise and extreme weather caused by the climate crisis have sped that change along.
"It's an extremely dynamic environment, which is obviously a problem if you are building permanent infrastructure here," Andrew Ashton, an associate scientist at Cape-Cod based Woods Hole Oceanographic Institution, told The Guardian. "We are putting our foot on the accelerator to make the environment even more dynamic."
This was the case with the Chatham weather station. It used to be protected from the drop into the ocean by about 100 feet of land. However, storm action in 2020 alone washed away as much as six feet of land a day.
"We'd know[n] for a long time there was erosion but the pace of it caught everyone by surprise," Nash told The Guardian. "We felt we had maybe another 10 years but then we started losing a foot of a bluff a week and realized we didn't have years, we had just a few months. We were a couple of storms from a very big problem."
The Chatham station was part of a network of 92 NWS stations that monitor temperature, pressure, humidity, wind speed and direction and other data in the upper atmosphere, The Cape Cod Chronicle explained. The stations send up radiosondes attached to weather balloons twice a day to help with weather research and prediction. The Chatham station, which had been observing this ritual for the past half a century, sent up its last balloon the morning of March 31.
"We're going to miss the observations," Nash told The Cape Cod Chronicle. "It gives us a snapshot, a profile of the atmosphere when the balloons go up."
The station was officially decommissioned April 1, and the two buildings on the site will be demolished sometime this month. The NWS is looking for a new location in southeastern New England. In the meantime, forecasters will rely on data from stations in New York and Maine.
Nash said the leavetaking was bittersweet, but inevitable.
"[M]other nature is evicting us," he told The Cape Cod Chronicle.
Amsterdam is one of the Netherlands' cities which already has "milieuzones," where some types of vehicles are banned. Unsplash / jennieramida
By Douglas Broom
If online deliveries continue with fossil-fuel trucks, emissions will increase by a third.
So cities in the Netherlands will allow only emission-free delivery vehicles after 2025.
The government is giving delivery firms cash help to buy or lease electric vehicles.
The bans will save 1 megaton of CO2 every year by 2030.
Cities in the Netherlands want to make their air cleaner by banning fossil fuel delivery vehicles from urban areas from 2025.
"Now that we are spending more time at home, we are noticing the large number of delivery vans and lorries driving through cities," said Netherlands environment minister Stientje van Veldhoven, announcing plans to ban all but zero-emission deliveries in 14 cities.
"The agreements we are setting down will ensure that it will be a matter of course that within a few years, supermarket shelves will be stocked, waste will be collected, and packages will arrive on time, yet without any exhaust fumes and CO2 emissions," she added.
Protestors stage a demonstration against fracking in California on May 30, 2013 in San Francisco, California. Justin Sullivan / Getty Images
The bill, SB467, would have prohibited fracking and other controversial forms of oil extraction. It would also have banned oil and gas production within 2,500 feet of a home, school, hospital or other residential facility. The bill originally set the fracking ban for 2027, but amended it to 2035, The AP reported.
"Obviously I'm very disappointed," State Sen. Scott Wiener (D-San Francisco), one of the bill's two introducers, told the Los Angeles Times. "California really has not done what it needs to do in terms of addressing the oil problem. We have communities that are suffering right now, and the Legislature has repeatedly failed to act."
The bill was introduced after California Gov. Gavin Newsom said he would sign a fracking ban if it passed the legislature, though his administration has continued to issue permits in the meantime, Forbes reported. Newsom has also spoken in favor of a buffer zone between oil and gas extraction and places where people live and learn, according to the Los Angeles Times. The latter is a major environmental justice issue, as fossil fuel production is more likely to be located near Black and Latinx communities.
Urban lawmakers who want California to lead on the climate crisis supported the bill, while inland lawmakers in oil-rich areas concerned about jobs opposed it. The oil and gas industry and trade unions also opposed the bill.
This opposition meant the bill failed to get the five votes it needed to move beyond the Senate's Natural Resources and Water Committee. Only four senators approved it, while Democrat Sen. Susan Eggman of Stockton joined two Republicans to oppose it, and two other Democrats abstained.
Eggman argued that the bill would have forced California to rely on oil extracted in other states.
"We're still going to use it, but we're going to use it from places that produce it less safely," Eggman told The AP. She also said that she supported the transition away from fossil fuels, but thought the bill jumped the gun. "I don't think we're quite there yet, and this bill assumes that we are," she added.
Historically, California has been a major U.S. oil producer. Its output peaked in 1986 at 1.1 million barrels a day, just below Texas and Alaska, according to Forbes. However, production has declined since then making it the seventh-most oil-producing state.
Still, California's fossil fuel industry is at odds with state attempts to position itself as a climate leader.

"There is a large stain on California's climate record, and that is oil," Wiener said Tuesday, according to The AP.
Wiener and Democrat co-introducer Sen. Monique Limón from Santa Barbara vowed to keep fighting.
"While we saw this effort defeated today, this issue isn't going away," they wrote in a joint statement. "We'll continue to fight for aggressive climate action, against harmful drilling, and for the health of our communities."
From Your Site Articles
Related Articles Around the Web