Largest Unified Protest in Northeast Against Tar Sands Begins Today
Jan. 23, 2013 01:37PM EST
Energy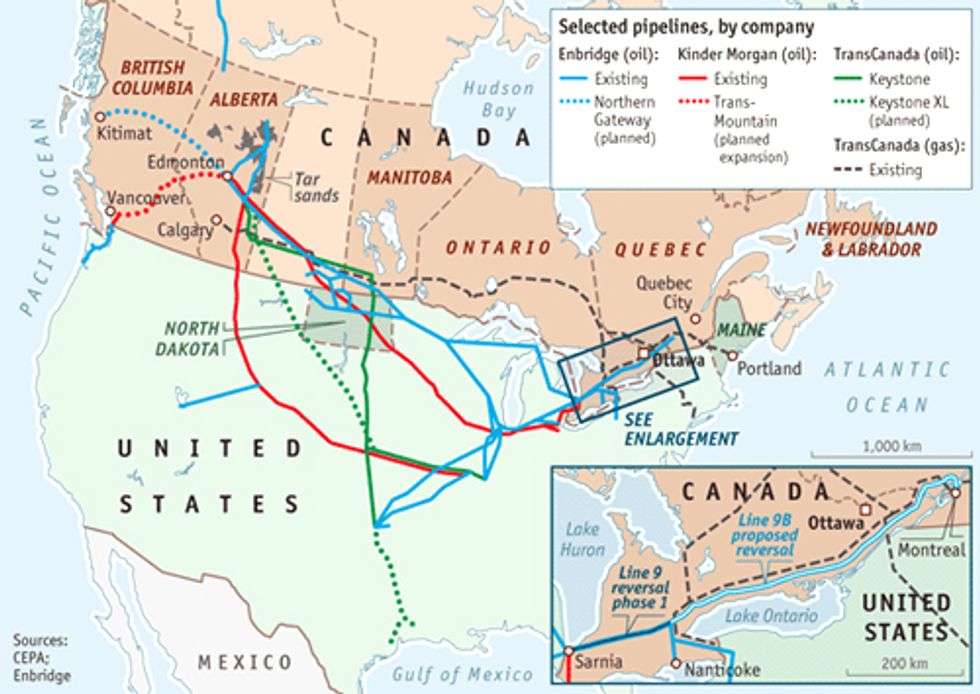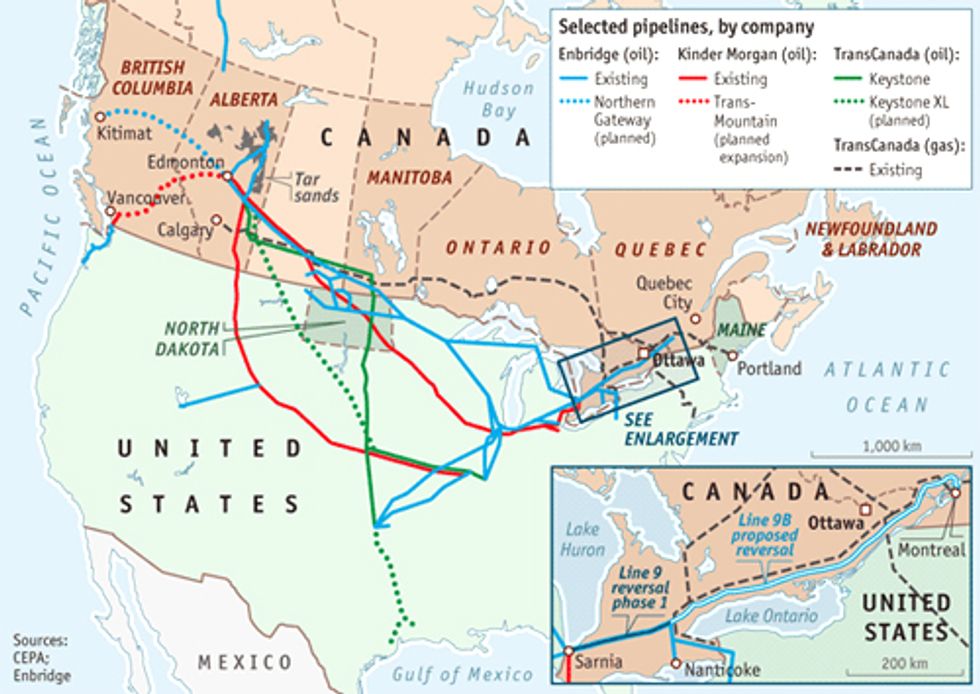 Thousands of people from across Ontario, Quebec and New England will assemble in dozens of cities and towns across the region from Jan. 23 to Jan. 26 for the biggest cross-border tar sands protests the region has ever seen. The demonstrators will protest the proposal to send dirty tar sands oil through the 236-mile long, 62-year-old Exxon/Enbridge pipeline across Canada, Maine and the Northeast. The protests will culminate in a major march and demonstration in Portland, Maine on Saturday, Jan. 26. 
"We call on the National Energy Board of Canada to deny approval of the Canadian section of this tar sands pipeline, and on the U.S. State Department to conduct a full environmental review which allows complete public input," said David Stember from 350.org, which is helping to organize the Portland rally along with other national groups including the Sierra Club and National Wildlife Federation, and local groups including Environment Maine and the Natural Resources Council of Maine. "Given his commitment to tackling climate change, we believe President Obama should deny this project a Presidential Permit," said Stember.
In addition to Saturday's Portland, Maine protest, there are dozens of  protests scheduled in the region, including a Hands across the Connecticut River demonstration where the tar sands pipeline crosses the Connecticut river in Vermont and New Hampshire, picket lines and marches in front of numerous Exxon Mobil Stations, Flash Mobs in downtown centers, human oil spills and numerous drop in visits to local offices of members of Congress. See the full list of all demonstrations here.
"Maine and the region have everything to lose and nothing to gain from sending toxic tar sands across our state," said Lisa Pohlmann of the Natural Resources Council of Maine. "Hundreds of people will descend on Portland Saturday to make a point: We cannot afford the risk of tar sands oil oozing across the Northeast in Exxon's pipeline and we will be calling on the State Department to demand an environmental review of this risky proposal. There is too much at stake."
On Saturday the Jan. 26, marchers will gather at Monument Square in downtown Portland, Maine at 11:30 a.m. for a speak out with drumming from Native American Idle No More activists. At 12:30 p.m. the group will march through the streets of Portland to the Maine State Pier. The rally at the pier will feature local and regional politicians, and members of many of the groups working to stop this pipeline plan. Speakers will include Portland Mayor Michael Brennan, Unity College President Stephen Mulkey and Burlington City Councilman Maxwell Tracy. 
The region is threatened by the ExxonMobil/Enbridge tar sands pipeline, which would run through Ontario, Quebec, Vermont, New Hampshire and Maine to Portland Harbor. The pipeline passes next to dozens of pristine waterways, threatens drinking water supplies and ends at Casco Bay where it endangers fishing and lobster industries.
"This pipeline runs across rivers and streams that include world-class aquatic habitat" said Carol Foss, director of conservation at Audubon New Hampshire. "Between the enormous risk to our wildlife and waterways and the lack of benefit to our communities, opposing this pipeline project seems like a no-brainer. We don't need tar sands spilled in our waters, and we don't need it's climate impacts, period."
Regionally, communities have already started to respond to the threat. Burlington Vermont was recently the first city in New England to adopt a municipal resolution to oppose tar sands. Casco Maine has also passed a resolution opposing tar sands in the region. Meetings held in the three right-of-way states have had packed rooms, with lots of questions about tar sands' impact locally and on climate change.
People from every New England state and from Canada have already registered for the rally, and numerous buses will be arriving from Vermont, New Hampshire and Massachusetts. The history of tar sands pipeline spills and escalating weather disasters from fossil fuel-driven climate change make tar sands oil especially risky. The rally will demonstrate the major regional opposition to this risky proposal and call on officials to ensure there is a full environmental review of this project—because the threats are too great for the environment and economy of New England, Canada and the Earth.
Visit EcoWatch's TAR SANDS, PIPELINES and CLIMATE CHANGE pages for more related news on this topic.
EcoWatch Daily Newsletter