This website uses cookies to ensure you get the best experience while browsing it. By clicking 'Got It' you're accepting these terms.
Largest Power Company in U.S. Joins ALEC in Plot Against One State's Solar Revolution
Jan. 22, 2014 11:06AM EST
By David Pomerantz
The new hot spot for solar energy in the U.S. is North Carolina. The state was second in the nation in solar growth in 2013, behind only California.
In fact, if U.S. states were considered as countries, North Carolina would have been among the top 10 countries in the world for solar growth last year.
All of that solar growth, driven by policies like the state's renewable energy portfolio law, has been great for the North Carolina economy, generating $1.7 billion in revenue for the state. At the end of 2012, 137 solar companies employed 1,400 people in North Carolina—a number that increased during solar's record 2013 year.
But while North Carolina's solar sector shines brighter, a cloud is approaching on the horizon that places all of the benefits of solar power at risk of disappearing: Duke Energy, the state's monopoly utility and the largest power company in the country, is about to launch a major attack on solar energy.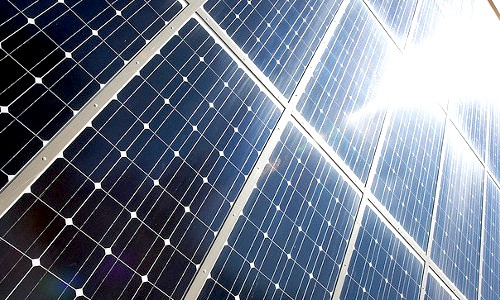 On Jan. 7, Duke's president of North Carolina operations, Paul Newton, fired the first shots of the war. Speaking in front of a joint energy committee of the state's legislature, Newton attacked net metering, one of the key policies to North Carolina's solar growth.
Net metering allows customers with rooftop solar panels to get credit for any extra electricity that they send back to the grid, like rollover minutes on a cell phone bill.
Newton argued that solar customers aren't "paying their fair share" to Duke, and that his company would thus be forced to charge higher rates to all of its other customers in response.
Those allegations are false. A study conducted last year showed that the benefits of rooftop solar in North Carolina—even for customers who don't have the panels—would outweigh any costs by 30 percent. That's because as more homes and businesses go solar, Duke wouldn't have to keep building expensive gas and coal plants and raising rates on its customers to finance them. Those rate benefits are aside from the job creation, climate and public health positives of solar power.
But Duke's shareholders profit by building those gas and coal plants, which is exactly why rooftop solar is in the crosshairs.
Duke's key ally in its war on solar: ALEC
Duke isn't the first utility in the country to attack net metering; utilities in California, Arizona and Colorado began similar campaigns in 2013, and others are forming battle plans now.
In December, The Guardian newspaper revealed that these power companies have been coordinating their efforts under the guise of the American Legislative Exchange Council, (ALEC), a group that lets corporations like Duke ghostwrite laws for right-wing state legislators.
Many utilities are ALEC members, and they have made it ALEC's top priority to attack net metering laws around the country. Forty percent of North Carolina state lawmakers are ALEC members, and Duke will rely on them to do their bidding.
So far, Duke and ALEC's communications strategy has been to stigmatize solar energy as being only for the wealthy. Their argument is that we shouldn't be letting rich families with solar panels get even richer on the backs of non-solar households.
It wouldn't be surprising if early adopters of solar do have higher incomes, since buying the panels involves an upfront cost. But recent research shows that solar penetration is increasingly happening in middle class neighborhoods. In any case, if ALEC and utilities are so worried about the poor, they should be trying to give more solar access to working and middle class communities, since it will help them save money, not take away their chance to go solar by attacking policies like net metering.
The idea that the nation's power companies, which have raised rates on customers to pad corporate profits and sited coal plants in the nation's poorest communities for decades, suddenly want to act as champions for social justice doesn't pass the smell test.
Duke will eventually learn to bask in the sun.
A few days after Newton went in front of the legislature to attack solar policies, Duke Energy's Facebook and Twitter feeds started bragging, amazingly, about North Carolina's solar growth:
Shining in solar. North Carolina ranks fourth in the nation. #solar pic.twitter.com/twBF8eXzIb

— Duke Energy (@DukeEnergy) January 16, 2014
It's not the only public display of support for solar power Duke has shown in recent months. Previous CEO Jim Rogers said that he saw rooftop solar as an opportunity as much as a threat, and in March, Duke bought a stake of a distributed solar power financing company, Clean Power Finance.
Were these moves signs that Duke is embracing the solar revolution, or just greenwashing? Both answers may be true: Duke is feeling its way around the edges of solar opportunities while it mostly stalls for time by attacking net metering. One thing that would hasten Duke's solar transition is if it loses on net metering, since that would force the company to more quickly come to terms with the inevitability of rooftop solar.
A Duke loss on net metering is far from a given, considering Duke and ALEC's almost unlimited influence in North Carolina politics. But for all of Duke's money and political power, it can't change a simple reality: Rooftop solar is immensely popular. A 2013 poll showed that 88 percent of North Carolinians support solar energy. Last year, when ALEC attacked North Carolina's renewable energy law, the effort failed because Republicans in the legislature recognized solar power as a job creator. In fact, ALEC's efforts to attack renewable energy laws failed in every state where it tried in 2013.
Now, solar advocates will gear up to bat away the next attack wave in 2014. The sooner they win, the sooner utilities like Duke will have to face the music and realize that they need to join their customers in the sun.
Visit EcoWatch's RENEWABLES page for more related news on this topic.

KarinaKnyspel / iStock / Getty Images
2018 saw a number of studies pointing to the outsized climate impact of meat consumption. Beef has long been singled out as particularly unsustainable: Cows both release the greenhouse gas methane into the atmosphere because of their digestive processes and require a lot of land area to raise. But for those unwilling to give up the taste and texture of a steak or burger, could lab-grown meat be a climate-friendly alternative? In a first-of-its-kind study, researchers from the Oxford Martin School set out to answer that question.
Three scissor-tailed flycatcher fledglings in a mesquite tree in Texas. Texas Eagle / CC BY-NC 2.0
By Gary Paul Nabhan
President Trump has declared a national emergency to fund a wall along our nation's southern border. The border wall issue has bitterly divided people across the U.S., becoming a vivid symbol of political deadlock.
PeopleImages / E+ / Getty Images
By Daniel Ross
Hurricane Florence, which battered the U.S. East Coast last September, left a trail of ruin and destruction estimated to cost between $17 billion and $22 billion. Some of the damage was all too visible—smashed homes and livelihoods. But other damage was less so, like the long-term environmental impacts in North Carolina from hog waste that spilled out over large open-air lagoons saturated in the rains.
Hog waste can contain potentially dangerous pathogens, pharmaceuticals and chemicals. According to the state's Department of Environmental Quality, as of early October nearly 100 such lagoons were damaged, breached or were very close to being so, the effluent from which can seep into waterways and drinking water supplies.
This picture taken on May 21, 2018 shows discarded climbing equipment and rubbish scattered around Camp 4 of Mount Everest. Decades of commercial mountaineering have turned Mount Everest into the world's highest rubbish dump as an increasing number of big-spending climbers pay little attention to the ugly footprint they leave behind. DOMA SHERPA / AFP / Getty Images
China has closed its Everest base camp to tourists because of a buildup of trash on the world's tallest mountain.