This website uses cookies to ensure you get the best experience while browsing it. By clicking 'Got It' you're accepting these terms.


The best of EcoWatch, right in your inbox. Sign up for our email newsletter!
Large LNG Explosion Displaces Hundreds in Washington
Apr. 01, 2014 08:39AM EST
Nearly 1,000 area residents and agricultural workers were displaced Monday following a liquefied natural gas (LNG) explosion at a plant near the Washington-Oregon border.
According to the Tri-City Herald, hazardous materials experts believe the Monday morning explosion at Northwest Pipeline caused the slow leak of cold LNG from a 14.6-million-gallon storage tank that was struck by shrapnel. While a statement from Williams Partners, owner of the Plymouth, WA plant, states that the majority of the evacuees were allow to return to their homes by 8 p.m. Pacific Standard Time, the Herald's report indicates that officials have yet to end the evacuation.
Highway and rail line traffic also was shut down near the Columbia River.
"This is considered a large leak," said Joe Lusignan, a Benton County Sheriff's Office spokesman.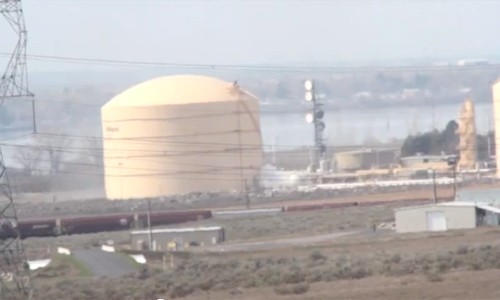 Capt. Jeff Ripley of the area's fire district said the natural gas vapors could have exploded if they were mixed with the right amount of oxygen, atmosphere and an ignition source. That sort of explosion would pack the power kill anybody within a radius of up to three-quarters of a mile. The gas is stored at negative 260 degrees.
Hazardous material experts have been assessing information gathered by a Washington State Patrol robot and helicopter that were sent into the plant Monday afternoon. The cause has yet to be determined.
"We believe that only natural gas was released and it evaporated into the atmosphere," Williams Partners said earlier in the day. "There is no hazardous vapor drifting toward residents in the area. The tanks involved were about one-third full of liquefied natural gas.
"Once it is safe to return to the plant, we will begin a thorough investigation into the cause of the incident."
The Washington Utilities and Transportation Commission will also investigate the incident. The Commission last evaluated the facility in November—a "clean inspection," according to David Lykken, the commission's director of pipeline safety, who said there were no violations.
According to The Associated Press, the facility provides supplemental gas when demand rises for a 4,000-mile pipeline that extends from the Canadian border to southern Utah.
Just last week, an LNG terminal at Coos Bay, OR received federal approval. The terminal would be supplied by the proposed 235-mile-long Pacific Connector pipeline, crossing public and private land in southern Oregon to connect to existing pipelines from British Columbia to California.
——–
YOU MIGHT ALSO LIKE
Feds Greenlight LNG Exports From Controversial Jordan Cove Project in Oregon
16 Environmental Groups Implore Obama to End Fracked Gas Exports
200+ Groups Tell Congress and Obama: Reject Fast-Tracking Exports of Fracked Gas Overseas
——–
EcoWatch Daily Newsletter
A metal fence marked with the U.S. Border Patrol sign prevents people to get close to the barbed/concertina wire covering the U.S./Mexico border fence, in Nogales, Arizona, on Feb. 9. ARIANA DREHSLER / AFP / Getty Images
D'Bone Collector Museum head Darrell Blatchley shows plastic found inside the stomach of a Cuvier's beaked whale in the Philippines this weekend. - / AFP / Getty Images
Yet another whale has died after ingesting plastic bags. A young male Cuvier's beaked whale was found washed up in Mabini, Compostela Valley in the Philippines Friday, CNN reported. When scientists from the D' Bone Collector Museum in Davao investigated the dead whale, they found it had died of "dehydration and starvation" after swallowing plastic bags―40 kilograms (approximately 88 pounds) worth of them!
Pexels
By Jeff Turrentine
"Be careful what you wish for; you just might get it." This is something that everybody has to learn at some point. Lately, the lesson has hit home for a group of American automakers.
Art direction: Georgie Johnson. Illustrations: Freya Morgan
By Joe Sandler Clarke
"Don't expect us to continue buying European products," Malaysia's former plantations minister Mah Siew Keong told reporters in January last year. His comments came just after he had accused the EU of "practising a form of crop apartheid."

A few months later Luhut Pandjaitan, an Indonesian government minister close to President Joko 'Jokowi' Widodo, warned his country would retaliate if it was "cornered" by the EU.
Torres and his parents walk along the Rio Grande. Luis Torres / Earthjustice
By Luis Torres
For some people who live along the U.S.-Mexico border, President Trump's attempt to declare a national emergency and extend the border wall is worse than a wasteful, unconstitutional stunt. It's an attack on their way of life that threatens to desecrate their loved ones' graves.
Flooding caused by last week's bomb cyclone storm has broken records in 17 places across the state of Nebraska, CNN reported Sunday. Around nine million people in 14 states along the Mississippi and Missouri Rivers were under a flood watch, CNN meteorologist Karen Maginnis said.
A car destroyed by Cyclone Idai in Beira, Mozambique. ADRIEN BARBIER / AFP / Getty Images
At least 150 people have died in a cyclone that devastated parts of Mozambique, Zimbabwe and Malawi over the weekend, The Associated Press reported Sunday. Cyclone Idai has affected more than 1.5 million people since it hit Mozambique's port city of Beira late Thursday, then traveled west to Zimbabwe and Malawi. Hundreds are still missing and tens of thousands are without access to roads or telephones.
"I think this is the biggest natural disaster Mozambique has ever faced. Everything is destroyed. Our priority now is to save human lives," Mozambique's Environment Minister Celso Correia said, as AFP reported.