This website uses cookies to ensure you get the best experience while browsing it. By clicking 'Got It' you're accepting these terms.
Large LNG Explosion Displaces Hundreds in Washington
Apr. 01, 2014 08:39AM EST
Energy
Nearly 1,000 area residents and agricultural workers were displaced Monday following a liquefied natural gas (LNG) explosion at a plant near the Washington-Oregon border.
According to the Tri-City Herald, hazardous materials experts believe the Monday morning explosion at Northwest Pipeline caused the slow leak of cold LNG from a 14.6-million-gallon storage tank that was struck by shrapnel. While a statement from Williams Partners, owner of the Plymouth, WA plant, states that the majority of the evacuees were allow to return to their homes by 8 p.m. Pacific Standard Time, the Herald's report indicates that officials have yet to end the evacuation.
Highway and rail line traffic also was shut down near the Columbia River.
"This is considered a large leak," said Joe Lusignan, a Benton County Sheriff's Office spokesman.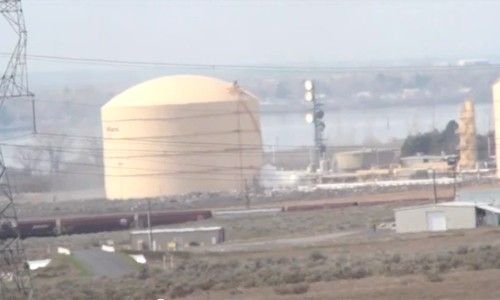 Capt. Jeff Ripley of the area's fire district said the natural gas vapors could have exploded if they were mixed with the right amount of oxygen, atmosphere and an ignition source. That sort of explosion would pack the power kill anybody within a radius of up to three-quarters of a mile. The gas is stored at negative 260 degrees.
Hazardous material experts have been assessing information gathered by a Washington State Patrol robot and helicopter that were sent into the plant Monday afternoon. The cause has yet to be determined.
"We believe that only natural gas was released and it evaporated into the atmosphere," Williams Partners said earlier in the day. "There is no hazardous vapor drifting toward residents in the area. The tanks involved were about one-third full of liquefied natural gas.
"Once it is safe to return to the plant, we will begin a thorough investigation into the cause of the incident."
The Washington Utilities and Transportation Commission will also investigate the incident. The Commission last evaluated the facility in November—a "clean inspection," according to David Lykken, the commission's director of pipeline safety, who said there were no violations.
According to The Associated Press, the facility provides supplemental gas when demand rises for a 4,000-mile pipeline that extends from the Canadian border to southern Utah.
Just last week, an LNG terminal at Coos Bay, OR received federal approval. The terminal would be supplied by the proposed 235-mile-long Pacific Connector pipeline, crossing public and private land in southern Oregon to connect to existing pipelines from British Columbia to California.
——–
YOU MIGHT ALSO LIKE
Feds Greenlight LNG Exports From Controversial Jordan Cove Project in Oregon
16 Environmental Groups Implore Obama to End Fracked Gas Exports
200+ Groups Tell Congress and Obama: Reject Fast-Tracking Exports of Fracked Gas Overseas
——–
EcoWatch Daily Newsletter
By Anita Desikan
The Trump administration is routinely undermining your ability — and mine, and everyone else's in this country — to exercise our democratic rights to provide input on the administration's proposed actions through the public comment process. Public comments are just what they sound like: an opportunity for anyone in the public, both individuals and organizations, to submit a comment on a proposed rule that federal agencies are required by law to read and take into account. Public comments can raise the profile of an issue, can help amplify the voices of affected communities, and can show policymakers whether a proposal has broad support or is wildly unpopular.
Alena Gamm / EyeEm / Getty Images
Picture this: a world where chocolate is as rare as gold. No more five-dollar bags of candy on Halloween. No more boxes of truffles on Valentine's day. No more roasting s'mores by the campfire. No more hot chocolate on a cold winter's day.
Who wants to live in a world like that?
Fabian Krause / EyeEm / Getty Images
Water protectors of all persuasions gathered in talking circles at Borderland Ranch in Pe'Sla, the heart of the sacred Black Hills, during the first Sovereign Sisters Gathering. At the center are Cheryl Angel in red and white and on her left, Lyla June. Tracy Barnett
By Tracy L. Barnett
Sources reviewed this article for accuracy.
For Sicangu Lakota water protector Cheryl Angel, Standing Rock helped her define what she stands against: an economy rooted in extraction of resources and exploitation of people and planet. It wasn't until she'd had some distance that the vision of what she stands for came into focus.
Hedges, 2019 © Hugh Hayden. All photos courtesy of Lisson Gallery
By Patrick Rogers
"I'm really into trees," said the sculptor Hugh Hayden. "I'm drawn to plants."
BruceBlock / iStock / Getty Images
Thanks to their high concentration of powerful plant compounds, foods with a natural purple hue offer a wide array of health benefits.