This website uses cookies to ensure you get the best experience while browsing it. By clicking 'Got It' you're accepting these terms.
Lake Erie Toxic Algae Bloom Seen as Worst in Decades
Dec. 01, 2011 07:15PM EST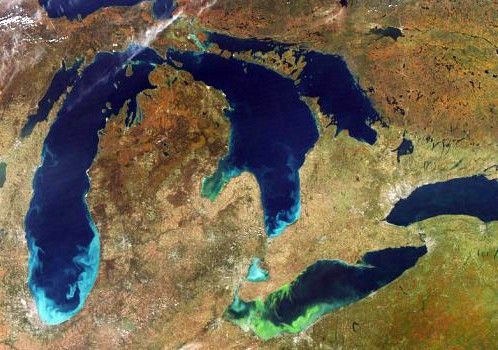 by Sandy Bihn
Lake Erie 2011 is going down in the history books as the worst year for excess algae in decades—maybe ever. The algae was so bad that boat motors were slowed while driving through the algae. This was happening east of Lake Erie's islands and into Canada in open water eight miles or more from shore. The algae went all the way past Cleveland to nearly Pennsylvania on Lake Erie's southern shore and east to Pelee Island in Ontario. The satellite images showed the massive bright green algal blooms covering about two thirds of Lake Erie's western and central basins.
Lake Erie has been experiencing growing algae and microcystis problems, also known as harmful algal blooms since 2003 with Heidelberg University data showing a steady increase in soluble reactive phosphorous since 1995. The nutrients which fuel algae growth are carbon, nitrogen and phosphorous. Of these three nutrients, phosphorus is the smallest in quantity but the easiest to control. In the 1980s, reductions in phosphorous discharges in wastewater plants and the banning of phosphorous in laundry detergent, along with the elimination of other toxic discharges, have created a healthier Lake Erie.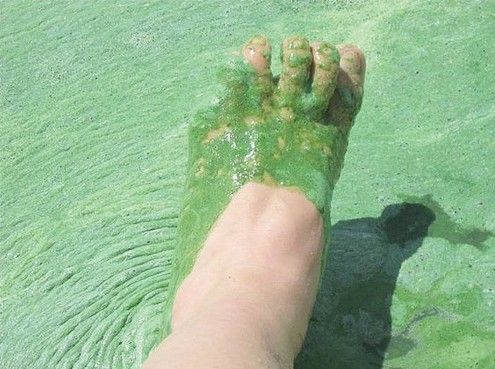 Excess algae creates many problems, including increases in water treatment costs, decreases in tourism, increases in catfish and carp, and decreases in walleye, perch and bass. The algae impacts human and animal health with many beaches posting advisory signs from the Ohio Department of Natural Resources advising, "Algal toxins at this location are unsafe, swimming and wading are not recommended. Do not ingest the water and avoid surface scum."
Lake Erie is not alone in its struggle with too many nutrients causing too much algae. Weather changes such as increased temperatures, heavy rainfalls and severe winds increase the likelihood of harmful algae. Other bodies of water in the U.S. that struggle with algae problems include Maryland's Chesapeake Bay, Wisconsin's Lake Champlain, Michigan's Saginaw Bay, Ohio's Grand Lake St. Marys and the Gulf of Mexico.
In Lake Erie, more than 40 percent of the phosphorous comes from the Maumee River and 40 percent comes from the Detroit River. The rest of Lake Erie's tributaries and outfalls contribute a little less than 20 percent.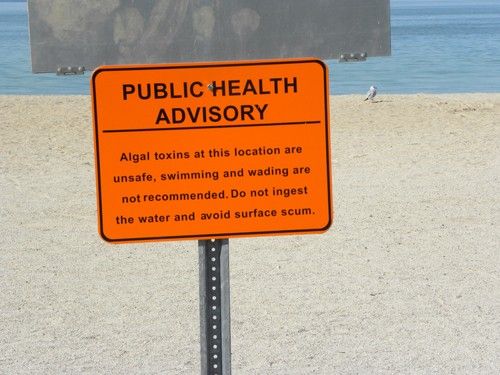 According to a recently released U.S. Geological Survey study, more than 70 percent of the phosphorous in the Cuyahoga River comes from wastewater treatment plants. The largest phosphorous loads going into the Detroit River and Maumee River, and other Lake Erie tributaries, come from farm runoff, liquid manure runoff, wastewater treatment plant discharges, combined sewer overflows, storm water, lawn fertilizer and failing septic systems. There is also concern that sediment buildup in the lake may have phosphorous that is being resuspended in storms.
The largest single source of phosphorous in the 1970s was the Detroit wastewater plant and it is very likely that it still remains one of Lake Erie's biggest problems. The Detroit wastewater plant is the single largest wastewater plant in the U.S., and its major outfall is on the southern end of the Detroit River and flows right into Lake Erie.
In the summer of 2011, the plant had trouble getting rid of sewage sludge and thousands of tons of sludge — which is used as fertilizer on fields—spewed into Lake Erie. In addition, the Detroit wastewater plant had more than 30 billion gallons of combined sewer overflows into Lake Erie this summer—far more than Ohio's Lake Erie wastewater plants combined.
According to Ohio Sea Grant Director Jeff Reutter, we need to decrease phosphorous entering Lake Erie by about two-thirds, like we did in the 1980's when Lake Erie became the comeback lake.
The five easiest ways to reduce phosphorous in Lake Erie include the following:
• The Detroit wastewater discharge permit is up for renewal in 2012. Ohio Attorney General Mike DeWine should intervene in the 2012 permit requiring the plant to reduce plant phosphorous discharges and to stop dumping raw and partially treated sewage into Ohio's Lake Erie waters.
• Ohio allows liquid manure and fertilizer to be applied to frozen ground. Ohio is banning this practice in the Grand Lake St. Marys watershed and Lake Erie needs to do the same. The practice of using taxpayers' money to truck liquid manure out of the Grand Lake St. Marys watershed into the Lake Erie watershed needs to end.
• There needs to be targeted reductions of phosphorous from agricultural runoff in targeted streams and rivers. A recent report by the U.S. Geological Survey suggests that the Auglaize, Blanchard, Tiffin and Sandusky Rivers might be good rivers to target for reduction in agricultural runoff.
• Open lake dumping of dredged sediments from the Toledo shipping channel resuspends nutrients and increases turbidity that aids in algae growth. The dredged sediments should be placed in a created eco-island to provide habitat for fish spawning grounds.
• Phosphorous in mature lawn fertilizers has been banned in many states across the country, including Michigan. Ohio should do the same. Ohio-based Scotts Fertilizer is voluntarily taking phosphorous out of mature lawn fertilizer in 2012. It seems simple and practical to require the same of all fertilizers in Ohio.
The Lake Erie Improvement Association has brought together Lake Erie fishermen, boaters, businesses, property owners, tourists and people who get their drinking water from Lake Erie. This collaboration of stakeholders is the same model that was used to help improve the water quality at Grand Lake St. Marys that created a healthier environment, recreational opportunities and tourism revenue.
For more information, call Sandy Bihn at 419-691- 3788 or visit www.lakeerieimprovement.org.
EcoWatch Daily Newsletter
Extreme weather events supercharged by climate change in 2012 led to nearly 1,000 more deaths, more than 20,000 additional hospitalizations, and cost the U.S. healthcare system $10 billion, a new report finds.
Giant sequoia trees at Sequoia National Park, California. lucky-photographer / iStock / Getty Images Plus
A Bay Area conservation group struck a deal to buy and to protect the world's largest remaining privately owned sequoia forest for $15.6 million. Now it needs to raise the money, according to CNN.
This aerial view shows the Ogasayama Sports Park Ecopa Stadium, one of the venues for 2019 Rugby World Cup. MARTIN BUREAU / AFP / Getty Images
The Rugby World Cup starts Friday in Japan where Pacific Island teams from Samoa, Fiji and Tonga will face off against teams from industrialized nations. However, a new report from a UK-based NGO says that when the teams gather for the opening ceremony on Friday night and listen to the theme song "World In Union," the hypocrisy of climate injustice will take center stage.
Vera_Petrunina / iStock / Getty Images Plus
By Wudan Yan
In June, New York Times journalist Andy Newman wrote an article titled, "If seeing the world helps ruin it, should we stay home?" In it, he raised the question of whether or not travel by plane, boat, or car—all of which contribute to climate change, rising sea levels, and melting glaciers—might pose a moral challenge to the responsibility that each of us has to not exacerbate the already catastrophic consequences of climate change. The premise of Newman's piece rests on his assertion that traveling "somewhere far away… is the biggest single action a private citizen can take to worsen climate change."

Volunteer caucasian woman giving grain to starving African children.
Bartosz Hadyniak / E+ / Getty Images
Food will be scarce, expensive and less nutritious," CNN warns us in its coverage of the UN's new "Climate Change and Land" report. The New York Times announces that "Climate Change Threatens the World's Food Supply."
By Adam Vaughan
Two-thirds of people in the UK think the amount people fly should be reined in to tackle climate change, polling has found.
Climate Week NYC
On Monday, Sept. 23, the Climate Group will kick off its 11th annual Climate Week NYC, a chance for governments, non-profits, businesses, communities and individuals to share possible solutions to the climate crisis while world leaders gather in the city for the UN Climate Action Summit.
By Pam Radtke Russell in New Orleans
Local TV weather forecasters have become foot soldiers in the war against climate misinformation. Over the past decade, a growing number of meteorologists and weathercasters have begun addressing the climate crisis either as part of their weather forecasts, or in separate, independent news reports to help their viewers understand what is happening and why it is important.