This website uses cookies to ensure you get the best experience while browsing it. By clicking 'Got It' you're accepting these terms.
Koch-Connected Nonprofits Use 'Dark Money' to Fight Political Disclosure
Nov. 29, 2014 09:15AM EST
As the Internal Revenue Service contemplates new rules to illuminate "dark money" in politics, a little-known nonprofit group is fighting back using money traceable to billionaire brothers Charles and David Koch, drug makers and the cable television industry.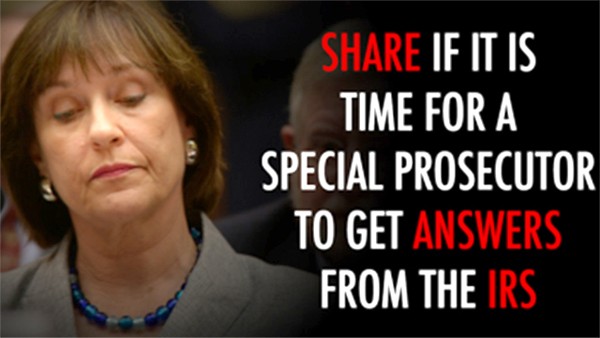 The group, American Commitment, received 87 percent of its $13 million in funding between 2011 and 2013 from three Koch-connected nonprofits: the Freedom Partners Chamber of Commerce, Center to Protect Patient Rights and Free Enterprise America, according to tax filings reviewed by the Center for Public Integrity.
The Freedom Partners Chamber of Commerce—which has been called "the Koch brothers' secret bank" by Politico—has given $6.4 million to American Commitment, including $140,000 in 2013, according to tax records.
The Center to Protect Patient Rights—headed by Koch-connected political consultant Sean Noble—contributed about $4.8 million to American Commitment in 2012.
And another Koch network group headed by Noble, Free Enterprise America, contributed $103,000 to American Commitment in 2011—nearly half of the $216,500 American Commitment reported raising that year.
Meanwhile, additional tax records show two major trade associations are also among American Commitment's donors: the Pharmaceutical Research and Manufacturers of America and the National Cable and Telecommunications Association, both of which share policy positions with American Commitment.
In 2013, PhRMA contributed $50,000 to American Commitment. That's up from the $25,000 the drug lobby group gave in 2012. And the National Cable and Telecommunications Association has contributed $20,000 to American Commitment—$10,000 in both 2012 and 2013.
Donors to American Commitment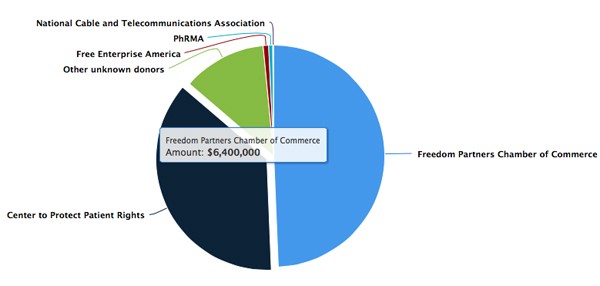 As a "social welfare" nonprofit organized under Sec. 501(c)(4) of the tax code, American Commitment is not required to publicly disclose its donors, even though it overtly supports political candidates.
But separate IRS filings show the bulk of American Commitment's money has come from these nonprofits, which are legally required to disclose grants they provide to other nonprofit organizations.
American Commitment itself disclosed, as required by law, that in 2013, it received between $100,000 and $150,000 each from four unnamed donors.
Together, those four donors—one of which appears to have been the Freedom Partners Chamber of Commerce—accounted for half of American Commitment's $1 million in income last year, according to records filed with the IRS earlier this week.
Led by Phil Kerpen—a veteran of Americans for Prosperity, the Club for Growth and the Cato Institute—American Commitment has vigorously opposed efforts to force donor disclosure on social welfare nonprofit groups.
It has derided liberal politicians for what it calls "shameful efforts to amend the Constitution to empower politicians to regulate political speech" and "backdoor regulatory efforts to limit the First Amendment at federal agencies."
Earlier this year, after the IRS unveiled a proposal to regulate politically active nonprofits organized under Sec. 501(c)(4) of the tax code, American Commitment co-wrote a letter to the agency's commissioner calling for the new rules to be "withdrawn and abandoned."
According to its website, it's also helped thousands of people flood the inboxes of their lawmakers with the message: "Don't let the IRS gut the First Amendment!"
Given its involvement in elections, American Commitment ranks high among social welfare nonprofits that would be affected by any new IRS rules governing so-called dark money—cash from publicly undisclosed donors used to boost or bash political candidates.
Ahead of the 2014 midterms, American Commitment promoted Republican U.S. Senate candidate Thom Tillis of North Carolina in radio ads. In 2013, it backed Republican US Senate candidate Steve Lonegan in his race against Democrat Cory Booker. And Sen. Jeff Flake (R-AZ) was among politicians American Commitment supported in 2012.
Campaign finance reform activists for years have called upon the tax agency to take a more aggressive stance regarding politically active nonprofits, which gained the ability to fund advertisements explicitly calling for the election or defeat of lawmakers in the wake of the US Supreme Court's Citizens United v. Federal Election Commission decision in 2010.
Groups such as Crossroads GPS on the right, which was co-founded by GOP strategist Karl Rove, and Patriot Majority USA on the left, which is run by allies of Senate Majority Leader Harry Reid (D-NV) have proliferated—all while legally keeping their donors' names secret.
The IRS—which, earlier this year, postponed a public hearing on its highly contentious plan—has vowed to issue a new draft of proposed regulations for social welfare nonprofits in early 2015.
Industry lobbying groups such as PhRMA and the National Cable and Telecommunications Association (NCTA) have also found an ally in American Commitment.
One of NCTA's top issues: opposing "Net neutrality" policies that would regulate the Internet like a utility—a move the trade group says would be "disastrous."
American Commitment's Kerpen, meanwhile, has argued that "regulating and taxing the Internet is obviously a terrible idea."
Joy Sims, an NCTA spokeswoman, declined to comment about the group's donation to American Commitment.
American Commitment further describes itself as "committed to fully repealing" President Barack Obama's health care law and replacing it in a way that "empowers patients and doctors" and unleashes "American ingenuity and creativity to cure diseases."
Robert Zirkelbach, a spokesman for PhRMA—which supported the passage of Obama's Affordable Care Act but has also funneled money to groups like American Commitment that want it scrapped—aid the trade group often gives out money to "organizations that share PhRMA's goals of improving the quality of patients' lives" and "supporting the discovery of new treatments and cures."
Other donors to American Commitment remain unknown—exactly how the group wants them to be.
"We agree with the Warren Court's landmark 1958 ruling in NAACP v. Alabama that protecting the privacy of our members is critical to their core First Amendment rights of free speech and free association," Kerpen wrote in an email to the Center for Public Integrity.
(Update, 7:02 p.m., Nov. 20: This story has been updated to include Kerpen's reference to the NAACP v. Alabama case.)
In recent years, the American Future Fund has spent tens of millions of dollars advocating against federal lawmakers, including about $81,000 in late 2013 against Rep. Collin Peterson, the ranking Democratic member of the House Agriculture Committee.
Like American Commitment, it has done so without disclosing its funders.
YOU MIGHT ALSO LIKE
How Government Spying Undermines Climate Action
Is Extreme Weather a Sign of the Apocalypse?
Prince William and British naturalist David Attenborough attend converse during the World Economic Forum annual meeting, on January 22 in Davos, Switzerland. Fabrice Cofferini /AFP / Getty Images
Britain's Prince William interviewed famed broadcaster David Attenborough on Tuesday at the World Economic Forum's annual meeting in Switzerland.
During the sit-down, the 92-year-old naturalist advised the world leaders and business elite gathered in Davos this week that we must respect and protect the natural world, adding that the future of its survival—as well as humanity's survival—is in our hands.
Electric vehicle sales took off in 2018, with a record two million units sold around the world, according to a new Deloitte analysis.
What's more, the accounting firm predicts that another 21 million electric cars will be on the road globally over the next decade due to growing market demand for clean transportation, government subsidies, as well as bans on fossil fuel cars.
Teenager Alex Weber and friends collected nearly 40,000 golf balls hit into the ocean from a handful of California golf courses.
Alex Weber /
CC BY-ND
Southwest Greenland had the most consistent ice loss from 2003 to 2012. Eqalugaarsuit, Ostgronland, Greenland on Aug. 1, 2018.
Rob Oo / CC BY 2.0
Greenland is melting about four times faster than it was in 2003, a new study published Monday in the Proceedings of the National Academy of Sciences found, a discovery with frightening implications for the pace and extent of future sea level rise.
"We're going to see faster and faster sea level rise for the foreseeable future," study lead author and Ohio State University geodynamics professor Dr. Michael Bevis said in a press release. "Once you hit that tipping point, the only question is: How severe does it get?"
Finally, some good news about the otherwise terrible partial government shutdown. A federal judge ruled that the Trump administration cannot issue permits to conduct seismic testing during the government impasse.
The Justice Department sought to delay—or stay—a motion filed by a range of coastal cities, businesses and conservation organizations that are suing the Trump administration over offshore oil drilling, Reuters reported. The department argued that it did not have the resources it needed to work on the case due to the shutdown.
Most people have heard of the Amazon, South America's famed rainforest and hub of biological diversity. Less well known, though no less critical, is the Pantanal, the world's largest tropical wetland.
Like the Amazon, the Pantanal is ecologically important and imperiled. Located primarily in Brazil, it also stretches into neighboring Bolivia and Paraguay. Covering an area larger than England at more than 70,000 square miles, the massive wetland provides irreplaceable ecosystem services that include the regulation of floodwaters, nutrient renewal, river flow for navigability, groundwater recharge and carbon sequestration. The wetland also supports the economies of the four South American states it covers.
Demonstrators participate in a protest march over agricultural policy on Jan. 19 in Berlin, Germany. Carsten Koall / Getty Images Europe
By Andrea Germanos
Organizers said 35,000 people marched through the streets of the German capital on Saturday to say they're "fed up" with industrial agriculture and call for a transformation to a system that instead supports the welfare of the environment, animals and rural farmers.

The fire that erupted after a pipeline explosion in Mexico Friday. FRANCISCO VILLEDA / AFP / Getty Images
By Patrick Rogers
If you have ever considered making the switch to an environmentally friendly electric vehicle, don't drag your feet. Though EV prices are falling, and states are unveiling more and more public charging stations and plug-in-ready parking spots, the federal government is doing everything it can to slam the brakes on our progress away from gas-burning internal combustion engines. President Trump, likely pressured by his allies in the fossil fuel industry, has threatened to end the federal tax credits that have already helped put hundreds of thousands of EVs on the road—a move bound to harm not only our environment but our economy, too. After all, the manufacturing and sale of EVs, hybrids, and plug-in hybrids supported 197,000 jobs in 2017, according to the most recent U.S. Energy and Employment Report.