This website uses cookies to ensure you get the best experience while browsing it. By clicking 'Got It' you're accepting these terms.
Koch Brothers Trump the Donald
Jul. 29, 2015 01:34PM EST
Politics
Donald Trump might still be leading in the polls among Republican presidential candidates, but some very powerful and wealthy donors are snubbing the Donald. The Koch brothers are "denying him access to their state-of-the-art data and refusing to let him speak to their gatherings of grassroots activists or major donors," reports Politico.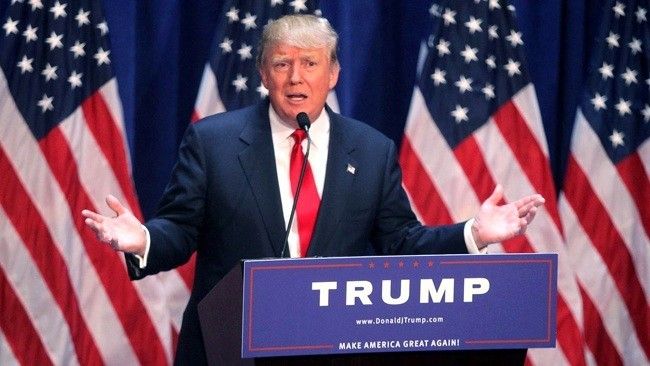 One might think that the real estate mogul would be a perfect candidate for the Koch Brothers. Politico reports David Koch and Trump have had a "long and cordial relationship" and "a raft of former Koch operatives" are currently running Trump's presidential campaign. Not to mention, you can't be more of a climate denier than Donald Trump. Sure, the Republican field is awash with candidates like Jeb Bush giving the tired climate denier stance of "I'm not a scientist," but even he admits "the climate is changing, and we need to adapt to that reality."
On the other hand, the Donald is adamant in his denial:
Record cold temperatures in July - 20 to 30 degrees colder than normal. What the hell happened to GLOBAL WARMING?

— Donald J. Trump (@realDonaldTrump) July 14, 2014
NBC News just called it the great freeze - coldest weather in years. Is our country still spending money on the GLOBAL WARMING HOAX?

— Donald J. Trump (@realDonaldTrump) January 25, 2014
Any and all weather events are used by the GLOBAL WARMING HOAXSTERS to justify higher taxes to save our planet! They don't believe it $$$$! — Donald J. Trump (@realDonaldTrump) January 26, 2014
The concept of global warming was created by and for the Chinese in order to make U.S. manufacturing non-competitive.

— Donald J. Trump (@realDonaldTrump) November 6, 2012
Trump is a seemingly perfect candidate for the Koch brothers, who, along with their network of hundreds of conservative mega-donors have spent millions of dollars funding candidates and campaigns that deny climate change and fight renewable energy programs. But "the Koch operation has spurned entreaties from the Trump campaign to purchase state-of-the-art data and analytics services from a Koch-backed political tech firm called i360, and also turned down a request to allow Trump to speak at an annual grassroots summit next month in Columbus, Ohio, sponsored by the Koch-backed group Americans for Prosperity," reports Politico.
Trump was also not invited to the upcoming annual summer conference hosted by Freedom Partners Chamber of Commerce, the umbrella group in the Kochs' brothers massive political network. Some of the top GOP presidential candidates, including Jeb Bush, Ted Cruz, Marco Rubio, Scott Walker and even long-shots such as Carly Fiorina, will be in attendance.
"A spokesman for i360 declined to comment on why the company, considered the leading supplier of voter data and analytics on the right, refused to provide services to Trump's campaign," says Politico. But the Koch-backed Latino-voter-targeting outfit LIBRE Initiative shed some light on why the Koch network is snubbing Trump. "A spokesperson pointed to a statement from the group's president denouncing Trump for his inflammatory statements about Mexican immigrants and called him out as an inconsistent conservative 'who has gotten ahead through sensationalism,'" Politico reports.
The Kochs freeze out Donald Trump http://t.co/eg755DykRy

— POLITICO (@politico) July 29, 2015
Trump has come under fire for many of his comments, even among conservatives, like when he accused Sen. John McCain of not being a real war hero. Politico reports many in the Koch network were "offended" by his comments.
The Koch network will play a very important role in the 2016 presidential race as they plan to spend a staggering $889 million. But "while Trump's campaign could certainly benefit from the network's data and grass-roots reach, he doesn't need its cash in the same way that his rivals do," says Politico. Trump has an estimated net worth of $3 billion and he is funding his campaign out of his own pocket.
"The good news is that Donald Trump doesn't need the Koch brothers, and he can do this perfectly without their assistance," Josh Youssef, who's chairing Trump's campaign in Belknap County, New Hampshire, told Politico. Of the Koch network, Youssef said: "Their motivations are clearly not to break the mold of political insider-ship. Their goal is to keep the wheel spinning. Trump's bad for business for them."
YOU MIGHT ALSO LIKE
13 Climbers Suspended From Bridge Block Shell Oil Vessel From Heading to Arctic
Bernie Sanders' House Parties Expected to Draw Tens of Thousands
Inside Bernie Sanders and Donald Trump's Mass Appeal to Americans
EcoWatch Daily Newsletter
Pixabay
By Emilie Karrick Surrusco
Across the globe, extreme weather is becoming the new normal.
A worker in California sprays pesticides on strawberries, one of the crops on which chlorpyrifos is used. Paul Grebliunas / The Image Bank / Getty Images Plus
Golde Wallingford submitted this photo of "Pure Joy" to EcoWatch's first photo contest. Golde Wallingford
EcoWatch is pleased to announce our third photo contest!

Conservationists estimate the orange-fronted parakeet population has likely doubled. Department of Conservation
Up until 25 years ago, New Zealand's orange-fronted parakeet, or kākāriki karaka, was believed to be extinct. Now, it's having one of its best breeding seasons in decades, NPR reported Thursday.
Pexels
The world's population will hit 10 billion in just 30 years and all of those people need to eat. To feed that many humans with the resources Earth has, we will have to cut down the amount of beef we eat, according to a new report by the World Resources Institute.
Beachgoers enjoying a pleasant evening on Georgia's St. Simons Island rushed into the water, despite warnings of sharks, to rescue dozens of short-finned pilot whales that washed ashore on Tuesday evening, according to the New York Times.
Six Extinction Rebellion protesters were arrested as they blocked off corporations in the UK. The group had increased their actions to week-long nationwide protests.
Sari Goodfriend
By Courtney Lindwall
Across the world, tens of thousands of young people are taking to the streets to protest climate inaction. And at the historic Apollo Theater in Harlem last month, more than a dozen of them took to the stage.