This website uses cookies to ensure you get the best experience while browsing it. By clicking 'Got It' you're accepting these terms.
'Koch Brothers' Puppet' Scott Walker Announces Presidential Run​
Jul. 13, 2015 10:48AM EST
Politics
There's been buzz for a couple of years around the potential presidential campaign of Wisconsin Gov. Scott Walker. Today he made it official: he's running and is now the 15th candidate to enter the GOP presidential race.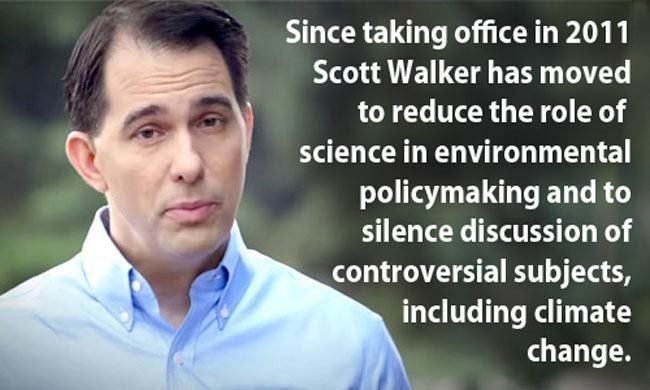 Walker has been widely touted as a frontrunner and someone who actually could snag the nomination, unlike some of the candidates in the crowded field. But his record of failure in his own state—sinking wages, largest loss of middle class in the U.S., population outflow, increased government secrecy, top aides convicted and a federal investigation into possible abuses of his offices continuing—hasn't been widely scrutinized yet.
And of course, that includes a dismal record on the environment. He doesn't have any outrageous climate denier statements on record, but he does have a history of coziness with fossil fuel interests and climate deniers, and a resume of attacks on environmental regulations, two things that are probably connected.
According to a recent article in Scientific American, "Since taking office in 2011 Walker has moved to reduce the role of science in environmental policymaking and to silence discussion of controversial subjects, including climate change, by state employees. And he has presided over a series of controversial rollbacks in environmental protection, including relaxing laws governing iron mining and building on wetlands, in both cases to help specific companies avoid regulatory roadblocks. Among other policy changes, he has also loosened restrictions on phosphorus pollution in state waterways, tried to restrict wind energy development and proposed ending funding for a major renewable energy research program housed at the University of Wisconsin–Madison."
"He really has gone after every single piece of environmental protection: Land, air, water—he's left no stone unturned," said Kerry Schumann, executive director of the Wisconsin League of Conservation Voters (LCV). "It's hard to imagine anyone has done worse."
Walker proposed cutting 57 employees at the state Department of Natural Resources (DNR) as part of his 2016-2017 budget including 27 in the Bureau of Natural Sciences, although the final budget, which Walker signed this weekend, only cut 18. But that budget is stuffed with anti-environment policy items.
"I hate hyperbole, but I can honestly say that this is one of the two worst conservation budgets in the past 50 years," said George Meyer, former DNR secretary and now executive director of the Wisconsin Wildlife Federation.
The Wisconsin LCV pointed to a few "lowlights." The budget removed water quality protections from rivers and lakes in 30 counties which depend on activities such as boating, fishing and swimming to attract tourism, barring them from setting regulations stricter than the state's. It cut all subsidies for state parks, which comprised 28 percent of their funding, making it the first state park system totally dependent on user fees. It prohibited local governments from requiring that pipeline companies have enough insurance to deal with cleanup from potential oil spills while also included incentives for Canada's Enbridge to expand pipelines to bring tar sands oil through Wisconsin.
"This is putting taxpayers on the hook for a billion dollar bailout," said Peter Anderson with 350 Madison. "Given the likelihood of a spill from Enbridge's tar sands pipelines, Dane County has currently required environmental insurance in order to guarantee they won't be liable to pay for those cleanup costs. By removing this ability, no other county will be able to protect itself in this manner and tax payers will be responsible for these cleanup costs."
"Governor Walker's state budget is bad news for Wisconsin's air, water, wildlife and the many economic engines that depend on maintaining sustainably managed, intact natural resources," said the Wisconsin John Muir Chapter of the Sierra Club. "Many of the changes to the DNR threaten Wisconsin's tourism industry, which supports 185,495 jobs and contributes $17.5 billion to our economy each year."
Walker has also been a leading figure in the state attacks on President Obama's Clean Power Plan. After Senate Majority Leader Mitch McConnell asked for state governors to defy the federal government and refuse to comply with the plan, few agreed—but Walker was one of them. He called the plan "unworkable" and "riddled with inaccuracies" and said that it would lead to "staggering costs."
Even if Walker hasn't been caught saying climate change isn't happening or isn't human caused, he has a history of close relationships with climate deniers who have. One of the most notorious climate denial think tanks is the Chicago-based Heartland Institute, which recently made headlines for its attacks on Pope Francis' climate advocacy. The group has hosted a dinner and reception with Walker, which called him "America's most important and successful governor."
Walker is also close to the Koch brothers. The New York Times reported this spring that he was their candidate of choice to which they would direct the nearly $1 billion they vowed to spend putting a Republican in the White House. PoliticsUSA also reported that the "Koch brothers selected Wisconsin Gov. Scott Walker to be their chosen 2016 Republican candidate/puppet."
And, today, the Agenda Project Action Fund launched a new campaign with American Family Voices targeting Gov. Walker's ties to the Koch brothers. The campaign includes ad buys in Iowa and Washington, DC. Watch here:
"Puppet for President" is the first in a series planned against Walker which will focus on his relationship with the billionaire Koch brothers. The series will paint Walker as a bought and paid for PUPPET of the GOP mega-donors, according to the campaign statement.
"Americans are fed up with the influence of money has on our political leaders and they will vote accordingly," said Agenda Project President Erica Payne. "Our goal is to highlight the most egregious offenders and force them to pay a political price. The relationship between the Kochs and Governor Walker is an embarrassment to our democracy."
An anti-Walker rally will be held in Wisconsin next to the location where Walker will be making his presidential campaign announcement. Hundreds of rally goers will sport "Puppet for President" stickers to amplify the ad campaign's message.
"Walker's record shows that he is the ultimate puppet for the priorities of the Koch brothers: eviscerating protections for the environment, and eviscerating the power of working people to negotiate for better wages and working conditions," said AFV President Mike Lux. "This was a natural fit for AFV because we stand on the side of working people and against big-money special interests."
Walker's devotion to the fossil fuel billionaires was made clear after Walker got punked by blogger Ian Murphy back in 2011. Murphy called Walker, pretending to be David Koch. Walker fell for the ruse, accepted the call and had a lengthy revealing conversation with Murphy/"Koch" about his controversial attacks on union workers, which instigated massive protests at the state capitol. This friendship will be hard for Walker to deny—there's audio.
YOU MIGHT ALSO LIKE
First Florida, Now Wisconsin, Bans the Words 'Climate Change'
Pope or Kochs: Republicans, Who Do You Stand With?
Heartland Institute Tells Pope Francis: 'Humans Are Not Causing a Climate Crisis on God's Green Earth'
EcoWatch Daily Newsletter
Mike Pence brought the first motorcade to Mackinac Island on Saturday. Cars have been banned on the island since 1898.
13 ON YOUR SIDE / YouTube screenshot
Vice President Mike Pence sparked outrage on social media Saturday when he traveled in the first-ever motorcade to drive down the streets of Michigan's car-free Mackinac Island, HuffPost reported.
Inhaling from an electronic cigarette. 6okean / iStock / Getty Images Plus
By Shawn Radcliffe
As illnesses and deaths linked to vaping continue to rise, health officials urge people to stop using e-cigarettes.
Officials report 8 deaths have been linked to lung illnesses related to vaping.
Vitamin E acetate is one compound officials are investigating as a potential cause for the outbreak.
The number of vaping-related illnesses has grown to 530 cases in 38 states and 1 U.S. territory, federal health officials
reported
.
Activist Greta Thunberg leads the Youth Climate Strike on Sept. 20, 2019 in New York City. Roy Rochlin / WireImage / Getty Images
By Julia Conley
As organizers behind Friday's Global Climate Strike reported that four million children and adults attended marches and rallies all over the world — making it the biggest climate protest ever — they assured leaders who have been reticent to take bold climate action that the campaigners' work is far from over.
Summer has officially come to an end. Luckily, EcoWatch is here to keep its memory alive by sharing the winners of our "Best of Summer" photo contest.
United Nations Secretary-General Antonio Guterres speaks at a news conference at UN headquarters on Sept. 18. Drew Angerer / Getty Images
A vegan diet can improve your health, but experts say it's important to keep track of nutrients and protein. Getty Images
By Dan Gray
Research shows that 16 weeks of a vegan diet can boost the gut microbiome, helping with weight loss and overall health.
A healthy microbiome is a diverse microbiome. A plant-based diet is the best way to achieve this.
It isn't necessary to opt for a strictly vegan diet, but it's beneficial to limit meat intake.
New research shows that following a vegan diet for about 4 months can boost your gut microbiome. In turn, that can lead to improvements in body weight and blood sugar management.
Students gathered at the National Mall in Washington DC, Sept. 20. NRDC
By Jeff Turrentine
Nearly 20 years have passed since the journalist Malcolm Gladwell popularized the term tipping point, in his best-selling book of the same name. The phrase denotes the moment that a certain idea, behavior, or practice catches on exponentially and gains widespread currency throughout a culture. Having transcended its roots in sociological theory, the tipping point is now part of our everyday vernacular. We use it in scientific contexts to describe, for instance, the climatological point of no return that we'll hit if we allow average global temperatures to rise more than 2 degrees Celsius above preindustrial levels. But we also use it to describe everything from resistance movements to the disenchantment of hockey fans when their team is on a losing streak.
samael334 / iStock / Getty Images
Berries are small, soft, round fruit of various colors — mainly blue, red, or purple.