Koch Brothers-Owned Company Coats Chicago Homes With Petcoke Dust, Accused of Clean Air Act Violation
Chicagoans have long desired action against the owners of the piles of petcoke on the Southeast Side, and this week they finally got it.
The U.S. Environmental Protection Agency announced that KCBX Terminals Co. violated the Clean Air Act earlier this year, based on dust-wipe samples taken from homes in the neighborhood adjacent to to the Koch Brothers-controlled facility. Wind has long blown dust from mounts of petroleum coke, coating the sides of homes. It's the exact reasons residents expressed anger at Mayor Rahm Emanuel and city council earlier this year when he proposed loophole-ridden regulations regarding petcoke storage.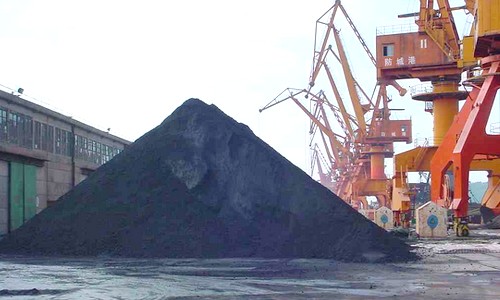 "We knew the dust was coming from their sites," Peggy Salazar, executive director of the Southeast Environmental Task Force, told the Chicago Tribune. "What they've been saying just isn't true."
A company spokesman told the publication that it would review the EPA notice. The company has increased shipments of petcoke from refineries that have shifted to tar sands oil which led to the samples taken five times between February and May.
However, the company previously argued that it had spent a combined $30 million on storage terminal upgrades, such as large sprinklers that adjustable based on wind speed and direction to pack down dust. Also, KCBX says it hired an environmental consultant to test soil samples on properties near the plant.
Five days before the EPA began its sampling, a company site manager told area residents in a letter that the consultant found "no unusual levels of dust particles associated with petcoke or coal" nearby. However, the residents themselves have the evidence on their homes and have been breathing it in.
"The piles are still here," Salazar said. "We feel like all of our complaints are for naught."
——–
YOU ALSO MIGHT LIKE
Chicago's Proposed Petcoke Regulations Full of Loopholes
A Look at the Sustainable Chicago Restaurant That Recycled and Composted Everything for 2 Years
Chicago Mayor Demands Answers From BP After Oil Spill
——–
A coalition of conservation groups and others announced Thursday that a historic number of comments and petitions of support have been submitted to the U.S. Department of the Interior in support of Bears Ears National Monument. Despite the entirely inadequate 15-day comment period ending on May 26, more than 685,000 comments in support of Bears Ears National Monument have been collected.
Keep reading...
Show less
Rink Glacier in western Greenland, with a meltwater lake visible center. NASA/OIB
Scientists have had their eyes on Greenland as its iconic glaciers have begun disappearing due to a warming climate. But, what they didn't expect to see was a whole new type of melting.
Keep reading...
Show less
Mountain View Fire
By Lena Moffitt
An oil tanker in Mead, Colorado exploded, killing one and injuring three on Thursday. Authorities are continuing to investigate the cause of the explosion.
Keep reading...
Show less
Banner created by Alliance for Climate Education
Keep reading...
Show less
Twenty-two GOP senators sent a letter Thursday urging Donald Trump to pull out of the Paris agreement. They argued remaining in the deal could "upend" the administration's ability "to fulfill its goal of rescinding the Clean Power Plan."
Keep reading...
Show less
By Cheryl Johncox
The Federal Energy Regulatory Commission (FERC) rejected on Thursday Energy Transfer Partners' request to resume horizontal directional drilling at two sites for its Rover fracked gas pipeline. This rejection comes after numerous leaks into Ohio's wetlands, and Clean Air and Clean Water act violations. FERC has halted the process at only eight locations of the 32 where drilling is taking place under Ohio's wetlands and streams.
Keep reading...
Show less
By Nadia Prupis
A majority of people in eight countries say they are ready to change their lifestyles if it would prevent climate catastrophe, a survey on global threats released Wednesday found.
Keep reading...
Show less
May. 25, 2017 01:55PM EST
Bill Maher is sick of billionaires' obsession with Mars, more like "Mars-a-Lago," he said.
In a new animation produced by ATTN:, the popular talk show host of Real Time, discusses the perils of our planet, including how "climate change is killing us."
Keep reading...
Show less