This website uses cookies to ensure you get the best experience while browsing it. By clicking 'Got It' you're accepting these terms.
Koch Brothers Continue War on Solar in Sunshine State
Oct. 27, 2015 12:33PM EST
Business
With its nickname being "The Sunshine State," it would make sense for Florida to lead in solar energy in the U.S. But industry opposition and a climate change-denying governor have allowed the state to fall dangerously behind when it comes to harnessing the power of the sun.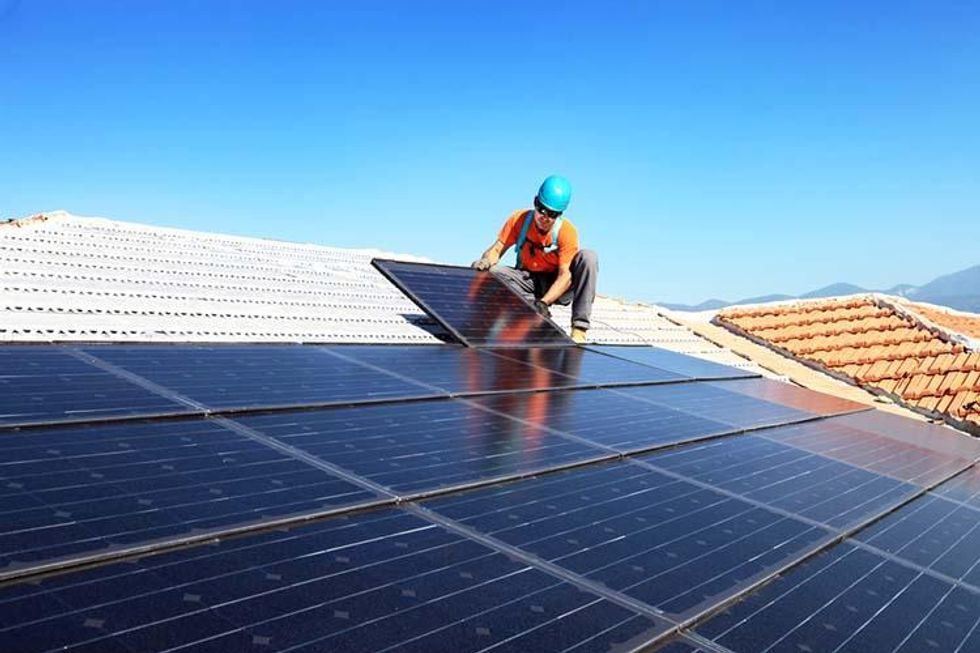 The low solar production in Florida has less to do with energy costs, and everything to do with the influence of the dirty energy industry. Photo credit: Shutterstock
Today, solar energy only accounts for 2 percent of the total energy production in Florida, and industry analysts believe that the poor solar production is likely because the state's average energy costs are about 30 percent below the national average, diminishing the demand for a cheaper, cleaner energy source.
But when you dig past the industry's talking points and excuses, you'll find something much more sinister at work.
The low solar production in Florida has less to do with energy costs and everything to do with the influence of the dirty energy industry.
According to existing Florida laws, which are unfairly skewed in favor of electric utilities, consumers are limited in their abilities to install solar panels on their own homes due to the restriction of solar panel equipment leasing in the state. In short, consumers in Florida are legally not allowed to purchase electricity from anyone other than a utility company.
Additionally, Gov. Rick Scott and the Republican legislature have gutted the state's clean energy programs and eliminated Florida's renewable energy goals.
Again, it all comes down to money.
Since 2010, the dirty energy industry has poured $12 million and initiatives, including a $1.1 million gift to Gov. Scott. Every single member in the legislature has taken money from the fossil fuel industry, with the 16 leaders averaging about $200,000 apiece. Some of the top donors were Duke Energy, Gulf Power and Koch Industries.
Koch Brothers' Anti-Solar Campaign in Florida
It should come as absolutely no surprise that the Koch brothers are leading the efforts to stifle solar energy in Florida.
When citizens in the state gathered the necessary signatures to get an initiative on the ballot that would repeal Florida's anti-consumer solar restrictions, the Koch brothers sprang into action to make sure that this initiative was dead on arrival.
According to a report by PR Watch, the Kochs created a new astroturf group, Consumers for Smart Solar, that is working to create a counter-initiative that would actually prohibit consumers and businesses from contracting with solar companies that install solar equipment without charging an upfront fee—the only way that most Florida citizens would be able to afford solar energy.
This ballot initiative is supported by the Florida state government, as Florida's Attorney General Pam Bondi is very vocal in her opposition to the citizens' amendment due to her strong support for the dirty energy industry.
The Kochs and other industry interests were dealt a major blow last week when the Florida Supreme Court approved the Solar Choice Amendment to appear on the 2016 ballot.
Also working against the industry is the fact that 2016 is an election year, meaning Democratic voter turnout will be at an all time high, giving the initiative a very good chance at succeeding.
But even if the Florida fight goes in favor of consumers, the Koch brothers are also fighting against the solar industry in Arizona, Ohio and Kansas.
Again, these are likely to ultimately prove losing battles for the brothers, as 74 percent of American citizens believe that a portion of all electricity generated in the U.S. should come from clean, renewable sources.
The Kochs might wield a lot of power, but they don't have enough money to fight the will of the 74 percent, or 235 million, Americans.
YOU MIGHT ALSO LIKE
Exclusive: America's 10 Cleanest and 10 Dirtiest States
4 Solar Powered Homes Designed by Students That Will Blow You Away
Apple to Clean Up Act in China With Huge Investments in Renewable Energy
Groups Plan Ballot Initiatives to Battle Climate Change in Washington and Oregon
EcoWatch Daily Newsletter
A Starbucks barista prepares a drink at a Starbucks Coffee Shop location in New York. Ramin Talaie / Corbis via Getty Images
By Cathy Cassata
Are you getting your fill of Starbucks' new Almondmilk Honey Flat White, Oatmilk Honey Latte, and Coconutmilk Latte, but wondering just how healthy they are?
By Sharon Kelly
Back in April last year, the Trump administration's Environmental Protection Agency decided it was "not necessary" to update the rules for toxic waste from oil and gas wells. Torrents of wastewater flow daily from the nation's 1.5 million active oil and gas wells and the agency's own research has warned it may pose risks to the country's drinking water supplies.
Swedish climate activist Greta Thunberg takes part in a "Friday for Future" youth demonstration in a street of Davos on Jan. 24, 2020 on the sideline of the World Economic Forum annual meeting. FABRICE COFFRINI / AFP via Getty Images
Treasury Secretary Steven Mnuchin pretended not to know who Greta Thunberg is, and then he told her to get a degree in economics before giving world leaders advice, as The Guardian reported.
The Visible Infrared Imaging Radiometer Suite on the Suomi NPP satellite acquired this image of forest fire smoke hovering over North America on Aug. 15, 2018. NASA Earth Observatory
New York City isn't known for having the cleanest air, but researchers traced recent air pollution spikes there to two surprising sources — fires hundreds of miles away in Canada and the southeastern U.S.
If temperatures continue to rise, the world is at risk from global
sea-level rise
, which will flood many coastal cities as seen above in Bangladesh. NurPhoto / Contributor / Getty Images
The mounting climate emergency may spur the next global financial crisis and the world's central banks are woefully ill equipped to handle the consequences, according to a new book-length report by the Bank for International Settlements (BIS), as S&P Global reported. Located in Basel, Switzerland, the BIS is an umbrella organization for the world's central banks.