This website uses cookies to ensure you get the best experience while browsing it. By clicking 'Got It' you're accepting these terms.


The best of EcoWatch, right in your inbox. Sign up for our email newsletter!
Koch Brothers Continue War on Solar in Sunshine State
Oct. 27, 2015 12:33PM EST
With its nickname being "The Sunshine State," it would make sense for Florida to lead in solar energy in the U.S. But industry opposition and a climate change-denying governor have allowed the state to fall dangerously behind when it comes to harnessing the power of the sun.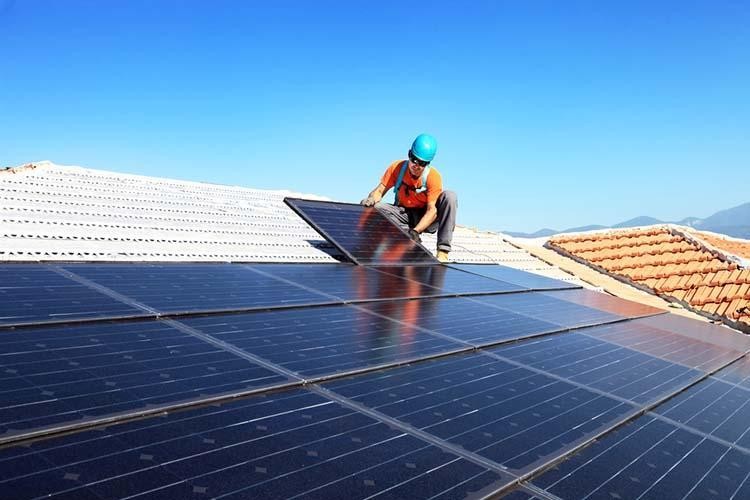 The low solar production in Florida has less to do with energy costs, and everything to do with the influence of the dirty energy industry. Photo credit: Shutterstock
Today, solar energy only accounts for 2 percent of the total energy production in Florida, and industry analysts believe that the poor solar production is likely because the state's average energy costs are about 30 percent below the national average, diminishing the demand for a cheaper, cleaner energy source.
But when you dig past the industry's talking points and excuses, you'll find something much more sinister at work.
The low solar production in Florida has less to do with energy costs and everything to do with the influence of the dirty energy industry.
According to existing Florida laws, which are unfairly skewed in favor of electric utilities, consumers are limited in their abilities to install solar panels on their own homes due to the restriction of solar panel equipment leasing in the state. In short, consumers in Florida are legally not allowed to purchase electricity from anyone other than a utility company.
Additionally, Gov. Rick Scott and the Republican legislature have gutted the state's clean energy programs and eliminated Florida's renewable energy goals.
Again, it all comes down to money.
Since 2010, the dirty energy industry has poured $12 million and initiatives, including a $1.1 million gift to Gov. Scott. Every single member in the legislature has taken money from the fossil fuel industry, with the 16 leaders averaging about $200,000 apiece. Some of the top donors were Duke Energy, Gulf Power and Koch Industries.
Koch Brothers' Anti-Solar Campaign in Florida
It should come as absolutely no surprise that the Koch brothers are leading the efforts to stifle solar energy in Florida.
When citizens in the state gathered the necessary signatures to get an initiative on the ballot that would repeal Florida's anti-consumer solar restrictions, the Koch brothers sprang into action to make sure that this initiative was dead on arrival.
According to a report by PR Watch, the Kochs created a new astroturf group, Consumers for Smart Solar, that is working to create a counter-initiative that would actually prohibit consumers and businesses from contracting with solar companies that install solar equipment without charging an upfront fee—the only way that most Florida citizens would be able to afford solar energy.
This ballot initiative is supported by the Florida state government, as Florida's Attorney General Pam Bondi is very vocal in her opposition to the citizens' amendment due to her strong support for the dirty energy industry.
The Kochs and other industry interests were dealt a major blow last week when the Florida Supreme Court approved the Solar Choice Amendment to appear on the 2016 ballot.
Also working against the industry is the fact that 2016 is an election year, meaning Democratic voter turnout will be at an all time high, giving the initiative a very good chance at succeeding.
But even if the Florida fight goes in favor of consumers, the Koch brothers are also fighting against the solar industry in Arizona, Ohio and Kansas.
Again, these are likely to ultimately prove losing battles for the brothers, as 74 percent of American citizens believe that a portion of all electricity generated in the U.S. should come from clean, renewable sources.
The Kochs might wield a lot of power, but they don't have enough money to fight the will of the 74 percent, or 235 million, Americans.
YOU MIGHT ALSO LIKE
Exclusive: America's 10 Cleanest and 10 Dirtiest States
4 Solar Powered Homes Designed by Students That Will Blow You Away
Apple to Clean Up Act in China With Huge Investments in Renewable Energy
Groups Plan Ballot Initiatives to Battle Climate Change in Washington and Oregon
EcoWatch Daily Newsletter
A metal fence marked with the U.S. Border Patrol sign prevents people to get close to the barbed/concertina wire covering the U.S./Mexico border fence, in Nogales, Arizona, on Feb. 9. ARIANA DREHSLER / AFP / Getty Images
D'Bone Collector Museum head Darrell Blatchley shows plastic found inside the stomach of a Cuvier's beaked whale in the Philippines this weekend. - / AFP / Getty Images
Yet another whale has died after ingesting plastic bags. A young male Cuvier's beaked whale was found washed up in Mabini, Compostela Valley in the Philippines Friday, CNN reported. When scientists from the D' Bone Collector Museum in Davao investigated the dead whale, they found it had died of "dehydration and starvation" after swallowing plastic bags―40 kilograms (approximately 88 pounds) worth of them!
Pexels
By Jeff Turrentine
"Be careful what you wish for; you just might get it." This is something that everybody has to learn at some point. Lately, the lesson has hit home for a group of American automakers.
Art direction: Georgie Johnson. Illustrations: Freya Morgan
By Joe Sandler Clarke
"Don't expect us to continue buying European products," Malaysia's former plantations minister Mah Siew Keong told reporters in January last year. His comments came just after he had accused the EU of "practising a form of crop apartheid."

A few months later Luhut Pandjaitan, an Indonesian government minister close to President Joko 'Jokowi' Widodo, warned his country would retaliate if it was "cornered" by the EU.
Torres and his parents walk along the Rio Grande. Luis Torres / Earthjustice
By Luis Torres
For some people who live along the U.S.-Mexico border, President Trump's attempt to declare a national emergency and extend the border wall is worse than a wasteful, unconstitutional stunt. It's an attack on their way of life that threatens to desecrate their loved ones' graves.
Flooding caused by last week's bomb cyclone storm has broken records in 17 places across the state of Nebraska, CNN reported Sunday. Around nine million people in 14 states along the Mississippi and Missouri Rivers were under a flood watch, CNN meteorologist Karen Maginnis said.
A car destroyed by Cyclone Idai in Beira, Mozambique. ADRIEN BARBIER / AFP / Getty Images
At least 150 people have died in a cyclone that devastated parts of Mozambique, Zimbabwe and Malawi over the weekend, The Associated Press reported Sunday. Cyclone Idai has affected more than 1.5 million people since it hit Mozambique's port city of Beira late Thursday, then traveled west to Zimbabwe and Malawi. Hundreds are still missing and tens of thousands are without access to roads or telephones.
"I think this is the biggest natural disaster Mozambique has ever faced. Everything is destroyed. Our priority now is to save human lives," Mozambique's Environment Minister Celso Correia said, as AFP reported.