Koch Brothers Continue State-by-State Attempts to Stifle Growth of Renewable Energy
Mar. 13, 2013 08:55AM EST
Energy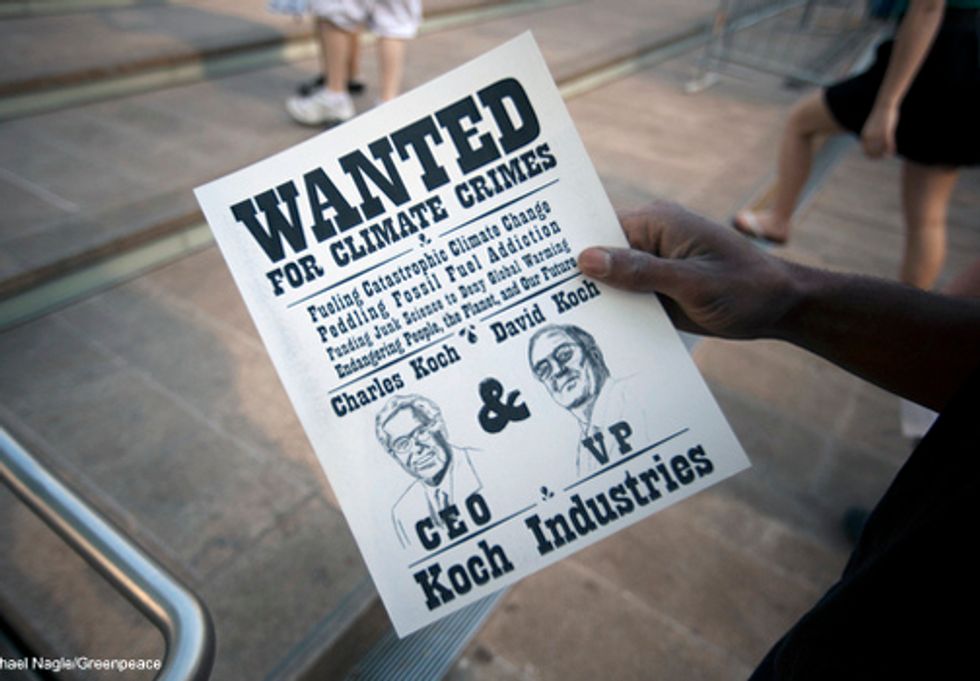 By Connor Gibson
A recent flood of Koch-supported think tanks, junk scientists and astroturf groups from inside and outside of Kansas are awaiting the outcome of a bill this week that could stall progress on the growth of clean energy in Kansas.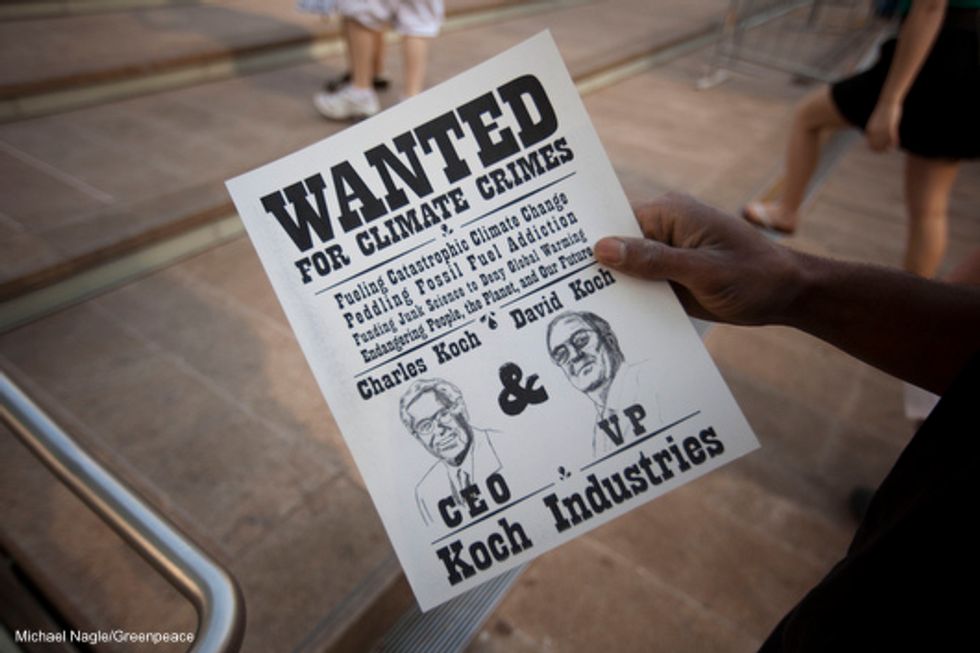 States around the country, including Texas, Ohio, Missouri and North Carolina are poised to cut back on government support for clean energy jobs using model legislation from the American Legislative Exchange Council (ALEC). ALEC, which brings companies together with state lawmakers to forge a wish list of corporate state laws behind closed doors, is coordinating this year's assault on state laws that require a gradual increase of electricity generated by clean energy sources.
ALEC and a hoard of other Koch-funded interests operating under the umbrella of the State Policy Network have hit Kansas legislators hard with junk economic studies, junk science and a junk vision of more polluting energy in Kansas' future. Koch Industries lobbyist Jonathan Small has added direct pressure on Kansas lawmakers to rollback support for clean energy.
This fossil fuel-funded attack ignores the good that wind energy has done for Kansas, a state known for its bipartisan support for its growing wind industry (see key report by Polsinelli Shughart). The state now has 19 operating wind farms that have brought millions to farmers leasing their land and millions more to the state, county and local levels (NRDC). The American Wind Energy Association says that Kansas wind industry jobs have grown to 13,000 with the help of incentives like the renewable portfolio standard.
Unfortunately, clean energy is not palatable to the billionaire Koch brothers or the influence peddlers they finance. All of the following State Policy Network affiliates (except the Kansas Policy Institute) are directly funded by the Koch brothers, while most of the groups get secretive grants through the Koch-affiliated "Dark Money ATM," Donors Trust and Donors Capital Fund, which have distributed over $120,000,000 to 100 groups involved in climate denial since 2002.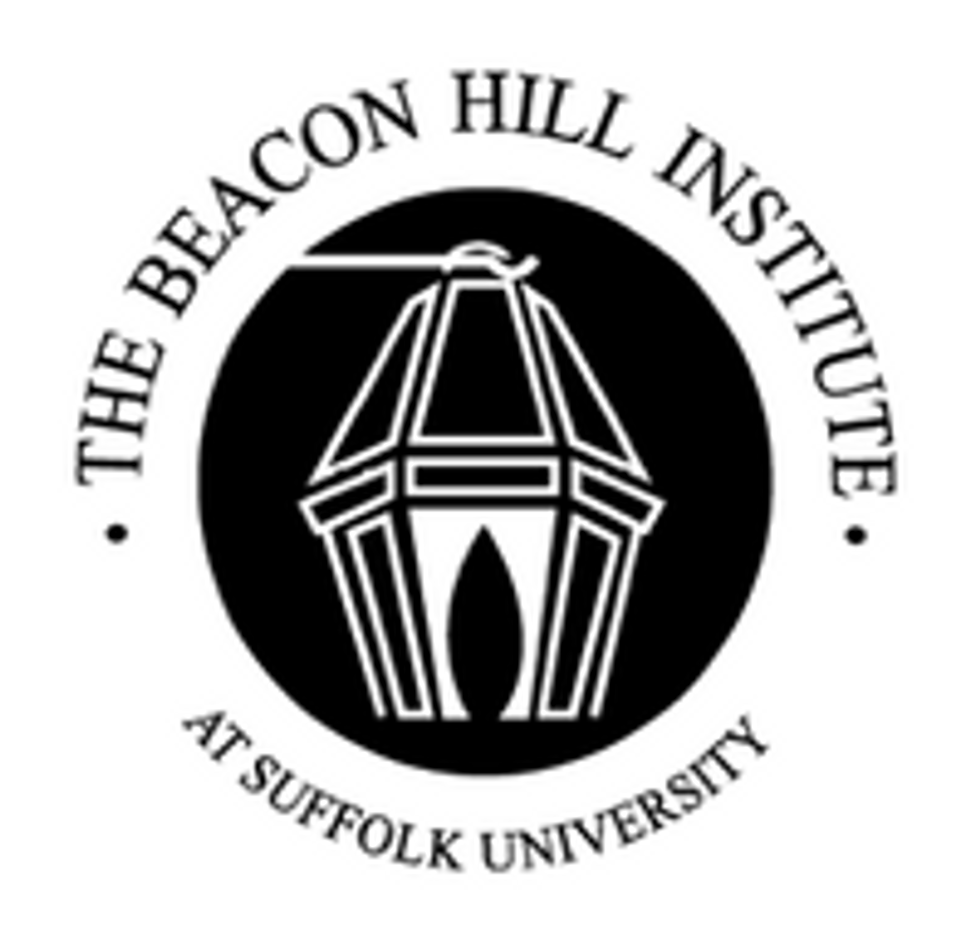 Beacon Hill Institute
$53,500 grant from Donors Trust in 2007
Koch-funded (Washington Post)
State Policy Network member
Based out of Suffolk University's economics department, the Beacon Hill Institute wrote the fundamentally flawed analysis that ALEC is using to scare legislators into thinking that renewable portfolio standards will destroy the economy. In reality, electricity prices do not correlate with state RPS laws (see also Kansas Corporation Commission).
An extensive debunk of the Beacon Hill report was done by Synapse Energy Economics, and similar critiques can be read in the Portland Press Herald and the Maine Morning Sentinel, the Union of Concerned Scientists, the Natural Resources Defense Council and the Washington Post.
The definitive Post article confirms that the Beacon Hill Institute is Koch-funded. This may be through $729,826 in recent grants (2008-2011) from the Charles G. Koch Foundation to Suffolk University. The Kochs tend to send grants to economics departments, causing controversy at Florida State University and other schools over professor hiring processes.
Beacon Hill's Michael Head co-authored the reports that ALEC and the State Policy Network are using in several states. Mr. Head specializes in STAMP modeling, a form of economic analysis that has been criticized for its limitations and poor assumptions in the case of energy analysis.
Michael Head testified before the Kansas legislature on Feb. 14 to promote the flawed findings of his report. Mr. Head testified alongside members of the Heartland Institute, Americans for Prosperity and the Kansas Policy Institute (see more on each, below), all of which are members of ALEC and SPN.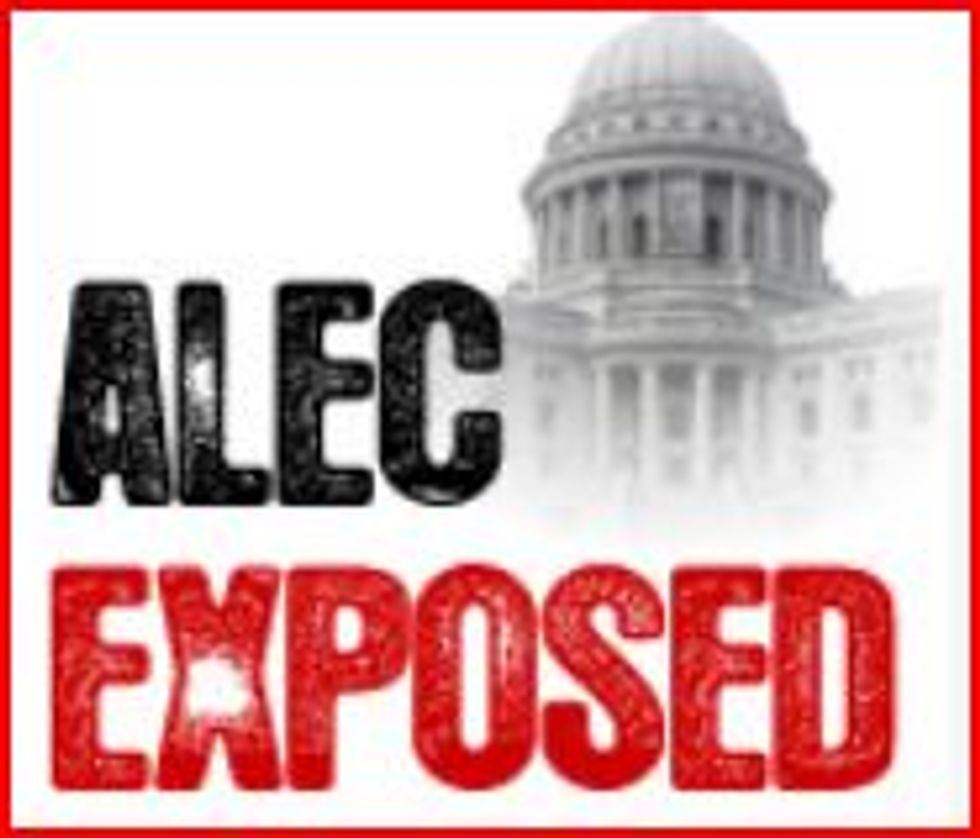 American Legislative Exchange Council (ALEC): 
ALEC is leading the nationally-coordinated attack on state renewable portfolio standards as part of an ambitious dirty energy agenda for the members of its anti-environmental task force, like Koch Industries, ExxonMobil, Peabody Energy, Duke Energy and other major oil, gas and coal interests.
ALEC's "Electricity Freedom Act" is a full repeal of state laws requiring increasing electricity generation from clean sources, although in some states the model has morphed into a freeze of those targets rather than a full repeal. Kansas is one of those states.
The bills running through Kansas' House and Senate are co-sponsored by legislators who are members of ALEC. The Senate Utilities committee sponsoring SB 82 has at least three ALEC members and the House Energy & Environment committee that introduced HB 2241 has at least three ALEC members:
Senators Forrest Knox, Ty Masterson and Mike Petersen.
Representatives Phil Hermanson, Scott Schwab and Larry Powell (a member of ALEC's anti-environmental task force that created the Electricity Freedom Act)
While it's unclear if the lead House sponsor Rep. Dennis Hedke is directly affiliated with ALEC, he spoke directly with a Koch Industries lobbyist about the bill and has a close relationship with the Heartland Institute, which promoted one of his books.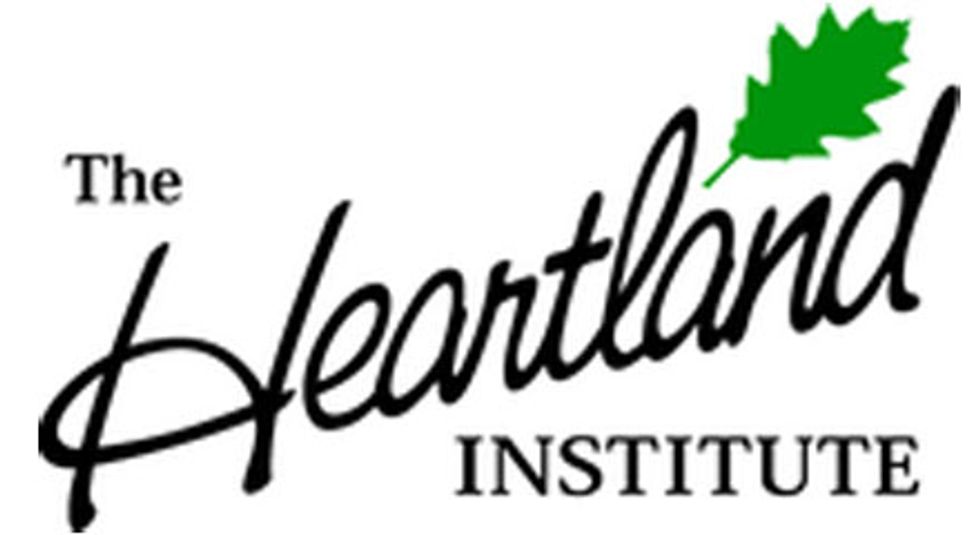 The Heartland Institute:
Heartland is based in Chicago and perhaps best known for its billboard comparing those who recognize climate change with the Unabomber (for which they lost over $1.4 million in corporate sponsorship along with the "mutiny" of their entire Insurance department, now the R Street Institute).
The Washington Post reports that ALEC's "Electricity Freedom Act" was created by the Heartland Institute. Heartland has long been a paying member of ALEC's Energy, Environment and Agriculture task force along with Koch, Exxon and others. Citing the flawed Beacon Hill reports, Heartland has encouraged a repeal of Kansas' clean energy incentives on its website.
Heartland lawyer James Taylor testified before the Kansas legislature in February, opining that the growth of Kansas' clean energy sector is "punishing the state's economy and environment." James Taylor was flown into Kansas City for an Americans for Prosperity Foundation event intended to undermine the Kansas RPS law. The AFP Foundation is chaired by David Koch.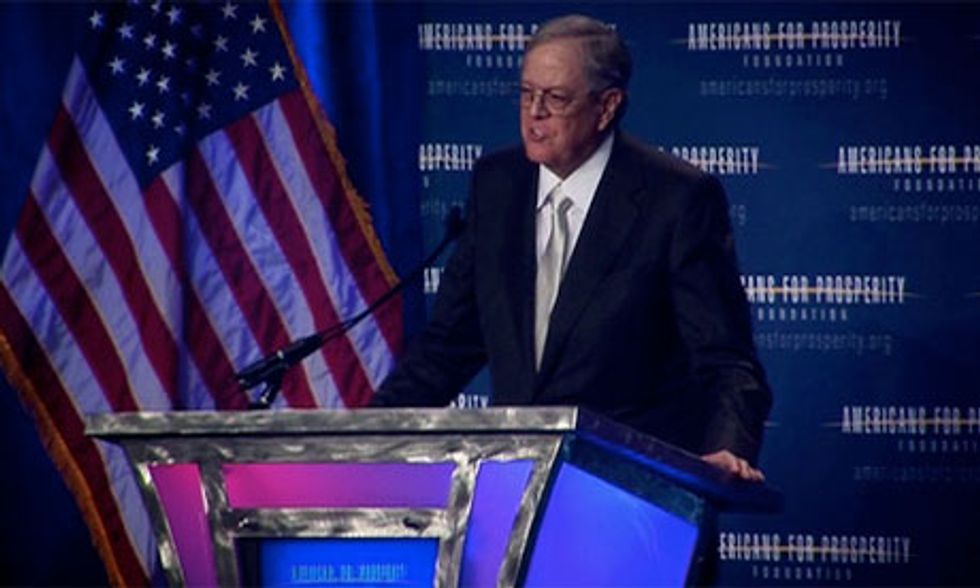 Americans for Prosperity:
Americans for Prosperity was created by the Kochs with help from Koch Industries executive Richard Fink after the demise of their previous organization, Citizens for a Sound Economy (CSE), which split into AFP and FreedomWorks in 2004.
In addition to hosting an event against the Kansas RPS law featuring Heartland's James Taylor, AFP's Kansas director Derrick Sontag testified before the Kansas House committee on Energy and Environment. AFP's Sontag urged a full repeal rather than a simple RPS target freeze:
"We believe that HB 2241 is a step in the right direction, but that it doesn't go far enough. Instead, AFP supports a full repeal of the renewable energy mandate in Kansas."
Derrick Sontag apparently only cited a range of debunked studies (the "Spanish" study and the flawed Beacon Hill report) and information from Koch-funded interests like the Institute for Energy Research and "State Budget Solutions," a project of several State Policy Network groups including ALEC and the Mercatus Center, a think tank founded and heavily-funded by the Kochs.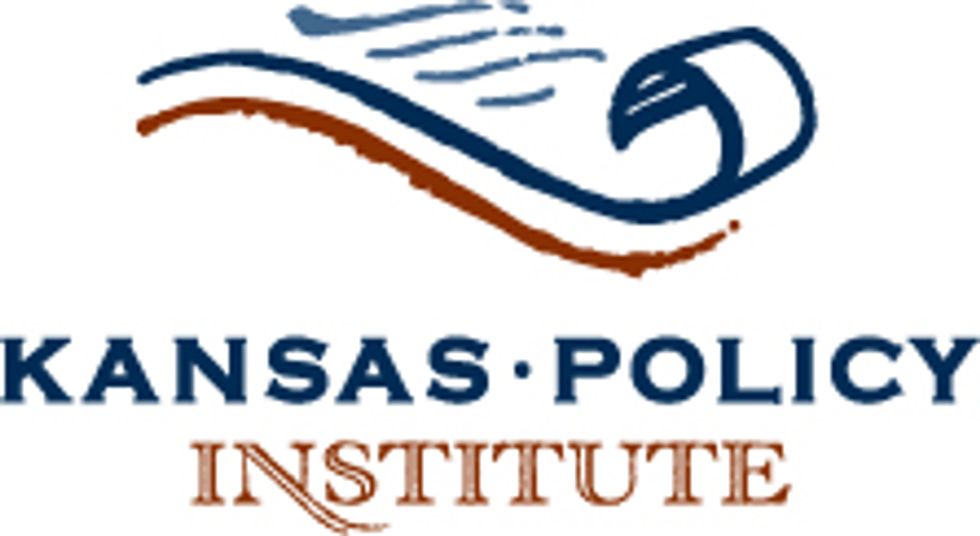 Kansas Policy Institute:
The Kansas Policy Institute (KPI) has been the central coordinating think tank within Kansas as outside interests have backed ALEC's attack on clean energy laws. KPI co-published the debunked Beacon Hill Institute report that ALEC has used for its clean energy standard repeal in Kansas (see sources in Beacon Hill section above for debunking).
Kansas Policy Institute Vice President & Policy Director James Franko testified in the Kansas legislature alongside representatives of Heartland Institute, Americans for Prosperity and Beacon Hill Institute Feb. 14 to weaken Kansas's renewable portfolio standard.
Reasserting the false premise that clean energy standards substantially increase electricity prices, James Franko told the legislature's Energy & Environment committee:
We have no objection to the production of renewable energy. [...] Our objection is to government intervention that forces utility companies to purchase more expensive renewable energy and pass those costs on to consumers.
James Franko's free market logic comes with the usual holes–no mention of the "costs" of coal and other polluting forms of energy that taint our air, water and bodies, nor any mention of how the government spends billions each year propping up the coal and oil industries.
After KPI's Franko testified before Kansas legislators Feb. 14, KPI hosted a luncheon for legislators at noon on the same day. The luncheon, hosted at the Topeka Capital Plaza Hotel, featured Beacon Hill's Michael Head. From KPI's email invitation:
"Given the importance of this issue, we would like to invite you to join us for lunch on Thursday 14 February to hear from the author of a study we published last year exploring the costs and benefits of the Renewable Portfolio Standard (RPS). Not only will we be discussing KPI's study but offering a review of different studies that have been presented to the Legislature."
KPI has served as the glue for other State Policy Network affiliates entering Kansas to amplify the opposition to clean energy.
Chris Horner—Competitive Enterprise Institute & American Tradition Institute:
Competitive Enterprise Institute (CEI):
American Tradition Institute (ATI):

Member of the State Policy Network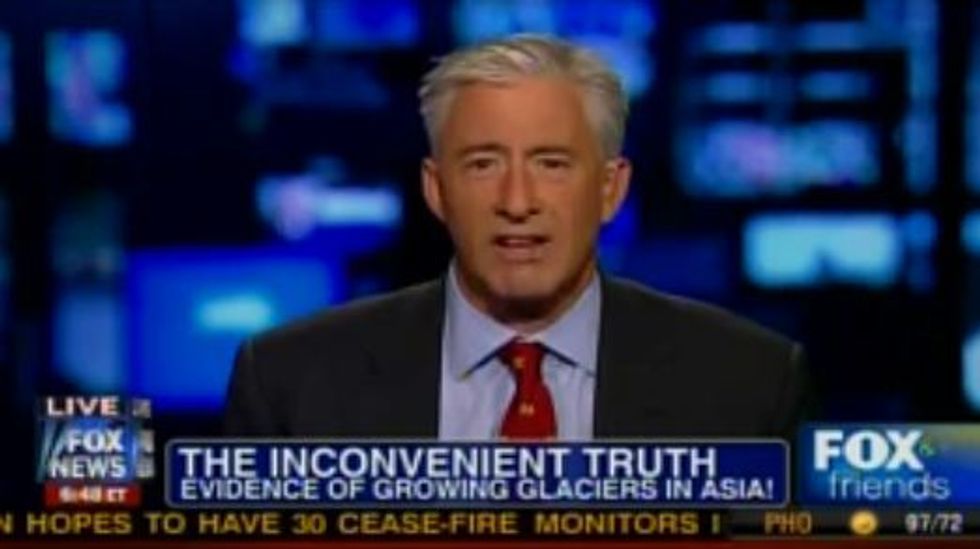 Chris Horner is a senior fellow at CEI and the lead lawyer at ATI, a close CEI affiliate known for its litigious harassment of climate scientist Michael Mann alongside Virginia attorney General Ken Cuccinelli, who just worked with coal utility companies to kill Virginia's renewable energy law. ATI was behind a leaked memo encouraging "subversion" among local groups opposed to wind energy projects.
Horner testified before the Kansas legislature Feb. 12 to encourage the false notion that the renewable energy portfolio standard is going to make consumer electricity bills skyrocket (again, there is no correlation between state RPS laws and electricity prices). He cited the long-debunked "Spanish" study, which Koch front groups have cited for years in attempts to undermine clean energy.
Horner is affiliated with several other Koch- and Exxon-funded State Policy Network affiliates such as the National Center for Policy Analysis and Tech Central Station (set up by DCI Group).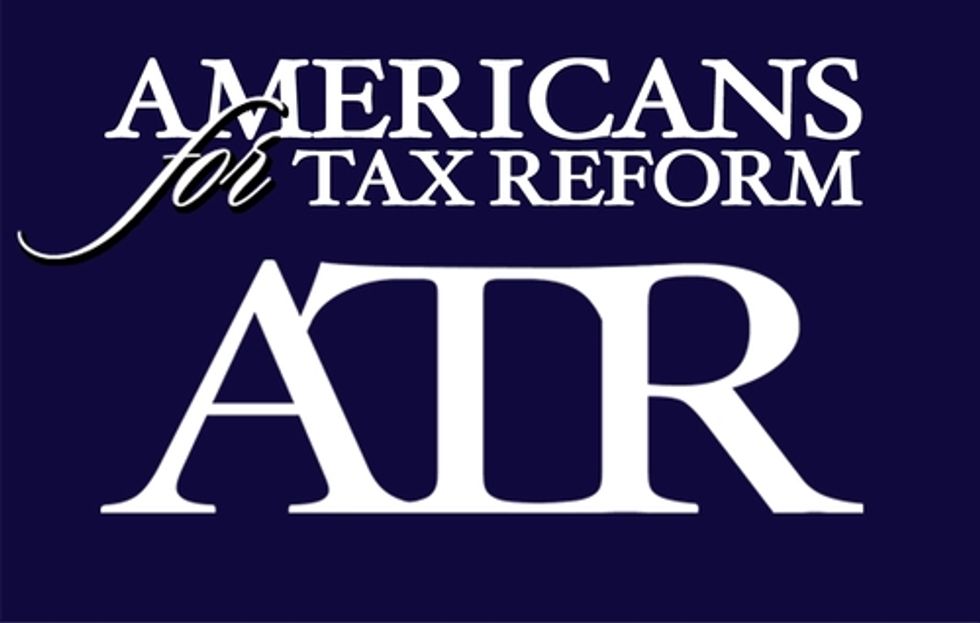 Grover Norquist and Americans for Tax Reform:

ATR president Grover Norquist wrote a Feb. 27, 2013 letter supporting Rep. Dennis Hedke's House bill shortly before the bill was kicked back into the House Utilities commission. This Kansas letter followed an ATR op-ed in Politico encouraging rollbacks of state clean energy incentives, claiming they are a "tax," which is Norquist's consistent tactic against anything the financiers of ATR don't feel like supporting.
Junk scientists with Koch and Exxon ties:
Disgraced scientists Willie Soon and John Christy were flown in by Americans for Prosperity to assure state legislators that global warming isn't a problem (it's already a $1.2 trillion problem annually). Doctors Soon and Christy themselves are directly funded by Koch or directly affiliated with several Koch-funded interests like the Competitive Enterprise Institute and Heartland.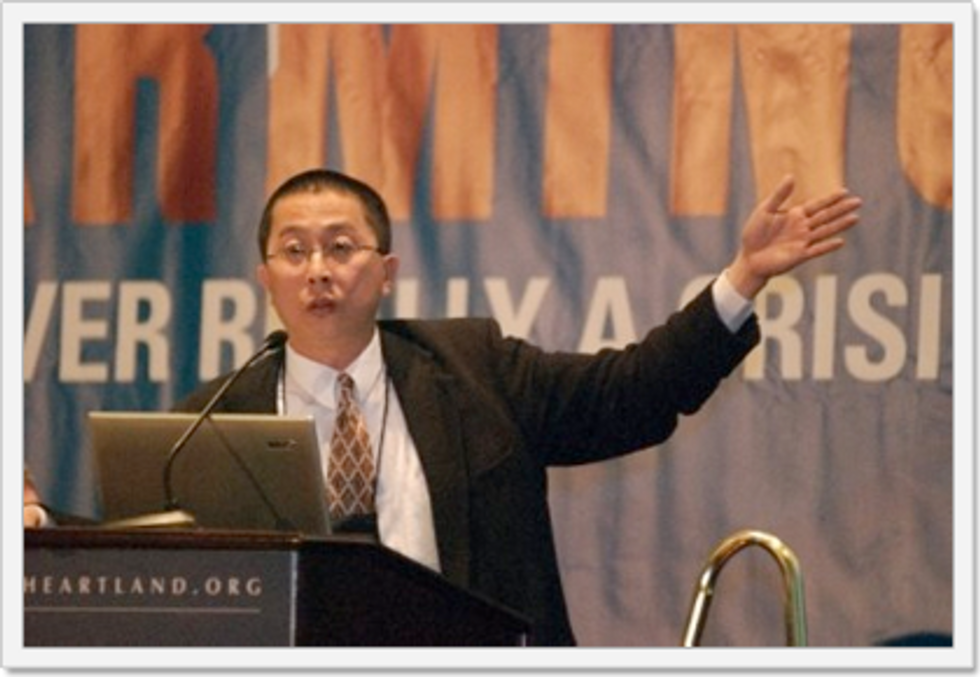 Willie Soon in particular has a habit of conducting climate "research" on the exclusive dime of coal and oil interests over the last decade:
ExxonMobil ($335,106)
American Petroleum Institute ($273,611 since 2001)
Charles G. Koch Foundation ($230,000)
Southern Company ($240,000)
Dr. Soon's questionable climate research now receives funding through the Donors Trust network–$115,000 in 2011 and 2012.
See Skeptical Science's profile of John Christy for a through explanation of why he is not a credible voice in the scientific community studying climate change, using peer-reviewed climate research as refutation.
State Policy Network:
Umbrella organization to all groups listed above
$49,000 from Koch foundations since 1997
Over $10 million from Donors Trust & Donors Capital Fund since 2002

Donors Trust provided over 36 percent of SPN's 2010 budget and over 40 percent of SPN's 2011 budget (budgets for both years listed in their 2011 IRS filing).
Koch Industries:
Based in Wichita, Kansas
Operations in oil refining, oil and gas pipelines, fossil fuel commodity & derivatives trading, petrochemical manufacturing, fertilizers, textiles, wood and paper products, consumer tissue products, cattle ranching and other ventures.
$115 billion in estimated annual revenue
84 percent private owned between brothers Charles Koch and David Koch,

each

worth an estimated $34 billion (Forbes) to $44.7 billion (Bloomberg).
Member of ALEC's anti-environmental task force
Associated foundations fund State Policy Network, ALEC, Heartland Institute, Americans for Prosperity, Beacon Hill Institute, Competitive Enterprise Institute, Americans for Tax Reform and Dr. Willie Soon.
Koch brothers founded Americans for Prosperity and helped establish the Heartland Institute.
The money trail of the out-of-state groups inundating Kansas with their sudden interest in killing the state's incentives for wind energy leads back to the Koch brothers. While Koch Industries has deployed its own lobbyists to compliment the effort, the brothers who lead the company have tapped into their broader national network to aid the fight against clean energy in Kansas.
Charles and David Koch, the billionaire brothers who own Koch Industries, have spent over $67,000,000 from their family foundations on groups who have denied the existence or extent of global climate change, promote fossil fuel use and block policies that promote clean energy development.
The Kochs obscure millions more in annual giving through Donors Trust and Donors Capital Fund, which collect money from the Kochs and other wealthy corporate interests and pass it on to State Policy Network groups. 
This video provides a visual overview of how the Koch-funded network amplifies unscientific doubt over climate science and blocks clean energy policies:
 Visit EcoWatch's RENEWABLES page for more related news on this topic.
——–
Click here to tell Congress to Expedite Renewable Energy.

Sunrise over planet Earth. Elements of this image furnished by NASA. Elen11 / iStock / Getty Images Plus
On Thursday, April 22, the world will celebrate Earth Day, the largest non-religious holiday on the globe.
EcoWatch Daily Newsletter
NASA has teamed up with non-profit Carbon Mapper to help pinpoint greenhouse gas sources. aapsky / Getty Images
Super-emitters are individual sources such as leaking pipelines, landfills or dairy farms that produce a disproportionate amount of planet-warming emissions, especially methane and carbon dioxide. Carbon Mapper, the non-profit leading the effort, hopes to provide a more targeted guide to reducing emissions by launching special satellites that hunt for sources of climate pollution.
"What we've learned is that decision support systems that focus just at the level of nation states, or countries, are necessary but not sufficient. We really need to get down to the scale of individual facilities, and even individual pieces of equipment, if we're going to have an impact across civil society," Riley Duren, Carbon Mapper CEO and University of Arizona researcher, told BBC News. "Super-emitters are often intermittent but they are also disproportionately responsible for the total emissions. That suggests low-hanging fruit, because if you can identify and fix them you can get a big bang for your buck."
The new project, announced Thursday, is a partnership between multiple entities, including Carbon Mapper, the state of California, NASA's Jet Propulsion Laboratory (JPL) and Planet, a company that designs, builds and launches satellites, according to a press release. The project is being implemented in three stages.
The initial stage, which is already complete, involved the initial engineering development. NASA and Planet will work together in the second stage to build two satellites for a 2023 launch. The third phase will launch an entire constellation of satellites starting in 2025.
The satellites will include an imaging spectrometer built by NASA's JPL, NASA explained in a press release. This is a device that can break down visible light into hundreds of colors, providing a unique signature for chemicals such as methane and carbon dioxide. Most imaging spectrometers currently in orbit have larger pixel sizes, making it difficult to locate emission sources that are not always visible from the ground. However, Carbon Mapper spectrometers will have pixels of around 98 square feet, facilitating more detailed pin-pointing.
"This technology enables researchers to identify, study and quantify the strong gas emission sources," JPL Scientist Charles Miller said in the press release.
Once the data is collected, Carbon Mapper will make it available to industry and government actors via an open data portal to help repair leaks.
"These home-grown satellites are a game-changer," California Governor Gavin Newsom said of the project. "They provide California with a powerful, state-of-the-art tool to help us slash emissions of the super-pollutant methane — within our own borders and around the world. That's exactly the kind of dynamic, forward-thinking solution we need now to address the existential crisis of climate change."
By Jenna McGuire
Commonly used herbicides across the U.S. contain highly toxic undisclosed "inert" ingredients that are lethal to bumblebees, according to a new study published Friday in the Journal of Applied Ecology.
The study reviewed several herbicide products and found that most contained glyphosate, an ingredient best recognized from Roundup products and the most widely used herbicide in the U.S. and worldwide.
While the devastating impacts of glyphosate on bee populations are more broadly recognized, the toxicity levels of inert ingredients are less understood because they are not subjected to the same mandatory testing by the U.S. Environmental Protection Agency (EPA).
"Pesticides are manufactured and sold as formulations that contain a mixture of compounds, including one or more active ingredients and, potentially, many inert ingredients," explained the Center for Food Safety in a statement. "The inert ingredients are added to pesticides to aid in mixing and to enhance the products' ability to stick to plant leaves, among other purposes."
The study found that these inert substances can be highly toxic and even block bees' breathing capacity, essentially causing them to drown. While researchers found that some of the combinations of inert ingredients had no negative impacts on the bees, one of the herbicide formulations killed 96% of the bees within 24 hours.
According to the abstract of the study:
Bees exhibited 94% mortality with Roundup® Ready‐To‐Use® and 30% mortality with Roundup® ProActive®, over 24 hr. Weedol® did not cause significant mortality, demonstrating that the active ingredient, glyphosate, is not the cause of the mortality. The 96% mortality caused by Roundup® No Glyphosate supports this conclusion.
"This important new study exposes a fatal flaw in how pesticide products are regulated here in the U.S.," said Jess Tyler, a staff scientist at the Center for Biological Diversity. "Now the question is, will the Biden administration fix this problem, or will it allow the EPA to continue its past practice of ignoring the real-world harms of pesticides?"
According to the Center for Food Safety, there are currently 1,102 registered formulations that contain the active ingredient glyphosate, each with a proprietary mixture of inert ingredients. In 2017, the group filed a legal petition calling for the EPA to force companies to provide safety data on pesticide formulations that include inert ingredients.
"The EPA must begin requiring tests of every pesticide formulation for bee toxicity, divulge the identity of 'secret' formulation additives so scientists can study them, and prohibit application of Roundup herbicides to flowering plants when bees might be present and killed," said Bill Freese, science director at the Center for Food Safety. "Our legal petition gave the EPA a blueprint for acting on this issue of whole formulations. Now they need to take that blueprint and turn it into action, before it's too late for pollinators."
ATTN @EPA: Undisclosed "inert" ingredients in #pesticide products warrant further scrutiny! ➡️ A new study compared… https://t.co/bdFwXCVHsD

— Center 4 Food Safety (@Center 4 Food Safety)1618592343.0
Roundup — also linked to cancer in humans — was originally produced by agrochemical giant Monsanto, which was acquired by the German pharmaceutical and biotech company Bayer in 2018.
The merger of the two companies was condemned by environmentalists and food safety groups who warned it would cultivate the greatest purveyor of genetically modified seeds and toxic pesticides in the world.
Reposted with permission from Common Dreams.
A warming climate can lead to lake stratification, including toxic algal blooms. UpdogDesigns / Getty Images
By Ayesha Tandon
New research shows that lake "stratification periods" – a seasonal separation of water into layers – will last longer in a warmer climate.
These longer periods of stratification could have "far-reaching implications" for lake ecosystems, the paper says, and can drive toxic algal blooms, fish die-offs and increased methane emissions.
The study, published in Nature Communications, finds that the average seasonal lake stratification period in the northern hemisphere could last almost two weeks longer by the end of the century, even under a low emission scenario. It finds that stratification could last over a month longer if emissions are extremely high.
If stratification periods continue to lengthen, "we can expect catastrophic changes to some lake ecosystems, which may have irreversible impacts on ecological communities," the lead author of the study tells Carbon Brief.
The study also finds that larger lakes will see more notable changes. For example, the North American Great Lakes, which house "irreplaceable biodiversity" and represent some of the world's largest freshwater ecosystems, are already experiencing "rapid changes" in their stratification periods, according to the study.
'Fatal Consequences'
As temperatures rise in the spring, many lakes begin the process of "stratification." Warm air heats the surface of the lake, heating the top layer of water, which separates out from the cooler layers of water beneath.
The stratified layers do not mix easily and the greater the temperature difference between the layers, the less mixing there is. Lakes generally stratify between spring and autumn, when hot weather maintains the temperature gradient between warm surface water and colder water deeper down.
Dr Richard Woolway from the European Space Agency is the lead author of the paper, which finds that climate change is driving stratification to begin earlier and end later. He tells Carbon Brief that the impacts of stratification are "widespread and extensive," and that longer periods of stratification could have "irreversible impacts" on ecosystems.
For example, Dr Dominic Vachon – a postdoctoral fellow from the Climate Impacts Research Centre at Umea University, who was not involved in the study – explains that stratification can create a "physical barrier" that makes it harder for dissolved gases and particles to move between the layers of water.
This can prevent the oxygen from the surface of the water from sinking deeper into the lake and can lead to "deoxygenation" in the depths of the water, where oxygen levels are lower and respiration becomes more difficult.
Oxygen depletion can have "fatal consequences for living organisms," according to Dr Bertram Boehrer, a researcher at the Helmholtz Centre for Environmental Research, who was not involved in the study.
Lead author Woolway tells Carbon Brief that the decrease in oxygen levels at deeper depths traps fish in the warmer surface waters:
"Fish often migrate to deeper waters during the summer to escape warmer conditions at the surface – for example during a lake heatwave. A decrease in oxygen at depth will mean that fish will have no thermal refuge, as they often can't survive when oxygen concentrations are too low."

This can be very harmful for lake life and can even increase "fish die-off events" the study notes.
However, the impacts of stratification are not limited to fish. The study notes that a shift to earlier stratification in spring can also encourage communities of phytoplankton – a type of algae – to grow sooner, and can put them out of sync with the species that rely on them for food. This is called a "trophic mismatch."
Prof Catherine O'Reilly, a professor of geography, geology and the environment at Illinois State University, who was not involved in the study, adds that longer stratified periods could also "increase the likelihood of harmful algae blooms."
The impact of climate change on lakes also extends beyond ecosystems. Low oxygen levels in lakes can enhance the production of methane, which is "produced in and emitted from lakes at globally significant rates," according to the study.
Woolway explains that higher levels of warming could therefore create a positive climate feedback in lakes, where rising temperatures mean larger planet-warming emissions:
"Low oxygen levels at depth also promotes methane production in lake sediments, which can then be released to the surface either via bubbles or by diffusion, resulting in a positive feedback to climate change."

Onset and Breakup
In the study, the authors determine historical changes in lake stratification periods using long-term observational data from some of the "best-monitored lakes in the world" and daily simulations from a collection of lake models.
They also run simulations of future changes in lake stratification period under three different emission scenarios, to determine how the process could change in the future. The study focuses on lakes in the northern hemisphere.
The figure below shows the average change in lake stratification days between 1900 and 2099, compared to the 1970-1999 average. The plot shows historical measurements (black), and the low emission RCP2.6 (blue), mid emissions RCP6.0 (yellow) and extremely high emissions RCP8.5 (red) scenarios.
Change in lake stratification duration compared to the 1970-1999 average, for historical measurements (black), the low emission RCP2.6 (blue) moderate emissions RCP6.0 (yellow) and extremely high emissions RCP8.5 (red). Credit: Woolway et al (2021).
The plot shows that the average lake stratification period has already lengthened. However, the study adds that some lakes are seeing more significant impacts than others.
For example, Blelham Tarn – the most well-monitored lake in the English Lake District – is now stratifying 24 days earlier and maintaining its stratification for an extra 18 days compared to its 1963-1972 averages, the study finds. Woolway tells Carbon Brief that as a result, the lake is already showing signs of oxygen depletion.
Climate change is increasing average stratification duration in lakes, the findings show, by moving the onset of stratification earlier and pushing the stratification "breakup" later. The table below shows projected changes in the onset, breakup and overall length of lake stratification under different emission scenarios, compared to a 1970-1999 baseline.
The table shows that even under the low emission scenario, the lake stratification period is expected to be 13 days longer by the end of the century. However, in the extremely high emissions scenario, it could be 33 days longer.
The table also shows that stratification onset has changed more significantly than stratification breakup. The reasons why are revealed by looking at the drivers of stratification more closely.
Warmer Weather and Weaker Winds
The timing of stratification onset and breakup in lakes is driven by two main factors – temperature and wind speed.
The impact of temperature on lake stratification is based on the fact that warm water is less dense than cool water, Woolway tells Carbon Brief:
"Warming of the water's surface by increasing air temperature causes the density of water to decrease and likewise results in distinct thermal layers within a lake to form – cooler, denser water settles to the bottom of the lake, while warmer, lighter water forms a layer on top."

This means that, as climate change causes temperatures to rise, lakes will begin to stratify earlier and remain stratified for longer. Lakes in higher altitudes are also likely to see greater changes in stratification, Woolway tells Carbon Brief, because "the prolonging of summer is very apparent in high latitude regions."
The figure below shows the expected increase in stratification duration from lakes in the northern hemisphere under the low (left), mid (center), and high (right) emission scenarios. Deeper colors indicate a larger increase in stratification period.
Expected increase in stratification duration in lakes in the northern hemisphere under the low (left), mid (centre) and high (right) emissions scenarios. Credit: Woolway et al (2021).
The figure shows that the expected impact of climate change on stratification duration becomes more pronounced at more northerly high latitudes.
The second factor is wind speed, Woolway explains:
"Wind speed also affects the timing of stratification onset and breakdown, with stronger winds acting to mix the water column, thus acting against the stratifying effect of increasing air temperature."

According to the study, wind speed is expected to decrease slightly as the planet warms. The authors note that the expected changes in near-surface wind speed are "relatively minor" compared to the likely temperature increase, but they add that it may still cause "substantial" changes in stratification.
The study finds that air temperature is the most important factor behind when a lake will begin to stratify. However, when looking at stratification breakup, it finds that wind speed is a more important driver.
Meanwhile, Vachon says that wind speeds also have implications for methane emissions from lakes. He notes that stratification prevents the methane produced on the bottom of the lake from rising and that, when the stratification period ends, methane is allowed to rise to the surface. However, according to Vachon, the speed of stratification breakup will affect how much methane is released into the atmosphere:
"My work has suggested that the amount of accumulated methane in bottom waters that will be finally emitted is related to how quickly the stratification break-up occurs. For example, a slow and progressive stratification break-up will most likely allow water oxygenation and allow the bacteria to oxidise methane into carbon dioxide. However, a stratification break-up that occurs rapidly – for example after storm events with high wind speed – will allow the accumulated methane to be emitted to the atmosphere more efficiently."

Finally, the study finds that large lakes take longer to stratify in spring and typically remain stratified for longer in the autumn – due to their higher volume of water. For example, the authors highlight the North American Great Lakes, which house "irreplaceable biodiversity" and represent some of the world's largest freshwater ecosystems.
These lakes have been stratifying 3.5 days earlier every decade since 1980, the authors find, and their stratification onset can vary by up to 48 days between some extreme years.
O'Reilly tells Carbon Brief that "it's clear that these changes will be moving lakes into uncharted territory" and adds that the paper "provides a framework for thinking about how much lakes will change under future climate scenarios."
Reposted with permission from Carbon Brief.
A view of Lake Powell from Romana Mesa, Utah, on Sept. 8, 2018. DEA / S. AMANTINI / Contributor / Getty Images
By Robert Glennon
Interstate water disputes are as American as apple pie. States often think a neighboring state is using more than its fair share from a river, lake or aquifer that crosses borders.
Robert Glennon is a Regents Professor and Morris K. Udall Professor of Law & Public Policy, University of Arizona.

Disclosure statement: Robert Glennon received funding from the National Science Foundation in the 1990s and 2000s.
Reposted with permission from The Conversation.