Koch Brothers + 11 Other Special Interest Groups Wage War on Solar
The Koch brothers, Duke Energy and Arizona Public Service are among 12 special interest groups waging aggressive anti-solar campaigns across the country, often coordinated and behind the scenes, a new Environment America Research and Policy Center report said today.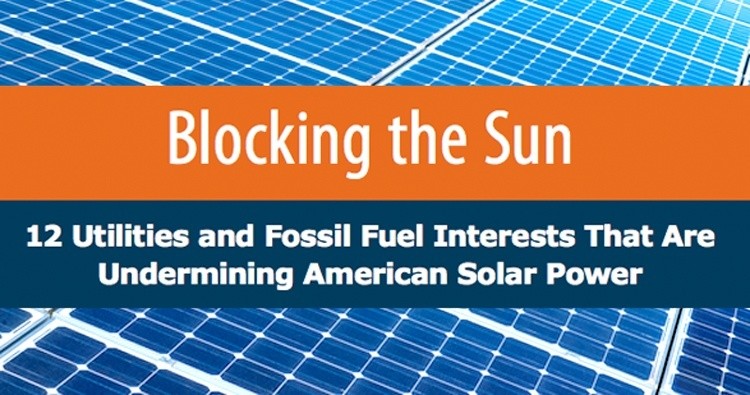 While American solar power has increased four-fold since 2010, state by state, utilities and powerful industry front groups have begun chipping away at key policies that helped spur this solar boom, according to the analysis, "Blocking the Sun: 12 Utilities and Fossil Fuel Interests That Are Undermining American Solar Power."
"Fossil-fuel interests and their allies have been using the same playbook to undermine solar power across the country," said Bret Fanshaw, the solar program coordinator for Environment America. "And they've largely been operating in the shadows."
The playbook: a national network of utility interest groups and fossil fuel industry-funded think tanks provides funding, model legislation and political cover for anti-solar campaigns. The report examines five of these major national players—Edison Electric Institute, American Legislative Exchange Council, Koch brothers and their front group Americans for Prosperity, Heartland Institute and Consumer Energy Alliance.
Then, in state after state, electric utilities use the support provided by these national anti-solar interests, supplemented by their own ample resources, to attack key solar energy policies. The report features seven utilities—Arizona Public Service, Duke Energy, American Electric Power, Berkshire Hathaway Industries, Salt River Project, FirstEnergy and We Energies.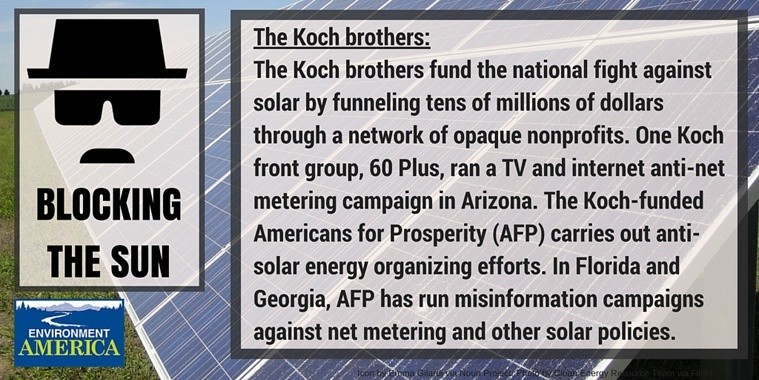 "We found that most attacks on solar energy happen behind closed doors in utility agencies or in dense regulatory filings—away from public view," said Gideon Weissman of the Frontier Group and co-author of the report. "That's probably because they're aimed at very popular policies that give regular consumers the chance to go solar."
Charles and David Koch have an enormous financial stake in the fossil fuel industry through their company Koch Industries and its many subsidiaries. Koch Industries alone operates around 4,000 miles of pipeline, along with oil refineries in Alaska, Minnesota and Texas.
Through its front group Americans for Prosperity and funding to other like-minded entities, the Koch brothers have attacked solar laws in several states including Florida, Georgia, Kansas, North Carolina, Arizona, Minnesota, Ohio, South Carolina and Washington.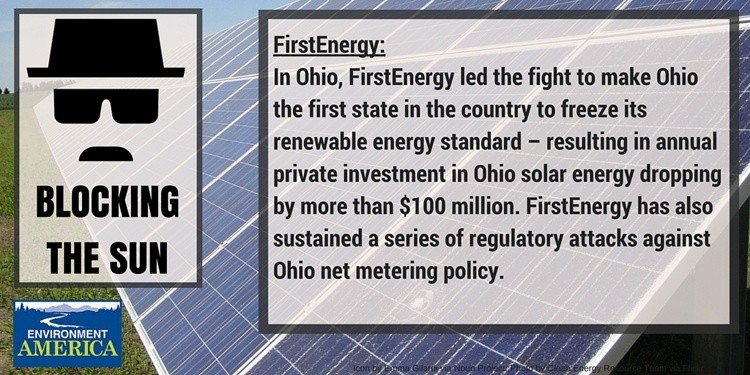 Utilities like Arizona Public Service augment resources from interests like the Kochs to forward an anti-solar agenda. Arizona Public Service admitted to funding anti-solar ads by 60 plus, a national Koch-backed front group that purports to represent seniors and it has been accused of improper influence with the Arizona Corporation Commission.
"I've seen first-hand how some energy monopolies have used money in campaigns to intimidate and manipulate policy makers and elected officials," said Rep. Ken Clark, a state representative from Arizona who has pushed Arizona Public Service to disclose its political spending. "Aside from the question of renewable energy, this activity has become a threat to our electoral system."
Arizona Public Service's latest stealth move against solar has been to withdraw its request to raise fees on solar owners until the commission completes a study that would only examine costs and not benefits, of the resource.
In Florida, where solar capacity is far beneath its potential, Koch-backed Americans for Prosperity and Duke Energy, the largest utility in the U.S., have teamed up to block pro-solar policies. Duke Energy spent heavily to help re-elect Gov. Rick Scott, who campaigned against a state renewable electricity standard. Americans for Prosperity has mobilized its members and waged an aggressive ad campaign against a ballot initiative to expand rooftop solar by allowing third-party sales of panels. Duke Energy has also contributed to that effort.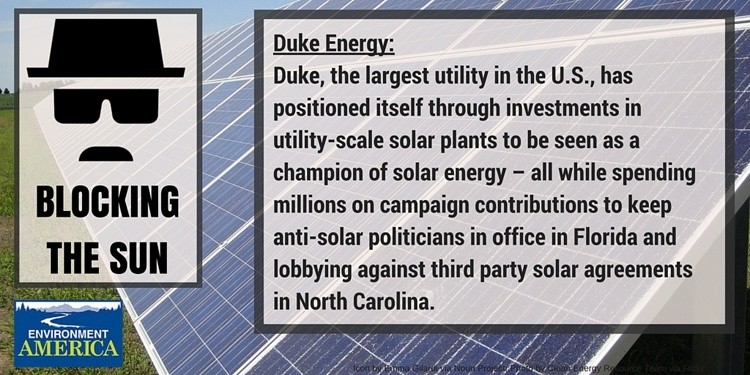 The anti-solar coalition Consumers for Smart Solar, backed by Americans for Prosperity, Duke Energy and others, has now put forward a competing ballot measure in Florida to undermine the rooftop solar amendment.
"By wide margins, Americans support pro-solar policies," said Fanshaw. "That's why fossil fuel interests and their front groups have resorted to shady and deceptive tactics to undermine them. Ultimately it will be up to state leaders to reject these attacks and support a clean energy future."
YOU MIGHT ALSO LIKE
British Government Accused of Distorting Market in Support of Fossil Fuels and Nukes
26% of the World Will Run on Renewables by 2020, Says IEA
Even Climate Denier Ben Carson Says We Should Power America With Renewables
How to Finance the Global Transition from Fossil Fuels to Renewable Energy
Wikimedia Commons
By Stacy Malkan
Neil deGrasse Tyson has inspired millions of people to care about science and imagine themselves as participants in the scientific process. What a hopeful sign it is to see young girls wearing t-shirts emblazoned with the words, "Forget princess, I want to be an astrophysicist."
Keep reading...
Show less
www.youtube.com
By Andy Rowell
Any day now we will truly witness climate change in action. Within days at worst, maybe weeks at best, scientists predict that a huge section of the Larsen C ice shelf in Antarctica will break off into the ocean, in what is called a major "carving" event.
Keep reading...
Show less
www.youtube.com
President Trump visited Cedar Rapids, Iowa on June 21 to speak to a large crowd in the U.S. Cellular Center at a political rally organized by his campaign.
As Trevor Noah noted during The Daily Show episode last night (starts at 2:25), the real reason Trump has these rallies is to "get back in front of his loyal crowds and feed of their energy." Noah believes that "Trump supporters are so on board with their dude he can say anything and they'll come along for the ride."
Keep reading...
Show less
The Kamuthi solar plant in the southern Indian state of Tamil Nadu.
The rapid growth in renewable energy continues to put a dent in the demand for coal.
Coal India, the world's biggest coal mining company and producer of 82 percent of the country's coal, announced the closure of 37 mines that are financially "unviable."
Keep reading...
Show less
www.youtube.com
By Katie O'Reilly
Two years ago—long before coal became one of the most dominant and controversial symbols of the 2016 presidential election—Bloomberg Philanthropies approached production company RadicalMedia with the idea of creating a documentary exploring the U.S. coal mining industry. Last spring, they brought on Emmy-nominated director Michael Bonfiglio, tasked with forging a compelling story out of the multitudes of facts, statistics and narratives underlying the declining industry.
Keep reading...
Show less
Mayors for 100% Clean Energy
Keep reading...
Show less
www.youtube.com
Thanks to Newsy for their coverage on Thursday's news that the U.S. Fish and Wildlife Service removed grizzly bears in the Greater Yellowstone region from the Endangered Species List.
Watch above as Newsy explains that the decision comes despite serious concerns from the environmental and scientific community, and Tribal Nations about a declining, isolated grizzly bear population with diminishing food resources and record-high mortalities.
Keep reading...
Show less
www.facebook.com
By Francine Kershaw
Seismic airguns exploding in the ocean in search for oil and gas have devastating impacts on zooplankton, which are critical food sources for marine mammals, according to a new study in Nature. The blasting decimates one of the ocean's most vital groups of organisms over huge areas and may disrupt entire ecosystems.
And this devastating news comes on the heels of the National Marine Fisheries Service's proposal to authorize more than 90,000 miles of active seismic blasting. Based on the results of this study, the affected area would be approximately 135,000 square miles.
Keep reading...
Show less
By Jill Richardson
Is coconut oil:
good for you
bad for you
neither good nor bad
scientists don't know
The subject of this question is the source of a disagreement. Initially, the question was thought to be settled decades ago, when scientist Ancel Keys declared all saturated fats unhealthy. Coconut oil, which is solid at room temperature, is a saturated fat.
Keep reading...
Show less


Get EcoWatch in your inbox