This website uses cookies to ensure you get the best experience while browsing it. By clicking 'Got It' you're accepting these terms.
Kingpin Behind Bars for Poaching Chimps in Africa
Aug. 26, 2013 02:31PM EST
A man who has admitted trafficking more than 500 endangered chimpanzees out of the West African country Republic of Guinea has been captured and sentenced to the maximum possible jail term and a fine, according to a law enforcement group involved with the case.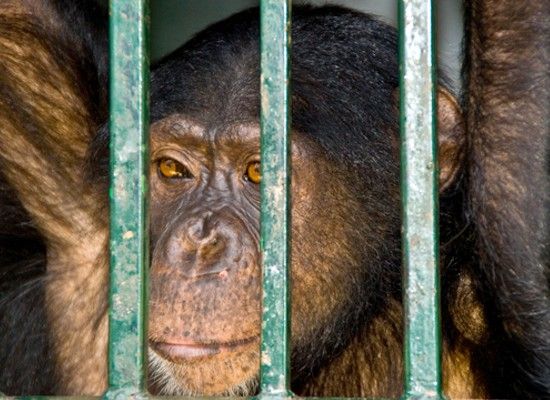 Photo courtesy of Shutterstock
The organization Guinée Application de la Loi Faunique (GALF) says convicted kingpin Ousmane Diallo and his two accomplices, who also received prison sentences, have been implicated in the poaching of chimps, lions, leopards, hyenas and tropical birds over the past decade.
"Breaking these networks will require a real commitment from the Guinean authorities as major criminals take advantage of the lack of political will and the lightness of the penalties," said Charlotte Houpline, GALF founder and coordinator. "But this time the result is excellent, we arrested one of biggest ape traffickers and we obtained one year in prison against him, the most severe penalty under Guinean law for this type of offense. It is a historic decision."
Poaching and trafficking of chimpanzees has driven the species into severe decline. All cross-border trade in great apes like chimps, gorillas and orang-utans is prohibited under international law, but the demand for the animals by zoos, wildlife parks and as exotic pets has continued. Republic of Guinea was sanctioned by the Convention on International Trade in Endangered Species earlier this year for circumventing rules meant to safeguard the country's wild animals.
"Poachers target young chimpanzees for the illegal pet trade, but their families will often fight to the death to protect them," said David Greer of World Wildlife Fund (WWF). "For every baby that is exported alive another 10 chimps may have died. Infants often perish from the trauma of capture leading poachers to pursue yet another victim, and repeating time and again the tragic killing scenario."
"There are as few as 8,000 chimpanzees remaining in Republic of Guinea." Greer says. "To prevent ape populations from careening toward extinction, countries across West and Central Africa must provide better protection, undertake more thorough investigations, conduct rigorous prosecutions, eradicate corruption in the legal system and impose stronger penalties to deter poachers and traffickers."
The operation to apprehend the fugitive syndicate was undertaken by the Guinean government's INTERPOL bureau and GALF. WWF supports GALF's work on wildlife crime investigations. During the sting, authorities seized 150 birds and were able to release them safely back into the wild.
Visit EcoWatch's BIODIVERSITY page for more related news on this topic.

EcoWatch Daily Newsletter
By Anita Desikan
The Trump administration is routinely undermining your ability — and mine, and everyone else's in this country — to exercise our democratic rights to provide input on the administration's proposed actions through the public comment process. Public comments are just what they sound like: an opportunity for anyone in the public, both individuals and organizations, to submit a comment on a proposed rule that federal agencies are required by law to read and take into account. Public comments can raise the profile of an issue, can help amplify the voices of affected communities, and can show policymakers whether a proposal has broad support or is wildly unpopular.
Alena Gamm / EyeEm / Getty Images
Picture this: a world where chocolate is as rare as gold. No more five-dollar bags of candy on Halloween. No more boxes of truffles on Valentine's day. No more roasting s'mores by the campfire. No more hot chocolate on a cold winter's day.
Who wants to live in a world like that?
Fabian Krause / EyeEm / Getty Images
Water protectors of all persuasions gathered in talking circles at Borderland Ranch in Pe'Sla, the heart of the sacred Black Hills, during the first Sovereign Sisters Gathering. At the center are Cheryl Angel in red and white and on her left, Lyla June. Tracy Barnett
By Tracy L. Barnett
Sources reviewed this article for accuracy.
For Sicangu Lakota water protector Cheryl Angel, Standing Rock helped her define what she stands against: an economy rooted in extraction of resources and exploitation of people and planet. It wasn't until she'd had some distance that the vision of what she stands for came into focus.
Hedges, 2019 © Hugh Hayden. All photos courtesy of Lisson Gallery
By Patrick Rogers
"I'm really into trees," said the sculptor Hugh Hayden. "I'm drawn to plants."
BruceBlock / iStock / Getty Images
Thanks to their high concentration of powerful plant compounds, foods with a natural purple hue offer a wide array of health benefits.