This website uses cookies to ensure you get the best experience while browsing it. By clicking 'Got It' you're accepting these terms.
Kinder Morgan Claims Oil Spills Can Have 'Positive' Effects
May. 04, 2014 08:00AM EST
Energy
Whether it's a Congresswoman claiming human-caused global warming is unproven, an energy company trying to apologize for an explosion with pizza or a news network telling a respected journalist not to utter the phrase 'climate change,' you probably think you've heard it all.
Nope. Not even close.
Kinder Morgan's slogan is "A Different Kind of Energy Company," but its latest argument for expanding an oil pipeline is just ridiculous. The firm wants to triple its pipeline capacity from Alberta to Burnaby, so it is arguing that oil spills can actually have positive impacts.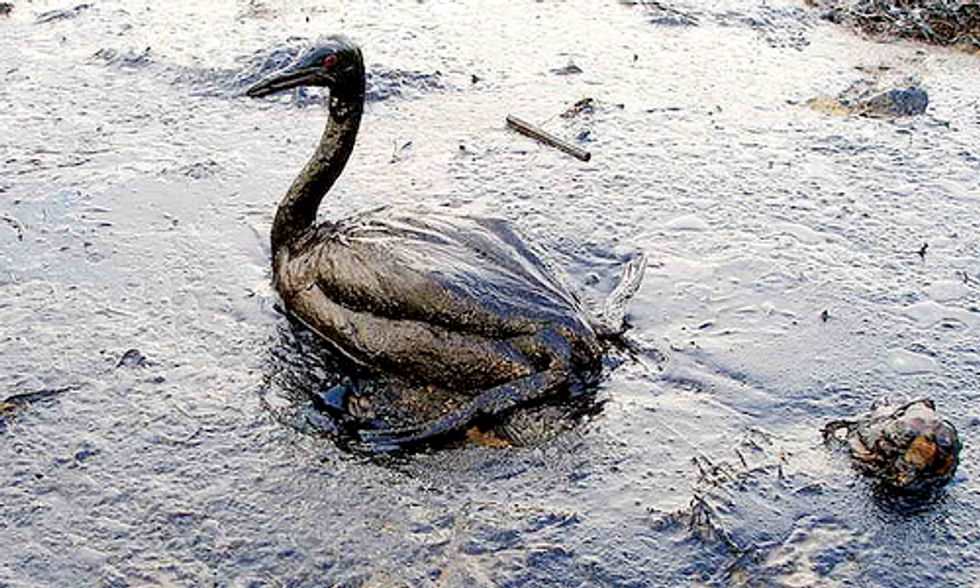 "Pipeline spills can have both positive and negative effects on local and regional economies, both in the short- and long-term," the company said in a submission to Canada's National Energy Board, the Edmonton Journal reported.
"Spill response and cleanup creates business and employment opportunities for affected communities, regions, and cleanup service providers."
Say what?
In analyzing various scenarios and the environmental impact on bodies of water like the Fraser River, Kinder Morgan's 15,000-page submission states that the company believes it is a low risk for an oil spill. Still, some predictably can't wrap their head around the "positive" statement.
"We know Kinder Morgan is using every trick in the book to push this pipeline through our community, but this takes the cake—proposing that a spill would actually be good for the local economy," said Kennedy Stewart, a member of Parliament for the Burnaby—Douglas electoral district.
"This assertion shows the utter disregard this company has for British Columbians."
A Canadian representative from the Texas-based company told the publication that's not the case. Essentially, the company was following instructions provided by the government.
"No spill is acceptable to us," Michael Davies of Kinder Morgan Canada said in an email to the Journal. "While we are required by the National Energy Board to explore both the positive and negative socio-economic effects of a spill, it in no way means we accept the inevitability of a spill, nor justify one."
Kinder Morgan's $5.4 billion proposal would boost its pipeline capacity from 300,000 barrels of oil per day to 890,000.
Greenpeace has protested Kinder Morgan activity in Canada in the past year, including a day-long demonstration at an oil storage facility in Burnaby.
——–
YOU ALSO MIGHT LIKE
Thousands of Crude Oil Gallons Spill Into James River as Train Derails in Virginia
Nearly 170,000 Gallons of Oil Spills Into Busy Houston Ship Channel
Huge Protest Underway Against Canadian Tar Sands Pipelines
——–
EcoWatch Daily Newsletter
A new study shows that half of all Arctic warming and corresponding sea-loss during the late 20th century was caused by ozone-depleting substances. Here, icebergs discharged from Greenland's Jakobshavn Glacier. Kevin Krajick / Earth Institute /
EurekAlert!
The world awakened to the hole in the ozone layer in 1985, which scientists attributed it to ozone depleting substances. Two years later, in Montreal, the world agreed to ban the halogen compounds causing the massive hole over Antarctica. Research now shows that those chemicals didn't just cut a hole in the ozone layer, they also warmed up the Arctic.
Diane Wilson holds up a bag full of nurdles she collected from one of Formosa's outfall areas on Jan. 15. Julie Dermansky / DeSmogBlog
On the afternoon of Jan. 15, activist Diane Wilson kicked off a San Antonio Estuary Waterkeeper meeting on the side of the road across from a Formosa plastics manufacturing plant in Point Comfort, Texas.
After Wilson and the waterkeeper successfully sued Formosa in 2017, the company agreed to no longer release even one of the tiny plastic pellets known as nurdles into the region's waterways. The group of volunteers had assembled that day to check whether the plant was still discharging these raw materials of plastics manufacturing.
Malaysian Environment Minister Yeo Bee Yin (front 2nd L) and officials inspect a container containing plastic waste shipment on Jan. 20, 2020 before sending back to the countries of origin. AFP via Getty Images
The Southeast Asian country Malaysia has sent 150 shipping containers packed with plastic waste back to 13 wealthy countries, putting the world on notice that it will not be the world's garbage dump, as CNN reported. The countries receiving their trash back include the United States, the United Kingdom, France and Canada.
Trump leaves after delivering a speech at the Congress Centre during the World Economic Forum annual meeting in Davos on Jan. 21, 2020. JIM WATSON / AFP via Getty Images