This website uses cookies to ensure you get the best experience while browsing it. By clicking 'Got It' you're accepting these terms.
Kinder Morgan Claims Oil Spills Can Have 'Positive' Effects
May. 04, 2014 08:00AM EST
Energy
Whether it's a Congresswoman claiming human-caused global warming is unproven, an energy company trying to apologize for an explosion with pizza or a news network telling a respected journalist not to utter the phrase 'climate change,' you probably think you've heard it all.
Nope. Not even close.
Kinder Morgan's slogan is "A Different Kind of Energy Company," but its latest argument for expanding an oil pipeline is just ridiculous. The firm wants to triple its pipeline capacity from Alberta to Burnaby, so it is arguing that oil spills can actually have positive impacts.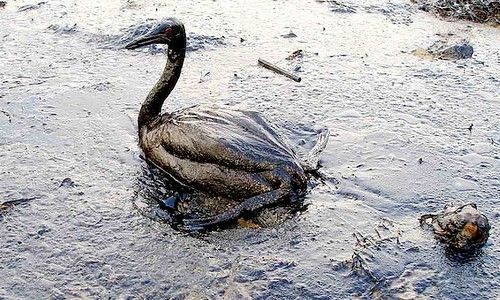 "Pipeline spills can have both positive and negative effects on local and regional economies, both in the short- and long-term," the company said in a submission to Canada's National Energy Board, the Edmonton Journal reported.
"Spill response and cleanup creates business and employment opportunities for affected communities, regions, and cleanup service providers."
Say what?
In analyzing various scenarios and the environmental impact on bodies of water like the Fraser River, Kinder Morgan's 15,000-page submission states that the company believes it is a low risk for an oil spill. Still, some predictably can't wrap their head around the "positive" statement.
"We know Kinder Morgan is using every trick in the book to push this pipeline through our community, but this takes the cake—proposing that a spill would actually be good for the local economy," said Kennedy Stewart, a member of Parliament for the Burnaby—Douglas electoral district.
"This assertion shows the utter disregard this company has for British Columbians."
A Canadian representative from the Texas-based company told the publication that's not the case. Essentially, the company was following instructions provided by the government.
"No spill is acceptable to us," Michael Davies of Kinder Morgan Canada said in an email to the Journal. "While we are required by the National Energy Board to explore both the positive and negative socio-economic effects of a spill, it in no way means we accept the inevitability of a spill, nor justify one."
Kinder Morgan's $5.4 billion proposal would boost its pipeline capacity from 300,000 barrels of oil per day to 890,000.
Greenpeace has protested Kinder Morgan activity in Canada in the past year, including a day-long demonstration at an oil storage facility in Burnaby.
——–
YOU ALSO MIGHT LIKE
Thousands of Crude Oil Gallons Spill Into James River as Train Derails in Virginia
Nearly 170,000 Gallons of Oil Spills Into Busy Houston Ship Channel
Huge Protest Underway Against Canadian Tar Sands Pipelines
——–
EcoWatch Daily Newsletter
People carry children on a flooded street in Almoradi, Spain on Sept. 13. JOSE JORDAN / AFP / Getty Images
Large food companies are following in the footsteps of fast-food restaurants such as Burger King and KFC by offering meat alternatives. Getty Images
By Elizabeth Pratt
Hormel, Kellogg's, and Kroger are among the large companies now planning to offer "fake meat" products at grocery stores.
Experts say the trend toward plant-based meats coincides with consumers' desires to eat less meat.
However, experts urge consumers to closely check package labels as a product isn't necessarily healthy just because it's described as plant-based.
In grocery stores and fast-food outlets around the U.S., a revolution is taking place.
Colombia rainforest. Marcel Oosterwijk / CC BY-SA 2.0
Many of us think of the Amazon as an untouched wilderness, but people have been thriving in these diverse environments for millennia. Due to this long history, the knowledge that Indigenous and forest communities pass between generations about plants, animals and forest ecology is incredibly rich and detailed and easily dwarfs that of any expert.
picture-alliance / Newscom / R. Ben Ari
By Wesley Rahn
Plastic byproducts were found in 97 percent of blood and urine samples from 2,500 children tested between 2014 and 2017, according to a study by the German Environment Ministry and the Robert Koch Institute.

Pexels
Medically reviewed by Daniel Bubnis, MS, NASM-CPT, NASE Level II-CSS
Hot yoga has become a popular exercise in recent years. It offers many of the same benefits as traditional yoga, such as stress reduction, improved strength, and flexibility.
Lara Hata / iStock / Getty Images
By SaVanna Shoemaker, MS, RDN, LD
Rice is a staple in many people's diets. It's filling, inexpensive, and a great mild-tasting addition to flavorful dishes.
An image of the trans-alaskan oil pipeline that carries oil from the northern part of Alaska all the way to valdez. This shot is right near the arctic national wildlife refuge. kyletperry / iStock / Getty Images Plus
The Trump administration has initialized the final steps to open up nearly 1.6 million acres of the protected Alaskan National Wildlife Refuge to allow oil and gas drilling.