Kids Explain to Adults Why We Should Repower Our Schools With 100% Renewable Energy
Aug. 20, 2015 12:06PM EST
Business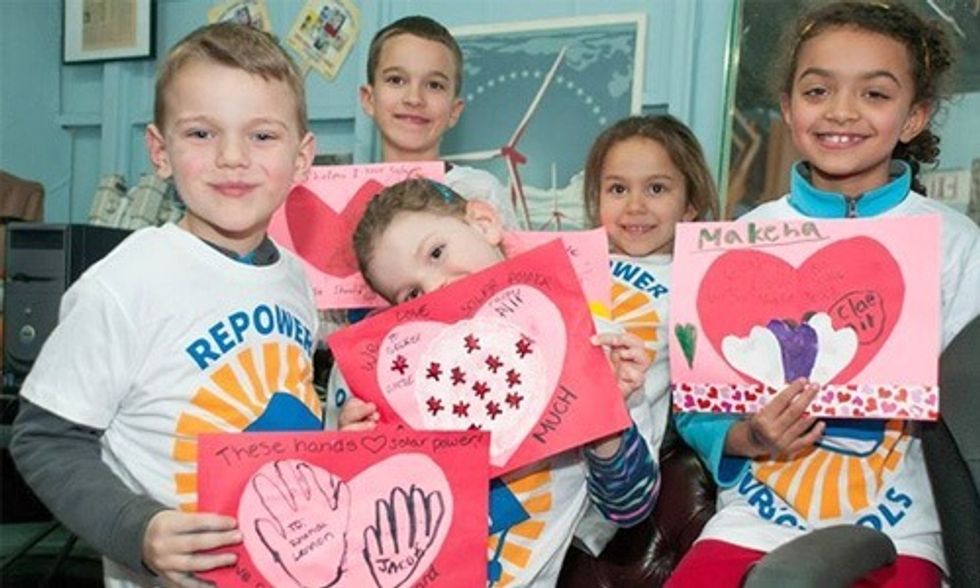 As families across the country gear up to head back to school, kids in North Carolina want to start off the school year on the right foot. That's why parents, teachers and students with the help of education and environmental organizations have developed the "Repower our Schools" initiative to transition Charlotte and Durham schools to 100 percent renewable electricity.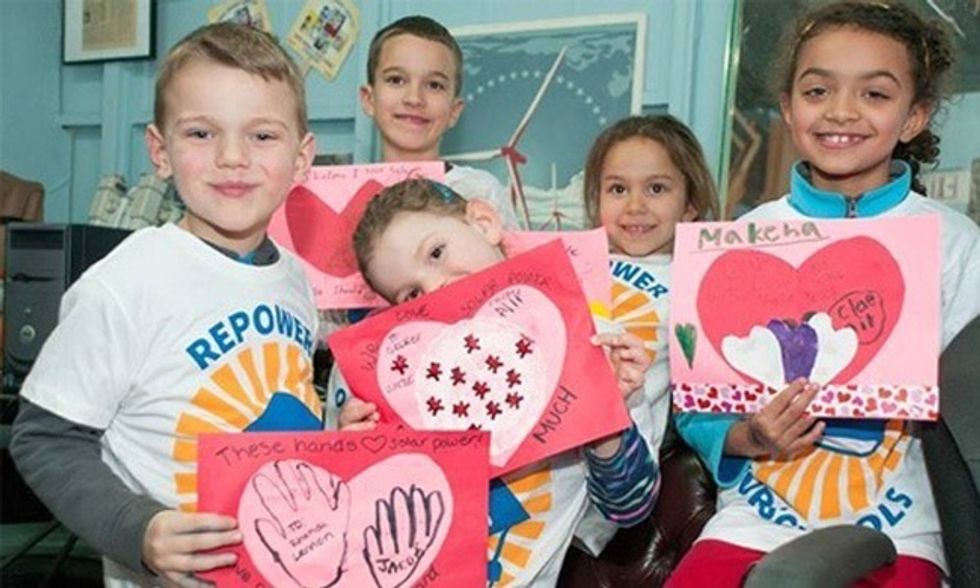 The project, which was initially launched in January, is made up of a coalition of groups, including the Charlotte branch of the National Association for the Advancement of Colored People, Alliance for Climate Education, Medical Advocates for Healthy Air, Action NC, Greenpeace and more than 15 others. The groups have urged Charlotte-Mecklenburg and Durham Public Schools to pass resolutions to save critical school funding by transforming their operations to 100 percent renewable energy.
Greenpeace cites the fact that renewable energy has become cheaper and cheaper and the fact that our children's futures are on the line when it comes to climate change as reasons that schools should be at the forefront of the transition to renewables. "By transitioning school systems to run on 100 percent renewable electricity, schools can reinvest in the classroom and provide hands on experience with 21st century technology," said Greenpeace.
Since January, the coalition has brought renewable energy lessons to schools through a solar truck tour and classroom presentations. And this fall, the groups plan to participate in the Green Apple Day of Service sponsored by U.S. Green Building Council and other STEM-related activities.
"As utility costs continue to rise and renewable energy, such as solar, continues to get cheaper, the opportunity for schools to go renewable has never looked better—in fact the cost saving potential is the primary reason why nearly 4,000 schools nationwide have gone solar," Greenpeace said.
But sometimes you just need the simple explanation that only a child can offer. So, watch these adorable kids explain why schools need to go 100 percent renewable:
YOU MIGHT ALSO LIKE
One of World's Fastest Melting Glaciers May Have Lost Largest Chunk of Ice in Recorded History
Earth Is Facing Most Severe Extinction Crisis in 65 Million Years
EcoWatch Daily Newsletter
Recent Stories from EcoWatch