Kids Derail $900 Million Development Project in Cancún
Nov. 13, 2015 04:00PM EST
Climate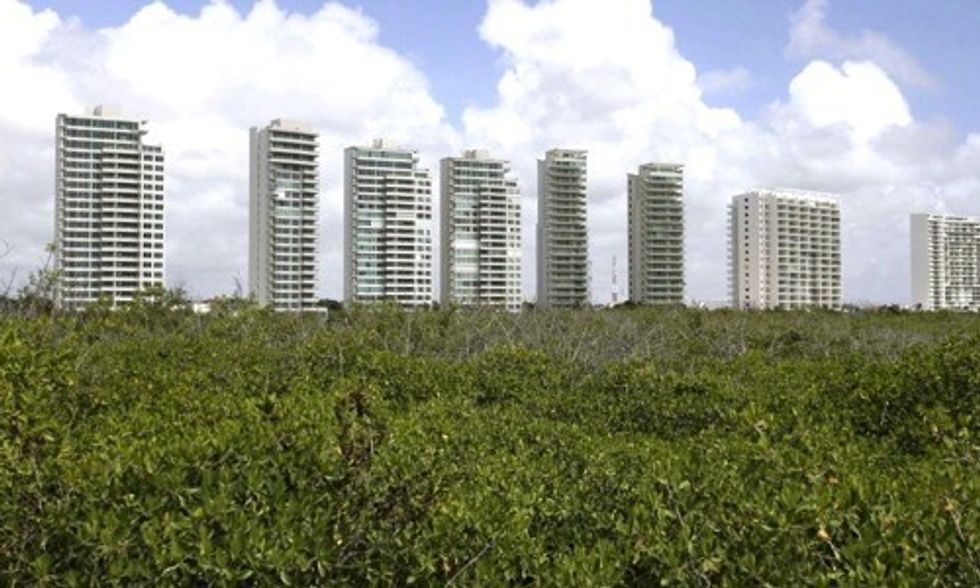 Young environmentalists in Mexico have permanently suspended the development of a 69-hectare project in Cancún that would have cleared a large chunk of a mangrove forest, Quartz reports.
In September, 113 kid activists filed a lawsuit to halt construction of the $900 million project that would have paved over a mangrove-covered area for homes, shops and a promenade.
A new crop of environmentalists in Mexico is scoring wins against the government: https://t.co/tRN0UnTLwU @qz

— Ana Campoy (@Ana Campoy)1447425067.0
"If we cut everything down then we're going to die," Ana, a four-year-old plaintiff, told Quartz. "Trees help us breathe."
On Nov. 4, a judge ruled in favor of the group of children, but said they should pay a bond of 21 million pesos (about $1.2 million) to offset the developers' losses. The group's attorneys have argued that the bond should not apply to minors.
Mangroves—which provide food and shelter for marine life, reptiles and birds—have been devastated over the decades by the tourism industry in the popular vacation spot.
Cancún is Mexico's number one tourism destination, drawing 4.8 million visitors last year and pumping billions of dollars into the economy. For developers, it seems, tourism dollars are just more economical than saving mangroves.
Alfredo Arellano of the Commission for Protected Areas told Reuters that Mexico loses nearly 25,000 acres or 1 percent of its mangroves annually.
Not only are mangroves important for ecosystems, scientists say that mangrove forests can help slow climate change as they "suck an uncommon amount of industrial carbon out of the atmosphere and bury it deep within their underground network of roots," Reuters reported.
Residents and environmental activists have been fighting Cancún hotel and resort development ever since it became a hotspot in the 1970s.
Significantly, this is the first lawsuit filed in Mexico advocating for the collective rights of kids over corporate interests in order to protect the environment, Carla Gil, the group's lawyer, told Quartz.
Antonella Vazquez, the mother of a 5-year-old plaintiff, told Quartz it's important for children to raise their voices as hotels and beach resorts spread around Cancún. If her daughter doesn't speak up, Vazquez says, "there's going to be nothing left for her."
Children, teens and young adults around the world are doing more than their fair share for the environment.
On International Youth Day this past August, 21 kid activists from across the U.S. filed a landmark constitutional climate change lawsuit against the federal government, asserting that the government has violated the youngest generation's constitutional rights to life, liberty, property and has failed to protect essential public trust resources in causing climate change.
YOU MIGHT ALSO LIKE 
It's Our Generation, It's Our Choice: Climate Justice Now
Senate to Vote on DARK Act Banning States From Requiring GMO Labels on Food
Call Congress Today: Ask Your Rep. to Vote 'No' on the DARK Act
EcoWatch Daily Newsletter
Related Articles from EcoWatch