This website uses cookies to ensure you get the best experience while browsing it. By clicking 'Got It' you're accepting these terms.
Kids and Parents Make 'I Love Clean Air' Valentine's Day Cards for U.S. Senators
Feb. 15, 2012 11:51AM EST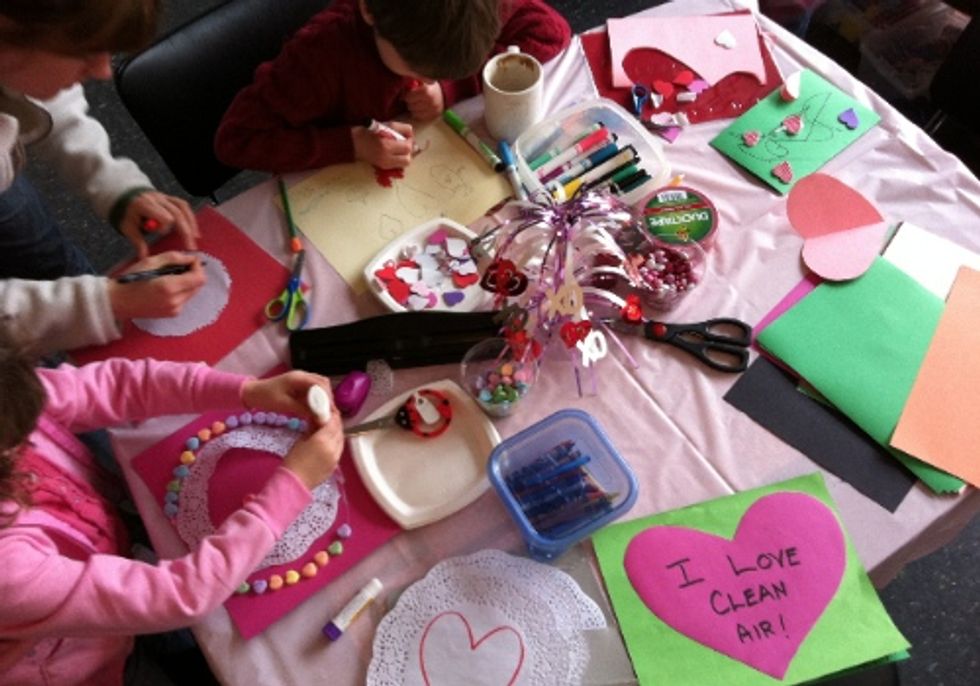 On Feb. 14, Cleveland families declared their love for clean air by delivering handmade Valentines cards to Ohio's U.S. Senators in support of the Environmental Protection Agency (EPA) and new federal clean air standards.
"Some in Congress are working on provisions to block new clean air standards and I want to be sure that Ohio members of Congress don't take my breath away but instead support the U.S. EPA and a clean and healthy future for my children" said Anna Mauser Martinez of Cleveland Heights. She joined her sons at a Valentine card party to create clean air Valentines. "Taking the time to make a handmade Valentine was my way of personally reminding our Senators that I, and many other families they represent, care deeply about clean air and the agencies trying to protect it."
Congress is currently considering several legislative proposals to prevent the EPA from protecting the public health with new clean air standards that would reduce air pollution from toxic substances like mercury, arsenic, soot, smog, carbon and other pollutants. Many of these new standards would save thousands of lives each year.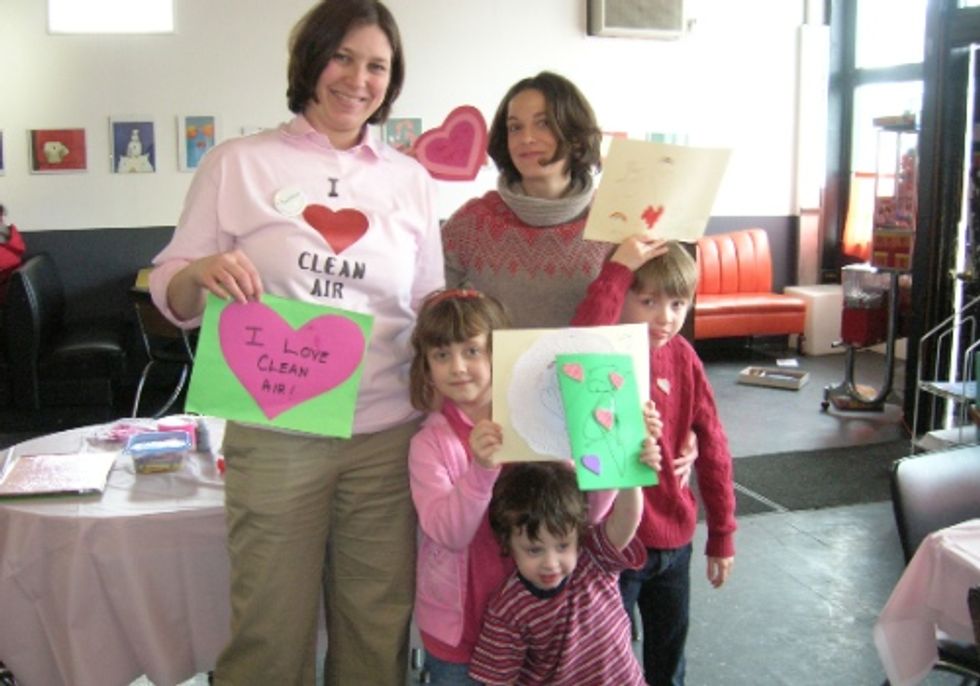 The new mercury and air toxics standards will save as many as 11,000 lives, prevent as many as 130,000 asthma attacks among children and prevent as many as 4,700 heart attacks each year according to the EPA. The Cross State Air Pollution rule will save as many as 34,000 lives, prevent as many as 15,000 heart attacks and prevent as many as 400,000 asthma attacks by reducing dangerous air pollution in communities downwind and often in other states from dirty power plants. The new standards for car emissions will reduce industrial carbon pollution that threatens thousands of lives and will spur innovation that will improve automobile mileage and create jobs in the auto industry.
"Families in Ohio support the U.S. EPA because we love clean air and because we love our children" said Marnie Urso, mother of two and spokesperson for Audubon Ohio. "We are asking Senators Brown and Portman to have a heart and protect the health of our kids here in Cleveland, and across the state, by making sure that the strongest clean air protections are enacted."
For more information about this event, email Marnie Urso. For more information about clean air, visit our Clean Air Act page.
EcoWatch Daily Newsletter
We need our government to do everything it can to stop PFAS contamination and exposure from wreaking havoc in communities across the country. LuAnn Hun /
Unsplash
By Genna Reed
The EPA announced last week that it is issuing a preliminary regulatory determination for public comment to set an enforceable drinking water standard to two of the most common and well-studied PFAS, PFOA and PFOS.
This decision is based on three criteria:
PFOA and PFOS have an adverse effect on public health
PFOA and PFOS occur in drinking water often enough and at levels of public health concern;
regulation of PFOA and PFOS is a meaningful opportunity for reducing the health risk to those served by public water systems.
Charging EVs in Stockholm: But where does a dead battery go? Ranjithsiji / Wikimedia Commons
By Kieran Cooke
Driving an electric-powered vehicle (EV) rather than one reliant on fossil fuels is a key way to tackle climate change and improve air quality — but it does leave the old batteries behind as a nasty residue.
U.S. Secretary of the Treasure Steven Mnuchin arrives for a welcome dinner at the Murabba Palace in Riyadh, Saudi Arabia on Feb. 22, 2020 during the G20 finance ministers and central bank governors meeting. FAYEZ NURELDINE / AFP via Getty Images
Finance ministers from the 20 largest economies agreed to add a scant mention of the climate crisis in its final communiqué in Riyadh, Saudi Arabia on Sunday, but they stopped short of calling it a major economic risk, as Reuters reported. It was the first time the G20 has mentioned the climate crisis in its final communiqué since Donald Trump became president in 2017.
Aerial view of Parque da Cachoeira, which suffered the January 2019 dam collapse, in Brumadinho, state of Minas Gerais, Brazil — one of the country's worst industrial accidents that left 270 people dead. Millions of tons of toxic mining waste engulfed houses, farms and waterways, devastating the mineral-rich region. DOUGLAS MAGNO / AFP / Getty Images
Participants of the climate demonstration Fridays for Future walk through Hamburg, Germany on Feb. 21, 2020. Axel Heimken / picture alliance via Getty Images