This website uses cookies to ensure you get the best experience while browsing it. By clicking 'Got It' you're accepting these terms.
Kickstarter Campaign Strives to Protect the Arctic Ecosystem
Oct. 25, 2015 11:19AM EST
Climate
Last month Arctic sea ice declined to the fourth lowest summer ice extent in the satellite record, continuing the trend in ice loss. To help bring home the impacts of Arctic ice loss, as an Arctic scientist and environmental educator I teamed up with Real-World Impact Games Lab Director Joey Lee to create EcoChains: Arctic Crisis.
EcoChains: Arctic Crisis is a fun and easy-to-learn card game for ages 10 and up that challenges players to strategically manage the Arctic marine ecosystem as climate changes. Through EcoChains: Arctic Crisis, players learn about the reliance of some species on sea ice, and the potential impacts of future changes on the ecosystem.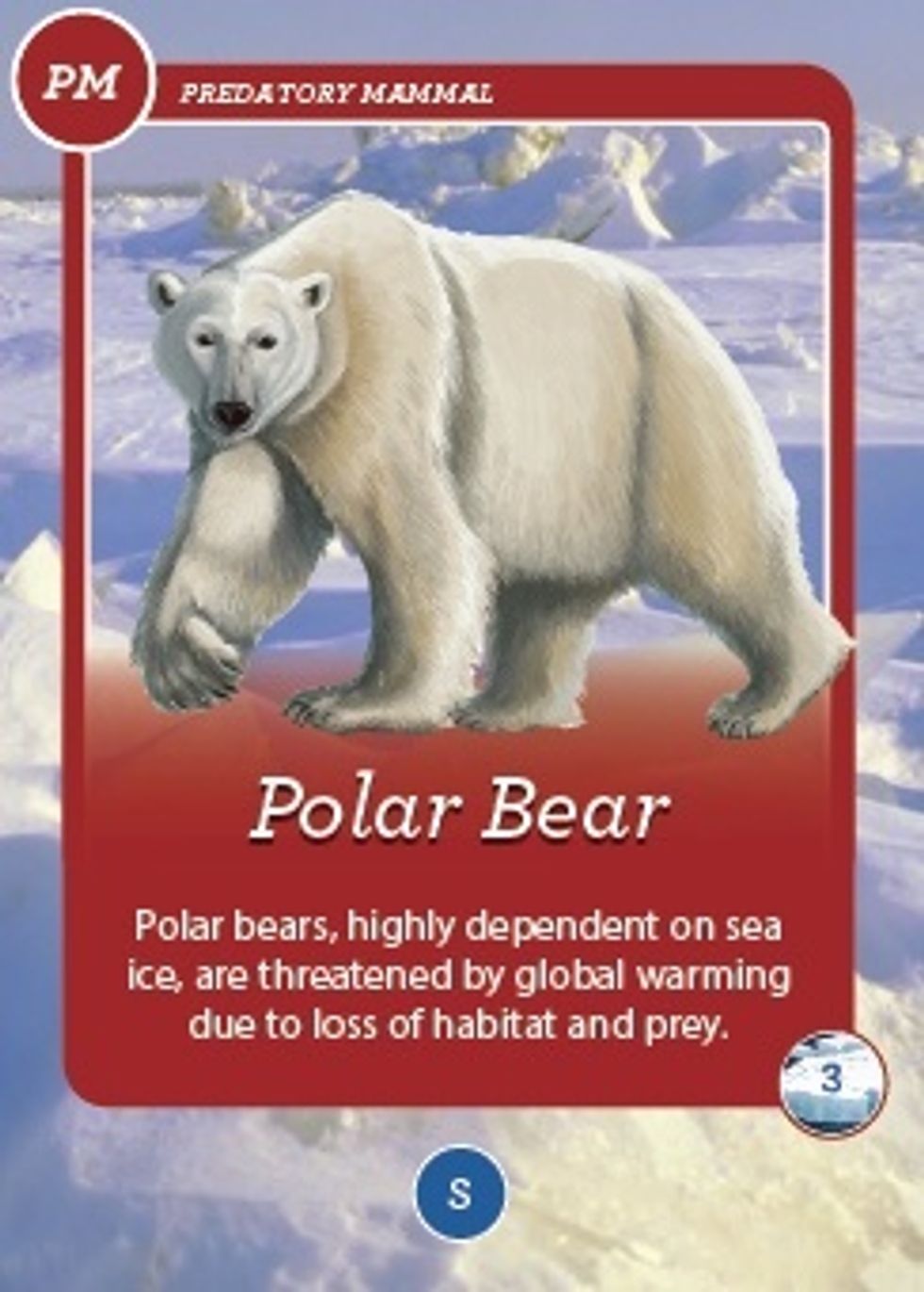 Players connect species cards to build food chains. Events occur that can disrupt or destroy food webs, such as through the melting of sea ice. But players can protect species in their food web by playing action cards, like "Protect a Species" or "Alternative energy," which support resiliency for a diverse ecosystem.
We have played the game with hundreds of people—and it works with families, schools (it is aligned with Next Generation Science Standards) and game night with friends.
Here are comments from two recent players:
"I was amazed by how interconnected the entire system of Arctic species are, and realized how much would be affected by just a few minor changes."
"I certainly felt an adrenaline rush as I kept the possibility of a major disaster impacting my web at the forefront of my mind to strategize the best possible food web combination."
EcoChains: Arctic Crisis is a project of the PoLAR Partnership. As part of its mission to advance innovative approaches to climate change education, the PoLAR Partnership conducted an experimental study on the learning benefits of EcoChains. Research that we'll be presenting at the American Geophysical Union annual meeting in December shows that new information is "stickier" when gained through game play than through traditional approaches.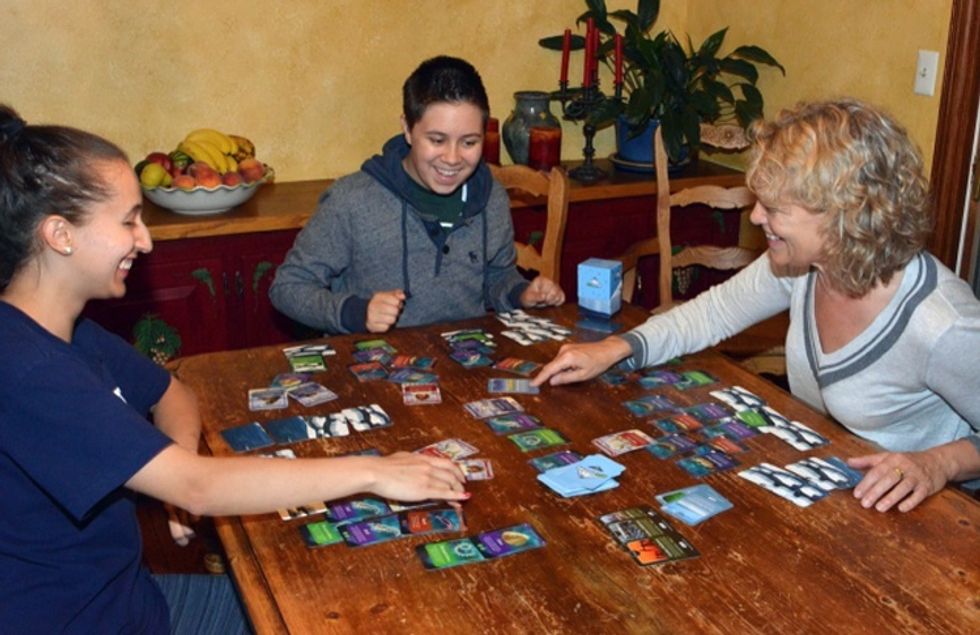 At EcoChainsGame.com, you can learn more about this great project and even contribute to its early development now through Oct. 30. Through our Kickstarter campaign, we're raising support for a larger print run that will decrease production costs and therefore make the game more accessible to wider audience, including schools and teachers. All Kickstarter proceeds go towards production and development. Early supporters will be among the first to receive a copy of this innovative new educational resource.
Stephanie Pfirman is the Hirschorn professor and co-chair of the Environmental Science department at Barnard College, a member of the Columbia Earth Institute faculty, and an adjunct senior research scientist at the Lamont-Doherty Earth Observatory. She leads the Polar Learning and Responding to Climate Change Education Partnership.
YOU MIGHT ALSO LIKE
Remarkable Team of Scientists Run/Bike From North and South Poles to Paris Demanding Climate Action
4 Astounding Photos of Hurricane Patricia From Space
Why Bill Gates' Position on Divesting From Fossil Fuels Is Wrong
MIT Students: We're Sitting-In at President Reif's Door Until He Divests From Fossil Fuels
EcoWatch Daily Newsletter
A Starbucks barista prepares a drink at a Starbucks Coffee Shop location in New York. Ramin Talaie / Corbis via Getty Images
By Cathy Cassata
Are you getting your fill of Starbucks' new Almondmilk Honey Flat White, Oatmilk Honey Latte, and Coconutmilk Latte, but wondering just how healthy they are?
By Sharon Kelly
Back in April last year, the Trump administration's Environmental Protection Agency decided it was "not necessary" to update the rules for toxic waste from oil and gas wells. Torrents of wastewater flow daily from the nation's 1.5 million active oil and gas wells and the agency's own research has warned it may pose risks to the country's drinking water supplies.
Swedish climate activist Greta Thunberg takes part in a "Friday for Future" youth demonstration in a street of Davos on Jan. 24, 2020 on the sideline of the World Economic Forum annual meeting. FABRICE COFFRINI / AFP via Getty Images
Treasury Secretary Steven Mnuchin pretended not to know who Greta Thunberg is, and then he told her to get a degree in economics before giving world leaders advice, as The Guardian reported.
The Visible Infrared Imaging Radiometer Suite on the Suomi NPP satellite acquired this image of forest fire smoke hovering over North America on Aug. 15, 2018. NASA Earth Observatory
New York City isn't known for having the cleanest air, but researchers traced recent air pollution spikes there to two surprising sources — fires hundreds of miles away in Canada and the southeastern U.S.
If temperatures continue to rise, the world is at risk from global
sea-level rise
, which will flood many coastal cities as seen above in Bangladesh. NurPhoto / Contributor / Getty Images
The mounting climate emergency may spur the next global financial crisis and the world's central banks are woefully ill equipped to handle the consequences, according to a new book-length report by the Bank for International Settlements (BIS), as S&P Global reported. Located in Basel, Switzerland, the BIS is an umbrella organization for the world's central banks.