Keystone XL's Environmental Impact an Afterthought on 'Meet the Press'
Apr. 07, 2014 09:53AM EST
Energy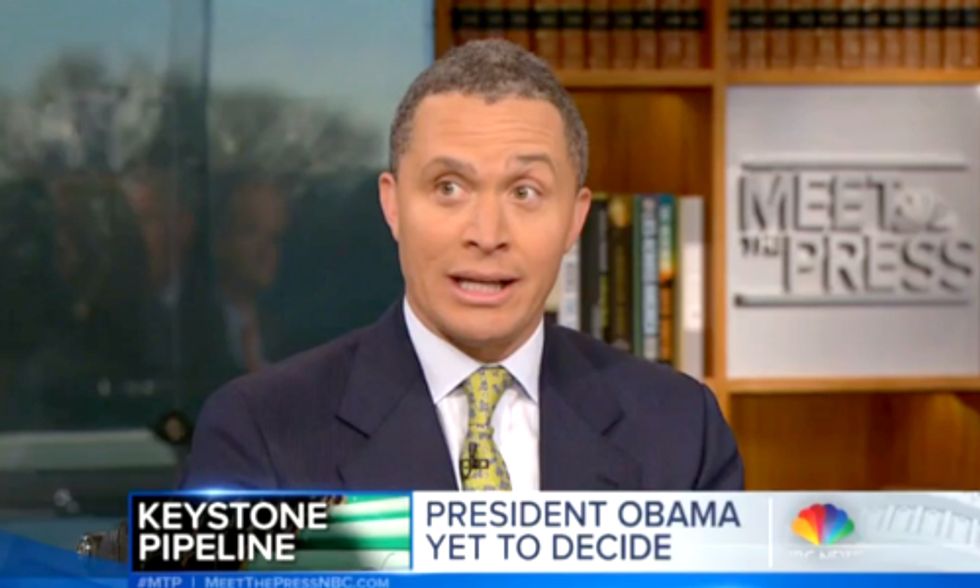 President Barack Obama's impending decision on the Keystone XL pipeline earned significant airtime Sunday on NBC's popular Meet the Press program, but little thought was given to the environmental impact of as much as 830,000 barrels of tar sands oil per day being carried from Alberta, Canada to the U.S. Gulf Coast.
First, the network examined the impact the massive pipeline would have on tiny Steele City, NE. There seems to be little concern for the potential environmental impact there compared to the dollars the local economy could incur from the pipeline. Attorney Dave Domina is one the more widely known Keystone opposers from the area, but his fight centers around fair compensation for owners of the land the pipeline would pass through if Obama approves it.
"For most Nebraskans, the environment is a very secondary issue," Domina admitted.
There are already four pipelines that converge on the Steele City area, according to the report from correspondent Kevin Tibbles.
Next, a Meet the Press roundtable comprised of Washington Post columnist Kathleen Parker, Revolution CEO Steve Case and former U.S. Rep. Harold Ford Jr. (D-TN). Other than a brief reading from a Natural Resources Defense Council statement that the pipeline would increase carbon pollution and hurt the health and drinking water of people of millions in its path, the environment took a backseat to dollar signs.
Ford mentioned the Final Supplemental Environmental Impact Statement from the State Department in January that concluded that the pipeline wouldn't increase the rate of extraction of tar sands and thus isn't likely to significantly increase carbon pollution. That was a conclusion that Phil Radford, executive director of Greenpeace who did not appear on the program, called "laughable" earlier this year.
——–
YOU ALSO MIGHT LIKE
400 Youths Arrested at White House Protesting Keystone XL Pipeline
State Department Releases Final Environmental Impact Statement on Keystone XL Pipeline
Carbon Tracker Reports Keystone XL Will 'Significantly Exacerbate' Climate
——–
EcoWatch Daily Newsletter
Related Articles from EcoWatch