This website uses cookies to ensure you get the best experience while browsing it. By clicking 'Got It' you're accepting these terms.


The best of EcoWatch, right in your inbox. Sign up for our email newsletter!
Keystone XL Vote Planned for Friday in the House
Jan. 06, 2015 10:12AM EST
Energy
With Congress back in session, Republican leadership is putting at the top of its agenda an item that probably isn't at the top of most Americans' agenda: approving the Keystone XL pipeline.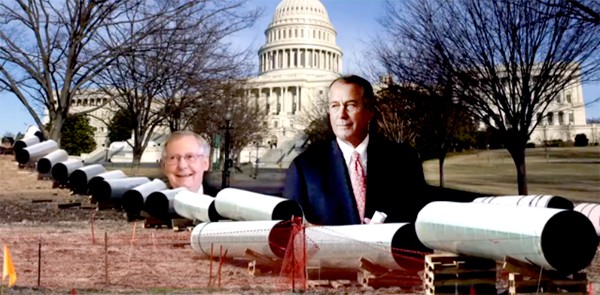 Majority leader Kevin McCarthy said that the House of Representatives will vote on Keystone XL pipeline Friday, according to the Wall Street Journal. The House has voted ten previous times to approve the pipeline but each time, it failed to clear the Democratic-controlled Senate. Now, with Republicans in charge of the Senate and a larger Republican majority in the House, its passage is guaranteed. The last House vote was 252-16, and it's sure to garner an even larger margin this time.
The Senate is scheduled to begin consideration of the pipeline bill tomorrow with hearings in the Energy and Natural Resource Committee, headed by Lisa Murkowski of Alaska, a supporter of the project. Senate Democrats are pushing for an open process that would allow them to offer amendments, and incoming Senate Majority leader Mitch McConnell has said that will happen. That means a full vote on the Senate floor could be weeks away.
"Just about the only people who think the first thing Congress should do is force approval of Keystone XL are those working for oil and gas billionaires—which explains exactly why Congressional Republicans want to do it," said Sierra Club's legislative director Melinda Pierce. "For those in Congress who don't share those pro-polluter goals, this first vote will be a chance to stand together and send the message to the public that we won't go backwards. After all, Americans didn't vote for dirty air, dirty water or dirty energy, even if Congress is committed to doing just that."
On Sunday, Democratic senators Chuck Schumer of New York and Debbie Stabenow of Michigan sent a letter to their Democratic colleagues urging a package of amendments that they said "can be tied together by a common theme—that we are working hard to make the average American family better off while Republicans are helping narrow special interests."
The amendments include banning the export of oil shipped through the Keystone pipeline, guaranteeing that the pipeline would bring down U.S. oil prices, requiring use of domestically produced iron, steel and parts in the pipeline's construction and mandating that for each job created by the pipeline, one or more are created through clean energy projects. They would also prohibit foreign companies from being able to use eminent domain on U.S. soil. Keystone XL is a project of Canada-based TransCanada, intended to ship Alberts tar sands oil to ports on the Gulf of Mexico for refining and export.
"Many Republicans have raised serious objections to the use of eminent domain by local American governments, and unless they believe the authority is less troubling when exercised by a foreign company they should vote for this amendment," they wrote.
Schumer said on Face the Nation that while the amendments might make the bill better, he still thinks that President Obama should veto it and that Republicans don't have the 67 votes to override his veto.
"These amendments will make it better but certainly not good enough at this point in time—and I think there will be enough Democratic votes to sustain the president's veto," said Schumer.
McCarthy, on the other hand, said he believes the President will sign off on approving Keystone XL, despite Obama's repeated suggestions that he would not do so prior to issues such as the pending eminent domain court case in Nebraska being settled.
But the President still isn't making it clear what he will do. Yesterday the President's press secretary Josh Earnest told reporters, "I'm not prepared at this point to issue a veto threat related to that specific piece of legislation."
Pipeline believers are continuing to push the idea that it's a panacea for American competitiveness. Mark R. Maddox of rightwing policy group the American Action Forum wrote in The Hill today that the pipeline is essential for American competitiveness and energy independence, referring to opponents as "misguided" and "ruthless" and saying they "are degrading U.S. competitiveness, increasing the likelihood of future oil price shocks through reliance on politically unstable oil producing countries and undermining 40 years of strategic work to achieve energy security."
But talk show host Ed Schultz, who was a believer in the pipeline, spent a year investigating the issue and came around to thinking it's of no benefit. This week he excoriated the drumbeat among congressional Republicans that the bill is about "jobs and the economy" despite the admission of TransCanada's own CEO that it would create at most 50 permanent jobs and the refusal of Republicans to consider a real jobs bill. In a segment last night, he summed up the arguments against the pipeline, ranging from the false job claims to the impact on the environment.
"The misinformation continues to roll out there," said Schultz. "Republicans won't give up on these bogus talking points on this project."
YOU MIGHT ALSO LIKE
Breaking: Senate Rejects Keystone XL Pipeline
Public Opposition Costs Tar Sands Industry a Staggering $17B
EcoWatch Daily Newsletter
PhotoAlto / Laurence Mouton / Getty Images
By Ana Reisdorf, MS, RD
You've probably heard the buzz around collagen supplements and your skin by now. But is the hype really that promising? After all, research has pointed to both the benefits and downsides of collagen supplements — and for many beauty-conscious folk, collagen isn't vegan.
Pixabay
By Marlene Cimons
Neil Pederson's introduction to tree rings came from a "sweet and kindly" college instructor, who nevertheless was "one of the most boring professors I'd ever experienced," Pederson said. "I swore tree rings off then and there." But they kept coming back to haunt him.
Aerial view of the explosion site of a chemical factory on March 22 in Yancheng, Jiangsu Province of China. Caixin Media / VCG / Getty Images)
At least 47 people have died in an explosion at a plant in Yancheng, China Thursday run by a chemical company with a history of environmental violations, Sky News reported.
A fishmonger in Elmina, a fishing port in the Central Region of Ghana. Environmental Justice Foundation
By Daisy Brickhill
Each morning, men living in fishing communities along Ghana's coastline push off in search of the day's catch. But when the boats come back to shore, it's the women who take over.
Pexels
By Sam Nickerson
Links between excess sugar in your diet and disease have been well-documented, but new research by Harvard's School of Public Health might make you even more wary of that next soda: it could increase your risk of an early death.
The study, published this week in the American Heart Association's journal Circulation, found that drinking one or two sugar-sweetened beverages (SSBs) each day — like sodas or sports drinks — increases risk of an early death by 14 percent.
Tyson Foods is recalling approximately 69,093 pounds of frozen chicken strips because they may have been contaminated with pieces of metal, the U.S. Department of Agriculture (USDA) Food Safety and Inspection Service (FSIS) announced Thursday.
The affected products were fully-cooked "Buffalo Style" and "Crispy" chicken strips with a "use by" date of Nov. 30, 2019 and an establishment number of "P-7221" on the back of the package.
"FSIS is concerned that some product may be in consumers' freezers," the recall notice said. "Consumers who have purchased these products are urged not to consume them. These products should be thrown away or returned to the place of purchase."
Environmental exposure to pesticides, both before birth and during the first year of life, has been linked to an increased risk of developing autism spectrum disorder, according to the largest epidemiological study to date on the connection.
The study, published Wednesday in BMJ, found that pregnant women who lived within 2,000 meters (approximately 1.2 miles) of a highly-sprayed agricultural area in California had children who were 10 to 16 percent more likely to develop autism and 30 percent more likely to develop severe autism that impacted their intellectual ability. If the children were exposed to pesticides during their first year of life, the risk they would develop autism went up to 50 percent.