Keystone XL Veto Override Fails in Senate
Mar. 04, 2015 04:34PM EST
Energy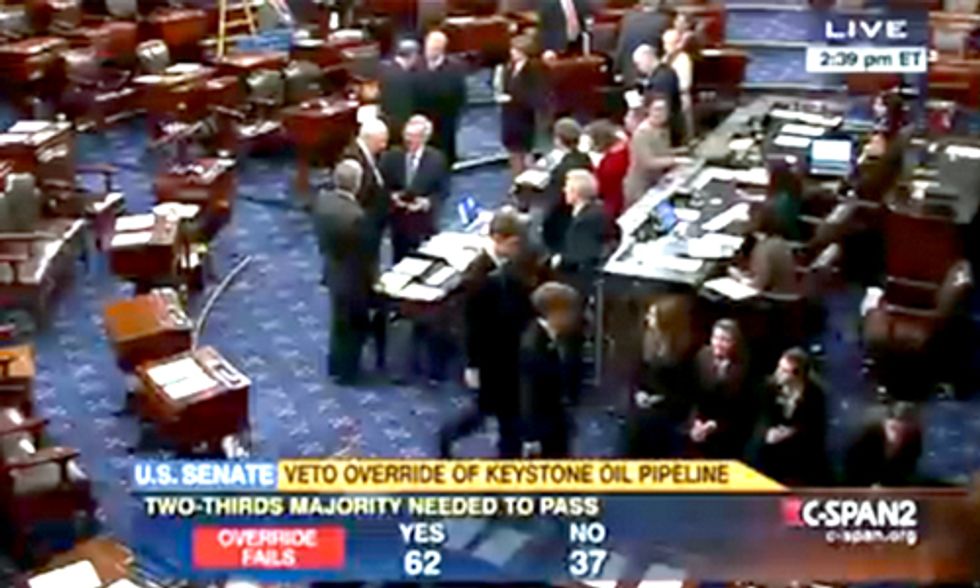 The U.S. Senate today attempted to override President Obama's veto of legislation that would force approval of the controversial Keystone XL pipeline, but fell short with a vote of 62-37. To override the President's veto it would have required 67 votes in the Senate. Next step is for the National Interest Determination process to complete its assessment and then the State Department will make its final recommendations to President Obama, most likely in the coming months.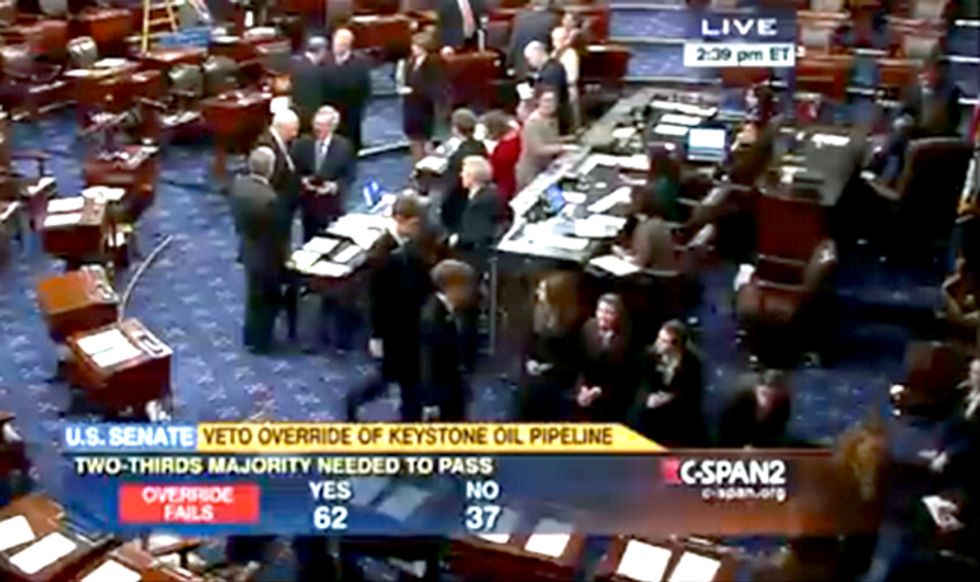 "The definition of insanity is doing the same thing over and over again and expecting different results," said Michael Brune, executive director of the Sierra Club. "Senate Republicans have shown just how out of touch they are with the priorities of American families with their repeated attempts to force approval of the Keystone XL tar sands pipeline. The decision to deny this dangerous project belongs to President Obama alone, and we are confident he has all he needs to reject it once and for all."
Recent polling has shown that an overwhelming majority of Americans believe that if President Obama decides that Keystone XL is not in the national interest, Congress should accept that decision and move on to other issues facing the country, rather than continuing attempts to force the Administration to issue a permit, according to a coalition of organization fighting the pipeline.
"At some point Republicans have to know when to fold 'em and walk away," said Jane Kleeb of Bold Nebraska. "Gambling with our water and property rights by trying over and over again to shove Keystone down our throats shows how the Republicans value Big Oil interests over anything else. President Obama has farmers, ranchers, Tribal Nations and environmentalists all standing with him to protect our land and water."
In a blog post this week, Carl Pope explains that Canada's Prime Minister should see the Obama Administration's decision on whether to allow a permit the least of his worries. Pope says:
He bet Canada's future on finding ever increasing markets for the world's most expensive—$90/barrel+ break-even for new projects—crude. With global prices down at $60, returns from tar sands projects are a fraction of what they were a year ago. Even before global prices reached the bottom, three major projects had been cancelled. Shell just pulled out of its Pierra River Project last week. Investment is collapsing. Most companies will survive—but they survive by cutting payrolls and supply chains, the two factors Harper was counting on to keep the Canadian economy afloat through his reelection bid this year.
Eight Democrats voted with Republicans to try and override President Obama's veto, including Sens. Joe Manchin (W.VA), Heidi Heitkamp (ND), Mark Warner (VA), Claire McCaskill (MO), Bob Casey (PA), Michael Bennet (CO), Tom Carper (DE) and Jon Tester (MT). Sen. Joe Donnelly (D-IN), who supports the pipeline, missed the vote.
"Today's failed vote is just another example of a corrupt Congress trying to please its Big Oil Benefactors," said David Turnbull, campaigns director for Oil Change International. "Nothing more, nothing less. Keystone XL backers continue to trot out the same tired talking points spoon-fed to them by the industry. Meanwhile the facts remain the same: Keystone XL fails the climate test and should be rejected."
YOU MIGHT ALSO LIKE
David Suzuki: Climate Change Is Real Threat, Not Activists Calling for Immediate Action
Michael Brune: The End Game Begins
EcoWatch Daily Newsletter