This website uses cookies to ensure you get the best experience while browsing it. By clicking 'Got It' you're accepting these terms.
'Keystone XL Clone' to Pump Tar Sands Oil Starting Next Year
Nov. 11, 2014 03:53PM EST
Climate
As Republicans get set to test their new majority in the U.S. Senate and their complete control of Congress to push through approval of the Keystone XL pipeline, a new investigative report by editor Lou Dubose at the Washington Spectator reveals that the construction of a "Keystone XL clone" pipeline with almost the same capacity is already taking place. While TransCanada continues to battle the public outcry against its Keystone XL project, another company, Enbridge, is quietly building the Alberta Clipper pipeline. Like Keystone XL, it will pumped 830,000 oil barrels (bbl) a day of tar sands bitumen crude oil from the Alberta oil fields to U.S. refineries.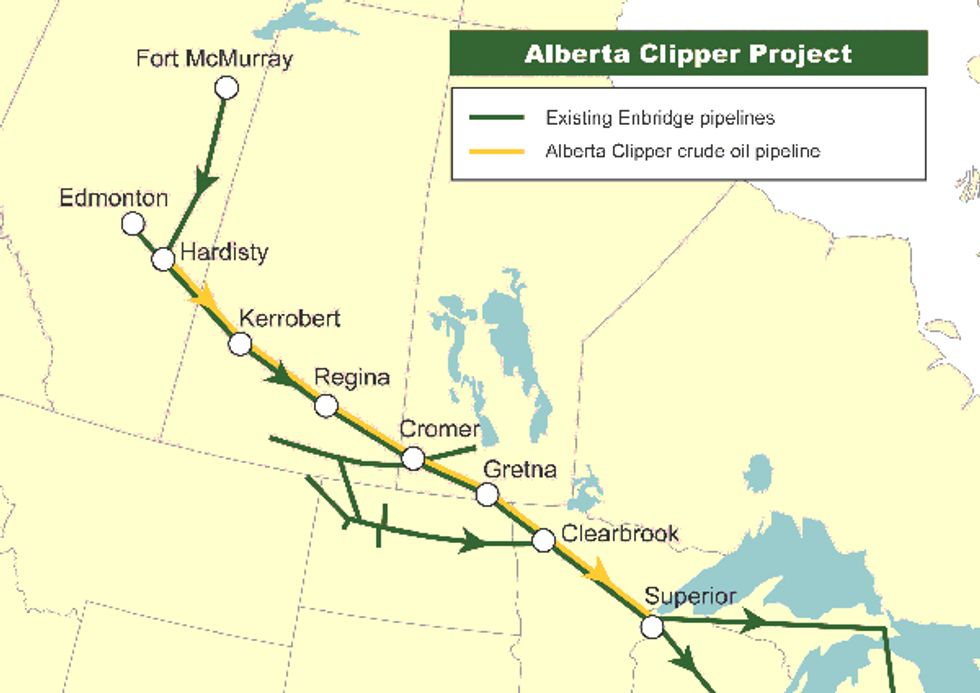 "In six to eight months the Canadian tar-sands spigot opens to full capacity," wrote Dubose. "Barring litigation or action by the State Department, Enbridge will achieve what has eluded TransCanada. And it will have done so with scant attention from the media and without the public debate generated by campaigns against the Keystone XL."
The Spectator analyzed State Department documents, annual reports and interviews with Enbridge officials and lawyers to learn how the company pushed through a pipeline virtually identical to Keystone XL without a public process or attracting much attention. While a pipeline that crosses international borders requires presidential and State Department approval declaring that the project is "in the national interest," the Spectator says Enbridge used a creative interpretation of an existing 1967 permit to circumvent the law and public opinion.
The Alberta Clipper is an already-existing pipeline with a 450,000 bbl a day capacity. In November 2012 Enbridge applied for the permit to ramp up capacity to 800,000 bbl for the pipeline which runs from Alberta to Wisconsin to Oklahoma to the Gulf Coast where the oil will be refined and exported. Fed up with delays, the company wrote to the State Department last June, telling it that they planned to go ahead with upgrades with or without a permit.
"Enbridge wasn't asking," said the Spectator. "It was informing the State Department of its plans to press ahead."
Its evasion of the approval process involved hooking up two existing pipelines, one on the Canadian side, one on the U.S. side. It already had a cross-border connector built in 1968 for light oil, long before mining the heavy-oil tar sands became a reality. It maintained that upgrading the old pipe with pipe capable of carrying tar sands oil is merely "maintenance" and therefore doesn't require a new permit. And it's already telling investors it's a done deal, set to begin pumping its new contents by the middle of next year.
The State Department has denied Freedom of Information Act requests in what the Spectator said "appears to be a deliberate effort to keep the press and public in the dark." It said that the Sierra Club had filed such a request in March and was denied. Environmental groups have announced they will sue the State Department for working with Enbridge to circumvent the legal process.
"The State Department is charged with determining if the importing of Canadian tar-sands oil is in the national interest," Sierra Club staff attorney Doug Hayes told the Spectator. "Enbridge applied for a permit a year ago [sic], then in June informed the State Department that the process was taking too long. So they came up with their scheme to avoid, to try to avoid, the State Department permitting process and expand the pipeline immediately. And the State Department basically looked the other way and said, 'That's fine with us.' But what they are doing is illegal. First of all, it is illegal because it violates the National Environmental Policy Act. It also violates the existing presidential permits for the Alberta Clipper and the adjacent Line 3 Pipeline. This is all happening behind closed doors. It is a deliberate effort to keep the public out of the process."
Pipeline opponents, including environmentalists and community activitists, will find Enbridge's history of negligence and secrecy unsettling.
Enbridge is the company behind the July 2010 oil spill on the Kalamazoo River in Michigan, the largest inland oil spill in U.S. history, when a segment of its pipeline ruptured. Three inspections over the previous five years had detected a defect in the pipeline which the company had not repaired because in its judgment it did not reach required repair level under federal standards. It did not provide this information when an Enbridge executive testified about pipeline integrity and spill detection to a House committee ten days before the rupture. And it has repeatedly fought attempts to require safety measures to protect communities and the environment against the impacts of possible spills.
YOU MIGHT ALSO LIKE
Energy East Pipeline: TransCanada's Keystone XL on Steroids
Keystone XL Pipeline Owner TransCanada Named 'World Climate Leader'
EcoWatch Daily Newsletter
A rainbow snake, a rare reptile spotted in a Florida county for the first time in more than 50 years, seen here on July 5, 2013.
Kevin Enge / FWC Fish and Wildlife Research Institute / Flickr
A Florida hiker recently stumbled across a slithering surprise — a rare snake that hadn't been spotted in the area for more than 50 years.
We need our government to do everything it can to stop PFAS contamination and exposure from wreaking havoc in communities across the country. LuAnn Hun /
Unsplash
By Genna Reed
The EPA announced last week that it is issuing a preliminary regulatory determination for public comment to set an enforceable drinking water standard to two of the most common and well-studied PFAS, PFOA and PFOS.
This decision is based on three criteria:
PFOA and PFOS have an adverse effect on public health
PFOA and PFOS occur in drinking water often enough and at levels of public health concern;
regulation of PFOA and PFOS is a meaningful opportunity for reducing the health risk to those served by public water systems.
Charging EVs in Stockholm: But where does a dead battery go? Ranjithsiji / Wikimedia Commons
By Kieran Cooke
Driving an electric-powered vehicle (EV) rather than one reliant on fossil fuels is a key way to tackle climate change and improve air quality — but it does leave the old batteries behind as a nasty residue.
U.S. Secretary of the Treasure Steven Mnuchin arrives for a welcome dinner at the Murabba Palace in Riyadh, Saudi Arabia on Feb. 22, 2020 during the G20 finance ministers and central bank governors meeting. FAYEZ NURELDINE / AFP via Getty Images
Finance ministers from the 20 largest economies agreed to add a scant mention of the climate crisis in its final communiqué in Riyadh, Saudi Arabia on Sunday, but they stopped short of calling it a major economic risk, as Reuters reported. It was the first time the G20 has mentioned the climate crisis in its final communiqué since Donald Trump became president in 2017.
Aerial view of Parque da Cachoeira, which suffered the January 2019 dam collapse, in Brumadinho, state of Minas Gerais, Brazil — one of the country's worst industrial accidents that left 270 people dead. Millions of tons of toxic mining waste engulfed houses, farms and waterways, devastating the mineral-rich region. DOUGLAS MAGNO / AFP / Getty Images