This website uses cookies to ensure you get the best experience while browsing it. By clicking 'Got It' you're accepting these terms.
Keystone Pipeline Spill Nearly 100 Times Bigger Than Originally Estimated
Apr. 09, 2016 09:16AM EST
The oil spill that shut down a portion of the Keystone 1 pipeline in South Dakota last weekend is much bigger than initially estimated, TransCanada admitted on Thursday—almost 100 times bigger, in fact.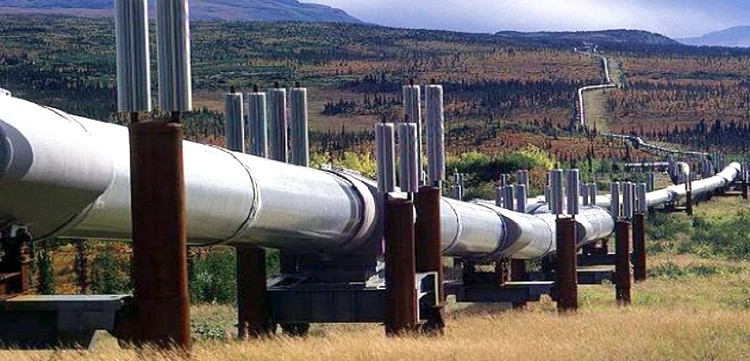 The fossil fuel company said the "potential volume" of the spill in Freeman, discovered by a passerby on Saturday, was about 18,600 gallons, or 400 barrels.
That estimate comes just days after TransCanada initially claimed the spill totaled about 187 gallons, or approximately 4.5 barrels.
"The fact that the damage is even bigger than first reported proves there is no such thing as a safe pipeline," Lindsay Meiman, communications coordinator for the climate group 350.org, told Common Dreams. "The only safe place for fossil fuels is in the ground."
Even at 187 gallons, the spill was already the largest since construction on the pipeline began in 2009, according to the Argus Leader. The new numbers make it one of the biggest leaks in South Dakota history.
Dallas Goldtooth, a Keystone opposition organizer with the Indigenous Environmental Network, told the Argus Leader on Thursday that the estimate should serve as a warning against new pipeline construction elsewhere and as an example of TransCanada's reckless legacy.
"This highlights the need for us to [not only] hold TransCanada accountable for their actions, but to use this as an example of the legitimate concerns that people have with future pipelines like Dakota Access," Goldtooth said, referring to a proposed pipeline that would transport crude oil across four Midwestern states.
TransCanada also said on Thursday it has yet to "pinpoint" the source of the leak.
Michael Brune, executive director of the Sierra Club, said in a statement earlier this week that this "disaster is a stark reminder that it's not a question if a pipeline will malfunction, but rather a question of when."
YOU MIGHT ALSO LIKE
Judge Denies Motions by Fossil Fuel Industry and Federal Government in Landmark Climate Change Case
Bill McKibben: It's Time to Break Free From Fossil Fuels
Exxon and Shell Double Down to Defeat Climate Change Legislation
Big Oil Gearing Up to Battle Electric Vehicles
& the Many Health Benefits
zeljkosantrac / E+ / Getty Images
Medically reviewed by Hrefna Palsdottir, MS
Oats are considered to be one of the healthiest grains on earth. Find out why and how to incorporate this breakfast staple into your morning routine.
Youth activists ages 11-18 learn to fight plastic pollution at the inaugural Ocean Heroes Bootcamp. Ocean Heroes Bootcamp
By 2018 Ocean Heroes: Claire MacQueen (13 years old), Sabine Thomas (13) and Ava Inskeep (14)
We despise single-use plastics. We want to keep our oceans and our beaches clean. Early last year I (Claire) lived in India for several months and became curious about plastic waste, as it was much more visible in India than back home in the U.S. Seeing all the plastic waste while I was visiting helped me to understand that much of the trash produced by the U.S. actually ends up in developing countries, like India, which does not have a proper waste management system like we do at home, which causes a ton of trash to end up in waterways and the ocean.
Sen. Bernie Sanders speaks at a Martin Luther King Jr. Day event in South Carolina on Jan. 21. Sean Rayford / Getty Images
Degraded coral reefs at Kahekili Beach Park in west Maui, Hawaii. Peter Swarzenski / Usgs
In a case watched closely both by polluting industries and clean water advocates across the nation, the U.S. Supreme Court agreed to take up an appeal of a Clean Water Act case out of Hawaii concerning treated sewage flowing into the Pacific Ocean from injection wells.
A woman works at a distrubiton station at the 855,000-square-foot Amazon fulfillment center in Staten Island, one of the five boroughs of New York City, on Feb. 5. JOHANNES EISELE / AFP / Getty Images
Amazon will strive to cut carbon emissions from its shipments in half by 2030, the e-commerce giant said Monday. The retailer's plan calls for an increase in the use of electric delivery vehicles and renewable energy as well as pressuring suppliers to use less packaging.