This website uses cookies to ensure you get the best experience while browsing it. By clicking 'Got It' you're accepting these terms.
Keystone Pipeline Spill Nearly 100 Times Bigger Than Originally Estimated
Apr. 09, 2016 09:16AM EST
Energy
The oil spill that shut down a portion of the Keystone 1 pipeline in South Dakota last weekend is much bigger than initially estimated, TransCanada admitted on Thursday—almost 100 times bigger, in fact.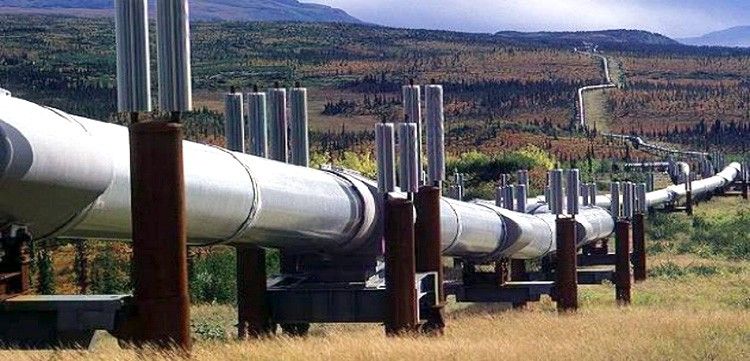 The fossil fuel company said the "potential volume" of the spill in Freeman, discovered by a passerby on Saturday, was about 18,600 gallons, or 400 barrels.
That estimate comes just days after TransCanada initially claimed the spill totaled about 187 gallons, or approximately 4.5 barrels.
"The fact that the damage is even bigger than first reported proves there is no such thing as a safe pipeline," Lindsay Meiman, communications coordinator for the climate group 350.org, told Common Dreams. "The only safe place for fossil fuels is in the ground."
Even at 187 gallons, the spill was already the largest since construction on the pipeline began in 2009, according to the Argus Leader. The new numbers make it one of the biggest leaks in South Dakota history.
Dallas Goldtooth, a Keystone opposition organizer with the Indigenous Environmental Network, told the Argus Leader on Thursday that the estimate should serve as a warning against new pipeline construction elsewhere and as an example of TransCanada's reckless legacy.
"This highlights the need for us to [not only] hold TransCanada accountable for their actions, but to use this as an example of the legitimate concerns that people have with future pipelines like Dakota Access," Goldtooth said, referring to a proposed pipeline that would transport crude oil across four Midwestern states.
TransCanada also said on Thursday it has yet to "pinpoint" the source of the leak.
Michael Brune, executive director of the Sierra Club, said in a statement earlier this week that this "disaster is a stark reminder that it's not a question if a pipeline will malfunction, but rather a question of when."
YOU MIGHT ALSO LIKE
Judge Denies Motions by Fossil Fuel Industry and Federal Government in Landmark Climate Change Case
Bill McKibben: It's Time to Break Free From Fossil Fuels
Exxon and Shell Double Down to Defeat Climate Change Legislation
Big Oil Gearing Up to Battle Electric Vehicles
EcoWatch Daily Newsletter
Large food companies are following in the footsteps of fast-food restaurants such as Burger King and KFC by offering meat alternatives. Getty Images
By Elizabeth Pratt
Hormel, Kellogg's, and Kroger are among the large companies now planning to offer "fake meat" products at grocery stores.
Experts say the trend toward plant-based meats coincides with consumers' desires to eat less meat.
However, experts urge consumers to closely check package labels as a product isn't necessarily healthy just because it's described as plant-based.
In grocery stores and fast-food outlets around the U.S., a revolution is taking place.
Colombia rainforest. Marcel Oosterwijk / CC BY-SA 2.0
Many of us think of the Amazon as an untouched wilderness, but people have been thriving in these diverse environments for millennia. Due to this long history, the knowledge that Indigenous and forest communities pass between generations about plants, animals and forest ecology is incredibly rich and detailed and easily dwarfs that of any expert.
picture-alliance / Newscom / R. Ben Ari
By Wesley Rahn
Plastic byproducts were found in 97 percent of blood and urine samples from 2,500 children tested between 2014 and 2017, according to a study by the German Environment Ministry and the Robert Koch Institute.

Pexels
Medically reviewed by Daniel Bubnis, MS, NASM-CPT, NASE Level II-CSS
Hot yoga has become a popular exercise in recent years. It offers many of the same benefits as traditional yoga, such as stress reduction, improved strength, and flexibility.
Lara Hata / iStock / Getty Images
By SaVanna Shoemaker, MS, RDN, LD
Rice is a staple in many people's diets. It's filling, inexpensive, and a great mild-tasting addition to flavorful dishes.
An image of the trans-alaskan oil pipeline that carries oil from the northern part of Alaska all the way to valdez. This shot is right near the arctic national wildlife refuge. kyletperry / iStock / Getty Images Plus
The Trump administration has initialized the final steps to open up nearly 1.6 million acres of the protected Alaskan National Wildlife Refuge to allow oil and gas drilling.