This website uses cookies to ensure you get the best experience while browsing it. By clicking 'Got It' you're accepting these terms.


The best of EcoWatch, right in your inbox. Sign up for our email newsletter!
Keystone Pipeline Shut Down After Oil Spill in South Dakota
Apr. 06, 2016 10:02AM EST
Energy
"Landowners' worst fears came true," Jane Kleeb, the head of Bold Nebraska, told DeSmog after news broke about the latest Keystone pipeline oil spill. "When you have a pipe running through your farm or ranch-land all you think about is: it could break today."
On Saturday afternoon that fear was realized by a Hutchinson County, South Dakota land owner. Loern Schulz found oil in surface water near the Keystone pipeline's right-of-way and reported the spill.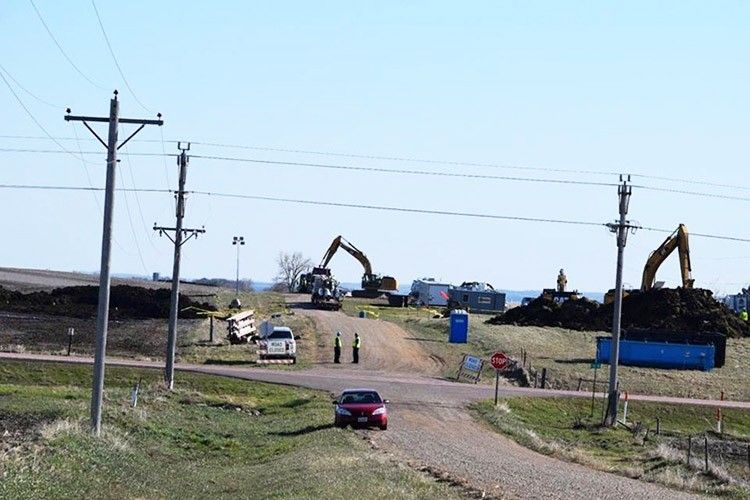 By Sunday, TransCanada had shut down the Keystone Pipeline, which originates in Alberta, Canada and goes to Steele City, Nebraska. But the rest of its U.S. pipeline network is operational.
The Keystone connects to the Cushing Extension pipeline that ends in Cushing, Oklahoma, where it connects to the Keystone XL's southern route, renamed the Keystone Gulf Coast Pipeline when the project was split into sections. The Gulf Coast line moves product from Cushing to Nederland, Texas, providing TransCanada a route to move Canadian tar sands bitumen to the Gulf of Mexico for refining and export.
Though President Obama rejected the northern Keystone XL route last year, which would have stretched from Alberta to Cushing, TransCanada has transported Canadian tar sands crude via its Keystone pipeline network since early 2014, when the Gulf Coast pipeline started operations.
TransCanada didn't have a representative at the potential spill site until Sunday. But by Monday, when the media broke the news, TransCanada had blocked off the area, making documenting the contaminated area from the ground impossible.
It was also impossible to photograph the site from the sky, according to Bold Nebraska. Kleeb told DeSmog that FAA forbade the pilot she hired to fly over the site because it closed the airspace until May 8.
"To have the FAA close off airspace for a foreign corporation is a big problem," Kleeb said. "We want to take our own pictures. With 100 clean-up workers on site, we have a right to be taking our own pictures and finding out our own information."
If the public isn't able to take their own pictures of the site, they shouldn't expect to see any for years, if at all. Any photos that would be made available will come from TransCanada or the Pipeline and Hazardous Materials Safety Administration (PHMSA), the agency responsible for regulating interstate pipelines.
TransCanada turns over its findings about pipeline spills, which include photos, to the PHMSA and the agency does not share such information with the public until its investigations are complete, which can take years. And even when the agency's investigations are finished, it does not automatically release photos when requested.
It took DeSmog over two years to obtain photos from PHMSA of a site in Missouri, where TransCanada had indicated to PHMSA that there may have been a spill in 2012. After TransCanada dug up parts of the pipeline that were almost completely corroded, both TransCanada and PHMSA claimed that no oil was released. But the few photos DeSmog obtained do not conclusively prove whether a spill took place or not.
TransCanada has released a couple of photos taken near the site that they are working on yesterday, but the photos do not show any oil, which the company admitted was visible when its representatives arrived.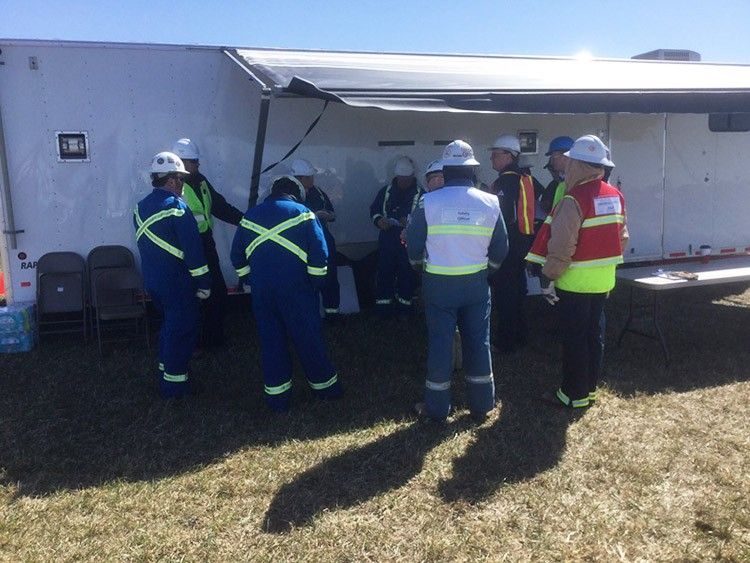 Yesterday, some South Dakotans who have fought against the Keystone XL pipeline went as close to the site as they could get. They took pictures from the perimeter that TransCanada set up around the spill. But the way the perimeter was set up makes it impossible to meaningfully document the company's remediation work.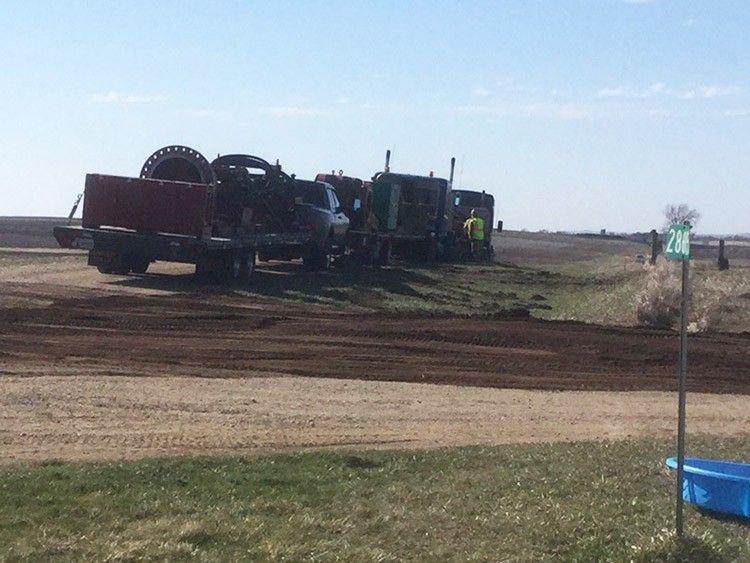 Evan Vokes, former TransCanada materials engineer-turned-whistleblower, told DeSmog, "If there is an oil spill the probable source of the spill is at the site of a bad weld. And bad welds are inevitable when welding is not done to code."
TransCanada's first estimate reported 187 gallons were found.
"It can take a lot of oil to leak before enough of it percolates up to the surface level for someone to notice," Vokes said.
If there was indeed a spill, Vokes believes it is fair to assume muchmore oil spilled than the initial estimate states. Vokes points out that oil from any leak that happens underground, would have moved wherever the subsurface water moved, making estimating the spill's size difficult.
"TransCanada's leak detection equipment can't pick up a leak until 2 percent of the pressure in a pipeline drops," Vokes said. "Which is what makes small leaks like this dangerous since they can go undetected for a long time."
Though TransCanada confirmed its leak detection system didn't pick up a spill, it would not confirm if the product in the line was diluted bitumen or crude oil, but it is likely that if product spilled in South Dakota it is diluted bitumen, also known as dilbit.
"Dilbit is indeed crude oil," Mark Cooper, TransCanada's public affairs officer, wrote DeSmog in an email. But that statement isn't accurate. "Dilbit is not the same as crude oil," Vokes told DeSmog. "It is processed crude that has more benzene in it than crude oil."
Dilbit spills in Kalamazoo, Michigan and Mayflower, Arkansas, proved more problematic to clean up than crude oil spills. It took Enbridge four years to complete remedial efforts ordered by federal regulators and in Mayflower, some homeowners had no choice but to relocate. It was thought that some of the homes nearest to the spill would never be safe to live in again.
"A dilbit spill releases far more toxins into the ground and water than a crude oil spill," Vokes said.
Canadian regulators noted 21 incidents in the Keystone pipeline's first year in operation. And U.S. regulators identified up to 62 probable deficiencies in TransCanada's operations of the pipeline, as noted in a letter PHMSA sent to TransCanada last year. PHMSA has fined the company for breaking rules, but has never taken action to stop construction when inspectors caught the company breaking the rules.
"It is possible the Keystone pipeline has other small leaks that have not been identified yet at the site of other bad welds," Vokes said. "It is impossible to know where they are until someone notices them and by that time the damage could be catastrophic."
YOU MIGHT ALSO LIKE
High Levels of Endocrine Disrupting Chemicals Found Near Fracking Wastewater Site
Hundreds Rally Asking Gov. Cuomo to Deny the Constitution Pipeline
6 Colorado Teenagers File Appeal in Fracking and Climate Lawsuit
Stanford Scientists Find Fracking Linked to Groundwater Contamination in Pavillion, Wyoming
EcoWatch Daily Newsletter
Denali national park. Domen Jakus / Flickr / CC BY-NC 2.0
By Stephanie Gagnon
Happy National Parks Week! This year, between April 20 and 28, escape to the beautiful national parks — either in person or in your imagination — and celebrate the amazing wildlife that calls these spaces home.
fstop123 / iStock / Getty Images Plus
At EcoWatch, our team knows that changing personal habits and taking actions that contribute to a better planet is an ongoing journey. Earth Day, happening on April 22, is a great reminder for all of us to learn more about the environmental costs of our behaviors like food waste or fast fashion.
To offer readers some inspiration this Earth Day, our team rounded up their top picks for films to watch. So, sit back and take in one of these documentary films this Earth Day. Maybe it will spark a small change you can make in your own life.
Sesame, three months old, at Seal Rescue Irleand.
Screenshot / Seal Rescue Ireland Instagram
On Friday, Seal Rescue Ireland released Sesame the seal into the ocean after five months of rehabilitation at the Seal Rescue Ireland facility. Watch the release on EcoWatch's Facebook.

Beer packs of Guinness will now come in a cardboard box. Diageo

By Jordan Davidson
Guinness is joining the fight against single use plastic. The brewer has seen enough hapless turtles and marine life suffering from the scourge of plastic.
Maskot / Getty Images
People of all ages are spending more of their day looking at their phones, computers and television screens, but parents now have another reason for limiting how much screen time their children get — it could lead to behavioral problems.
Rapper and comedian Lil Dicky released a 7-minute climate change awareness song and video today, ahead of Earth Day on Monday, with proceeds going to the Leonardo DiCaprio Foundation.
Pexels
By Eoin Higgins
The New York City Council passed the world's "largest single carbon reduction effort that any city, anywhere, has ever put forward" on Thursday afternoon, marking a major milestone in the fight against the climate crisis.