Keystone Pipeline Shut Down After Oil Spill in South Dakota
"Landowners' worst fears came true," Jane Kleeb, the head of Bold Nebraska, told DeSmog after news broke about the latest Keystone pipeline oil spill. "When you have a pipe running through your farm or ranch-land all you think about is: it could break today."
On Saturday afternoon that fear was realized by a Hutchinson County, South Dakota land owner. Loern Schulz found oil in surface water near the Keystone pipeline's right-of-way and reported the spill.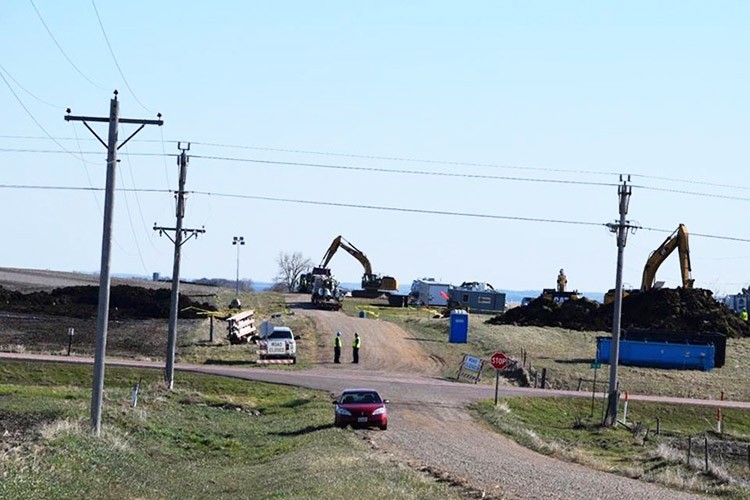 By Sunday, TransCanada had shut down the Keystone Pipeline, which originates in Alberta, Canada and goes to Steele City, Nebraska. But the rest of its U.S. pipeline network is operational.
The Keystone connects to the Cushing Extension pipeline that ends in Cushing, Oklahoma, where it connects to the Keystone XL's southern route, renamed the Keystone Gulf Coast Pipeline when the project was split into sections. The Gulf Coast line moves product from Cushing to Nederland, Texas, providing TransCanada a route to move Canadian tar sands bitumen to the Gulf of Mexico for refining and export.
Though President Obama rejected the northern Keystone XL route last year, which would have stretched from Alberta to Cushing, TransCanada has transported Canadian tar sands crude via its Keystone pipeline network since early 2014, when the Gulf Coast pipeline started operations.
TransCanada didn't have a representative at the potential spill site until Sunday. But by Monday, when the media broke the news, TransCanada had blocked off the area, making documenting the contaminated area from the ground impossible.
It was also impossible to photograph the site from the sky, according to Bold Nebraska. Kleeb told DeSmog that FAA forbade the pilot she hired to fly over the site because it closed the airspace until May 8.
"To have the FAA close off airspace for a foreign corporation is a big problem," Kleeb said. "We want to take our own pictures. With 100 clean-up workers on site, we have a right to be taking our own pictures and finding out our own information."
If the public isn't able to take their own pictures of the site, they shouldn't expect to see any for years, if at all. Any photos that would be made available will come from TransCanada or the Pipeline and Hazardous Materials Safety Administration (PHMSA), the agency responsible for regulating interstate pipelines.
TransCanada turns over its findings about pipeline spills, which include photos, to the PHMSA and the agency does not share such information with the public until its investigations are complete, which can take years. And even when the agency's investigations are finished, it does not automatically release photos when requested.
It took DeSmog over two years to obtain photos from PHMSA of a site in Missouri, where TransCanada had indicated to PHMSA that there may have been a spill in 2012. After TransCanada dug up parts of the pipeline that were almost completely corroded, both TransCanada and PHMSA claimed that no oil was released. But the few photos DeSmog obtained do not conclusively prove whether a spill took place or not.
TransCanada has released a couple of photos taken near the site that they are working on yesterday, but the photos do not show any oil, which the company admitted was visible when its representatives arrived.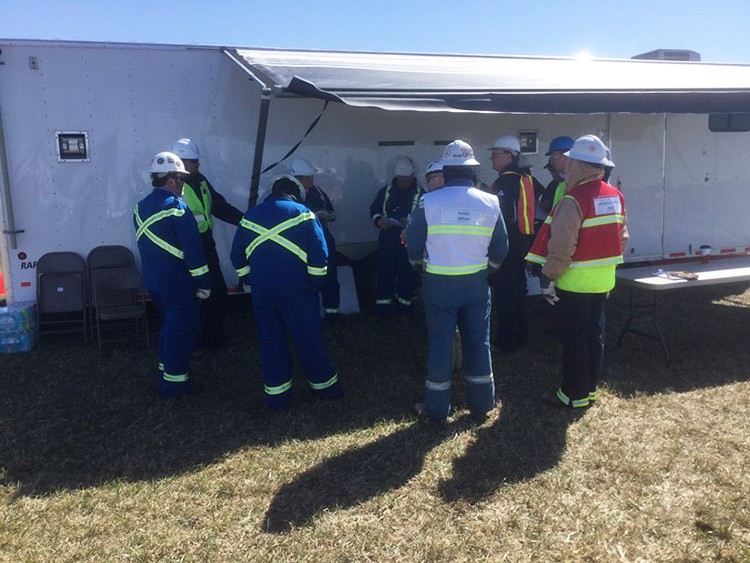 Yesterday, some South Dakotans who have fought against the Keystone XL pipeline went as close to the site as they could get. They took pictures from the perimeter that TransCanada set up around the spill. But the way the perimeter was set up makes it impossible to meaningfully document the company's remediation work.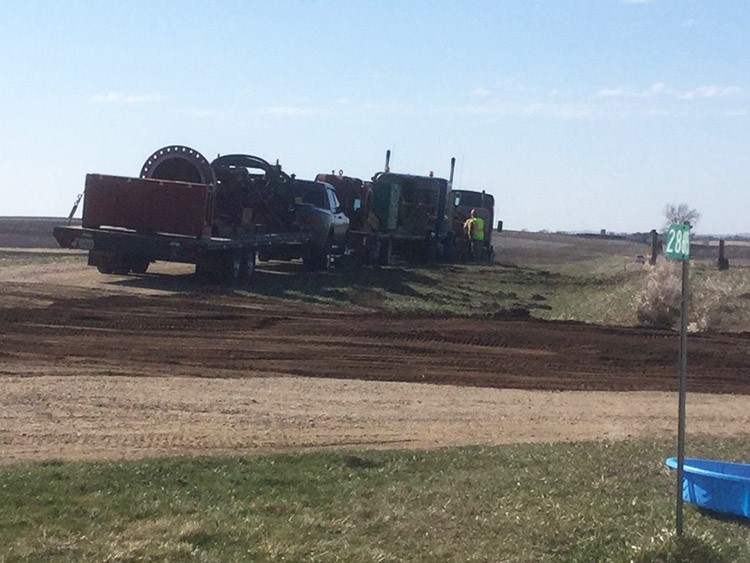 Evan Vokes, former TransCanada materials engineer-turned-whistleblower, told DeSmog, "If there is an oil spill the probable source of the spill is at the site of a bad weld. And bad welds are inevitable when welding is not done to code."
TransCanada's first estimate reported 187 gallons were found.
"It can take a lot of oil to leak before enough of it percolates up to the surface level for someone to notice," Vokes said.
If there was indeed a spill, Vokes believes it is fair to assume muchmore oil spilled than the initial estimate states. Vokes points out that oil from any leak that happens underground, would have moved wherever the subsurface water moved, making estimating the spill's size difficult.
"TransCanada's leak detection equipment can't pick up a leak until 2 percent of the pressure in a pipeline drops," Vokes said. "Which is what makes small leaks like this dangerous since they can go undetected for a long time."
Though TransCanada confirmed its leak detection system didn't pick up a spill, it would not confirm if the product in the line was diluted bitumen or crude oil, but it is likely that if product spilled in South Dakota it is diluted bitumen, also known as dilbit.
"Dilbit is indeed crude oil," Mark Cooper, TransCanada's public affairs officer, wrote DeSmog in an email. But that statement isn't accurate. "Dilbit is not the same as crude oil," Vokes told DeSmog. "It is processed crude that has more benzene in it than crude oil."
Dilbit spills in Kalamazoo, Michigan and Mayflower, Arkansas, proved more problematic to clean up than crude oil spills. It took Enbridge four years to complete remedial efforts ordered by federal regulators and in Mayflower, some homeowners had no choice but to relocate. It was thought that some of the homes nearest to the spill would never be safe to live in again.
"A dilbit spill releases far more toxins into the ground and water than a crude oil spill," Vokes said.
Canadian regulators noted 21 incidents in the Keystone pipeline's first year in operation. And U.S. regulators identified up to 62 probable deficiencies in TransCanada's operations of the pipeline, as noted in a letter PHMSA sent to TransCanada last year. PHMSA has fined the company for breaking rules, but has never taken action to stop construction when inspectors caught the company breaking the rules.
"It is possible the Keystone pipeline has other small leaks that have not been identified yet at the site of other bad welds," Vokes said. "It is impossible to know where they are until someone notices them and by that time the damage could be catastrophic."
YOU MIGHT ALSO LIKE
High Levels of Endocrine Disrupting Chemicals Found Near Fracking Wastewater Site
Hundreds Rally Asking Gov. Cuomo to Deny the Constitution Pipeline
6 Colorado Teenagers File Appeal in Fracking and Climate Lawsuit
Stanford Scientists Find Fracking Linked to Groundwater Contamination in Pavillion, Wyoming
Disturbing footage of a snake in Goa, India vomiting an empty soft drink bottle highlights the world's mounting plastic pollution crisis.
Keep reading...
Show less
By Melissa Hellmann
When her eldest son was in elementary school in the Oakland Unified School District, Ruth Woodruff became alarmed by the meals he was being served at school. A lot of it was frozen, processed foods, packed with preservatives. At home, she was feeding her children locally sourced, organic foods.
Keep reading...
Show less
May. 28, 2017 01:33PM EST
Laurie Woolever
By James O'Hare
There are 20 million people in the world facing famine in South Sudan, Somalia, Nigeria and Yemen. In developed nations, too, people go hungry. Venezuela, for instance, is enduring food insecurity on a national level as a result of economic crisis and political corruption. In the U.S., the land of supposed excess, 12.7 percent of households were food insecure in 2015, meaning they didn't know where their next meal would come from.
Keep reading...
Show less
May. 28, 2017 01:22PM EST
Melwater, Greenland ice sheet. Diane Tuft
Artists are taking the climate crisis into frame and the results are emotional, beautiful and stirring.
So you've seen the best climate change cartoons and shared them with your friends. You've showed your family the infographics on climate change and health, infographics on how the grid works and infographics about clean, renewable energy. You've even forwarded these official National Oceanic and Atmospheric Administration graphs that explain the 10 clear indicators of climate change to your colleagues at the office.
Keep reading...
Show less
May. 27, 2017 01:11PM EST
As the Trump administration moves full speed ahead on boosting the oil and fossil fuel industry, opposition to increased pipeline construction is cropping up in different communities around the country.
Keep reading...
Show less
May. 27, 2017 01:02PM EST
Minke whale stranding near Havergate Island in Suffolk. MCGA.
By Simon Evans
Last Saturday, two dead whales washed up on the coast of Suffolk, in eastern England, and a third was spotted floating at sea.
What happened next illustrates how news can spread and evolve into misinformation, when reported by journalists rushing to publish before confirming basic facts or sourcing their own quotes.
Keep reading...
Show less
May. 27, 2017 01:22PM EST
By Monica Amarelo and Paul Pestano
Sun safety is a crucial part of any outdoor activity for kids, and sunscreen can help protect children's skin from harmful ultraviolet rays. Kids often get sunburned when they're outside unprotected for longer than expected. Parents need to plan ahead and keep sun protection handy in their cars or bags.
Keep reading...
Show less
May. 27, 2017 01:02PM EST
By Joe McCarthy
A lot of people take part in community clean-up efforts—spending a Saturday morning picking up litter in a park, mowing an overgrown field or painting a fence.
Keep reading...
Show less


Get EcoWatch in your inbox