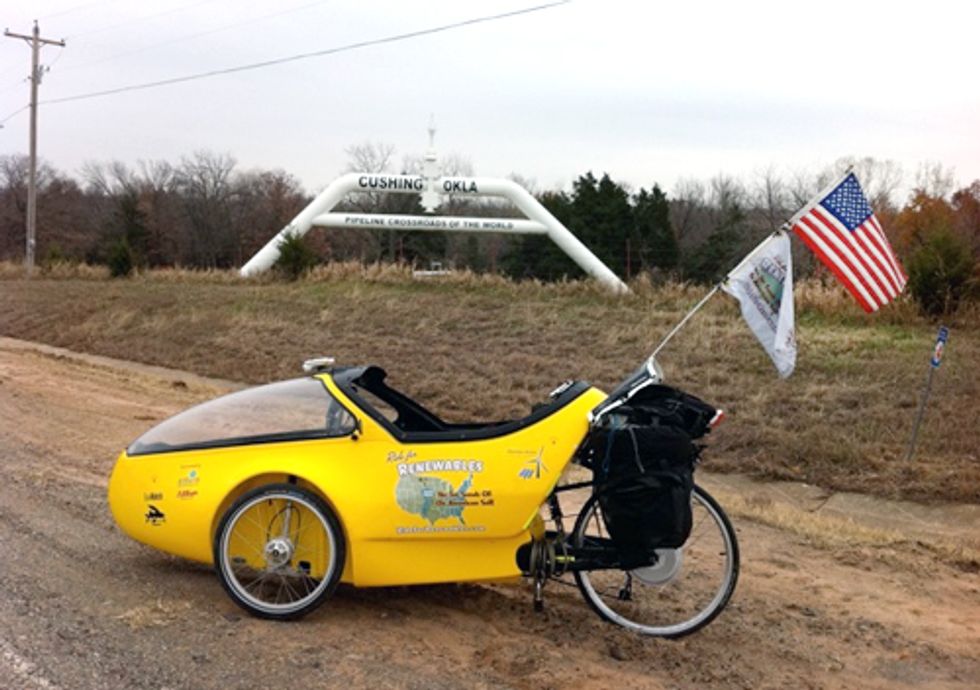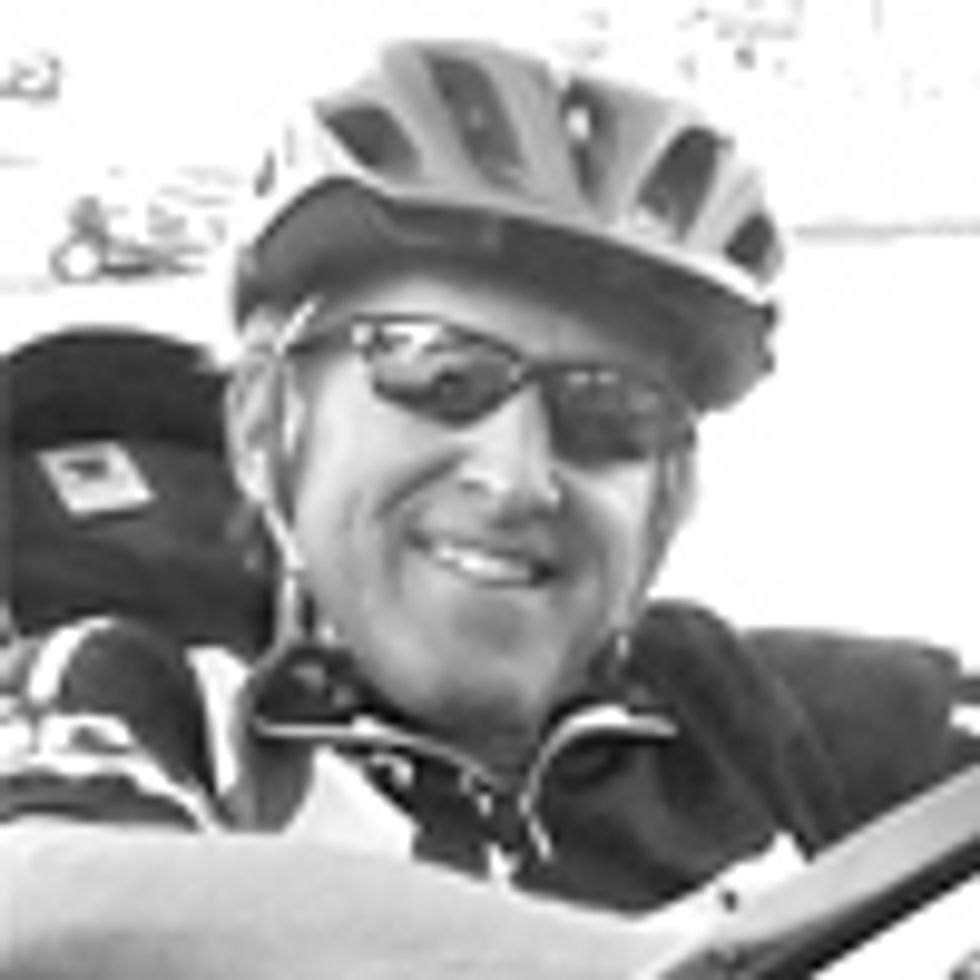 "Those that fail to learn from history, are doomed to repeat it."  – Winston Churchill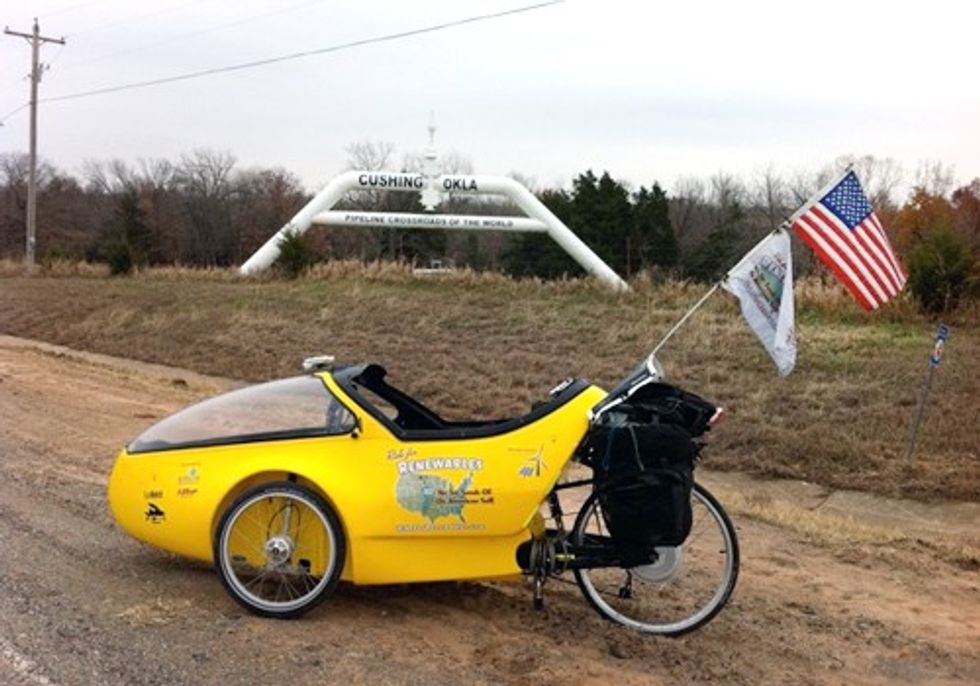 It is time to acknowledge what has long been obvious: President Obama wants Keystone XL built. He won't tell us this until after Election Day, for fear of alienating his Democratic base, but his actions speak for themselves. The President's high profile visit to Cushing, OK a week ago today to expedite construction of the pipeline's southern leg ("Keystone Lite") only further exposes his true intentions, which are as transparent as the Obama camp's attempt to change the channel by renaming it the "Cushing pipeline." Governor Romney, who mistakenly assumes Republican voters don't care, at least tells us he would approve the toxic tar sands pipeline on "day one" of his presidency.
Both candidates fail to grasp the depth of revulsion this un-American, gas price raising, job threatening, land grabbing, water polluting, export pipeline has generated in the six Great Plains states it would cross. For many of the front line farmers, ranchers and tribal community members I had the honor of meeting on my 2,150-mile "Tour of Resistance" last fall, Keystone XL is not an abstract game of political football, but a matter of deathly importance. More than a few are ready to lay in front of the bulldozers to keep this toxic pipeline off their land. In Pine Ridge, South Dakota, home of the Oglala Sioux Tribe, the peaceful resistance has already begun.
How did we get to this point and what have we learned to strengthen us for the fight to come? Recent history provides the lessons.
My personal involvement began last winter and spring, when after first learning about Keystone XL, I shared my plans to ride the pipeline route with environmental groups leading the fight against it. That summer, a group of prominent climate activists led by Bill McKibben invited people to Washington, DC for a mass show of civil resistance against Keystone XL. There were 1,253 people that responded by getting arrested in front of the White House, but it was actor/activist Daryl Hannah's high-profile arrest that turned Keystone into a household word. The following day, Al Gore endorsed the protest and Nebraska's Republican Governor went on record opposing the proposed route through Nebraska. Nine Nobel Peace Prize laureates, including the Dalai Lama, soon followed suit by weighing in against Keystone XL. Activists began hounding Obama at public appearances around the country, with Vice President of Oglala Lakota Nation Tom Poor Bear the first person to spur the President to address Keystone XL publicly. A subsequent call to action by Bill's group resulted in 12,000 people encircling the White House in early November.
Under excruciating pressure to deny TransCanada's presidential permit, Obama pulled a fast one by announcing he was delaying a decision on Keystone XL until after the 2012 election. My reaction was to label it an act of political cowardice. Others similarly saw through the political ploy, including eco-visionary, Paul Hawken, who called the move "dangerous." But most of the well-intentioned environmental movement embraced the false victory, showering the President with praise for his "courage" and "leadership." Keystone XL was prematurely declared dead and actions planned at Obama campaign offices in 50 states were called off. Front line pipeline fighters felt like the rug had been pulled out from under them.
Lesson #1: When you have your opponent staggered and against the ropes, you don't back off, you keep on coming until you've landed the knock out punch.
Then in January, backed into a corner by congressional Republicans, the President announced he was denying TransCanada's permit, which sounded pretty good until you got to paragraph two of the White House Statement, where he offered to partner with TransCanada on the southern (OK-TX) leg of Keystone XL. Calls for Obama to be taken to task for this subterfuge were largely ignored, while most of the environmental movement did another victory dance, again declaring Keystone XL dead. This despite the President's own written words to the contrary and an administration that never stopped publicly telegraphing its support for the tar sands project. Their ploy to break the project up into bite-sized pieces had worked like a charm. This time, it was landowners in Texas and Oklahoma feeling like collateral damage for Obama's reelection campaign.
Lesson #2: When the President of the United States tells you he supports building a leg of Keystone XL, take him at his word, and respond accordingly.
Since then, Republicans in Congress have been scheming to revive Keystone in a way that will damage President Obama politically. At the same time, congressional Democratic leaders like Senate Majority Leader Harry Reid (D-NV) and House Democratic Whip, Steny Hoyer (D-MD), inch closer to supporting Keystone XL, while others like U.S. Senator Clair McCaskill (D-MO) and former president Bill Clinton embrace it outright. The congressional tar sands bandwagon recently grew larger when 11 Democratic Senators backed a GOP provision to fast-track construction of Keystone XL. To their credit, the environmental movement has rallied valiantly to beat back each new legislative assault, but they keep losing ground to Democrats. A movement that rarely misses an opportunity to criticize Republicans for fronting for Big Oil fails to treat well-oiled Democrats, including President Obama, the same at it's own peril.
Lesson #3: Partisanship, whether real or perceived, is toxic to building winning social movements.
We are not winning. TransCanada is. Obama, ever the quintessential politician, has played the environmental movement masterfully. But this time, he may have gone too far. By making such a public spectacle of backing "Keystone Lite," Obama betrayed his lack of respect for the movement. Maybe he doesn't believe large numbers of patriotic Americans will lay their bodies on the line to nonviolently repel this foreign pipeline invasion, but he is about to find out.
The 2012 election demands an honest national conversation not only about Keystone XL, but about how we're going to keep the planet habitable for future generations. Climate-destabilizing emissions have already exceeded safe levels, and continue to rise, yet there is no serious response from government. To the contrary, leaders of both major political parties seem hell bent on accelerating the cycle of destruction by pushing for the development of even more fossil fuels. The refusal of Obama and Romney, in particular, to fight for the future of their children should alarm every parent in America. Instead of championing obvious solutions—like a U.S.-led green industrial revolution that will reenergize our economy and put millions of unemployed Americans back to work—both men compliantly do the bidding of Big Oil, while clinging to the dinosaur economy.
Early last year, an unprecedented coalition of environmental, religious and renewable energy leaders called for a "wartime-like mobilization" to cut carbon emissions 80 percent by 2020. We urged the President to declare a "global climate emergency" by publicly acknowledging the need to reduce carbon emissions to 350 parts per million in the atmosphere, the level top climate scientists say is safe for humanity. Along with nixing Keystone XL, I can think of no better demand to be made of whoever wants to occupy the Oval Office for the next four years.
EcoWatch Daily Newsletter
Recent Stories from EcoWatch