This website uses cookies to ensure you get the best experience while browsing it. By clicking 'Got It' you're accepting these terms.
Keynote Speakers Focus on Food Sovereignty
Dec. 01, 2011 06:10PM EST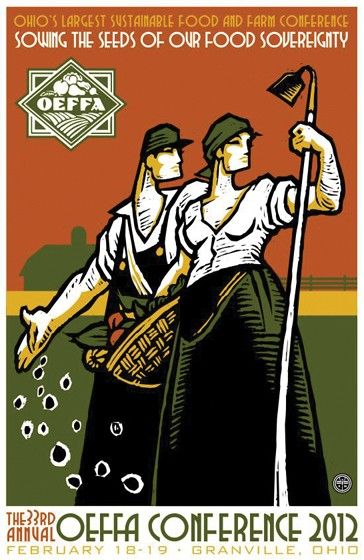 by Lauren N. Ketcham
Sowing the Seeds of Our Food Sovereignty is the theme of the Ohio Ecological Food and Farm Association's (OEFFA) 33rd annual conference on Feb. 18-19 in Granville, Ohio. Drawing nearly 1,000 attendees in 2011, Ohio's largest sustainable agriculture conference will feature keynote speakers Woody Tasch and Andrew Kimbrell, more than 70 workshops, local and organic meals, kids' conference, childcare, a trade show and more. Workshop topics include gardening, homesteading, cooking, green living, livestock production, marketing and fracking.
Keynote speakers Tasch and Kimbrell, who are both challenging our current industrial food structure, will bring a focus on the need to create food systems that foster food sovereignty—the right of people to define their own food, agriculture, and livestock systems that put the needs of those who produce, distribute, and consume food at the heart of food systems and policies, rather than the demands of markets and corporations.
Tasch is the chairman of the Slow Money Alliance and inspired the Slow Money movement by writing Inquiries into the Nature of Slow Money: Investing as if Food, Farms, and Fertility Mattered. The Slow Money Alliance is bringing people together around a new conversation about money that is too fast, about finance that is disconnected from people and place and about how people can begin fixing the economy from the ground up, starting with food. It is premised on the "alliance" between the people who produce food and the people who consume food.
Kimbrell is one of the country's leading environmental attorneys and founder and executive director of The International Center for Technology Assessment and The Center for Food Safety, which has taken a lead role in fighting the deregulation of genetically engineered crops.
Kimbrell is author of 101 Ways to Help Save the Earth, The Human Body Shop: The Engineering and Marketing of Life, Your Right to Know: Genetic Engineering and the Secret Changes in Your Food and general editor of Fatal Harvest: The Tragedy of Industrial Agriculture. His articles have appeared in numerous law reviews, technology journals, magazines and newspapers across the country, and he has been featured in many documentary films, including The Future of Food.
For more information or to register, visit www.oeffa.org or 614-421-2022. Registration open mid-December.
EcoWatch Daily Newsletter
A. Battenburg / Technical University of Munich
By Sarah Kennedy
Algae in a pond may look flimsy. But scientists are using algae to develop industrial-strength material that's as hard as steel but only a fraction of the weight.
Variety of fermented food korean traditional kimchi cabbage and radish salad. white and red sauerkraut in ceramic plates over grey spotted background. Natasha Breen / REDA&CO / Universal Images Group / Getty Image
Even if you've never taken probiotics, you've probably heard of them.
These supplements provide numerous benefits because they contain live microorganisms, such as bacteria or yeast, which support the healthy bacteria in your gut (1, 2, 3, 4).
Pexels
Singapore will become the first country in the world to place a ban on advertisements for carbonated drinks and juices with high sugar contents, its health ministry announced last week. The law is intended to curb sugar consumption since the country has some of the world's highest diabetes rates per capita, as Reuters reported.
A typical adult takes around 20,000 breaths per day. If you live in a megacity like Beijing, with many of those lungfuls you're likely to inhale a noxious mixture of chemicals and pollutants.
Fred Stone holds his brown swiss cow Lida Rose at his Arundel dairy farm on March 18 after a press conference where he spoke about PFAS chemical contamination in his fields. Gregory Rec / Portland Portland Press Herald via Getty Images
By Susan Cosier
First there was Fred Stone, the third-generation dairy farmer in Maine who discovered that the milk from his cows contained harmful chemicals. Then came Art Schaap, a second-generation dairy farmer in New Mexico, who had to dump 15,000 gallons of contaminated milk a day.
Protesters attend the 32nd annual Fur-Free Friday demonstration on Nov. 23, 2018 in Beverly Hills, California. Ella DeGea / Getty Images
California Governor Gavin Newsom signed into law a bill that that bans the sale and manufacture of fur products in the state. The fur ban, which he signed into law on Saturday, prohibits Californians from selling or making clothing, shoes or handbags with fur starting in 2023, according to the AP.
By Simon Evans
During the three months of July, August and September, renewables generated an estimated total of 29.5 terawatt hours (TWh), compared with just 29.1TWh from fossil fuels, the analysis shows.
A demonstrator waves an Ecuadorian flag during protests against the end of subsidies to gasoline and diesel on Oct. 9 in Quito, Ecuador. Jorge Ivan Castaneira Jaramillo / Getty Images