This website uses cookies to ensure you get the best experience while browsing it. By clicking 'Got It' you're accepting these terms.
Keynote Speakers Focus on Food Sovereignty
Dec. 01, 2011 06:10PM EST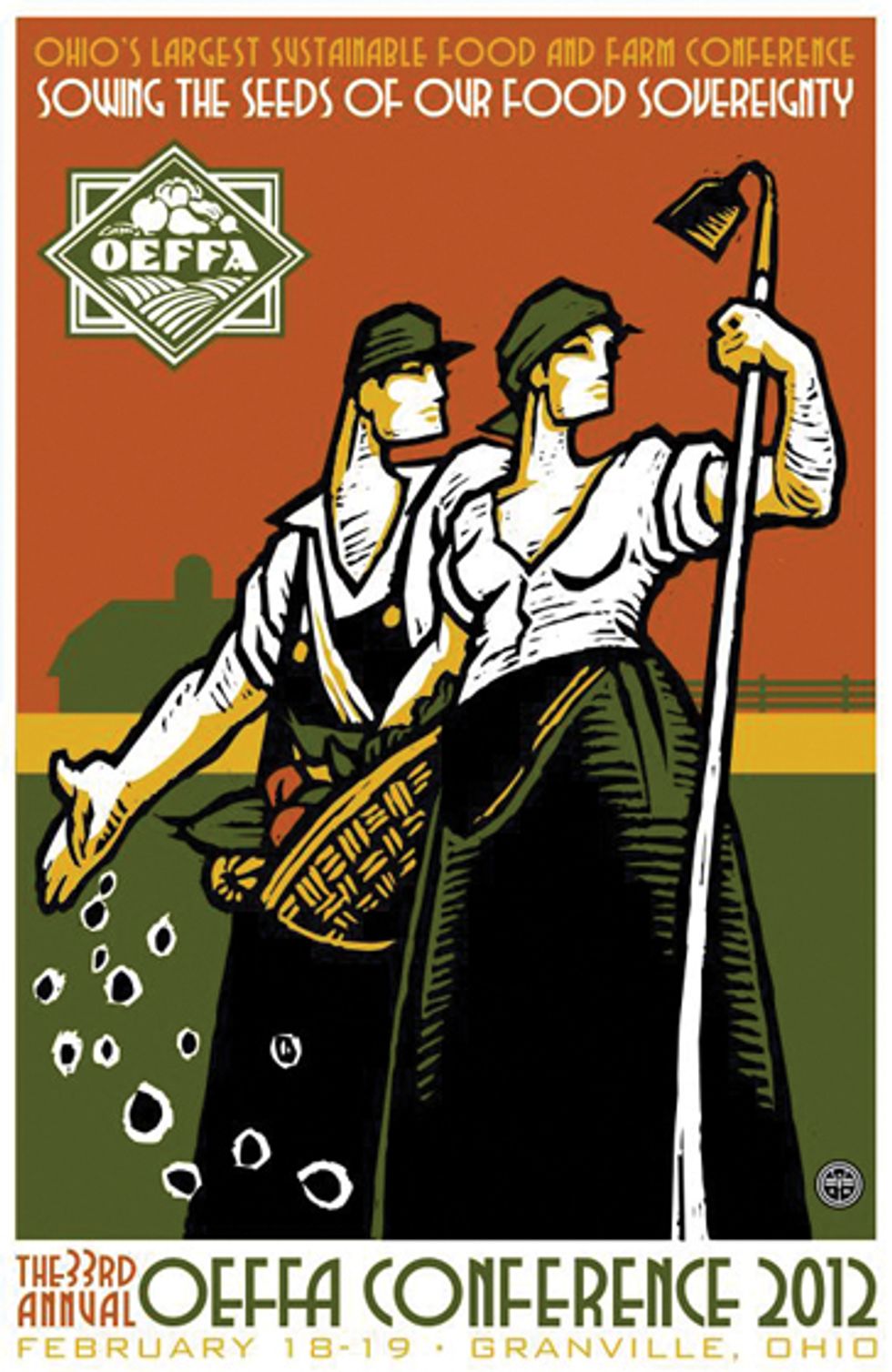 by Lauren N. Ketcham
Sowing the Seeds of Our Food Sovereignty is the theme of the Ohio Ecological Food and Farm Association's (OEFFA) 33rd annual conference on Feb. 18-19 in Granville, Ohio. Drawing nearly 1,000 attendees in 2011, Ohio's largest sustainable agriculture conference will feature keynote speakers Woody Tasch and Andrew Kimbrell, more than 70 workshops, local and organic meals, kids' conference, childcare, a trade show and more. Workshop topics include gardening, homesteading, cooking, green living, livestock production, marketing and fracking.
Keynote speakers Tasch and Kimbrell, who are both challenging our current industrial food structure, will bring a focus on the need to create food systems that foster food sovereignty—the right of people to define their own food, agriculture, and livestock systems that put the needs of those who produce, distribute, and consume food at the heart of food systems and policies, rather than the demands of markets and corporations.
Tasch is the chairman of the Slow Money Alliance and inspired the Slow Money movement by writing Inquiries into the Nature of Slow Money: Investing as if Food, Farms, and Fertility Mattered. The Slow Money Alliance is bringing people together around a new conversation about money that is too fast, about finance that is disconnected from people and place and about how people can begin fixing the economy from the ground up, starting with food. It is premised on the "alliance" between the people who produce food and the people who consume food.
Kimbrell is one of the country's leading environmental attorneys and founder and executive director of The International Center for Technology Assessment and The Center for Food Safety, which has taken a lead role in fighting the deregulation of genetically engineered crops.
Kimbrell is author of 101 Ways to Help Save the Earth, The Human Body Shop: The Engineering and Marketing of Life, Your Right to Know: Genetic Engineering and the Secret Changes in Your Food and general editor of Fatal Harvest: The Tragedy of Industrial Agriculture. His articles have appeared in numerous law reviews, technology journals, magazines and newspapers across the country, and he has been featured in many documentary films, including The Future of Food.
For more information or to register, visit www.oeffa.org or 614-421-2022. Registration open mid-December.
EcoWatch Daily Newsletter
Pope Francis celebrates an opening Mass for the Amazon synod, in St. Peter's Basilica, at the Vatican, Sunday, Oct. 6, 2019. Massimo Valicchia / NurPhoto / Getty Images
Pope Francis, in an effort to reignite his influence as a global environmental leader, released an impassioned document Feb. 12 entitled Dear Amazon — a response to the historic Vatican meeting last autumn regarding the fate of the Amazon biome and its indigenous people.

A flooded motorhome dealership is seen following Storm Dennis on Feb. 18 at Symonds Yat, Herefordshire, England. Storm Dennis is the second named storm to bring extreme weather in a week and follows in the aftermath of Storm Ciara. Although water is residing in many places flood warnings are still in place.
Christopher Furlong
/ Getty Images
Britain has been battered by back-to-back major storms in consecutive weekends, which flooded streets, submerged rail lines, and canceled flights. The most recent storm, Dennis, forced a group of young climate activists to cancel their first ever national conference, as CBS News reported.
A group of Fulani women and their daughters walk towards their houses in Hapandu village, Zinder Region, Niger on July 31, 2019. In the African Sahel the climate has long been inhospitable. But now rising temperatures have caused prolonged drought and unpredictable weather patterns, exacerbating food shortages, prompting migration and contributing to instability in countries already beset by crisis. LUIS TATO / AFP / Getty Images
At the 56th Munich Security Conference in Germany, world powers turned to international defense issues with a focus on "Westlessness" — the idea that Western countries are uncertain of their values and their strategic orientation. Officials also discussed the implications of the coronavirus outbreak, the Middle East and the Libya crisis.
Polar bears on Barter Island on the north slope of Alaska wait for the winter sea ice to arrive so they can leave to hunt seals, on Sept. 28, 2015.
cheryl strahl / Flickr
The climate crisis wreaks havoc on animals and plants that have trouble adapting to global heating and extreme weather. Some of the most obvious examples are at the far reaches of the planet, as bees disappear from Canada, penguin populations plummet in the Antarctic, and now polar bears in the Arctic are struggling from sea ice loss, according to a new study, as CNN reported.
By Petros Kusmu, George Patrick Richard Benson
We can all take steps to reduce the environmental impact of our work-related travels.
Individual actions — like the six described here — can cumulatively help prompt more collective changes, but it helps to prioritize by impact.
As the saying goes: be the change you want to see in the world.