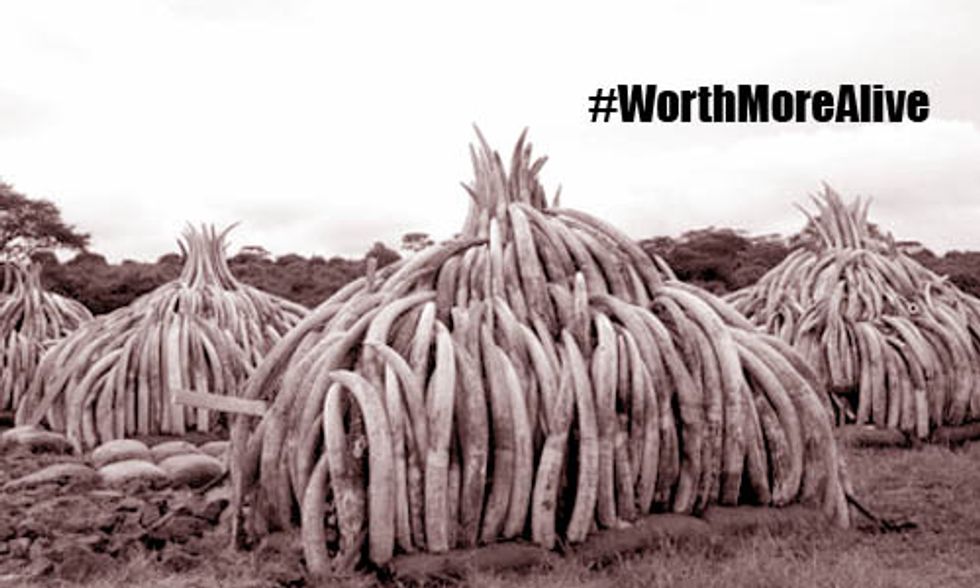 As elephants continue to pay the ultimate price for the demand for their tusks, their advocates are preparing to watch the largest stockpile of ivory yet go up in flames in Kenya's Nairobi National Park on Saturday, April 30.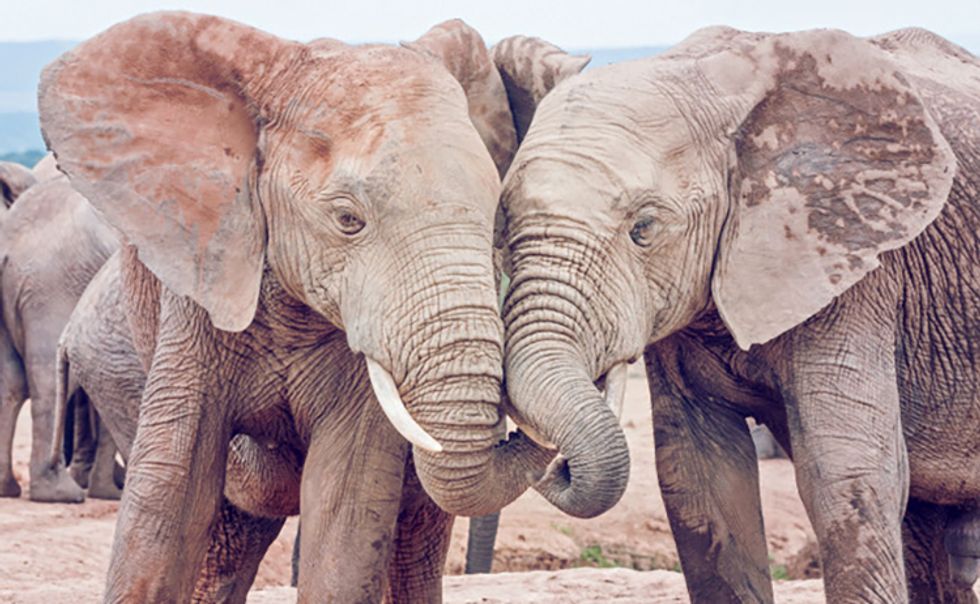 Back in 1989, Kenya became the first to destroy ivory when then President Daniel arap Moi torched 12 tons of tusks, representing an estimated 2,000 elephants who had been killed over the previous four years. At the time, he said the gesture was an "appeal to people all over the world to stop buying ivory."
Later that year, the international trade in ivory was banned under the Convention on International Trade in Endangered Species (CITES), with the exception of two government sales held in 1999 and 2008.
"Ivory is only valuable on #elephants." — Kitili Mbathi, Director General, @KWSKenya #JoinTheHerd #WorthMoreAlive https://t.co/n0PbKtpEVO

— WildAid (@WildAid)1461901333.0
Despite the call to end the trade decades ago and the ban, the demand for ivory continues to put the future of elephants in jeopardy, as hundreds of thousands continue to die every year for their tusks. By some estimates, their time on this planet could run out in a little more than a decade and these iconic animals will be erased from the landscape forever if drastic measures aren't taken.
In an effort to send a message to the world about the destruction the ivory trade is causing, Kenya will be destroying another stockpile. This time, 105 metric tons of ivory, in addition to 1.5 metric tons of rhino horn, will go up in flames in what will be the largest stockpile destroyed to date.
On 30th April 2016, we are taking a stand as a country against poaching.Tweet your support through #WorthMoreAlive. https://t.co/0RLiCbXg6v

— Kenya Wildlife (@Kenya Wildlife)1461257116.0
The event will be held a day after the Giants Club Summit, where heads of state from Africa, global leaders and conservationists will be meeting to discuss the future of elephants and efforts to combat the illegal trade in ivory that's decimating them.
Some have been critical of destroying stockpiles of ivory. They argue that selling it instead will flood the market, lower its value and save more lives and that money brought in could be used to fund conservation efforts.
They say it's a waste, but the only true waste is the loss of lives. Every single one of those tusks came from the tragic, violent and needless death of a living, breathing, feeling elephant. It's horrifying to consider each of the unique individuals those tusks represent. Each pair was taken to fuel a sickeningly bloody trade for nothing more than trinkets and junk no one needs.
Protection of our wildlife is our responsibility. #WorthMoreAlive #LightAFire >> https://t.co/28Y3KyoBxP @kwskenya https://t.co/rqLEpoKYoa

— Total Kenya (@Total Kenya)1461947712.0
The problem isn't what we do with ivory, it's giving ivory any value at all, other than what it's worth to an elephant.
While these events have their detractors, countries around the world have destroyed stockpiles in response to the crisis threatening elephants and conservationists are applauding Kenya's decision to light a match to another one.
Supporters fear that putting more ivory on the market will stimulate the demand and create the perception that buying ivory is perfectly acceptable, in addition to the fact that it will potentially offer a cover to sell ivory from recently killed elephants. We already have legalized sales for pre-ban ivory, but that market is clearly doing nothing to protect elephants.
"Kenya is once again boldly leading the way by demonstrating ivory must be put beyond economic use by burning our entire stockpile," Kenya's environment secretary Prof. Judi Wakhungu said. "[This] is evidence of our zero tolerance approach towards poaching and illegal wildlife trade."
Must read: why it makes sense to destroy Kenya's ivory @paulakahumbu https://t.co/fjdZTs3eFR https://t.co/KLeFuBzfGU

— Sheldrick Wildlife (@Sheldrick Wildlife)1461938449.0
The bottom line is that all ivory came from an elephant who is worth far more alive than dead and none of it is worth the price being paid.
For more info on how to help elephants, check out iworry and 96 elephants. You can also show your support on social media by using #WorthMoreAlive and #LightAFire.
YOU MIGHT ALSO LIKE
Neil Young's New Album EARTH Breaks All the Rules
Cousteau to SeaWorld: Captive Orcas 'Need to Be Released'
Watch Racing Extinction: It Will Change the Way You View the World
EcoWatch Daily Newsletter