This website uses cookies to ensure you get the best experience while browsing it. By clicking 'Got It' you're accepting these terms.
As elephants continue to pay the ultimate price for the demand for their tusks, their advocates are preparing to watch the largest stockpile of ivory yet go up in flames in Kenya's Nairobi National Park on Saturday, April 30.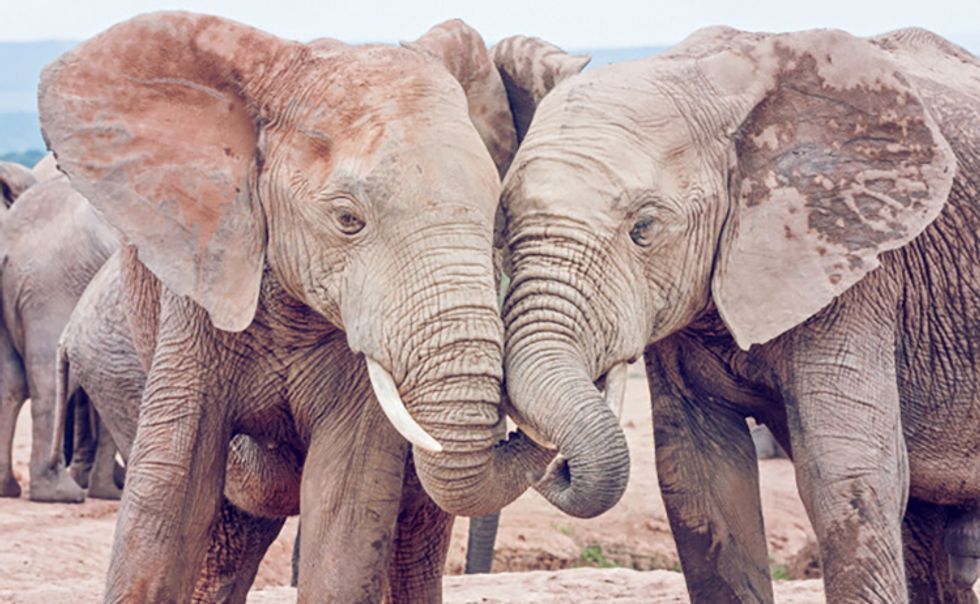 Back in 1989, Kenya became the first to destroy ivory when then President Daniel arap Moi torched 12 tons of tusks, representing an estimated 2,000 elephants who had been killed over the previous four years. At the time, he said the gesture was an "appeal to people all over the world to stop buying ivory."
Later that year, the international trade in ivory was banned under the Convention on International Trade in Endangered Species (CITES), with the exception of two government sales held in 1999 and 2008.
Despite the call to end the trade decades ago and the ban, the demand for ivory continues to put the future of elephants in jeopardy, as hundreds of thousands continue to die every year for their tusks. By some estimates, their time on this planet could run out in a little more than a decade and these iconic animals will be erased from the landscape forever if drastic measures aren't taken.
In an effort to send a message to the world about the destruction the ivory trade is causing, Kenya will be destroying another stockpile. This time, 105 metric tons of ivory, in addition to 1.5 metric tons of rhino horn, will go up in flames in what will be the largest stockpile destroyed to date.
The event will be held a day after the Giants Club Summit, where heads of state from Africa, global leaders and conservationists will be meeting to discuss the future of elephants and efforts to combat the illegal trade in ivory that's decimating them.
Some have been critical of destroying stockpiles of ivory. They argue that selling it instead will flood the market, lower its value and save more lives and that money brought in could be used to fund conservation efforts.
They say it's a waste, but the only true waste is the loss of lives. Every single one of those tusks came from the tragic, violent and needless death of a living, breathing, feeling elephant. It's horrifying to consider each of the unique individuals those tusks represent. Each pair was taken to fuel a sickeningly bloody trade for nothing more than trinkets and junk no one needs.
The problem isn't what we do with ivory, it's giving ivory any value at all, other than what it's worth to an elephant.
While these events have their detractors, countries around the world have destroyed stockpiles in response to the crisis threatening elephants and conservationists are applauding Kenya's decision to light a match to another one.
Supporters fear that putting more ivory on the market will stimulate the demand and create the perception that buying ivory is perfectly acceptable, in addition to the fact that it will potentially offer a cover to sell ivory from recently killed elephants. We already have legalized sales for pre-ban ivory, but that market is clearly doing nothing to protect elephants.
"Kenya is once again boldly leading the way by demonstrating ivory must be put beyond economic use by burning our entire stockpile," Kenya's environment secretary Prof. Judi Wakhungu said. "[This] is evidence of our zero tolerance approach towards poaching and illegal wildlife trade."
The bottom line is that all ivory came from an elephant who is worth far more alive than dead and none of it is worth the price being paid.
For more info on how to help elephants, check out iworry and 96 elephants. You can also show your support on social media by using #WorthMoreAlive and #LightAFire.
YOU MIGHT ALSO LIKE
Neil Young's New Album EARTH Breaks All the Rules
Cousteau to SeaWorld: Captive Orcas 'Need to Be Released'
Watch Racing Extinction: It Will Change the Way You View the World
EcoWatch Daily Newsletter
A sign marks the ground covering TransCanada's Keystone I pipeline outside of Steele City, Nebraska on April 21, 2012. Lucas Oleniuk / Toronto Star via Getty Images

The company behind the controversial and long-delayed Keystone XL pipeline announced it would proceed with the project Tuesday, despite concerns about the climate impacts of the pipeline and the dangers of transporting construction crews during a pandemic.
Penguins are seen near the Great Wall station in Antarctica, Feb. 9, days after the continent measured its hottest temperature on record at nearly 65 degrees Fahrenheit. Xinhua / Liu Shiping / Getty Images
By Richard Connor
Scientists have recorded Antarctica's first documented heat wave, warning that animal and plant life on the isolated continent could be drastically affected by climate change.
The Athos I tanker was carrying crude oil from Venezuela when a collision caused oil to begin gushing into the Delaware River.
U.S. Department of the Interior
A case that has bounced around the lower courts for 13 years was finally settled yesterday when the U.S. Supreme Court upheld a lower court decision, finding oil giant Citgo liable for a clean up of a 2004 oil spill in the Delaware River, according to Reuters.
The buildings of downtown Los Angeles are partially obscured in the late afternoon on Nov. 5, 2019, as seen from Pasadena, California, a day when air quality for Los Angeles was predicted to be "unhealthy for sensitive groups." Mario Tama / Getty Images
The evidence continues to build that breathing dirty air is bad for your brain.
Wave power in Portugal. The oceans' energy potential is immense. Luis Ascenso, via Wikimedia Commons
By Paul Brown
The amount of energy generated by tides and waves in the last decade has increased tenfold. Now governments around the world are planning to scale up these ventures to tap into the oceans' vast store of blue energy.