This website uses cookies to ensure you get the best experience while browsing it. By clicking 'Got It' you're accepting these terms.
As elephants continue to pay the ultimate price for the demand for their tusks, their advocates are preparing to watch the largest stockpile of ivory yet go up in flames in Kenya's Nairobi National Park on Saturday, April 30.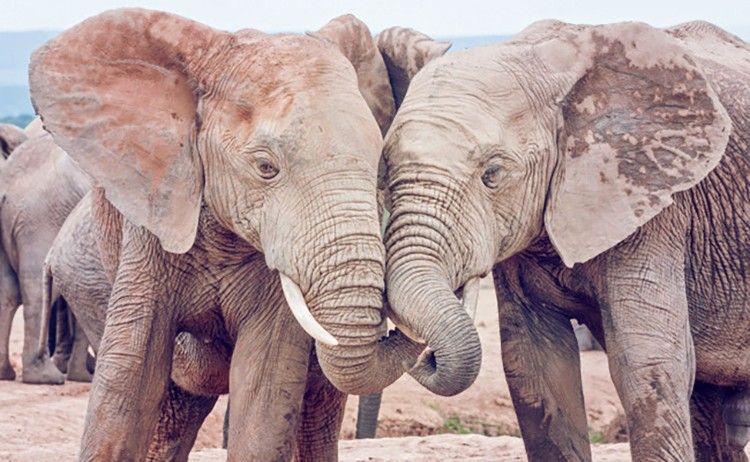 Back in 1989, Kenya became the first to destroy ivory when then President Daniel arap Moi torched 12 tons of tusks, representing an estimated 2,000 elephants who had been killed over the previous four years. At the time, he said the gesture was an "appeal to people all over the world to stop buying ivory."
Later that year, the international trade in ivory was banned under the Convention on International Trade in Endangered Species (CITES), with the exception of two government sales held in 1999 and 2008.
Despite the call to end the trade decades ago and the ban, the demand for ivory continues to put the future of elephants in jeopardy, as hundreds of thousands continue to die every year for their tusks. By some estimates, their time on this planet could run out in a little more than a decade and these iconic animals will be erased from the landscape forever if drastic measures aren't taken.
In an effort to send a message to the world about the destruction the ivory trade is causing, Kenya will be destroying another stockpile. This time, 105 metric tons of ivory, in addition to 1.5 metric tons of rhino horn, will go up in flames in what will be the largest stockpile destroyed to date.
The event will be held a day after the Giants Club Summit, where heads of state from Africa, global leaders and conservationists will be meeting to discuss the future of elephants and efforts to combat the illegal trade in ivory that's decimating them.
Some have been critical of destroying stockpiles of ivory. They argue that selling it instead will flood the market, lower its value and save more lives and that money brought in could be used to fund conservation efforts.
They say it's a waste, but the only true waste is the loss of lives. Every single one of those tusks came from the tragic, violent and needless death of a living, breathing, feeling elephant. It's horrifying to consider each of the unique individuals those tusks represent. Each pair was taken to fuel a sickeningly bloody trade for nothing more than trinkets and junk no one needs.
The problem isn't what we do with ivory, it's giving ivory any value at all, other than what it's worth to an elephant.
While these events have their detractors, countries around the world have destroyed stockpiles in response to the crisis threatening elephants and conservationists are applauding Kenya's decision to light a match to another one.
Supporters fear that putting more ivory on the market will stimulate the demand and create the perception that buying ivory is perfectly acceptable, in addition to the fact that it will potentially offer a cover to sell ivory from recently killed elephants. We already have legalized sales for pre-ban ivory, but that market is clearly doing nothing to protect elephants.
"Kenya is once again boldly leading the way by demonstrating ivory must be put beyond economic use by burning our entire stockpile," Kenya's environment secretary Prof. Judi Wakhungu said. "[This] is evidence of our zero tolerance approach towards poaching and illegal wildlife trade."
The bottom line is that all ivory came from an elephant who is worth far more alive than dead and none of it is worth the price being paid.
For more info on how to help elephants, check out iworry and 96 elephants. You can also show your support on social media by using #WorthMoreAlive and #LightAFire.
YOU MIGHT ALSO LIKE
Neil Young's New Album EARTH Breaks All the Rules
Cousteau to SeaWorld: Captive Orcas 'Need to Be Released'
Watch Racing Extinction: It Will Change the Way You View the World
EcoWatch Daily Newsletter
A vegan diet can improve your health, but experts say it's important to keep track of nutrients and protein. Getty Images
By Dan Gray
Research shows that 16 weeks of a vegan diet can boost the gut microbiome, helping with weight loss and overall health.
A healthy microbiome is a diverse microbiome. A plant-based diet is the best way to achieve this.
It isn't necessary to opt for a strictly vegan diet, but it's beneficial to limit meat intake.
New research shows that following a vegan diet for about 4 months can boost your gut microbiome. In turn, that can lead to improvements in body weight and blood sugar management.
Students gathered at the National Mall in Washington DC, Sept. 20. NRDC
By Jeff Turrentine
Nearly 20 years have passed since the journalist Malcolm Gladwell popularized the term tipping point, in his best-selling book of the same name. The phrase denotes the moment that a certain idea, behavior, or practice catches on exponentially and gains widespread currency throughout a culture. Having transcended its roots in sociological theory, the tipping point is now part of our everyday vernacular. We use it in scientific contexts to describe, for instance, the climatological point of no return that we'll hit if we allow average global temperatures to rise more than 2 degrees Celsius above preindustrial levels. But we also use it to describe everything from resistance movements to the disenchantment of hockey fans when their team is on a losing streak.
samael334 / iStock / Getty Images
Berries are small, soft, round fruit of various colors — mainly blue, red, or purple.
A glacier is seen in the Kenai Mountains on Sept. 6, near Primrose, Alaska. Scientists from the U.S. Geological Survey have been studying the glaciers in the area since 1966 and their studies show that the warming climate has resulted in sustained glacial mass loss as melting outpaced the accumulation of new snow and ice. Joe Raedle / Getty Images
By Mark Mancini
On Aug. 18, Iceland held a funeral for the first glacier lost to climate change. The deceased party was Okjökull, a historic body of ice that covered 14.6 square miles (38 square kilometers) in the Icelandic Highlands at the turn of the 20th century. But its glory days are long gone. In 2014, having dwindled to less than 1/15 its former size, Okjökull lost its status as an official glacier.
Members of Chicago Democratic Socialists of America table at the Logan Square Farmers Market on Aug. 18. Alex Schwartz
By Alex Schwartz
Among the many vendors at the Logan Square Farmers Market on Aug. 18 sat three young people peddling neither organic vegetables, gourmet cheese nor handmade crafts. Instead, they offered liberation from capitalism.
Hackney primary school students went to the Town Hall on May 24 in London after school to protest about the climate emergency. Jenny Matthews / In Pictures / Getty Images
Bird watching in the U.S. may be a lot harder than it once was, since bird populations are dropping off in droves, according to a new study.