This website uses cookies to ensure you get the best experience while browsing it. By clicking 'Got It' you're accepting these terms.
Kale is King: 5 Reasons You Should Eat It
Sep. 29, 2014 12:51PM EST
We've heard over and over that kale is the most nutrient-dense food you can get your hands on. It's been called the world's healthiest food. And it's become one of the trendiest ingredients in quality restaurants, so we've had the chance to taste it prepared in more different ways, including in smoothies, desserts and cocktails.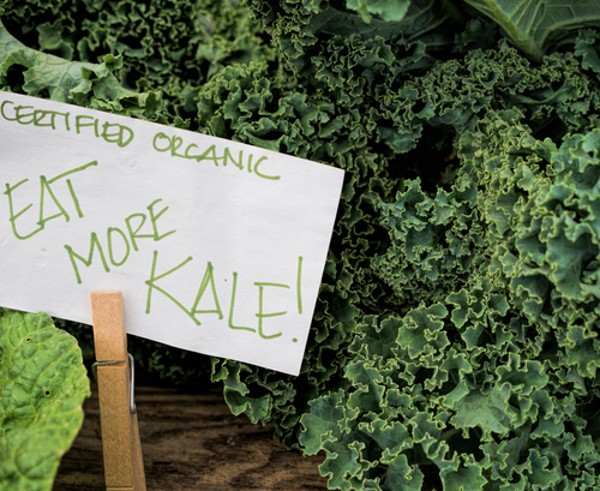 Photo credit: Shutterstock
Here are five reasons you should eat it.
1. Kale has more cancer-preventing compounds than almost anything else you can eat. It's packed with antioxidants and anti-inflammatory nutrients that build up the immune system and lower cancer risk.
2. Kale isn't just a source of calcium. It's also lower in oxalates, which can prevent the absorbing of calcium in the intestine, than its nutritious cousin spinach. It's a better source of calcium than milk, not just because it contains more but because it's more easily absorbed.
3. It offers a pharmacy's worth of valuable vitamins and minerals including magnesium, potassium, vitamin C, vitamin A, vitamin K and folate, balanced in that perfect way that nature does better than chemists.
4. If you're a vegetarian you've probably had people warn you about how you're not getting enough protein and iron. Kale contains plenty of iron and protein as well, more per calorie than you'll find in some cuts of meat. And a meat-heavy diet generally surpasses the body's need for protein.
5. Speaking of calories, you get more bang for your calorie buck overall from kale. A cup contains just 35 calories, while providing all those health benefits.
National Kale Day is coming up on Oct. 1. It's the second year for the effort which kicked off when psychiatrist/farmer Dr. Drew Ramsey and chef Jennifer Iserloh, who co-authored 50 Shades of Kale, brought together farmers, nutritionists, doctors, farmers, chefs and consumers concerned with healthy eating to promote the vegetable in the media, at events and in schools.
YOU MIGHT ALSO LIKE
10 Best Ingredients to Include in Your Superfood Smoothies
KarinaKnyspel / iStock / Getty Images
2018 saw a number of studies pointing to the outsized climate impact of meat consumption. Beef has long been singled out as particularly unsustainable: Cows both release the greenhouse gas methane into the atmosphere because of their digestive processes and require a lot of land area to raise. But for those unwilling to give up the taste and texture of a steak or burger, could lab-grown meat be a climate-friendly alternative? In a first-of-its-kind study, researchers from the Oxford Martin School set out to answer that question.
Three scissor-tailed flycatcher fledglings in a mesquite tree in Texas. Texas Eagle / CC BY-NC 2.0
By Gary Paul Nabhan
President Trump has declared a national emergency to fund a wall along our nation's southern border. The border wall issue has bitterly divided people across the U.S., becoming a vivid symbol of political deadlock.
PeopleImages / E+ / Getty Images
By Daniel Ross
Hurricane Florence, which battered the U.S. East Coast last September, left a trail of ruin and destruction estimated to cost between $17 billion and $22 billion. Some of the damage was all too visible—smashed homes and livelihoods. But other damage was less so, like the long-term environmental impacts in North Carolina from hog waste that spilled out over large open-air lagoons saturated in the rains.
Hog waste can contain potentially dangerous pathogens, pharmaceuticals and chemicals. According to the state's Department of Environmental Quality, as of early October nearly 100 such lagoons were damaged, breached or were very close to being so, the effluent from which can seep into waterways and drinking water supplies.
This picture taken on May 21, 2018 shows discarded climbing equipment and rubbish scattered around Camp 4 of Mount Everest. Decades of commercial mountaineering have turned Mount Everest into the world's highest rubbish dump as an increasing number of big-spending climbers pay little attention to the ugly footprint they leave behind. DOMA SHERPA / AFP / Getty Images
China has closed its Everest base camp to tourists because of a buildup of trash on the world's tallest mountain.