Kalamazoo Tar Sands Oil Spill Anniversary Sparks Actions Nationwide
and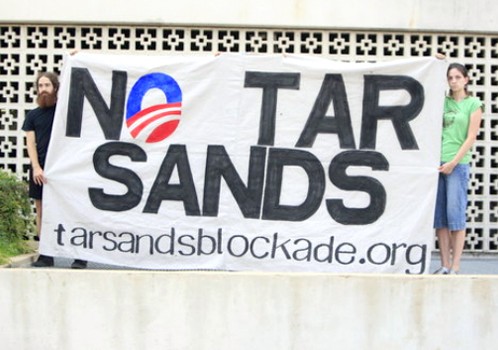 Two years ago today, a tar sands pipeline operated by Enbridge Inc. dumped approximately 1.2 million gallons of raw tar sands, or diluted bitumen (dilbit), into a wetland that overflowed into Michigan's Kalamazoo River, contaminating nearly 40 miles of the watershed. The spill, which is still being cleaned up today, was the largest and costliest spill in Midwest history.
In the week surrounding the anniversary, citizens across North America are standing in solidarity with their neighbors affected by the Kalamazoo River spill and telling companies, like Enbridge and TransCanada, "We don't want your dirty tar sands." The planned actions by local groups will call attention to at-risk communities along the network of existing and proposed tar sands pipeline routes. The geographical diversity brings home the message that a spill like the one in Michigan could occur anywhere.
Susan Connolly, who was directly impacted by the Enbridge spill, is taking part in the Kalamazoo River Walk and had this to say, "My family was directly impacted by the spill. The toxic fumes gave us rashes, nausea and headaches. By taking a stand against tar sands we are fighting for people's rights and health." Connolly continued, "Our River will never fully recover, but we can educate the country about the dangers of tar sands and the disastrous impact this type of spill can have so the same thing doesn't happen to you."
The nature of diluted tar sands bitumen made the Kalamazoo spill even more devastating than a conventional oil spill. When this toxic, corrosive substance leaks from pipelines, the chemicals separate and the bitumen sinks in water. Tar sands pipelines also operate under high pressure which increases the volume of spills such as in the case with the Kalamazoo tar sands spill.
Diluted bitumen is already worse than conventional crude on its own, but the threat is compounded by the poor safety standards upheld by pipeline operators, as a recent damning report by the United States' National Transportation Safety Board (NTSB) pointed out. NTSB Chair Deborah Hersman said, "Learning about Enbridge's poor handling of the rupture, you can't help but think of the Keystone Kops, referring to the incompetent policemen in silent films. Why didn't they recognize what was happening? What took so long?" On July 23, National Wildlife Federation released a report, Importing Disaster: The Anatomy of Enbridge's Once and Future Oil Spills, profiling just how deep the culture of carelessness runs at Enbridge.
Still, powerful companies like Enbridge and TransCanada are drawing up plans to introduce or increase the volume of tar sands through communities in the Pacific Northwest, the Gulf Coast, New England, Ontario, Quebec and British Columbia. And where there are existing pipelines in Canada and the U.S. Midwest, communities are growing concerned about pipeline spills and proposals to bring even more tar sands through their community.
"Increased capacity for tar sands oil is not what we need in the face of dangerous climate change. Tar sands does not fit in the new energy economy and is the wrong direction for America," said Anthony Swift, an attorney for NRDC's International Program. "The proliferation of tar sands pipeline projects only means more chances of toxic tar sands oil spills happening more frequently and we certainly don't want a bunch of bumbling 'Keystone Kops' in charge of keeping our drinking water clean."
More than 24 We Are the Kalamazoo are being held across North America throughout the week, including the kick-off "human oil spill" at the state capitol in Lansing, Mich. that took place on July 18 and a Tar Sands Blockade demonstration coinciding with President Obama's recent visit to Austin, Texas. Other human oil spills, actions and demonstrations will be held in Vermont, Maine, Delaware, Montana, Nebraska, Oklahoma, Washington state, and Wisconsin in the U.S. and Quebec, British Columbia, and Ontario in Canada, among others.
Activists will also commemorate the anniversary of the Kalamazoo spill at a rally at the annual Conference of New England Governors and Eastern Canadian Premiers to oppose tar sands expansion in Burlington, Vt. starting on July 29. Bill McKibben, founder of 350.org, will be on hand to fight proposed tar sands pipelines in the northeast.
To learn more about We Are the Kalamazoo visit the website and join us for a telepresser today:
We Are the Kalamazoo Enbridge Spill Anniversary Telepresser
Wednesday, July 25, 2012
1 p.m. EDT/10 a.m. PDT
Dial-in:  866-939-3921
Speakers:
Deb Miller, Michigan business owner
Nikki Skuce, Forest Ethics (Canada)
David Stember, 350.org Vermont
Anthony Swift, NRDC
Visit EcoWatch's ENERGY page for more related news on this topic.
Dow CEO Andrew Liveris and President Donald Trump in February.
U.S. Environmental Protection Agency (EPA) administrator Scott Pruitt met with Dow Chemical CEO Andrew Liveris before deciding to reverse an earlier EPA decision to ban the company's toxic and widely used pesticide, chlorpyrifos.
According to records obtained by the Associated Press, the EPA boss met with Liveris for about 30 minutes at a Houston hotel on March 9. Later that month, Pruitt announced that he would no longer pursue a ban on chlorpyrifos from being used on food, ignoring his agency's own review that even small amounts of the pesticide could impact fetus and infant brain development.
Keep reading...
Show less
www.facebook.com
Native communities and environmental justice advocates in Louisiana opened a new resistance camp Saturday to oppose the proposed Bayou Bridge Pipeline project. Called L'eau Est La Vie, or Water is Life, the camp will consist of floating indigenous art structures on rafts and constant prayer ceremonies during its first two weeks.
Keep reading...
Show less
Continuing its march toward elimination of key Clean Water Act protections, the U.S. Environmental Protection Agency (EPA) on Tuesday issued a formal notice of withdrawal of the Obama administration's rule defining which waters can be protected against pollution and destruction under federal law.
Keep reading...
Show less
The U.S. Environmental Protection Agency (EPA) is not doing enough to prevent weed resistance to the herbicide glyphosate (Roundup) says a new report from the EPA's Inspector General's Office, which draws in part on a report from the agbiotech company, Pioneer: Weed Management in the Era of Glyphosate Resistance.
Keep reading...
Show less
SUMR
When it comes to the latest wind turbine technologies, size matters. A group of six institutions and universities is designing an offshore wind turbine that will stand 500 meters in height. That's taller than the Eiffel Tower and the Empire State Building.
The research team, led by researchers at the University of Virginia, believes that its wind turbine concept will produce 50 megawatts of peak power, or about 10 times more powerful than conventional wind turbines.
Keep reading...
Show less
www.facebook.com
Natural gas is often considered the cleanest fossil fuel, but could it actually be dirtier than coal?
Watch as New York Times reporter Mark Bittman, in the above Year's of Living Dangerously video, investigates how much methane is leaking at fracking wells. Find out how the natural gas industry's claims compare to what scientists are reporting.
See what happens when Gaby Petron, an atmospheric scientist with NOAA, converts her van into a mobile methane detector and sets out across northeastern Colorado for two years, taking thousands of readings to uncover the truth.
www.youtube.com
Adrian Grenier was named UN Goodwill Ambassador earlier this month. The Hollywood actor, best known for his iconic role of A-list movie star Vincent Chase in the HBO smash hit and film Entourage, will advocate for drastically reducing single-use plastic and protection of marine species, and encourage his followers to make conscious consumer choices to reduce their environmental footprint, according to the UN Environment announcement.
"Together we must usher in a new era of compassion and carefulness through forward thinking environmental programs to drive measurable change," Grenier said. "I am personally committed to creating ways in which the global community can come together to help solve our most critical climate crises through routine, collective action.
"The more we connect to nature in our daily lives, the more dedicated we will become to our individual commitments. Together, I believe we can go further, faster in our race to achieve the UN Sustainable Development Goals by 2030."
Watch the video above to learn more.
The last week has seen a flood of stories on clean energy's prospects—stories that make your head spin with their conflicting tales of renewable energy's prospects of ending our dangerous addiction to fossil fuel power from coal and gas.
Keep reading...
Show less


Get EcoWatch in your inbox