This website uses cookies to ensure you get the best experience while browsing it. By clicking 'Got It' you're accepting these terms.


The best of EcoWatch, right in your inbox. Sign up for our email newsletter!
Jury to Decide if Monsanto PCBs Caused Plaintiffs' Cancer
Mar. 15, 2016 11:45AM EST
Health + Wellness
Monsanto's controversial history with PCBs is being played out in trial in California state court this week, as the agrochemical giant has been accused of causing two retired plaintiffs to develop cancer.
The civil lawsuit, Dauber, et al. v. Monsanto Co., et al, regards plaintiffs Roslyn Dauber, 62, and John Di Costanzo, 87, who both claim that their non-Hodgkin's lymphoma was caused by eating PCB-contaminated food for years, Courtroom View Network (CVN) reported.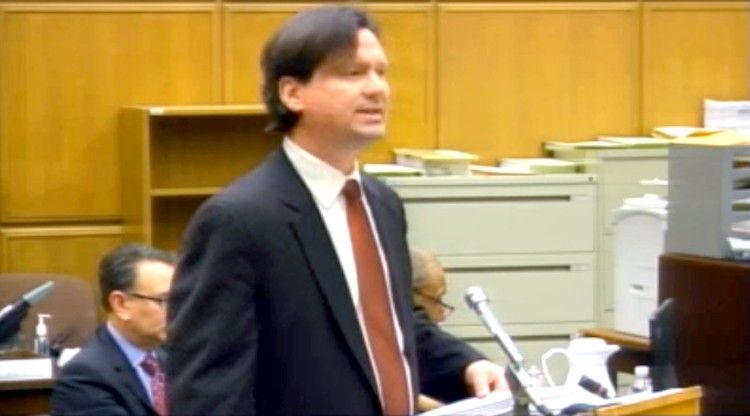 PCBs, or Polychlorinated Biphenyls, are man-made chemicals once used to insulate electronics decades ago. Before switching operations to agriculture, Monsanto was the sole manufacturer of the compound, raking a reported $22 million in business a year. But when PCBs were found to be highly toxic, the company stopped production of them in 1977 over human health and environmental concerns.
Still, the pervasive legacy of PCBs remains. The U.S. Environmental Protection Agency (EPA) banned them in 1979, saying:
PCBs have caused birth defects and cancer in laboratory animals, and they are a suspected cause of cancer and adverse skin and liver effects in humans. EPA estimates that 150 million pounds of PCBs are dispersed throughout the environment, including air and water supplies; an additional 290 million pounds are located in landfills in this country.
Countless individuals, school districts as well as major U.S. cities have since slammed Monsanto with lawsuits for cleanup costs, environmental pollution and for claims that exposure to PCBs causes health problems to people and wildlife.
On Thursday, plaintiff attorney Scott Frieling of Dallas-based law firm Allen Stewart PC delivered an opening statement to jurors and Los Angeles County Superior Court Judge J. Stephen Czuleger about the history of PCBs, the difficulty in removing them from the environment and how these chemicals make their way into the food chain.
"They are virtually indestructible," Frieling said. "Once PCBs are created, they will last a very long time."
Frieling also touched on how Monsanto allegedly knew that PCBs were toxic for decades but continued production of the profitable compound anyway.
According to CVN:
Frieling showed jurors internal Monsanto documents dating back to the 1950's that he claimed would prove the company knew for decades that PCBs posed a substantial public health risk but falsely represented them as being safe.
Freiling told jurors it was easy to link the PCBs in Dauber and Di Costanzo's bodies to Monsanto, because the company produced 99 percent of the compounds sold in the United States. He claimed Monsanto intentionally avoided long-term safety testing on PCBs and instead publicized the results of short-term tests which didn't allow enough time for negative health effects to become evident.
In response, Monsanto attorney Anthony Upshaw of Chicago-based law firm McDermott Will & Emery LLP argued that it could not be definitively proven that PCBs caused the plaintiffs' cancer and that many people who have the same amounts of PCBs in their bodies never suffer any adverse effects, CVN reported.
"The evidence simply doesn't support the assertion that the historic use of PCB products was the cause of the plaintiffs' harms," Monsanto spokeswoman Charla Marie Lord told CVN. "We are confident that the jury will conclude, as past juries have done, that the former Monsanto Company is not responsible for the alleged injuries."
She also added that Monsanto's involvement in the trial stems from contractual obligations associated with former chemical businesses that operated under the company's name, and that Monsanto today is focused solely on agriculture.
The current trial is expected to run through the end of March. Previous rulings over PCBs lawsuits, however, have ruled in favor of Monsanto. CVN noted that a Los Angeles jury and a Missouri state court jury handed the company wins in 2014 and 2015, respectively.
Incidentally, a current House bill could give Monsanto permanent immunity from liability for injuries caused by PCBs. The New York Times reported last month that Republicans in Congress have inserted a clause into the Toxic Substances Control Act (TSCA) reauthorization bill that would effectively exempt Monsanto from liability for injuries caused by PCBs.
Environmental attorney Robert F. Kennedy, Jr., who has sparred over PCBs for three decades, wrote this week that the "so-called 'Monsanto Rider' would shield the chemical colossus from thousands of lawsuits by cities, towns, school districts and individuals, who have been injured by exposure to PCBs."
"If Monsanto gets its way, the American people will pay a high price for corporate greed and political corruption," Kennedy said.
YOU MIGHT ALSO LIKE 
Atlantic Salmon Is All But Extinct as a Genetically Eroded Version of Farmed Salmon Has Taken Over
Big Food Found Guilty in Multimillion Dollar Cover Up in GMO Labeling Fight
23 Million Salmon Dead Due to Toxic Algal Bloom in Chile
California Widow Sues Monsanto Alleging Roundup Caused Her Husband's Cancer
EcoWatch Daily Newsletter
Pxhere
By Richard Denison
Readers of this blog know how concerned EDF is over the Trump EPA's approval of many dozens of new chemicals based on its mere "expectation" that workers across supply chains will always employ personal protective equipment (PPE) just because it is recommended in the manufacturer's non-binding safety data sheet (SDS).
By Grant Smith
From 2009 to 2012, Gregory Jaczko was chairman of the Nuclear Regulatory Commission, which approves nuclear power plant designs and sets safety standards for plants. But he now says that nuclear power is too dangerous and expensive — and not part of the answer to the climate crisis.
A lake in Rocky Mountain National Park. Brett Walton / Circle of Blue
By Brett Walton
When Greg Wetherbee sat in front of the microscope recently, he was looking for fragments of metals or coal, particles that might indicate the source of airborne nitrogen pollution in Rocky Mountain National Park. What caught his eye, though, were the plastics.
Gabriele Holtermann Gorden / Pacific Press / LightRocket / Getty Images
In a big victory for animals, Prada has announced that it's ending its use of fur! It joins Coach, Jean Paul Gaultier, Giorgio Armani, Versace, Ralph Lauren, Vivienne Westwood, Michael Kors, Donna Karan and many others PETA has pushed toward a ban.
This is a victory more than a decade in the making. PETA and our international affiliates have crashed Prada's catwalks with anti-fur signs, held eye-catching demonstrations all around the world, and sent the company loads of information about the fur industry. In 2018, actor and animal rights advocate Pamela Anderson sent a letter on PETA's behalf urging Miuccia Prada to commit to leaving fur out of all future collections, and the iconic designer has finally listened.
Amer Ghazzal / Barcroft Media / Getty Images
If people in three European countries want to fight the climate crisis, they need to chill out more.
That's the conclusion of a new study from think tank Autonomy, which found that Germany, the UK and Sweden all needed to drastically reduce their workweeks to fight climate change.
Amazon Employees for Climate Justice held a press conference after the annual shareholder meeting on May 22. Amazon Employees for Climate Justice
An artist's rendering of the recomposition facility. MOLT Studios
Washington became the first U.S. state to legalize human composting Tuesday, offering residents a more environmentally friendly way to dispose of their remains, AFP reported.
Mr.TinDC / Flickr / CC BY-ND 2.0
Many nutrients are essential for good health.