June 2015 Smashes Heat and Rainfall Records in U.S.
Jul. 01, 2015 11:41AM EST
Climate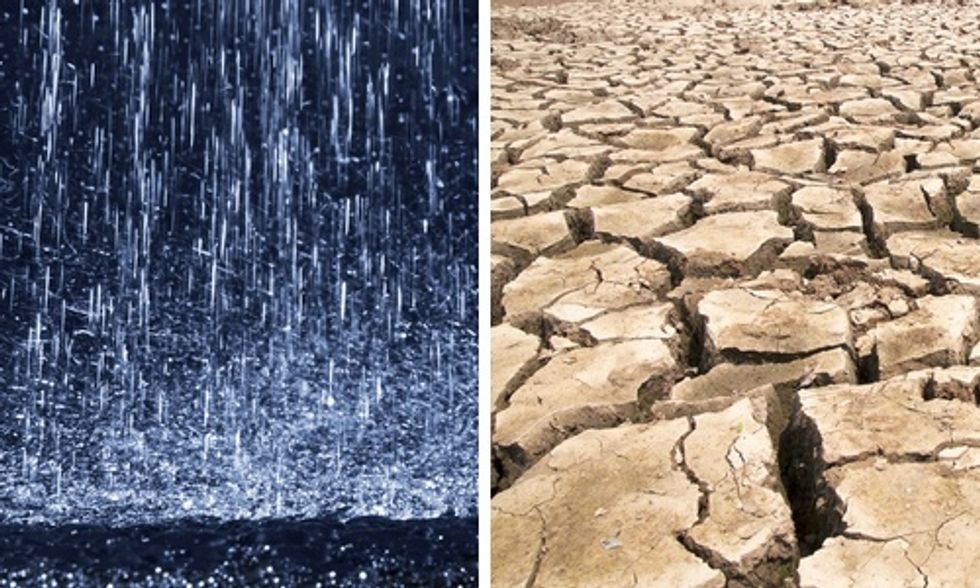 June has been a crazy weather month. Then again, so were the first five months of the year. Globally, it's shaping up to be the hottest year on record by far. It's not just heat either. Some parts of the U.S. have recently seen record rainfall. May was the wettest month ever recorded in the U.S., and many places had record rainfall for the month of June.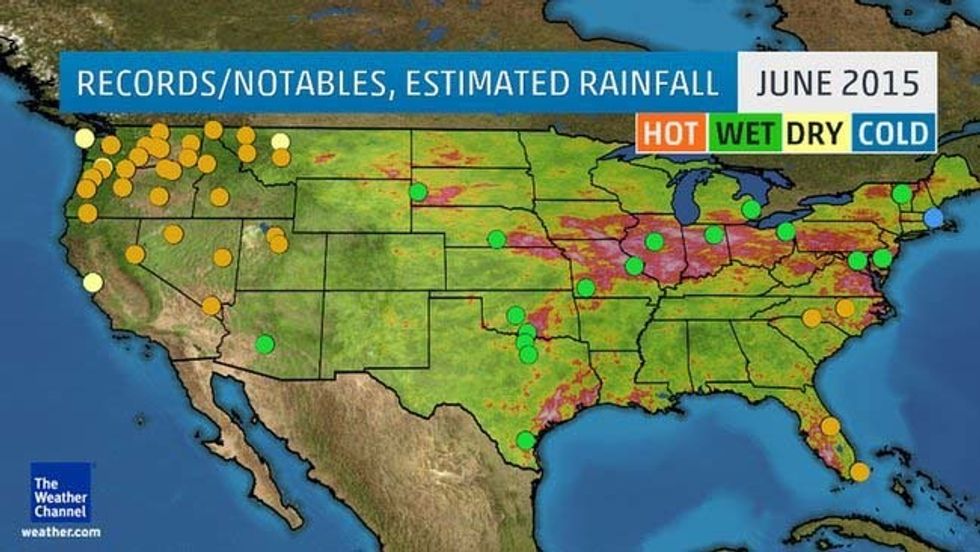 Mashable's Andrew Freedman reports there's a "heat dome parked over the West," which is shattering temperature records and sparking wildfires. "During the past seven days alone, 465 warm temperature records have been set or tied across the country, mainly in the West, with 49 monthly warm temperature records set or tied, according to the National [Centers] for Environmental Information," says Freedman. This heat wave is "noteworthy for its severity, extent and duration."
Seattle close to record high Wednesday. 88°F forecast. Redding California at 114°F is scorching. pic.twitter.com/STuZBRLLjF

— Ryan Maue (@RyanMaue) June 30, 2015
#HeatWave in the Western U.S. surges this weekend. Record highs will be broken, and lightning could spark wildfires! pic.twitter.com/VL7CHr8O8d

— National WeatherAssn (@nwas) June 27, 2015
While current weather should not be conflated with long term climate trends, this weather does match the long term trends. Recent reports confirm that global warming increases the likelihood and frequency of extreme weather events, including heat waves, drought, flooding and fires. And the U.S. and the rest of the world have experienced all of those in recent months.
Massive storms and flooding examined as scientists study link between warming and extreme weather: pic.twitter.com/yeKlAoiTQt — ClimateCentral (@ClimateCentral) June 27, 2015
Alaska, which along with the rest of the Arctic has warmed faster than any other region on the planet, had a record warm winter with low snowfall followed by a record warm spring. Due to these extremely hot and dry conditions, there were more than 300 fires burning across the state—far above average for the state. Wildfires have broken out in Western Canada, Washington, California and elsewhere in the West in what experts predict could be the worst fire season yet because of record warm temperatures, drought conditions and record low snowfall this past winter.
Take a look at all the #wildfires in Alaska and Canada! The smoke from these fires is making it into the Midwest. pic.twitter.com/Af29x8EAYZ — NWS Boise (@NWSBoise) June 30, 2015
#Boise set an all-time June temperature record today (110 degrees). Stay safe in the heat: http://t.co/XBkUXFfzpG pic.twitter.com/Tv0zoxf9iH

— St. Luke's Health (@StLukesHealth) June 28, 2015
Meanwhile, in the central and eastern U.S., many places experienced a record wet June and/or the record wettest year to date, according to The Weather Channel.
June Rainfall Inches Toward All-Time Record in Cleveland via @JacobGedetsis http://t.co/PRlrHC2ajH pic.twitter.com/1DOIS6Cxe0 — Cleveland Scene (@Cleveland_Scene) June 29, 2015
And it's not just the U.S. experiencing all of this extreme weather. There are several places around the world experiencing epic drought, including Spain, Australia and Northern India. Many places have also recently experienced heat waves, some of which have been incredibly deadly, including India and Pakistan. Europe is also in the grip of a major heat wave with dozens of record temperatures broken this week across the continent. The UN issued a warning today about the dangers of heat waves, which were responsible for tens of thousands of deaths in Europe in 2003 and again in 2010.
YOU MIGHT ALSO LIKE
What Neil Young and Pope Francis Have in Common
Think Today's Refugee Crisis is Bad? Climate Change Will Make it a Lot Worse
Alaska's Rapidly Melting Glaciers: A Major Driver of Global Sea Level Rise
EcoWatch Daily Newsletter