Judge Says No to Fracking
A judge in North Carolina has blocked the start of fracking in that state over a challenge to the membership of the commission charged with issuing the permits.
"Finally some good news in our long battle to keep fracking out of NC!" exulted North Carolina environmental nonprofit Haw River Assembly, one of the parties to the lawsuit, on its Facebook page.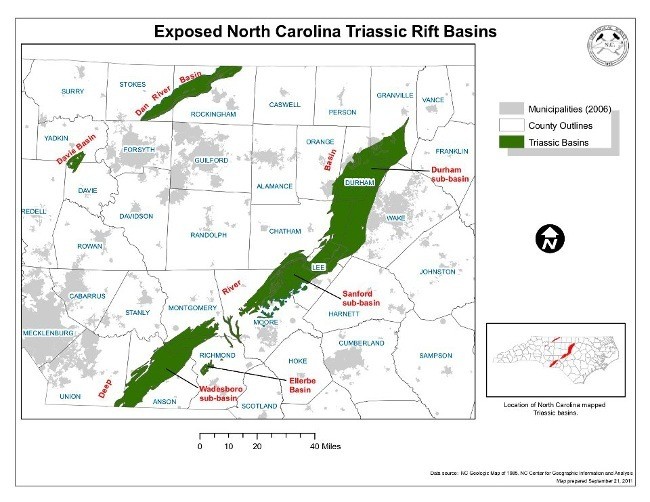 The Southern Environmental Law Center (SELC) was granted the preliminary injunction it sought in Wake County Superior Court to delay the state's Energy and Mining Commission from taking any action on permits, effectively reinstating (for the time being) the state's longtime moratorium on fracking which was lifted by the legislature last summer. The group was representing the Haw River Assembly, a member of the Waterkeeper Alliance network, and landowner Keely Wood Puricz, whose property abuts a tract leased for natural gas exploration.
"The citizens of North Carolina deserve to have a lawful, accountable and representative agency to put in place strong protections that safeguard our communities and water supplies from the risks and harms of fracking," said Elaine Chiosso, executive director of the Haw River Assembly. The group has members who live directly above shale deposits that could be targeted for fracking.
The dispute revolves around what SELC and the parties it represents see as an unconstitutional attempt by the state legislature to control the commission and violate the state's separation of powers. After establishing the commission in 2012, it gave itself the power to appoint eight members to the governor's five. Governor Pat McCrory, along with two former North Carolina governors, is challenging the practice in a separate lawsuit. The legislature used the same tactic to keep control of the state's Coal Ash Commission, Oil and Gas Commission, and North Carolina Mining Commission.
"The decision stopped any immediate harm to North Carolina residents from a commission formed by the state legislature in violation of the separation of powers firmly established in our state constitution pending further court deliberations," said John Suttles of SELC, who represented the parties challenging the commission's membership.
"This attempt by the North Carolina legislature to expand its legislative power and usurp executive authority violates the separation of powers firmly established in our state constitution," added Derb Carter, SELC senior attorney and director of its North Carolina offices. "As a result, we have a commission making important decisions about the future of North Carolina that is ultimately accountable to no one. We are seeing emerging and increasing opposition to fracking in North Carolina, and this will allow the public in many ways to continue to voice their concerns."
While North Carolina is not known as a gas-rich state, there are believed to be some deposits in a strip of counties in the central part of the state, south of Wake County (Raleigh/Durham/Chapel Hill). It's unclear exactly how much gas that area could produce.
"Approximately 59,000 acres in rural Lee County alone are expected to be targeted for drilling, with unknown additional acreage in Chatham, Moore and Durham Counties," says North Carolina-based social justice/family farmer advocacy group Rafi-USA, which warns against "compulsory pooling" forcing landowners to sell their mineral rights. "Over 9,400 acres in Lee County have already been leased by gas companies under predatory mineral rights leases. Always speak with a lawyer when considering signing a lease."
"Hydraulic fracturing and horizontal drilling have been used in parts of the Midwest for years, and are now being used in Pennsylvania and New York as well," it warns. "Landowners and farmers in these states have expressed concerns about the effects that drilling have on their lives and livelihoods."
YOU MIGHT ALSO LIKE
Could Fracking Ruin Your Vacation?
www.youtube.com
Volkswagen is bringing back its hippie-approved minivan but with a 21st century upgrade—the new I.D. Buzz is all-electric.
The concept car was first revealed at the Detroit Auto Show in January and now the German automaker is officially putting its reinvigorated Microbus into production.
Keep reading...
Show less
I have asked repeatedly to have my short interview clip removed from this film. The director refuses. He believes his film is fair and balanced. I do not.

I am often interviewed (see media) and hardly ever quoted incorrectly or out of context. This film is one of those rare exceptions.
Keep reading...
Show less
Top of JPMorgan Chase Tower, Dallas, Texas. Joe Mabel / Wikimedia
Keep reading...
Show less
Cupping symptoms associated with dicamba damage on a cucumber plant. University of Arkansas.
Arkansas farmers filed a class-action lawsuit last week against Monsanto and German chemical company BASF, alleging that the companies' dicamba-based herbicides caused damage to their properties.
The plaintiffs claim that Monsanto and BASF implemented and controlled the dicamba crop system, releasing seed technology without a corresponding, safe and approved herbicide.
Keep reading...
Show less
Cup and bubblegum corals found in Northeast U.S. Canyons, the Atlantic's first marine monument. NOAA
Interior Sec. Ryan Zinke, who recently recommended a reduction in the size of the 1.35 million acre Bears Ears National Monument to President Trump, is advocating for more drilling and mining on public lands and waters.
The former Montana Rep. told Reuters that the development of America's protected federal lands could help the country become a "dominant" global energy force.
Keep reading...
Show less
Gage Skidmore / Flickr (CC BY-SA 2.0)
Dozens of scientists on the U.S. Environmental Protection Agency's (EPA) Board of Scientific Counselors and board subcommittees have been informed that they will not be renewed for their roles advising the agency, the Washington Post reported.
Keep reading...
Show less
www.youtube.com
Worried about the future of the Great Barrier Reef? If so, you're not alone.
Many publications have already written obituaries for the reef, despite the fact that it is not completely dead. Thanks to this video via Vox for sounding the alarm on this critical issue, before it's too late.
Keep reading...
Show less
Mike Mozart
By Olga V. Naidenko, Ph.D.
In a landmark rule with global repercussions, California state scientists are preparing to issue the world's first health guideline for Monsanto's glyphosate herbicide based on its cancer risk. The state's proposed safe level is more than 100 times lower than the U.S. Environmental Protection Agency's (EPA) legal allowance for the average-sized American.
Keep reading...
Show less
www.youtube.com
By Bob Henson
A high risk of life-threatening flooding continues on Wednesday over parts of the central Gulf Coast as Tropical Storm Cindy lumbers toward shore. The greatest flood threat will be across low-lying areas of far southern Mississippi and Alabama, according to the NWS/NOAA Weather Prediction Center. A second area with a moderate flood risk lies across far southeast Texas and southwest Louisiana.
Keep reading...
Show less