This website uses cookies to ensure you get the best experience while browsing it. By clicking 'Got It' you're accepting these terms.
Judge Says No to Fracking
May. 21, 2015 09:09AM EST
Energy
A judge in North Carolina has blocked the start of fracking in that state over a challenge to the membership of the commission charged with issuing the permits.
"Finally some good news in our long battle to keep fracking out of NC!" exulted North Carolina environmental nonprofit Haw River Assembly, one of the parties to the lawsuit, on its Facebook page.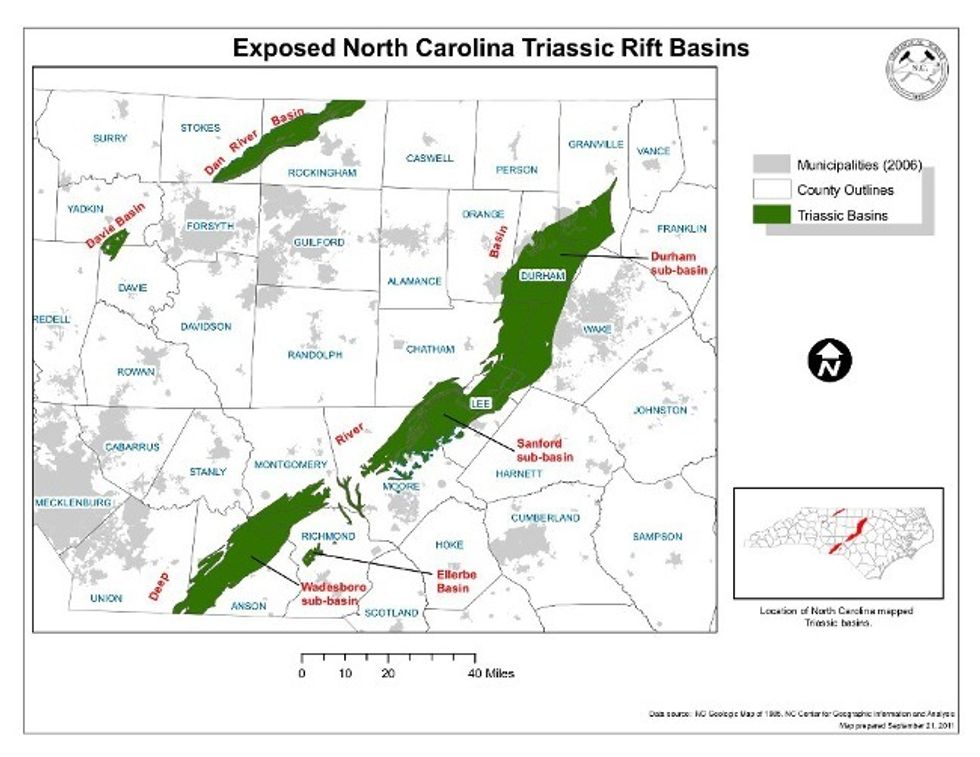 The Southern Environmental Law Center (SELC) was granted the preliminary injunction it sought in Wake County Superior Court to delay the state's Energy and Mining Commission from taking any action on permits, effectively reinstating (for the time being) the state's longtime moratorium on fracking which was lifted by the legislature last summer. The group was representing the Haw River Assembly, a member of the Waterkeeper Alliance network, and landowner Keely Wood Puricz, whose property abuts a tract leased for natural gas exploration.
"The citizens of North Carolina deserve to have a lawful, accountable and representative agency to put in place strong protections that safeguard our communities and water supplies from the risks and harms of fracking," said Elaine Chiosso, executive director of the Haw River Assembly. The group has members who live directly above shale deposits that could be targeted for fracking.
The dispute revolves around what SELC and the parties it represents see as an unconstitutional attempt by the state legislature to control the commission and violate the state's separation of powers. After establishing the commission in 2012, it gave itself the power to appoint eight members to the governor's five. Governor Pat McCrory, along with two former North Carolina governors, is challenging the practice in a separate lawsuit. The legislature used the same tactic to keep control of the state's Coal Ash Commission, Oil and Gas Commission, and North Carolina Mining Commission.
"The decision stopped any immediate harm to North Carolina residents from a commission formed by the state legislature in violation of the separation of powers firmly established in our state constitution pending further court deliberations," said John Suttles of SELC, who represented the parties challenging the commission's membership.
"This attempt by the North Carolina legislature to expand its legislative power and usurp executive authority violates the separation of powers firmly established in our state constitution," added Derb Carter, SELC senior attorney and director of its North Carolina offices. "As a result, we have a commission making important decisions about the future of North Carolina that is ultimately accountable to no one. We are seeing emerging and increasing opposition to fracking in North Carolina, and this will allow the public in many ways to continue to voice their concerns."
While North Carolina is not known as a gas-rich state, there are believed to be some deposits in a strip of counties in the central part of the state, south of Wake County (Raleigh/Durham/Chapel Hill). It's unclear exactly how much gas that area could produce.
"Approximately 59,000 acres in rural Lee County alone are expected to be targeted for drilling, with unknown additional acreage in Chatham, Moore and Durham Counties," says North Carolina-based social justice/family farmer advocacy group Rafi-USA, which warns against "compulsory pooling" forcing landowners to sell their mineral rights. "Over 9,400 acres in Lee County have already been leased by gas companies under predatory mineral rights leases. Always speak with a lawyer when considering signing a lease."
"Hydraulic fracturing and horizontal drilling have been used in parts of the Midwest for years, and are now being used in Pennsylvania and New York as well," it warns. "Landowners and farmers in these states have expressed concerns about the effects that drilling have on their lives and livelihoods."
YOU MIGHT ALSO LIKE
Could Fracking Ruin Your Vacation?
EcoWatch Daily Newsletter
Aerial view of Ruropolis, Para state, northen Brazil, on Sept. 6, 2019. Tthe world's biggest rainforest is under threat from wildfires and rampant deforestation. JOHANNES MYBURGH / AFP via Getty Images
By Kate Martyr
Deforestation in Brazil's Amazon rainforest last month jumped to the highest level since records began in 2015, according to government data.
A total of 563 square kilometers (217.38 square miles) of the world's largest rainforest was destroyed in November, 103% more than in the same month last year, according to Brazil's space research agency.
From January to November this year an area almost the size of the Caribbean island of Puerto Rico was destroyed — an 83% overall increase in destruction when compared with the same period last year.
The figures were released on Friday by the National Institute for Space Research (INPE), and collected through the DETER database, which uses satellite images to monitor forest fires, forest destruction and other developments affecting the rainforest.
What's Behind the Rise?
Overall, deforestation in 2019 has jumped 30% compared to last year — 9,762 square kilometers (approximately 3769 square miles) have been destroyed, despite deforestation usually slowing during November and December.
Environmental groups, researchers and activists blamed the policies of Brazil's president Jair Bolsonaro for the increase.
They say that Bolosonaro's calls for the Amazon to be developed and his weakening support for Ibama, the government's environmental agency, have led to loggers and ranchers feeling safer and braver in destroying the expansive rainforest.
His government hit back at these claims, pointing out that previous governments also cut budgets to environment agencies such as Ibama.
The report comes as Brazil came to loggerheads with the Association of Small Island States (AOSIS) over climate goals during the UN climate conference in Madrid.
AOSIS blasted Brazil, among other nations, for "a lack of ambition that also undermines ours."
Last month, a group of Brazilian lawyers called for Bolsonaro to be investigated by the International Criminal Court over his environmental policies.
Reposted with permission from DW.
The Carolina parakeet went extinct in 1918. James St. John /
CC BY 2.0
The Carolina parakeet, the only parrot species native to the U.S., went extinct in 1918 when the last bird died at the Cincinnati Zoo. Now, a little more than 100 years later, researchers have determined that humans were entirely to blame.
Pexels
Vitamin C is a very important nutrient that's abundant in many fruits and vegetables.
BLM drill seeders work to restore native grasses after wildfire on the Bowden Hills Wilderness Study Area in southeast Oregon, Dec. 14, 2018. Marcus Johnson / BLM / CC BY 2.0
By Tara Lohan
In 2017 the Thomas fire raged through 281,893 acres in Ventura and Santa Barbara counties, California, leaving in its wake a blackened expanse of land, burned vegetation, and more than 1,000 destroyed buildings.