This website uses cookies to ensure you get the best experience while browsing it. By clicking 'Got It' you're accepting these terms.


The best of EcoWatch, right in your inbox. Sign up for our email newsletter!
The climate science is uncompromising. We've already warmed the earth 1 degree Celsius. And we have enough carbon and methane and other greenhouse gasses in the atmosphere and enough heat in the oceans to warm the earth another half a degree Celsius already. So if we stop all greenhouse gas emissions right now, we've already reached the 1.5 degree threshold. The current 1 degree rise has already increased extreme weather, caused mammoth floods and unprecedented drought, it has gotten the ice caps to start a menacing thaw. The consequences of 1 degree have been far more severe than we ever imagined and we are on our way to 1.5 no matter what we do.
Now here's the really tough part: At 2 degrees of warming, this gets much much worse. We are at an apocalyptic vision of the planet that few people want to imagine. We see worsening ocean acidification and other habitat loss that will kill off 30-50 percent of the species on the planet, we will see tropical diseases explode out of control and perhaps most damaging the slow thaw of the ice caps enters a critical and irreversible phase leading to between 5-9 meters of sea level rise.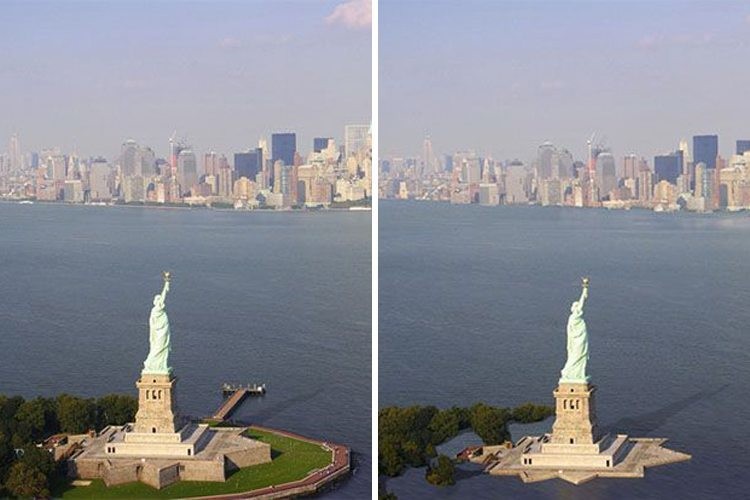 At 7 meters of sea level rise, the greenhouse that just held the democratic debate in Brooklyn, where we saw the most robust discussion on climate change and fracking ever in presidential politics, will be under water. This kind of sea level rise will render New York City mostly uninhabitable. Sure, the Brooklyn Bridge won't be underwater, but the on-ramp will be. Subways will be submerged, the Lower East Side, the Financial District, Red Hook, The Rockaways, the coast of Williamsburg, disappear under the east river and life in the Big Apple is nothing like what it was before.
And this is not just trouble for New York city—most of our major coastal cities would suffer the same watery fate, including Philadelphia, Boston, Washington DC, Charleston, Miami, New Orleans, San Francisco and Oakland. All will face a crisis of sea level rise, not to mention the millions of toxic sites that are on the coast lines that will need to be moved or remediated if we are not to contaminate the oceans in a nightmare of drowning refineries, nuclear plants, chemical factors, gas stations and the like.
It is clear that we have not done enough thinking on this subject and the political system has not done anywhere near enough to address the issue or inform the public.
It's time for New York City and the rest of the coastlines to wake up to climate change.
Join me for an emergency climate discussion each night after the screening of my new film How to Let Go of the World and Love All the Things Climate Can't Change, April 20-28 at the IFC Center in New York City.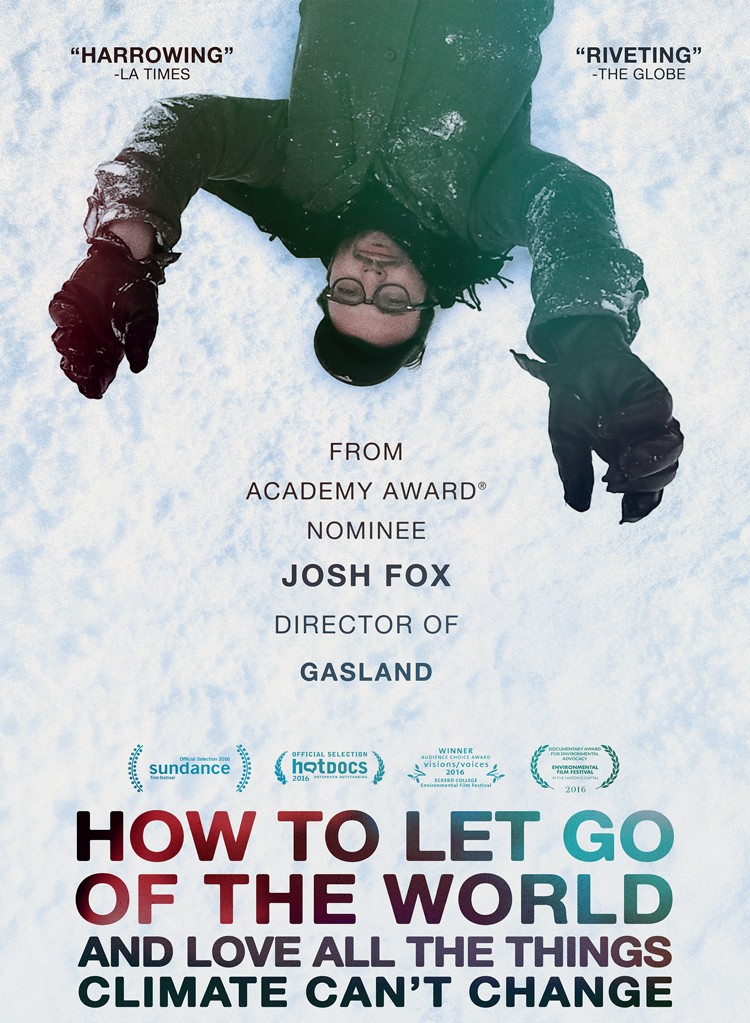 The truth is, we have a very narrow window of time to drastically reduce our emissions if we have any hope of slowing climate change.
But New York state is under attack from a web of fracked gas pipelines, power plants and storage facilities that will lock us into decades of more fossil fuel use.
Each night, I'll be joined by amazing folks like James Cromwell, Susan Sarandon, Benjamin Barber, Anne Bogart and many more to talk about climate change and all the things climate can't change—love, community, democracy.
Don't miss these historic screenings and discussions in the state that banned fracking and is one of the cities most threatened by climate change.
There's a reason that fracking was mentioned in the debate and has become a central issue in the New Yorker primary. It's because New York has worked hard to share the science on fracking. People refused to let the most powerful industry in the world bury the truth.
Now New York City needs to do the same on climate change. If this city doesn't get involved and realize fracked gas pipelines and power plants upstate pose as big of a threat as fracking did (and some not so far upstate like the AIM Pipeline), we're going under water.
YOU MIGHT ALSO LIKE
Scientists Start to Look at Ground Beneath Their Feet for Solution to Climate Change
March 2016 Was Hottest on Record by Greatest Margin Yet Seen for Any Month
March 2016 Was Hottest on Record by Greatest Margin Yet Seen for Any Month
Democratic Debate Brings Fiercest Exchange Yet on Climate Change, Fracking
EcoWatch Daily Newsletter
PhotoAlto / Laurence Mouton / Getty Images
By Ana Reisdorf, MS, RD
You've probably heard the buzz around collagen supplements and your skin by now. But is the hype really that promising? After all, research has pointed to both the benefits and downsides of collagen supplements — and for many beauty-conscious folk, collagen isn't vegan.
Pixabay
By Marlene Cimons
Neil Pederson's introduction to tree rings came from a "sweet and kindly" college instructor, who nevertheless was "one of the most boring professors I'd ever experienced," Pederson said. "I swore tree rings off then and there." But they kept coming back to haunt him.
Aerial view of the explosion site of a chemical factory on March 22 in Yancheng, Jiangsu Province of China. Caixin Media / VCG / Getty Images)
At least 47 people have died in an explosion at a plant in Yancheng, China Thursday run by a chemical company with a history of environmental violations, Sky News reported.
A fishmonger in Elmina, a fishing port in the Central Region of Ghana. Environmental Justice Foundation
By Daisy Brickhill
Each morning, men living in fishing communities along Ghana's coastline push off in search of the day's catch. But when the boats come back to shore, it's the women who take over.
Pexels
By Sam Nickerson
Links between excess sugar in your diet and disease have been well-documented, but new research by Harvard's School of Public Health might make you even more wary of that next soda: it could increase your risk of an early death.
The study, published this week in the American Heart Association's journal Circulation, found that drinking one or two sugar-sweetened beverages (SSBs) each day — like sodas or sports drinks — increases risk of an early death by 14 percent.
Tyson Foods is recalling approximately 69,093 pounds of frozen chicken strips because they may have been contaminated with pieces of metal, the U.S. Department of Agriculture (USDA) Food Safety and Inspection Service (FSIS) announced Thursday.
The affected products were fully-cooked "Buffalo Style" and "Crispy" chicken strips with a "use by" date of Nov. 30, 2019 and an establishment number of "P-7221" on the back of the package.
"FSIS is concerned that some product may be in consumers' freezers," the recall notice said. "Consumers who have purchased these products are urged not to consume them. These products should be thrown away or returned to the place of purchase."
Environmental exposure to pesticides, both before birth and during the first year of life, has been linked to an increased risk of developing autism spectrum disorder, according to the largest epidemiological study to date on the connection.
The study, published Wednesday in BMJ, found that pregnant women who lived within 2,000 meters (approximately 1.2 miles) of a highly-sprayed agricultural area in California had children who were 10 to 16 percent more likely to develop autism and 30 percent more likely to develop severe autism that impacted their intellectual ability. If the children were exposed to pesticides during their first year of life, the risk they would develop autism went up to 50 percent.