Jon Stewart's 5 Best Segments Bashing Climate Deniers
Aug. 03, 2015 02:10PM EST
Climate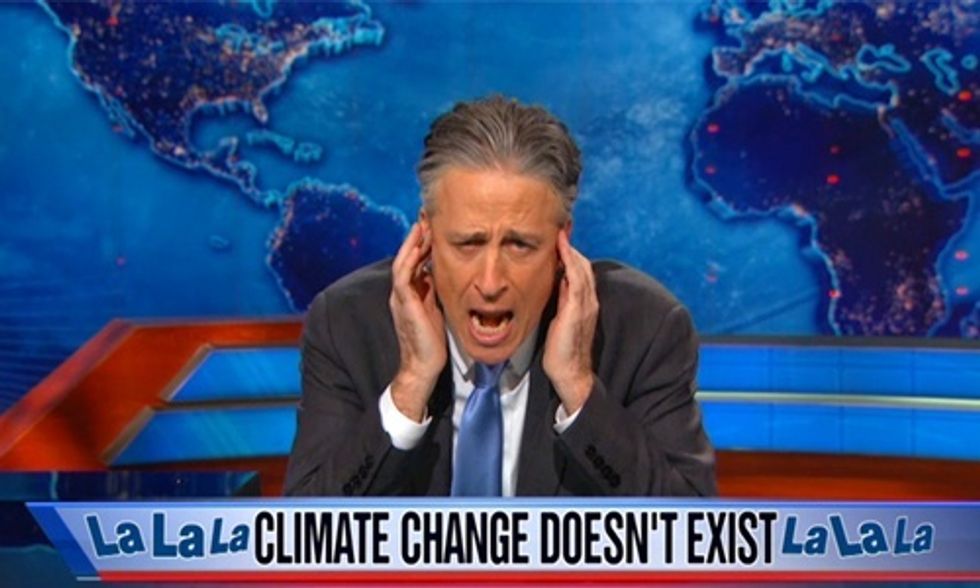 This is Jon Stewart's final week of The Daily Show. His guests this week, comedians Louis C.K., Denis Leary and Amy Schumer, are sure to delight. Rumors abound for who the guests for the final episode on Thursday will be.
There's been talk about Stewart's "villains" (think Bill O'Reilly, Megyn Kelly and Tucker Carlson) roasting him on the final episode, which will be 50 minutes long.
Donald Trump told The Hill, "They're begging me to go on." The show's producers quickly stifled that rumor. "I can tell you that Donald Trump is not coming on the show," said executive producers Jen Flanz and Tim Greenberg.
While we eagerly await his final episodes, let's take a moment to reflect on one thing Jon Stewart was really, really good at: skewering climate deniers. In his 16-year run, Stewart had no tolerance for those who denied the science of climate change, only becoming more vocal and more adamant as the need to act became ever more pressing. Here are the very best of Jon Stewart skewering climate deniers:
1. There was the time Rep. Steve Stockman (R-TX) brought up "global wobbling" in a hearing of the U.S. House of Representatives Committee on Science, Space and Technology:
2. When even former Republican officials said the science is settled on climate change:
3. Jon Stewart found out the Koch brothers were advertising on his show
4. When Florida Gov. Rick Scott tried to ban the words "climate change":
5. His most recent take-down of climate deniers was over the GOP's response to Pope Francis's encyclical:
YOU MIGHT ALSO LIKE
Heat Index in Iran Hits 164 Degrees: Among Hottest Urban Temperatures Ever Endured by Mankind
Bill Nye's 'Mean Tweets' Video Goes Viral
EcoWatch Daily Newsletter
Recent Stories from EcoWatch