Jon Stewart: 'It's Time to Get Real' About California's Epic Drought
Jun. 11, 2015 11:19AM EST
Climate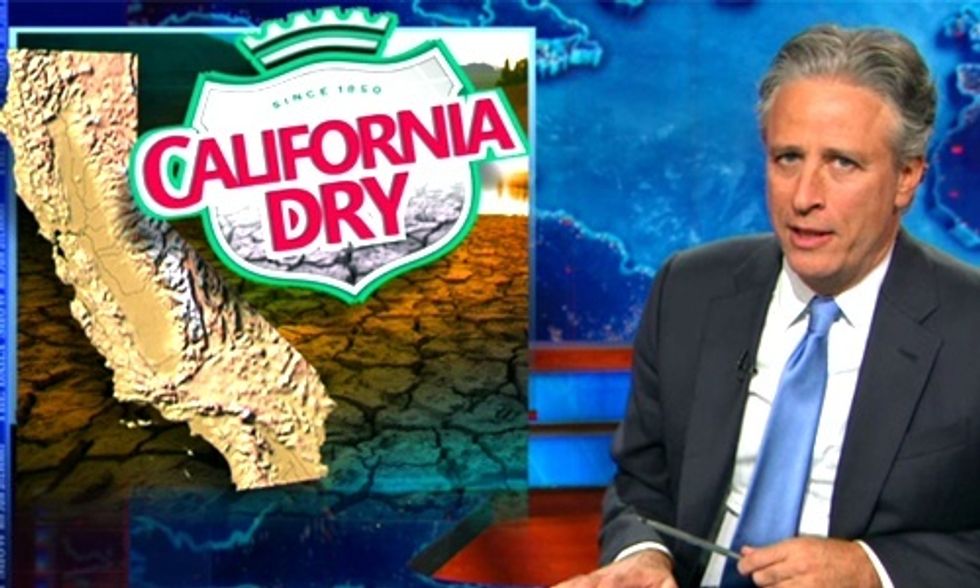 "As you know California is going through a historic unprecedented dry spell and I'm talking about original movie ideas. Boom!," says Stewart, poking fun at Hollywood and the highly anticipated release of yet another Jurassic movie next month.
Then, Stewart gets serious. "No, I am talking about the catastrophic four-year drought. California's reservoirs are empty, snowpack is gone, what little water remains is controlled by a ruthless, disfigured warlord, doling out precious moisture from his mountain stronghold" (Stewart is referencing another blockbuster hit here: Mad Max). Stewart displays an image of Immortan Joe, who controls the water and rules the Citadel in Mad Max, and says "Wow, Jerry Brown has not aged well."
Stewart then shows a clip of Gov. Jerry Brown explaining the importance of water in somewhat bizarre terms, which Stewart explains was "putting it in terms even someone on 'shrooms can understand."
But then, Stewart gets at the meat of his argument. He says the mandatory water cuts, while a good step, are not enough to address the severity of the crisis. "Water usage is only down nine percent, so it's time to get real," Stewart says. He investigates the practice of turning treated sewage into drinkable water. Jon stewart plays a clip in which a media correspondent says, "It's officially called indirect potable reuse, but it's more descriptively known as 'toilet to tap.'"
"It's known as toilet to tap, but there are steps in between," says Stewart. "You're not just sticking a toilet straw up somebody's ass. There's a process it goes through." He then looks at how Californians are reacting to this "Godsend of a drought solution," (spoiler alert: they are completely grossed out by it), how they are using apps to report water wasters and finally Al Madrigal joins Stewart for a hilarious stunt that Madrigal dubs a "drought Rumspringa."
Check it out here (it's the first nine minutes of the clip):
YOU MIGHT ALSO LIKE
Lake Mead About to Hit a Critical New Low as 15-Year Drought Continues in Southwest
3 Reasons Santa Barbara Oil Spill Underscores Why Obama Must Say #sHellNo to Arctic Drilling
EcoWatch Daily Newsletter
Related Articles from EcoWatch