Jon Stewart: 'Are We Really Doing This Donald Trump Thing?'
Nov. 12, 2015 11:45AM EST
Politics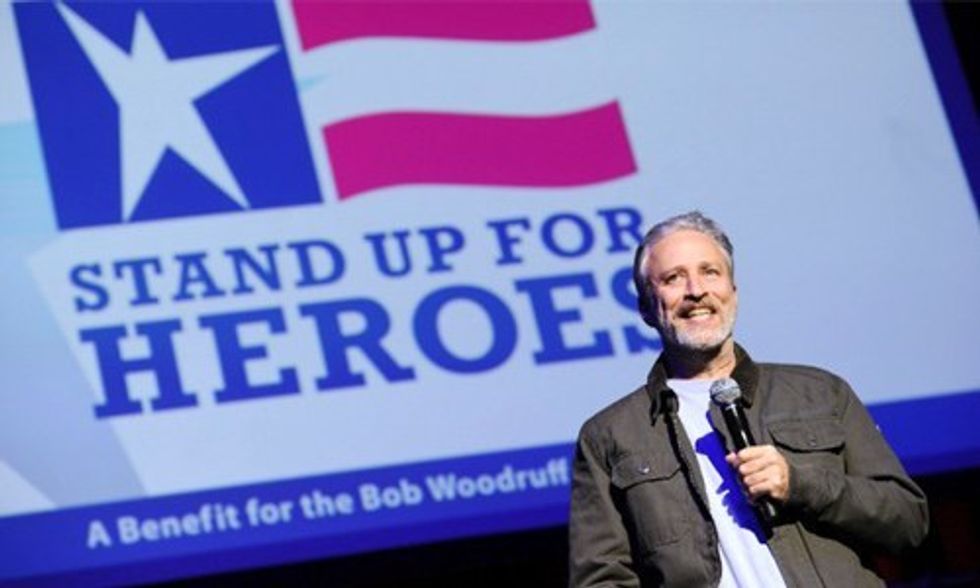 Jon Stewart is no fan of Donald Trump. When Stewart was still host of The Daily Show, he took every opportunity he could to rip into Trump, saying if elected he would become our "first openly asshole president." Then, when Stewart was on the Red Carpet to pick up an Emmy for The Daily Show in September, he quipped, if Trump becomes president,  "I would consider getting in a rocket and going to another planet because clearly this planet's gone bonkers."
Jon Stewart set his sights on @realDonaldTrump and @RealBenCarson at Veterans Day benefit https://t.co/8DvsGmMQE3 https://t.co/KFFvz3JOeB

— Screener (@Screener)1447292276.0
Stewart is now spending his days on his farm in Middleton, New Jersey, which he and his wife Tracey are turning into a Farm Sanctuary site. But Stewart turned out on Tuesday night at the ninth annual Stand Up for Heroes event in New York, to honor veterans by cracking some jokes. Stewart mocked several political figures, including Ben Carson, Hillary Clinton and Joe Biden, but he saved most of his jokes for the real-estate-mogul-turned-presidential-candidate. "It's like an Internet comment troll ran for president," Stewart said of Trump.
"When I was doing the program, we liked to make jokes about him because he's hilarious and easily mockable," Stewart said, according to Entertainment Weekly. "We would mock him with things such as, 'He looks like a bewigged boiled ham,' or something like that. So he would tweet in the middle of the night, 'Jon Stewart's real name is Leibowitz. He's a Jew. Why does he run away from his heritage?' You know, because that's what I think most presidents would do. I remember Lincoln used to drunk tweet: 'Hey, emancipate this, you fuck!'"
Stewart was referring to Tweets such as these from The Donald (Trump, by the way, is infamous for his Tweets, especially on climate change):
I promise you that I'm much smarter than Jonathan Leibowitz - I mean Jon Stewart @TheDailyShow. Who, by the way, is totally overrated.

— Donald J. Trump (@Donald J. Trump)1366816141.0
All the haters and losers must admit that, unlike others, I never attacked dopey Jon Stewart for his phony last name. Would never do that!

— Donald J. Trump (@Donald J. Trump)1433039609.0
Stewart just can't believe that Donald Trump is still a frontrunner. "Are we really doing this Donald Trump thing? We're really doing that as a country?" Stewart said, according to The Hollywood Reporter. "He's fucked. I like to put my name in giant letters on everything I own as much as the next guy, but the only other people that do that are like 8-year-olds going to camp."
Stewart was well known for his impressions as host of The Daily Show, so it's no surprise he busted out his Trump impression on Tuesday night. "Where did I put that building? Oh there it is, Trump. Boom. Where's my fucking helicopter? Boom, Trump," Stewart said. "Where's my wife? Boom, Trump, nice."
The former Daily Show host concluded by saying, "I'm done with this shit. Done, done, done." Here's to hoping that's not true.
YOU MIGHT ALSO LIKE
Underwater Vertical Seaweed Farm Restores Our Oceans While Providing Food and Fuel Source
Exxon + 49 Other Big Polluters Set to Be Investigated for Causing Extreme Weather Events
Monsanto Handed 'Double Whammy' by Mexican Courts Over Planting GMOs
What's Going on in Antarctica? Is the Ice Melting or Growing?
EcoWatch Daily Newsletter
Related Articles from EcoWatch
Recent Stories from EcoWatch