Join the Storm to End Fossil Fuel Subsidies
Jun. 15, 2012 10:50PM EST
Climate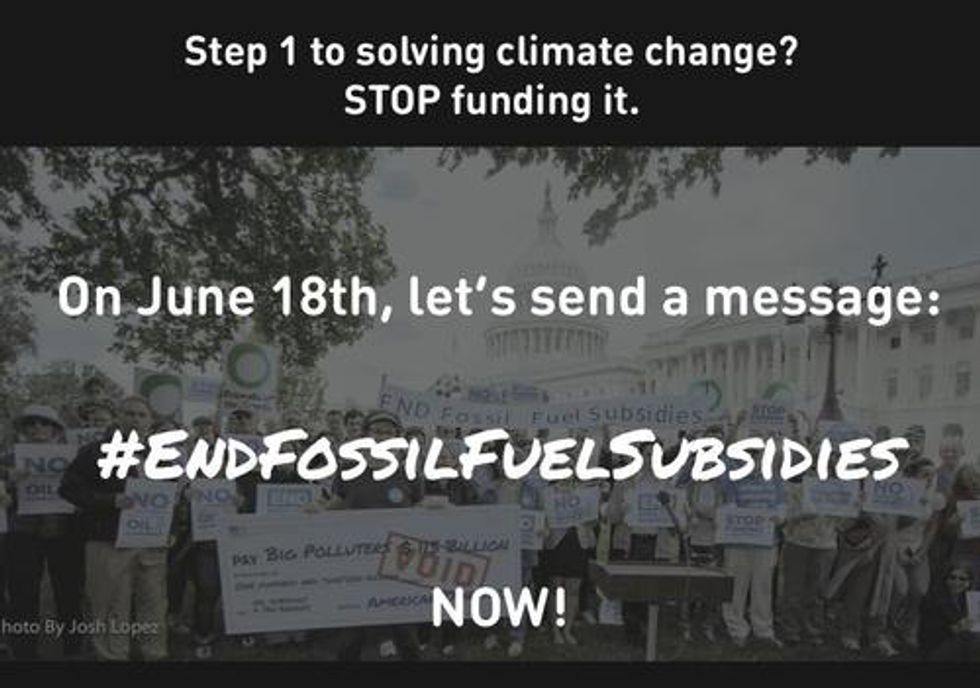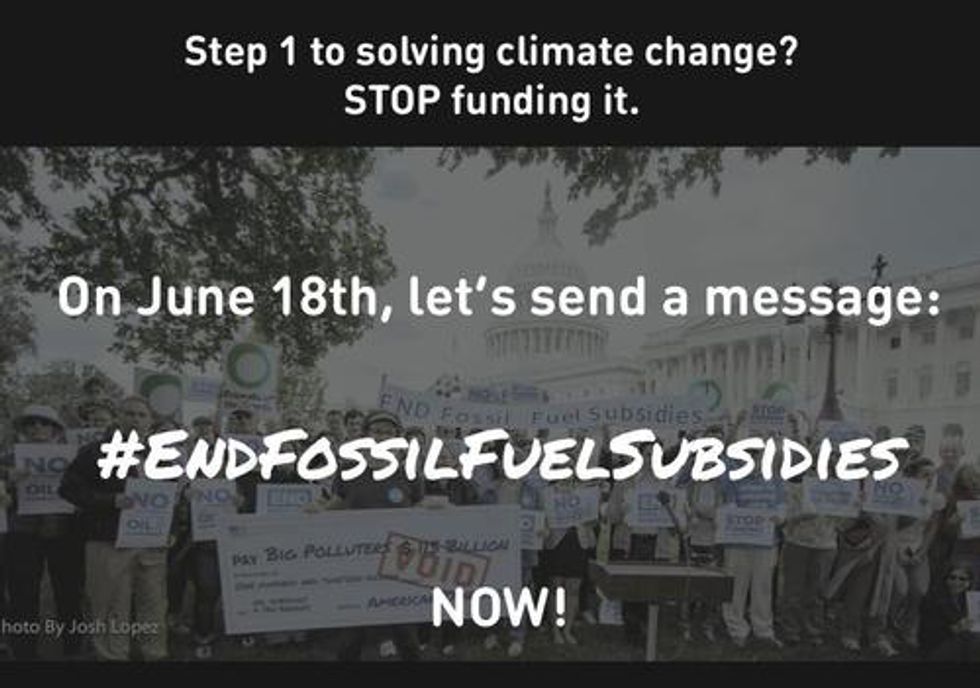 By Will Bates
We just crunched the numbers, and there are now more than one million people around the world who are calling for an end to fossil fuel subsidies.
One million. It's an incredible milestone—and the timing couldn't be better. In less than a week, the "Rio Earth Summit" will begin, and world leaders will converge in Brazil. The gathering is being billed as a landmark event for the planet's future, and the theme of the conference is "building the global green economy." Well, we can't think of a better way to build the green economy than ending fossil fuel subsidies and investing in renewable energy instead.
So we'll be using the Rio Summit as a way to jump-start the next phase of our campaign on fossil fuel subsidies—and we'll be harnessing the power of the web to ramp up the pressure on world leaders in a brand new way.
On June 18 we are going to unleash a 24-hour social media storm—an online push united by one single message: #EndFossilFuelSubsidies.
Click here to join the 350 Social Media Team and help make our message unignorable: www.350.org/social
Joining the social media team shouldn't be intimidating—it just means that as Rio approaches, we'll send you a few updates with messages to spread online, mainly on Twitter and Facebook. If we can get 10,000 people to join in, we'll have built up a digital army around the world who can break through the noise.
Now, before any of you who don't use social media (especially Twitter) feel like we won't be including you in the fun, we want you to know two things:
1. It's totally OK if social media isn't your thing—there's lots of offline activism ahead for the climate movement, and 350 activists in Rio and around the world are doing incredible work offline to complement this digital push.
2. If you've been interested in exploring how to harness the power of social media for social change, this is your moment to dive in. We'll offer a "social media bootcamp" with guides and tools to make it super-easy for folks who are new to all this.
Ultimately, 350.org is about building a grassroots movement grounded in communities—doing real-world organizing, not just online petition signing and Facebook-posting and Twitter sharing. But the web offers us incredible ways to take messages from people in our global network, amplify them, and then channel them to world leaders and the media.
So, as world leaders converge—first in Mexico for the G20 meeting, then in Brazil for the Rio Earth Summit—we think it's time to take this online push a step even further. We'll also be taking your online messages and displaying them offline for the world to see. In major cities around the globe, local teams are setting up projectors that will beam your tweets right onto global landmarks.
We have a whole crew of partner organizations ready to do this Twitter Storm with us—from the incredible global network of Avaaz (who did amazing work in helping us smash the million-person milestone for the petition) to grassroots groups around the world. Together, our collective reach is massive.
We've never done anything quite like this before, and it's a bit of an experiment for us. We do know one thing: it won't work without people around the world stepping up to take part.
Learn more about the #EndFossilFuelSubsidies Twitter Storm here, and sign up to join the 350 Social Media Team Today.
Visit EcoWatch's ENERGY page for more related news on this topic.
EcoWatch Daily Newsletter