This website uses cookies to ensure you get the best experience while browsing it. By clicking 'Got It' you're accepting these terms.
Join the Fight to Revoke Massey Energy's Corporate Charter
Apr. 06, 2012 01:00PM EST
Energy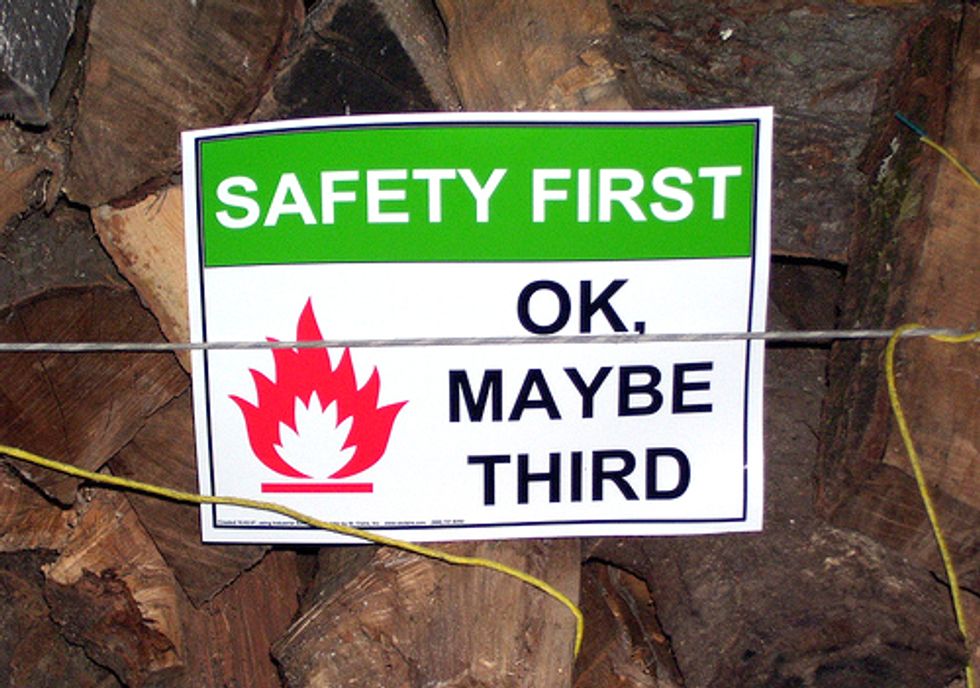 Two years ago on April 5, 2010, the Upper Big Branch coal mine in West Virginia exploded, killing 29 miners who were working inside.
An official state report found that Massey Energy, the corporation that owned the mine, was responsible for their deaths. And now the mine's superintendent has pled guilty to federal charges related to the explosion.
Robert F. Kennedy Jr. has called Massey a "criminal enterprise"1, and we agree. That's why we're calling for Massey's corporate charter to be revoked by the state of Delaware, where Massey is officially based.
Join our call to put Massey Energy out of business.
A corporation as reckless as Massey should lose its right to exist. As Robert Weissman, the president of Public Citizen, recently wrote in Yes! Magazine, "charter revocation effectively constitutes the death penalty for a corporation. Even occasional use against large corporations would be a major deterrent to corporate wrongdoing."2
The evidence of corporate wrongdoing continues to mount. Another mine official was sentenced on criminal charges earlier this year, "for lying to investigators and ordering a subordinate to destroy... documents."3
Now the mine superintendent, who pled guilty last week, is alleged to have "manipulated the mine ventilation system during inspections to fool safety officials and [to have] disabled a methane monitor on a cutting machine."4 These actions appear to have contributed directly to the lethal explosion:
"Three investigations of the tragedy concluded that the company allowed highly explosive methane and coal dust to build up inside the mine, where it was ignited by a spark from an improperly maintained piece of cutting equipment. Clogged and broken water sprayers then allowed what could have been just a flare-up to become an epic blast, the investigations found."5
We, the people (acting through state governments), grant corporate charters, conferring valuable privileges including limited financial liability and perpetual life. Just as surely as we grant those charters, we also have the right to revoke them.
Since Massey Energy is chartered in Delaware, like most major U.S. corporations, we're calling on Delaware's attorney general, Beau Biden, to revoke Massey's charter. Along with our partner organizations in this campaign, Appalachian Voices, Credo Mobile and Rainforest Action Network, we've gathered more than 35,000 signatures on this call to action.
We met with Attorney General Biden's office in September, and members of West Virginia's coal mining families, including the sister of one of the miners who was killed, helped to deliver these thousands of signatures, along with their own call for justice. Biden's office has since confirmed that they are actively reviewing the matter.
Will you sign on now, to help ensure that justice is done?
Ask Attorney General Biden to revoke Massey Energy's corporate charter.
For more information, click here.
—————
1. Robert F. Kennedy, Jr., audio recording from a press call, Sept. 16, 2011.
2. "Special Weapons for Fighting Giants", Yes! Magazine, March 14, 2012.
3., 4., & 5. "Ex-superintendent pleads guilty in mine blast case", by John Raby, Associated Press, March 29, 2012.
EcoWatch Daily Newsletter
Pro-environment demonstrators on the streets of Washington, DC during the Jan. 20, 2017 Trump inauguration.
Mobilus In Mobili
/ Flickr /
CC BY-SA 2.0
By Dr. Brian R. Shmaefsky
One year after the Flint Water Crisis I was invited to participate in a water rights session at a conference hosted by the US Human Rights Network in Austin, Texas in 2015. The reason I was at the conference was to promote efforts by the American Association for the Advancement of Science (AAAS) to encourage scientists to shine a light on how science intersects with human rights, in the U.S. as well as in the context of international development. My plan was to sit at an information booth and share my stories about water quality projects I spearheaded in communities in Bangladesh, Colombia, and the Philippines. I did not expect to be thrown into conversations that made me reexamine how scientists use their knowledge as a public good.
Mt. Rainier and Reflection Lake on Sept. 10, 2015. Crystal Geyser planned to open a bottling plant near Mt. Rainier, emails show.
louelke - on and off / Flickr
Bottled water manufacturers looking to capture cool, mountain water from Washington's Cascade Mountains may have to look elsewhere after the state senate passed a bill banning new water permits, as The Guardian reported.
Large storage tank of Ammonia at a fertilizer plant in Cubatão, Sao Paulo State, Brazil. Luis Veiga / The Image Bank / Getty Images
The shipping industry is coming to grips with its egregious carbon footprint, as it has an outsized contribution to greenhouse gas emissions and to the dumping of chemicals into open seas. Already, the global shipping industry contributes about 2 percent of global carbon emissions, about the same as Germany, as the BBC reported.
At high tide, people are forced off parts of the pathway surrounding DC's Tidal Basin. Andrew Bossi /
Wikimedia
The Jefferson Memorial in Washington, DC overlooks the Tidal Basin, a man-made body of water surrounded by cherry trees. Visitors can stroll along the water's edge, gazing up at the stately monument.
But at high tide, people are forced off parts of the path. Twice a day, the Tidal Basin floods and water spills onto the walkway.
Lioness displays teeth during light rainstorm in Kruger National Park, South Africa. johan63 / iStock / Getty Images
Ahead of government negotiations scheduled for next week on a global plan to address the biodiversity crisis, 23 former foreign ministers from various countries released a statement on Tuesday urging world leaders to act "boldly" to protect nature.