This website uses cookies to ensure you get the best experience while browsing it. By clicking 'Got It' you're accepting these terms.
Join 'Shout Out For Solar' Day and Send a Powerful Message to Lawmakers
Jan. 08, 2015 12:37PM EST
Insights + Opinion

With the 30 percent solar Investment Tax Credit (ITC) set to expire at the end of 2016, we need to dramatically step up our efforts to shine a bright light on the amazing success of solar energy in America. Next week, with the new Congress just sworn in, these efforts will begin in earnest.
Supported by both business and environmental groups, hundreds of thousands of people from across the United States and around the world are expected to take part in the Solar Energy Industries Association's (SEIA) 2nd annual National "Shout Out For Solar" Day—set for Friday, Jan. 16, and taking place on Facebook, Twitter and other social media venues.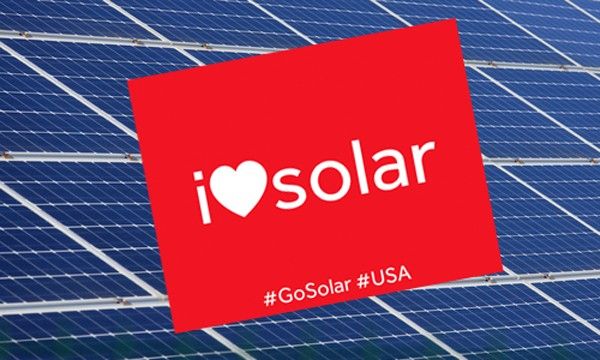 Take part in the second annual National "Shout Out For Solar" Day on Friday, Jan. 16.
The event coincides with SEIA's 41st anniversary as a national trade association and the "voice" of solar energy in America, as well as the release of The Solar Foundation's National Solar Jobs Census report on Thursday, Jan. 15.
We need your help! First, upload supportive pictures to Facebook, Twitter and Instagram with the hashtag #GoSolar. You can download and print America Supports Solar signs here. Next, SEIA is also hosting a Thunderclap, which will send out coordinated Tweets and Facebook posts from thousands of supporters on Jan. 16. Click here to join. And finally, please encourage all of your colleagues, friends, neighbors, family members, supply chain connections and anyone who supports solar to give us a "Shout Out For Solar" next week.
With the U.S. solar energy industry coming off a record-shattering year, next week's "Shout Out For Solar" Day is the perfect time for Americans to voice their support for increased development of solar resources nationwide. In a short period of time, solar has become a true American success story, benefitting both the U.S. economy and our environment, and we need to be shouting that news from every rooftop!
According to estimates, the U.S. now has more than 20 gigawatts (GW) of installed solar capacity, enough to effectively power nearly 4 million America homes—or every single home in a state the size of Massachusetts or New Jersey—with another 20 GW in the pipeline for 2015-16.
What's spurring this rapid growth? For one thing, solar energy is now more affordable than ever. According to SEIA/GTM Research, national blended average system prices have dropped 53 percent since 2010.
Today, the solar industry employs 143,000 Americans and pumps more than $15 billion a year into the U.S. economy. This remarkable growth is due, in large part, to smart and effective public policies, such as the ITC, Net Energy Metering (NEM) and Renewable Portfolio Standards (RPS).
By any measurement, these policies are paying huge dividends for both the economy and environment. Yet despite all of the progress we've made, solar faces an uncertain future in Washington and in some state capitals. It's more important than ever for the voices of our supporters to be heard.
YOU MIGHT ALSO LIKE
Caribbean Island Says Goodbye Fossil Fuels, Hello 100% Renewable Electricity
3 Charts Prove the Solar Revolution Is Here to Stay
Solar Included for First Time Ever in State of American Energy Report
EcoWatch Daily Newsletter
People carry children on a flooded street in Almoradi, Spain on Sept. 13. JOSE JORDAN / AFP / Getty Images
Large food companies are following in the footsteps of fast-food restaurants such as Burger King and KFC by offering meat alternatives. Getty Images
By Elizabeth Pratt
Hormel, Kellogg's, and Kroger are among the large companies now planning to offer "fake meat" products at grocery stores.
Experts say the trend toward plant-based meats coincides with consumers' desires to eat less meat.
However, experts urge consumers to closely check package labels as a product isn't necessarily healthy just because it's described as plant-based.
In grocery stores and fast-food outlets around the U.S., a revolution is taking place.
Colombia rainforest. Marcel Oosterwijk / CC BY-SA 2.0
Many of us think of the Amazon as an untouched wilderness, but people have been thriving in these diverse environments for millennia. Due to this long history, the knowledge that Indigenous and forest communities pass between generations about plants, animals and forest ecology is incredibly rich and detailed and easily dwarfs that of any expert.
picture-alliance / Newscom / R. Ben Ari
By Wesley Rahn
Plastic byproducts were found in 97 percent of blood and urine samples from 2,500 children tested between 2014 and 2017, according to a study by the German Environment Ministry and the Robert Koch Institute.

Pexels
Medically reviewed by Daniel Bubnis, MS, NASM-CPT, NASE Level II-CSS
Hot yoga has become a popular exercise in recent years. It offers many of the same benefits as traditional yoga, such as stress reduction, improved strength, and flexibility.
Lara Hata / iStock / Getty Images
By SaVanna Shoemaker, MS, RDN, LD
Rice is a staple in many people's diets. It's filling, inexpensive, and a great mild-tasting addition to flavorful dishes.
An image of the trans-alaskan oil pipeline that carries oil from the northern part of Alaska all the way to valdez. This shot is right near the arctic national wildlife refuge. kyletperry / iStock / Getty Images Plus
The Trump administration has initialized the final steps to open up nearly 1.6 million acres of the protected Alaskan National Wildlife Refuge to allow oil and gas drilling.