Join National Day of Action Oct. 14 and Demand Leaders Tackle Climate Change
Sep. 21, 2015 12:08PM EST
Climate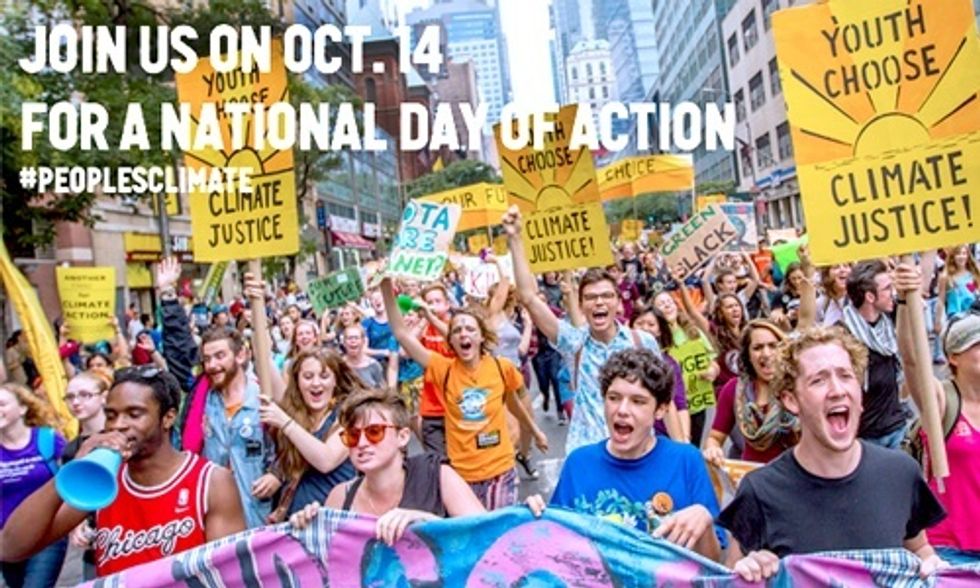 One year ago, 400,000 people united at the People's Climate March in New York City—the largest action on climate in history—signaling to U.S. and global leaders that Americans are committed to tackling the climate crisis. Today, the People's Climate Movement announced that, this year, climate advocates across the country will participate in an evolution of that gathering as part of a National Day of Action on Oct. 14. On that day, six weeks before international climate talks in Paris, climate justice, labor, faith-based and environmental advocates will demand urgent action on climate at score of events in cities around the country, including in Pittsburgh, Kentucky, Chicago, Denver, Seattle and Miami.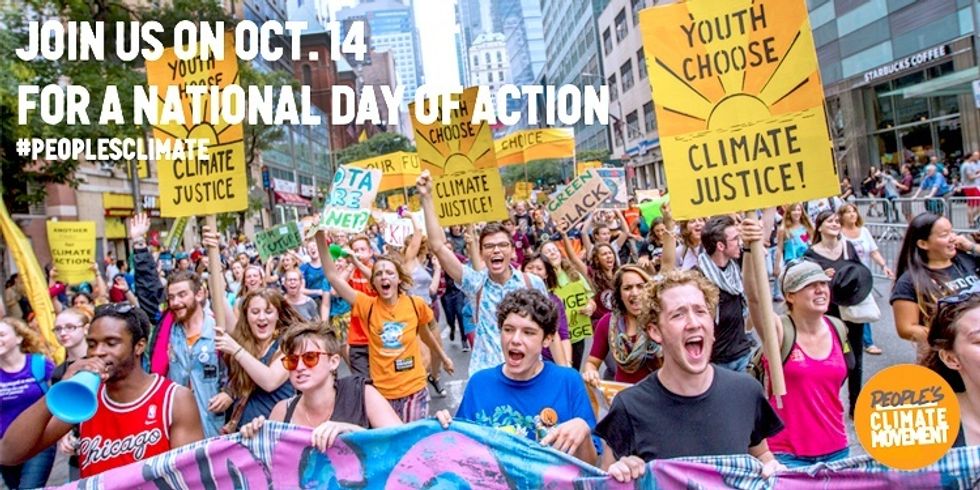 Events in each city will include diverse emphases, reflecting the variety of organizations taking on leadership roles—many of whom are not traditional environmental and climate activists.
In Pittsburgh, a community labor coalition is leading the charge against climate denial; in Denver, a local immigrant rights group Rights for All People is working alongside organizations ranging from Greenpeace to the labor union SEIU to build a local coalition for climate action; in Miami, a statewide multi-issue group, New Florida Majority, will lead the charge alongside many activists of color in a city on the front-lines of the climate crisis; and in Seattle, the People's Climate Movement National Day of Action is led by One America, an immigrant rights group more accustomed to working on immigration reform than carbon emissions.
"The climate crisis will affect everyone, especially the most vulnerable individuals and communities," said Marcos Vilar, a local organizer with New Florida Majority. "That's why we're increasing our involvement in this growing movement to save the planet while growing the clean energy economy. Miami is at the front-lines of this historic crisis and we need to do everything we can to avert the worst case scenario."
These local actions share, with last year's march, an eye which looks forward toward global climate negotiations in Paris this December.
"Last year's march for the first time elevated the strategic leadership of frontline indigenous, people of color and working class communities within the broader climate movement," said Cindy Weisner, co-chair of the Climate Justice Alliance. "On the road to Paris climate negotiations, these actions in October will demonstrate our continued leadership and the breadth of possible solutions, based in alternatives such as clean energy, zero waste systems, organic food production, public transportation and community housing."
National environmental organizations including the Sierra Club hailed the National Day of Action.
"The historic People's Climate March last year was based on the idea that in order to change everything we need everyone," said Sierra Club Executive Director Michael Brune. "This year, the broad, diverse movement of families, workers, faith leaders and activists dedicated to tackling the climate crisis is organizing everywhere to make sure we can do just that."
YOU MIGHT ALSO LIKE
9 Celebrities #DemandClimateAction at Emmy's as Temperatures Reached 100ºF
Michael Mann: Exxon Doubled Down on Climate Denial and Deceit
Exxon Advertised Against Climate Change for Decades After Top Executives Knew Burning Fossil Fuels Would Warm the Planet
EcoWatch Daily Newsletter
Related Articles from EcoWatch