This website uses cookies to ensure you get the best experience while browsing it. By clicking 'Got It' you're accepting these terms.
British celebrity chef Jamie Oliver will be launching his Food Revolution May 20. The global campaign aims to address the global health crisis by facilitating debate and inspiring positive change in the way children access, consume and understand food.
Oliver is looking to engage as many revolutionaries as possible to sign up and join the revolution to fix the broken food system. This campaign will be an ongoing effort to create lasting change to help the world feed the future. From May 20 onward, the new Food Revolution website will be uniting revolutionaries and showcasing food revolution events and stories from around the world.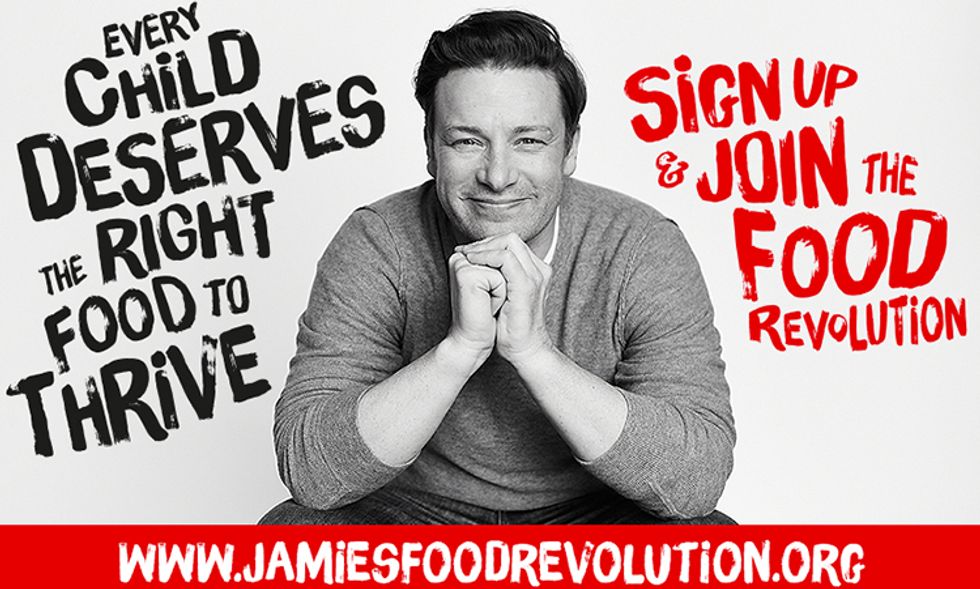 Oliver's website explains that millions of children are eating too much of the wrong food while millions more don't get enough good food to grow and thrive. As a result, nearly 1 billion people in the world are hungry, while another 1 billion people are overweight or obese, according to the Worldwatch Institute. Solving this problem requires securing access to fresh, nutritious food for every eater on the planet.
In addition to signing up online to stay informed about the latest Food Revolution news, Oliver has laid out several steps for people to get involved:
Get cooking. Oliver is sharing 10 simple and nutritious recipes to encourage people to cook and learn essential culinary skills. He's inviting everyone to join him in cooking during a Facebook live event on May 20.
Get the kids involved. Parents and teachers should discuss these issues with kids to inspire them to appreciate food. Oliver has provided a special recipe and lesson plan for schools that's designed just for kids. There's also a collection of resources online for parents to get kids excited about food.
Show your support. Once you've joined the movement, invite your friends and family to do the same by sharing the campaign on social media or organizing offline events. You can use these materials to spread the word (but not for commercial use).
Become an ambassador. To take it a step further, join the team of volunteer food ambassadors who promote food access in their communities. You can apply here.
Lani Furbank is a writer and photographer based in the Washington, DC metro area, where she covers the intersection of food, farming and the environment for local and national publications. Follower her on Twitter @lanifurbank.
YOU MIGHT ALSO LIKE
Jack Johnson Helps Connect Children to Their Land, Water and Food
Consumed: First Fictional Film to Cover Concerns of GMOs
Marion Nestle: 8 Books on Farming and Food That Deserve More Attention
EcoWatch Daily Newsletter
A new study shows that half of all Arctic warming and corresponding sea-loss during the late 20th century was caused by ozone-depleting substances. Here, icebergs discharged from Greenland's Jakobshavn Glacier. Kevin Krajick / Earth Institute /
EurekAlert!
The world awakened to the hole in the ozone layer in 1985, which scientists attributed it to ozone depleting substances. Two years later, in Montreal, the world agreed to ban the halogen compounds causing the massive hole over Antarctica. Research now shows that those chemicals didn't just cut a hole in the ozone layer, they also warmed up the Arctic.
Diane Wilson holds up a bag full of nurdles she collected from one of Formosa's outfall areas on Jan. 15. Julie Dermansky / DeSmogBlog
On the afternoon of Jan. 15, activist Diane Wilson kicked off a San Antonio Estuary Waterkeeper meeting on the side of the road across from a Formosa plastics manufacturing plant in Point Comfort, Texas.
After Wilson and the waterkeeper successfully sued Formosa in 2017, the company agreed to no longer release even one of the tiny plastic pellets known as nurdles into the region's waterways. The group of volunteers had assembled that day to check whether the plant was still discharging these raw materials of plastics manufacturing.
Malaysian Environment Minister Yeo Bee Yin (front 2nd L) and officials inspect a container containing plastic waste shipment on Jan. 20, 2020 before sending back to the countries of origin. AFP via Getty Images
The Southeast Asian country Malaysia has sent 150 shipping containers packed with plastic waste back to 13 wealthy countries, putting the world on notice that it will not be the world's garbage dump, as CNN reported. The countries receiving their trash back include the United States, the United Kingdom, France and Canada.
Trump leaves after delivering a speech at the Congress Centre during the World Economic Forum annual meeting in Davos on Jan. 21, 2020. JIM WATSON / AFP via Getty Images