This website uses cookies to ensure you get the best experience while browsing it. By clicking 'Got It' you're accepting these terms.
British celebrity chef Jamie Oliver will be launching his Food Revolution May 20. The global campaign aims to address the global health crisis by facilitating debate and inspiring positive change in the way children access, consume and understand food.
Oliver is looking to engage as many revolutionaries as possible to sign up and join the revolution to fix the broken food system. This campaign will be an ongoing effort to create lasting change to help the world feed the future. From May 20 onward, the new Food Revolution website will be uniting revolutionaries and showcasing food revolution events and stories from around the world.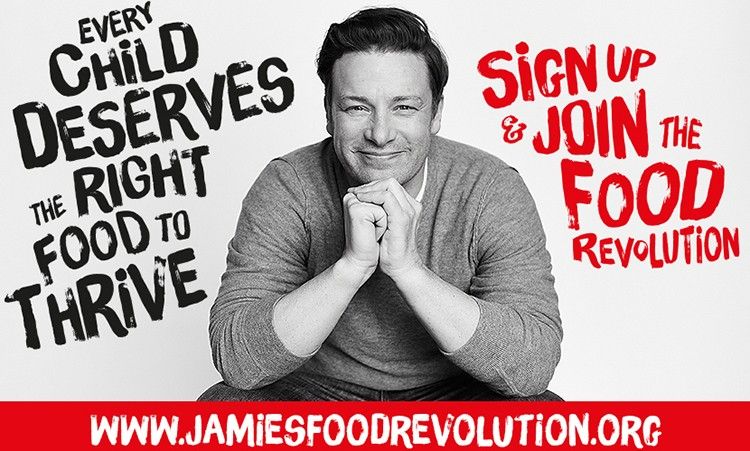 Oliver's website explains that millions of children are eating too much of the wrong food while millions more don't get enough good food to grow and thrive. As a result, nearly 1 billion people in the world are hungry, while another 1 billion people are overweight or obese, according to the Worldwatch Institute. Solving this problem requires securing access to fresh, nutritious food for every eater on the planet.
In addition to signing up online to stay informed about the latest Food Revolution news, Oliver has laid out several steps for people to get involved:
Get cooking. Oliver is sharing 10 simple and nutritious recipes to encourage people to cook and learn essential culinary skills. He's inviting everyone to join him in cooking during a Facebook live event on May 20.
Get the kids involved. Parents and teachers should discuss these issues with kids to inspire them to appreciate food. Oliver has provided a special recipe and lesson plan for schools that's designed just for kids. There's also a collection of resources online for parents to get kids excited about food.
Show your support. Once you've joined the movement, invite your friends and family to do the same by sharing the campaign on social media or organizing offline events. You can use these materials to spread the word (but not for commercial use).
Become an ambassador. To take it a step further, join the team of volunteer food ambassadors who promote food access in their communities. You can apply here.
Lani Furbank is a writer and photographer based in the Washington, DC metro area, where she covers the intersection of food, farming and the environment for local and national publications. Follower her on Twitter @lanifurbank.
YOU MIGHT ALSO LIKE
Jack Johnson Helps Connect Children to Their Land, Water and Food
Consumed: First Fictional Film to Cover Concerns of GMOs
Marion Nestle: 8 Books on Farming and Food That Deserve More Attention
EcoWatch Daily Newsletter
Colombia rainforest. Marcel Oosterwijk / CC BY-SA 2.0
Many of us think of the Amazon as an untouched wilderness, but people have been thriving in these diverse environments for millennia. Due to this long history, the knowledge that Indigenous and forest communities pass between generations about plants, animals and forest ecology is incredibly rich and detailed and easily dwarfs that of any expert.
picture-alliance / Newscom / R. Ben Ari
By Wesley Rahn
Plastic byproducts were found in 97 percent of blood and urine samples from 2,500 children tested between 2014 and 2017, according to a study by the German Environment Ministry and the Robert Koch Institute.

Pexels
Medically reviewed by Daniel Bubnis, MS, NASM-CPT, NASE Level II-CSS
Hot yoga has become a popular exercise in recent years. It offers many of the same benefits as traditional yoga, such as stress reduction, improved strength, and flexibility.
Lara Hata / iStock / Getty Images
By SaVanna Shoemaker, MS, RDN, LD
Rice is a staple in many people's diets. It's filling, inexpensive, and a great mild-tasting addition to flavorful dishes.
An image of the trans-alaskan oil pipeline that carries oil from the northern part of Alaska all the way to valdez. This shot is right near the arctic national wildlife refuge. kyletperry / iStock / Getty Images Plus
The Trump administration has initialized the final steps to open up nearly 1.6 million acres of the protected Alaskan National Wildlife Refuge to allow oil and gas drilling.
Kaboompics / Pexels
Tensions between lawmakers and several large manufacturing companies came to a head on Capitol Hill this week during a hearing on toxic fluorochemicals in U.S. drinking water.